Investment Thesis
Volatility is something we must learn to accept as investors and the last two weeks has been a great reminder of how fast investor sentiment can change. This article is intended to examine volatility of the last week and how it compares to the volatility of the last two decades. I will also look at why now is a great time to hoard cash and establish positions as market volatility brings high-quality equities down to a more reasonable level.
I believe that the subject of cash-holdings is important to review because it can have a significant impact on the performance of a portfolio during times like these. We've enjoyed one of the longest bull-runs in history and investor complacency with those returns is dangerous and can have harsh long-term consequences. In my opinion, cash holdings will be absolutely critical to bring the cost-average of our investments down while simultaneously increasing the yield associated with each stock (and the overall portfolio).
I want to emphasize that this article is focused on decisions from my John and Jane series and includes actual examples that were made with the best interest of their retirement and well-being in mind. It is important that you take your own goals and needs into consideration as you read this article since this is not intended as a one-size fits all approach.
The Impact Of Volatility
For many retirees, the volatility we've been seeing the last few weeks can be absolutely terrifying and there is no better proof than a chart of the Dow Jones Industrial Average (DJIA) during this time frame. For some investors, it can physically hurt to know that the DJIA has shed all of the gains in the last two months in less than two weeks.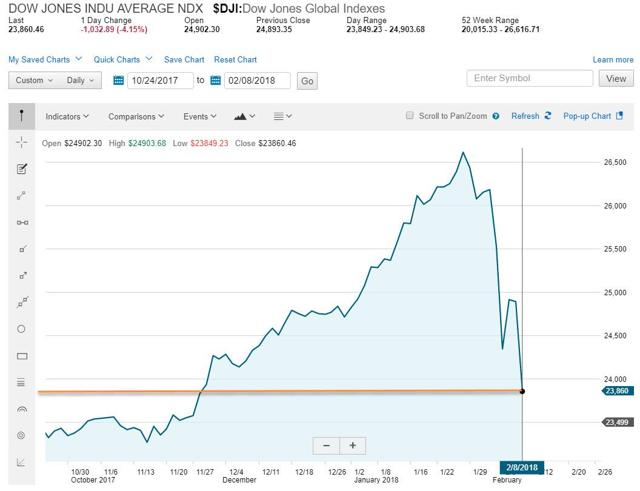 Source: Charles Schwab
A ten year-chart of the DJIA is helpful for putting the last ten years of investing into perspective. After all, it can be easy to forget how much the index has increased in value. Simply put, anyone who was willing to keep a cool head and maintain their investments saw the DJIA index more than triple from its low in 2009.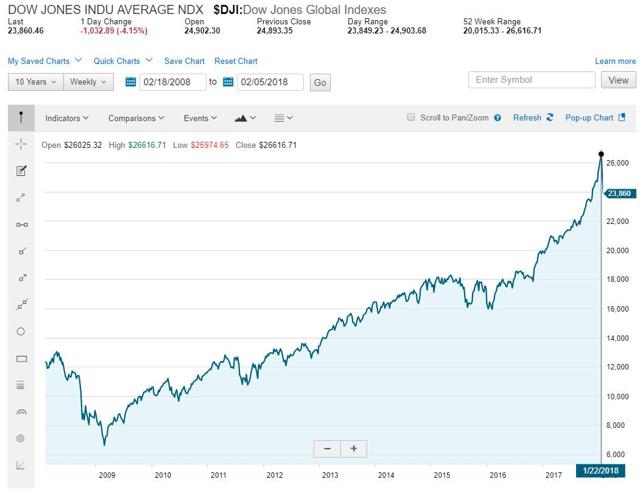 Source: Charles Schwab
I think it is helpful to read the above charts alongside the DJIA volatility index because we can see that dips commonly occur when volatility spiked. Another item we must be considerate of is that many of the events that caused spikes in the DJIA VIX we politically motivated (elections, etc). The largest spike in the last decade came during the beginning stages of the financial crisis and it managed to erode over 1/3 of the DJIA's value.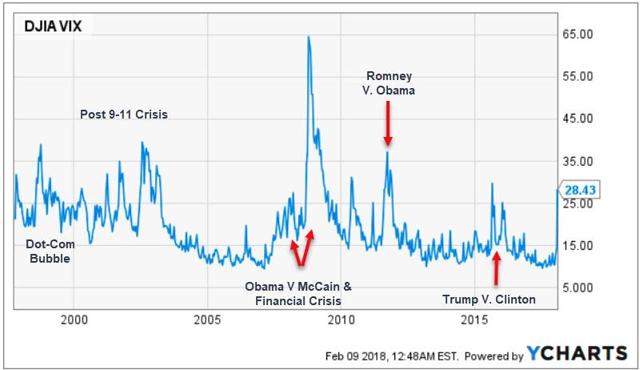 As investors, we must learn to accept that volatility and price drops are part of the game we play and that these events are actually great opportunities for those who are adequately prepared. The DJIA VIX isn't proof that increased volatility causes a market downturn but I do believe it is helpful for seeing that extreme volatility appears to be correlated to major price movements.
Taxable Account
John and Jane's Taxable account recently experienced major paper losses because of the events that took place over the last two weeks. The portfolio has been transformed from a number of mutual funds to a diversified group of stocks with the goal that they provide a steady and predictable income stream (which was something that the majority of their mutual funds failed to do). I do not intend to sell any stocks in the taxable account at this point in time (or in the foreseeable future).
Personally, I am not concerned that John and Jane's taxable account is currently sitting at a YTD loss of -$4917.57 because it is still producing a yield on cost just shy of 5%. My estimated annual dividend forecast of $11,491.83 for 2018 uses conservative estimates based on current dividend rates and does not factor in any potential dividend increases. A conservative, mid-range, and optimistic scenario below shows what John and Jane's income would look like:
| | | |
| --- | --- | --- |
| Increase | Current Payout | Potential Payout |
| 3% | $11,491.83 | $11,836.58 |
| 4% | $11,491.83 | $11,951.50 |
| 5% | $11,491.83 | $12,066.42 |
I am very confident that every company in John and Jane's portfolio has the potential to continue paying current levels of dividends but also the ability to increase those dividends on regular basis.
Should You Consider Selling Some High-Flyers?
Let me preface this section by stating that I do not claim to know how to time the market, and therefore, the results of what you are about to read are entirely based on establishing an actionable game plan. We added the following stocks to John and Jane's portfolio with the intent of selling them at a specified price target.
John and Jane's tax-deferred accounts are a very different story from their taxable account because I chose to purchase some shares of the following companies with the primary emphasis on capital gains (since these would not be subject to capital gains when sold) while dividend income was a secondary objective. My plan was to continue holding the shares until they hit certain price targets, and when they did, we decided it was in John and Jane's best interest to sell these high-flying stocks from their portfolio.
I want to reemphasize that my primary strategy for John and Jane focuses on buying and holding companies for the long-term but I do believe there is room for a small portion of a portfolio to be used for purchasing high-quality companies (that pay a dividend) with the intent to sell them when they reach a certain price target (and if they didn't reach that price I am happy to continue holding as a long-term investment).
Here are a few examples of what I am referring to:
MasterCard (MA)- Purchased 40 shares on 12/5 for $144.29/share and sold all 40 shares on 1/30 for $167.40/share. (Sale Target Price - $165+)
Visa (V)- Purchased 75 shares on 11/30 for $111.25/share and sold all 75 shares on 1/30 for $124.04/share. (Sale Target Price - $120+)
Nvidia (NVDA) - Purchased 25 shares on 12/12/2017 for $190.74/share and sold all 25 shares on 1/26 for $241.84/share (Sale Target Price - $240+)
As mentioned already, all of the stocks above fit into a buy-and-hold strategy with the exception that I felt comfortable selling each one above a certain sale target price in order to lock in some phenomenal 2-month gains. With the market having reached all-time highs I did not feel comfortable letting the money ride which triggered the sale of these securities. Additionally, I did not believe there was a new investment worthy of reinvesting the proceeds into. With this in mind, we agreed that these funds would be better off if set aside until a reasonably priced investment caught our attention.
Remember, Holding Cash Is An Investment Too
I am often asked, "how much cash should a person have readily available?" My response to this question will always be "more than you think you should" but in the current environment of record high equity valuations and rapidly increasing bond prices I would change my answer to "way more than you think you should." Unfortunately, the answer to this will always be subjective and is based on lifestyle and feelings towards money.
Sadly, too many people are overly eager to push all their chips in when they see the potential to make money. Over the last few years, the stock market has started to resemble the golden slot machine where hitting the jackpot is practically expected. This has created too many overly bullish investors who are exposed to the significant downside as they waited too long into the rally before investing. Ultimately, this has eliminated any additional buying power when it's most critical. There is a price to be paid for not having cash on hand to purchase the same high-quality investments for significantly less than the investor originally paid when they went "all-in."
To make my point, let's look at what the market has done to the following dividend stalwarts that are in John and Jane's taxable portfolio (I am using these because they represent a handful of the highest-quality dividend-paying stocks in John and Jane's portfolio):
The chart above represents a handful of companies that have increased their dividends every year for at least 35 years straight and based on the last two weeks have experienced a decrease in price ranging from 5-12%. Maintaining the cash-on-hand to buy these shares at a significant discount represents one of the better long-term investments you can make.
The same can be said for many of the major players in the real estate investment trust (REITs) sector when the price drop has been even more pronounced (All of the REITs in this chart are owned by John and Jane with the exception of Vanguard Real Estate (VNQ)):
Over the last two months, even the highest-quality REITs have experienced double-digit drops in share price even though many companies like Realty Income (O), EPR (EPR), WP Carey (WPC) and Simon Property Group (SPG) have all announced recent increases to their regular dividend payout. This trend presents the opportunistic investor who has maintained adequate cash reserves to buy quality REITs at a price-to-FFO (P/FFO) that cannot be ignored.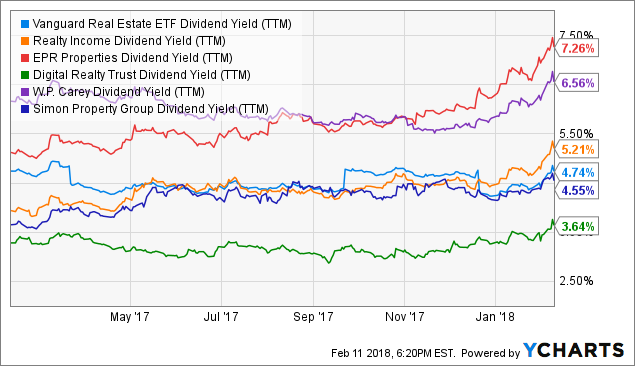 During this time I have increased John's exposure to EPR and WPC in his Roth and Traditional IRA accounts while maintaining cash reserves of approximately $100,000. Remember, I am not trying to guess when the market will hit bottom; rather, I am looking to increase their holdings to quality stocks as the best way to increase the dividend yield from their investments.
Other Discounted Stocks On My Radar
The chart below shows how far the following stocks are off their 52-week high (3M (MMM) is the only one not currently in John and Jane's portfolio).
Again, I consider all of the stocks above to be worthy of future investment especially if the discount to recent 52-week highs continues to grow.
Conclusion
At present, nearly 35% of John and Jane's portfolio is currently sitting as cash and this primarily because there is too much volatility/uncertainty in the market to warrant pushing more chips in. With 65% of their portfolio exposed to a combination of equities, bonds, and senior loan debt (approximately 40%, 10%, and 15%, respectively) we feel that John and Jane have enough exposure to benefit from any additional market upside while having enough cash reserves to take advantage of any additional downside.
My final thoughts for those who still cringe at the idea of increasing market volatility is to remember that the last decade is not the norm when it comes to volatility. By adopting the strategy above I view this turmoil as an opportunity for John and Jane to acquire high-quality dividend-paying stocks at prices that wouldn't otherwise be available.
What are your thoughts on the current market volatility and do you have a strategy that is different or that would compliment what I outlined? I would love to hear feedback, suggestions, etc.
Final Note: If you enjoy my articles, please take the time to follow me. While I enjoy performing analysis, following me is the best method for showing me that SA subscribers are finding my work useful.
If you have any suggestions to improve my articles or if you would like me to perform analysis on a stock or your portfolio please feel free to message me and I will do my best to make it happen. I truly appreciate thoughtful feedback and would love to create content that is meaningful for my followers.
John and Jane are currently long the following: Eaton Vance Floating Rate Advantage Fund A (EAFAX), AT&T (T) Archer Daniel Midland (ADM), Altria (MO), Apple REIT (APLE), Arbor Realty (ABR), Buckeye Partners LP (BPL), ConocoPhillips (COP), Cardinal Health (CAH), Cincinnati Financial (CINF), Digital Realty Trust (DLR), Emerson Electric (EMR), Energy Transfer Partners LP (ETP), EPR Properties (EPR), General Mills (GIS), Helmerich Payne (HP), Iron Mountain (IRM), Johnson Controls (JCI), Macquarie (MIC), New Residential (NRZ), Old Republic International (ORI), O, SPG, Stepan Co. (SCL), Spectra Energy (SEP), Tanger Factory Outlets (SKT), Verizon (VZ), WPC, Washington Trust (WASH), Cummins (CMI), Apple (AAPL), British Petroleum (BP), Hormel (HRL), Clorox (CLX), LTC Properties (LTC), Interdigital Corp (IDCC), Spectra Energy Partners (SEP), Southern Company (SO), Smuckers (SJM), Transmontaigne Partners (TLP), Exxon (XOM), Mesabi Trust (MSB), Westlake Chemical (WLKP).
Disclosure: I am/we are long ABR, VZ, T, SKT.
I wrote this article myself, and it expresses my own opinions. I am not receiving compensation for it (other than from Seeking Alpha). I have no business relationship with any company whose stock is mentioned in this article.
Additional disclosure: This article reflects my own personal views and is not meant to be taken as investment advice. It is recommended that you do your own research. This article was written on my own and does not reflect the views or opinions of my employer.