Last night, after the bell, Helios and Matheson (HMNY) announced another proposed public offering of common shares and warrants.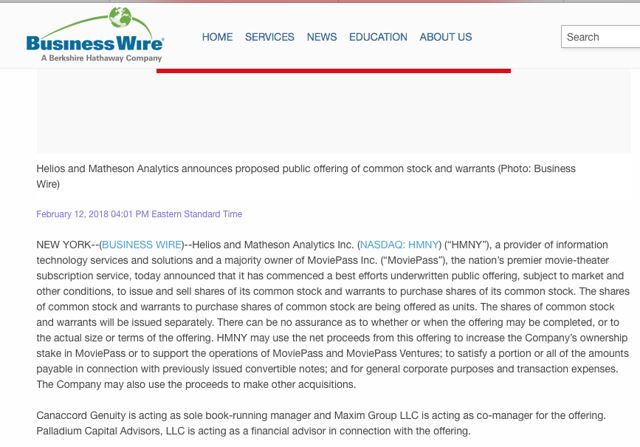 Source: Business Wire
In after-hours trading, shares of HMNY closed down 19%, with nearly 1.7 million shares changing hands.

Source: CNBC
Keep in mind that this "best efforts" secondary offering comes a mere two months after the company's December 12, 2017 announcement.
Recall from my December 15, 2017 article: So Much For Maxim Group's $25 Price Target that there was significant dilution from the last round of stock issuance.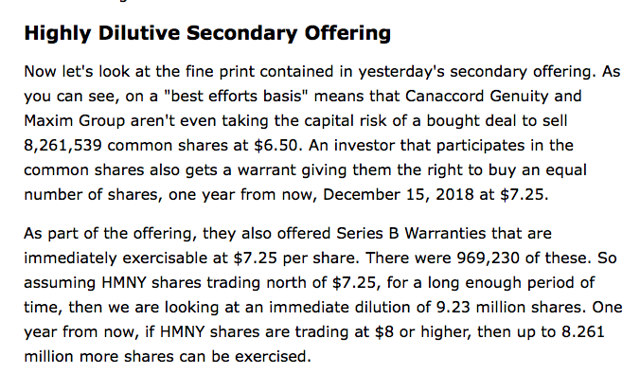 As readers may recall, HMNY shares dropped 32.7% on that news.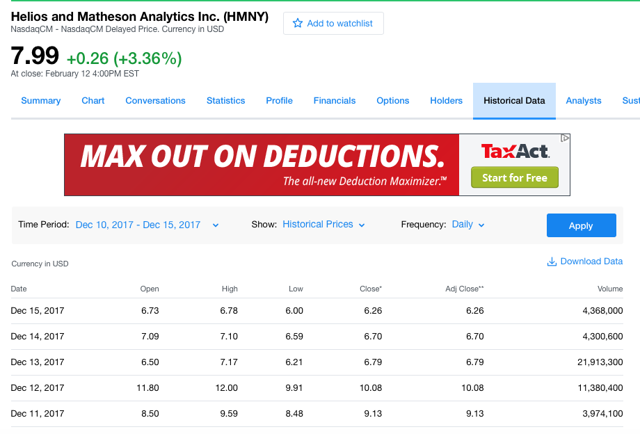 Source: Yahoo Finance
Since my most recent Helios and Matheson piece, The Casino Rages On, published on January 10th, there have been a number of bullish pieces:
Why MoviePass Could Become A $10 Billion Company (Ben Rabizadeh)
The MoviePass Narrative Has Evolved: I Am Long (Easterly)
MoviePass Growth Accelerates Towards 5M Subscribers By August 2018 (Ben Rabizadeh)
MoviePass Has Clear Path To 20M Subscribers (Ben Rabizadeh)
MoviePass: Try It To Believe It, This One Is Here To Stay (Julian Lin)
I read all the pieces and I disagree with the thought process and most of the bullish arguments leveled in the pieces. I am not going to rebut each and every argument; rather I am simply confused as to how any author could objectively view the actions of Helios and Matheson's management team through rose-colored glasses.
Essentially, my view has been consistent. This management team is akin to circus promoters. They are laser-focused on subscriber growth so they can continue to earn millions of dollars in total personal compensation. They couldn't care less about existing or future shareholders and simply want to keep this lesser version of a Ponzi scheme going, as the company has zero prospect of making money anytime in the near future. Moreover, they want to create the illusion that Helios and Matheson can make money years down the line, and that the company has created a better mousetrap that will revolutionize the movie theater business.
If that is the case then why has the short interest climbed so quickly despite shares trading at less than 25% of its 52-week high?
Short Interest Is Now 7,078,711
The Masters of the Universe seem to agree that HMNY has little prospect of making any money, and as of January 31, 2018, 7,078,711 shares were sold short.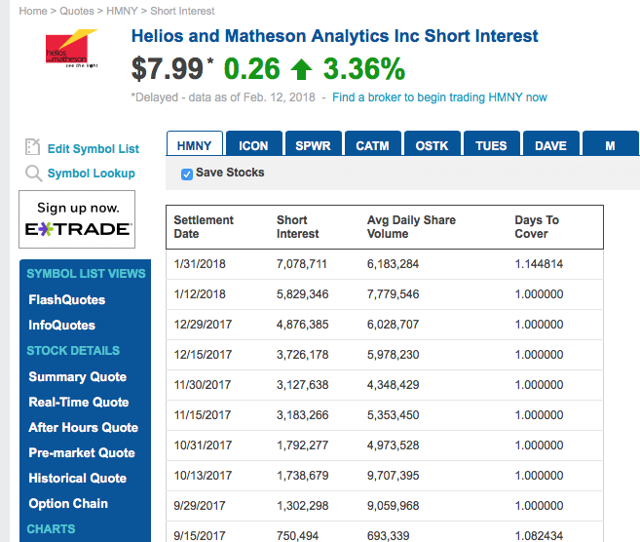 Source: Nasdaq.com
Adverse selection
My view is that there is a certain percentage of people who love going to the movies. These are avid fans that enjoy the experience and movie-going is among their favorite forms of inexpensive entertainment. It is hard to know how many millions of people fall into this category, but I would argue these folks were the first people to sign up for MoviePass.
I would also argue that there is no way to make money giving someone access to the ability to see 30 movies per month for $9.95. Since Helios and Matheson likes to argue that its subscription business is like a gym membership, well these avid fans are the hardcore gym rat equivalents that are waiting for the gym doors to open at 5 a.m., four to five days per week.
Lo and behold, on February 11, 2018, Marketwatch.com published this article suggesting MoviePass has been cancelling frequent users' subscription service citing "service term violations." To me that is just another indication that the business model of collecting $9.95 per month in exchange for the liability associated with avid movie goers, who could attend upward of 10 to 15 films per month, is a deeply flawed model and a sure path to financial insolvency.

Moving along, recall that HMNY's Ted Farnsworth recently said the following:
Hollywood is definitely paying attention to us, now we have to start pulling levers. We have to say to AMC, 'look you don't want to deal with us, fine, but we're not going to keep giving you free money
Source: Seeking Alpha News article MoviePass Goes To War Against AMC
Mr. Farnsworth has also argued that the movie theater business is in decline and that MoviePass is its savior (see MoviePass issues statement on AMC pullout).
Yes, the total number of tickets sold has declined, but total box office gross receipts has been relatively steady as price increases offset lower volume. Moreover, obviously Hollywood and the existing participants are well aware of the math. The existing business model whereby chains like AMC Entertainment Holdings (AMC) built state of the art facilities with comfortable reclining leather chairs is financed by concession sales. Also, the specific box office split is a closely guarded secret, but everyone knows that most of the profits are generated by concession sales.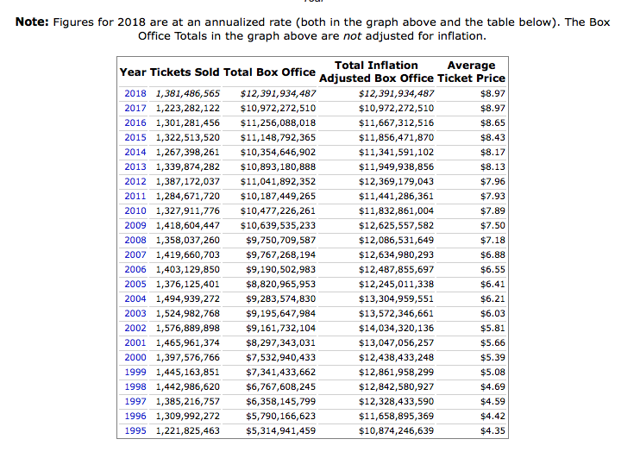 Source: The Numbers
Takeaway
Unfortunately, for HMNY shareholders, even with two million subscribers, the company hasn't created a better mousetrap. Notwithstanding the rumblings of small Sundance film deals, HMNY doesn't own any theaters (distribution) and HMNY doesn't have the hundreds of millions of dollars to finance big budget blockbuster films (content). Again, this is just a fancy debit card that enables avid moviegoers to attend up to 30 movies per month for $9.95 per month.
I would argue that HMNY is more like a super mispriced food buffet where participants overeat and will try different foods. Since the admission price for this buffet is so low, the actual data gathered is meaningless because you aren't seeing trends and patterns from natural selection. Consumers aren't forced to make conscious choices based on price and preference (there is no scarcity element). In other words, due to the low price of the service, the data is skewed as people over-consume movies to a point that they might not have otherwise done.
From an investment standpoint, I have no idea why anyone is long HMNY outside of speculators playing an occasional oversold bounce or anticipating the next sensational PR release dreamed up by Mr. Farnsworth. Owning shares is simply engaging in the greater fool theory. In the end, if HMNY's modeling that the novelty of attending more than one month per month wanes after a few months then why is HMNY coming back to the market to raise equity capital in only two months' time? I would argue it is because the company is hemorrhaging cash, as the current business model is incredibly unprofitable.
Disclosure: I/we have no positions in any stocks mentioned, and no plans to initiate any positions within the next 72 hours.
I wrote this article myself, and it expresses my own opinions. I am not receiving compensation for it (other than from Seeking Alpha). I have no business relationship with any company whose stock is mentioned in this article.
Editor's Note: This article covers one or more stocks trading at less than $1 per share and/or with less than a $100 million market cap. Please be aware of the risks associated with these stocks.