Hanesbrands Inc. (HBI) was punished by investors last week as the stock plunged over 10% after declaring its fourth quarter results. The result did detail a few headwinds in distribution costs but these are of the transitory rather than the secular kind. Adjusted operating profits ($231 million)were also down 8% in the fourth quarter. But the thing that strengthens the case for the argument of a mispricing is the firm's cash flow performance. The firm generated $656 million in operating cash flows in FY17 and returned nearly all of it to investors in the form of dividends ($220 million) and share repurchases ($400 million). The company mentioned that it expects another strong year in 2018 so far as cash flows are concerned.
The 10-year treasury yield has increased ~45 basis points since the beginning of this year. Even after considering this rise to calculate the discount rate, the stock was valued higher than the CMP under the DCF method. The severity of the punishment therefore seems disproportionate and I have a buy on this ticker.
Earnings Analysis and Free cash flow projections
The first thing that raises an alarm when you look at the latest filing is the firm's operating expense. A 320 basis point expansion in SG&A as a percent of sales is considerable grounds for caution if it were to persist. This ~$70 million headwind was also a key contributor to 41.2% decline in the line item below it - operating profit.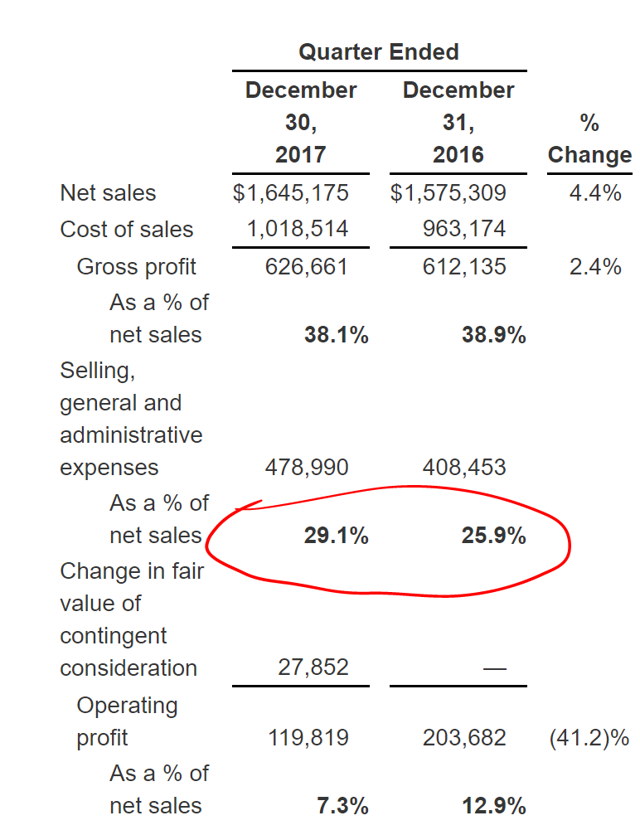 Source: Company Filings
A reconciliation of one-time charges addresses a large portion of the decline. As seen below the company incurred significant acquisition and integration costs which will ease once these actions are completed. Operating margins have still contracted 180 basis points which is still a cause for some consternation.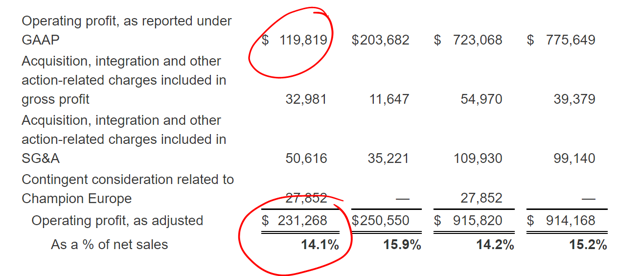 The management of Hanesbrands however, allayed these concerns in the earnings call. They mentioned that these were on account of increased ad dollars and spends on the distribution line. The company increased ad spend by $20 million for the entire year to support some of its new introductions. The firm added that ad spends will continue to inch higher in 1Q18 as it launches the new Comfort Flex Fit in its underwear business. Distribution expenses are expected to ease starting 3Q18.
It will take a slightly longer holding period for the stock to realize some of the gains in operating margins. For a company that generates in excess of $600 million in operating cash flows investing less than $100 million in capex, I think that is a reasonable trade-off. My projections assume a 3% revenue CAGR in the 2018 - 2023 period and adjusted operating margins expanding to 15% by 2023. Tax rate is at 15% and capex at 2% of sales (way higher than historical levels). The company is a bit aggressive with its financial policy and has racked up a considerable amount of debt to fund its acquisitions. But 60% of the total debt outstanding is at a fixed rate. And a 25 basis point increase results in increased costs of $4 million (Source: Annual Report 2017). Contrasting this against the size of cash flows I'd argue this constitutes a limited source of risk.
Trends in the 10-year treasury yield have become a hot topic in terms of their signaling for a correction in markets. In order to account for short-term volatility, I bumped the risk-free rate from 2.85% to 3%. The company's weighted average interest rate was 3.78% in 2017. I have assumed a 4% rate for WACC calculations as a conservative assumption. Considering an equity risk premium of 6% and beta of 1.21 (Source: Seeking Alpha 60M Beta) the cost of capital comes out to be 7.5% under the CAPM method.
Under the above set of assumptions, the stock was valued at $25.17. I consequently I have a strong Buy on this ticker which makes it the second high conviction Buy after Dominos Pizza (DPZ).
Author's note: Liked the article? Hit the follow button to be in the loop for more such insights.
Disclosure: I/we have no positions in any stocks mentioned, and no plans to initiate any positions within the next 72 hours. I wrote this article myself, and it expresses my own opinions. I am not receiving compensation for it (other than from Seeking Alpha). I have no business relationship with any company whose stock is mentioned in this article.