Bloomberg reported that Bridgewater Associates, a hedge fund run by Ray Dalio, had increased its short positions against European stocks.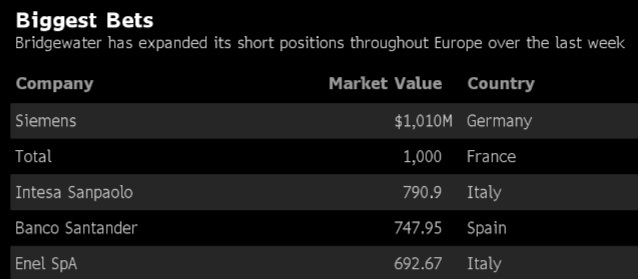 Source: Bloomberg
According to Bloomberg, Dalio has been building positions against Italian companies and insurers ahead of the upcoming elections in Italy, which are scheduled to be held on 4 March 2018. Several analysts suggested that this event could spark higher volatility in Italian banking stocks, especially given that opinion polls show that the election could result in a hung parliament.
One thing that caught our eye is that Banco Santander (SAN) is the fourth-largest bet of Ray Dalio. The most obvious question here is why Dalio did not short other Italian banks, in particular UniCredit (OTCPK:UNCFF) (OTCPK:UNCFY), Banco BPM (OTC:BNCZF) (OTC:BNNCY) or UBI Banca (OTCPK:BPPUF) (OTC:BPPUY). Without a doubt, those Italian banks are much more sensitive to the Italian elections than Santander. If Dalio thinks that the election is unlikely to produce a clear winner, then, obviously, Italian banks would be the biggest losers.
However, we believe there are other reasons behind Dalio's decision to short Santander.
Rising euro
First off, contrary to popular wisdom, a stronger euro is a negative for Santander. As a reminder, Santander's reporting currency is the euro. However, as shown below, in 2017, around 64% of the group's total revenues were generated outside of the European Union and in non-EUR currencies.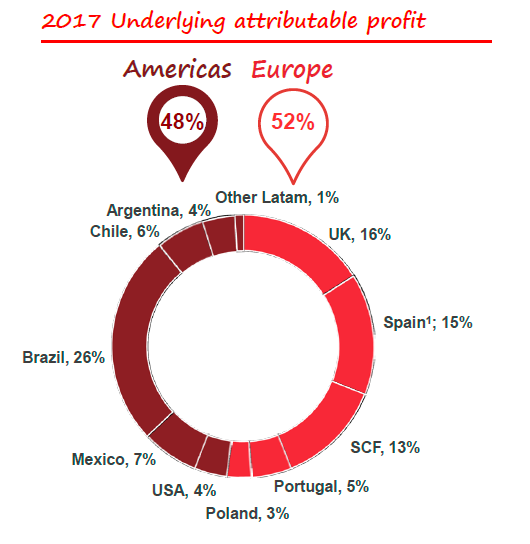 Source: Company data
As such, a stronger euro would decrease SAN's earnings on a constant-currency basis due to a negative FX translation effect.
Higher interest rates in Europe
Higher interest rates are a significant tailwind for a bank's earnings. That's banking 101. However, Santander has a large fixed income portfolio, which is called asset-liability committee portfolio or ALCO portfolio. The portfolio corresponds to 9.2% of SAN's total assets or 13.2% if we include trading securities.

Source: Bloomberg
The most important thing here is that the ALCO portfolio is highly sensitive to interest rates. As such, if European interest rates continue to increase, then 'investment-available-for-sale' will be revalued downwards and these losses will hit Santander's capital position. In addition, losses from "trading securities" will directly affect the group's bottom line. Finally, if Santander decides to sell down part of its "investment-available-for-sale" portfolio due to the expectations of higher interest rates, the bank's earnings will also take a hit.
As a result, we would not rule out that higher interest rates could be a negative for SAN due to potential losses from the group's bond portfolio, which are likely to offset expected benefits from higher loan yields.
The acquisition of Banco Popular
In June 2017, Santander acquired Banco Popular, the sixth-largest banking group in Spain. Since the 2008 financial crisis, Popular has been struggling to recover from non-performing assets. One of the current priorities of Santander is to determine fair value of those non-performing assets and sell them. In our view, a rising interest rate environment could complicate the selling process. In addition, there is a risk that the ongoing integration of two banks will not be a smooth one.
Elections in Brazil and Mexico
In 2017, Brazil and Mexico together generated around 33% of Santander's total revenues. In 2018, both Brazil and Mexico will hold presidential elections. Most importantly, the outcomes of these elections are still uncertain. Even though a Brazilian court upheld the conviction of the former president Lula for money laundering, there is still a small chance that he could enter the presidential race. That would hurt badly the ongoing recovery of the Brazilian economy, and, correspondingly, Santander's earnings in Brazil (BSBR).
In Mexico, there are also significant concerns regarding the 2018 presidential elections. Andres Manuel Lopez Obrador, a leftist candidate, is currently leading in most opinion polls. He has already made several controversial statements; in particular, he plans to revise laws that opened Mexico's oil industry to foreign investors. That would likely put pressure on the Mexican peso.
Final thoughts
We are currently neutral on Santander as a short position would be too aggressive for us, given the stock's risk/reward profile. However, it is hard to argue that Ray Dalio made an impetuous bet. Most importantly, his short position on Santander is well-supported by fundamentals.
If you would like to receive our articles as soon as they are published, consider following us by clicking the "Follow" button beside our name at the top of the page. Thank you for reading.
We also invite readers to check out our subscription service. Get in-depth fundamental research, stock recommendations, trading ideas, exclusive access to professional databases, sophisticated valuation models and expert commentary on Wall Street recommendation. Go here to learn more; we look forward to having you on board. In addition, we are offering a 2-week free trial.
Disclosure: I am/we are long BNCZF.
I wrote this article myself, and it expresses my own opinions. I am not receiving compensation for it (other than from Seeking Alpha). I have no business relationship with any company whose stock is mentioned in this article.