Welcome to the 78th entry in our Runner of the Year (ROTY) series.
Our model account utilizes a full position size of $10,000 and can hold up to 10 positions. Trades typically occur in quarter increments ($2,500) with cost averages calculated at the day's close. The model account is primarily for referential purposes, so no matter a reader's account size, they can easily follow along and scale trades accordingly.
Author's note: Readers are encouraged to pay close attention to each entry in the series, as positions could be added to or sold at any moment for a variety of reasons (material events, red flags, swapping out for a more promising stock, etc.).
Expect two to four editions of ROTY to be published each week, depending on the quantity of material developments and trades.
Stocks mentioned in ROTY editions at times experience significant volatility, especially on days articles are published. Readers are encouraged to avoid the urge to impulse-buy. Instead, they should take the time to evaluate ideas for themselves, do due diligence, and only make trades as part of their own plan. ROTY is not about blindly following but instead aiding readers in becoming better traders/investors as they make their own decisions.
Current Snapshot of ROTY Model Account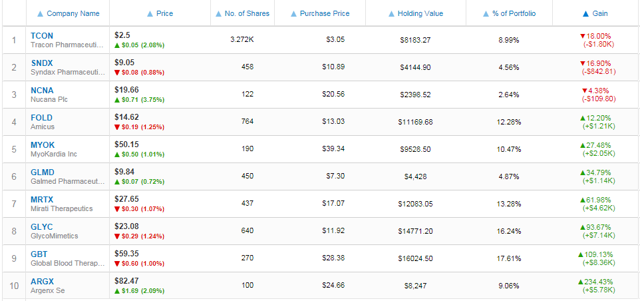 Position Explanation/One Sentence Thesis
1. Tracon Pharmaceuticals (TCON) - The ROTY model account holds a full position in the stock, although recent weakness is quite concerning. The company has several clinical readouts in the near to medium term to drive additional upside (TRC105 in RCC, JNJ partnered TRC253, Santen (OTCPK:SNPHY)-partnered DE-122 in wet AMD, interim data pivotal TAPPAS study, others), which contrasts nicely to a very low valuation.
2. NuCana (NCNA) - The ROTY model account is establishing a quarter-sized pilot position in the stock. The Scottish biotech´s unique ProTide technology converts widely prescribed chemotherapy agents to safer medicines with higher efficacy, and they have multiple data readouts coming this year in several indications (key catalyst is midyear interim data in platinum-resistant ovarian cancer patients).
3. Syndax Pharmaceuticals (SNDX) - The ROTY model account holds a quarter position in the stock and is looking to build up to a half position (reduced position size due to binary risk). Entinostat had very promising phase 2 results, PFS analysis for the phase 3 study E2112 (under SPA) has a decent shot at success (could potentially displace Afinitor as standard of care) and updated results from combination studies could also drive upside (plans for a pivotal study could be telegraphing encouraging results).
4. Amicus Therapeutics (FOLD) - The ROTY model account holds a full position. Continued execution with Galafold launch, regulatory catalysts and update with promising Pompe program (accelerated approval would be an added bonus but not necessary) should result in additional upside.
5. MyoKardia (MYOK) - The ROTY model account holds a 3/4 position (stock increased too much before we could get in a full position). Positive top-line data from a midstage study evaluating lead drug candidate mavacamten in symptomatic, obstructive hypertrophic cardiomyopathy bodes well for the lower dose cohort; Sanofi (NYSE:SNY) Genzyme partnership adds credibility; and pipeline continues to progress as the company targets its slice of the heart failure population.
6. Galmed Pharmaceuticals (GLMD) - The ROTY model account holds a half position (reduced size due to binary risk). This under-the-radar NASH play has two upcoming readouts and several bullish indicators (insider participation in secondary offering, former VP Clinical Research at Gilead Sciences (NASDAQ:GILD) and director at Tobira Therapeutics (NASDAQ:TBRA) added to board, lead investigator Professor Rohit Loomba for the ARRIVE study, etc.).
7. Mirati Therapeutics (MRTX) - The ROTY model account holds a 3/4 position (increased too much before we could add more). This is our targeted oncology play which appeared somewhat derisked due to prior data (promising response in first NSCLC patient harboring CBL inactivating mutation) and has a few key readouts coming up (phase 1b study of sitravatinib as a single agent in genetically selected patients with NSCLC and other solid tumors, mid-stage study of sitravatinib and nivolumab in patients with checkpoint refractory NSCLC, others).
8. GlycoMimetics (GLYC) - The ROTY model account holds a 3/4 position as a result of already taking partial profits on our win here. I liked the valuation gap as compared to Celator (acquired by Jazz Pharmaceuticals (NASDAQ:JAZZ) in a $1.5 billion deal) and looked forward to updated results for GMI-127, initial data in multiple myeloma, and other catalysts.
9. Global Blood Therapeutics (GBT) - The ROTY model account holds a 3/4 position as a result of already taking partial profits on our win here. $2 billion or more of potential peak sales for voxelotor is being increasingly figured into the stock price and upcoming results for the pivotal HOPE part A readout appear somewhat derisked.
10. Argenx (ARGX) - The ROTY model account held a half position in the stock prior to data presented at ASH and sold half after the stock doubled. We then sold another half after gains approached 200%. We continue to hold as I was/am a big fan of its first-in-class FcRn antagonist ARGX-113 and pipeline in a product approach with several indications being targeted (readouts throughout the year) plus promising oncology asset ARGX-111 (follow-up data throughout year).
Performance Since We Started Tracking

Returns for the ROTY model account also compare well to biotech benchmark (IBB) for the same time period.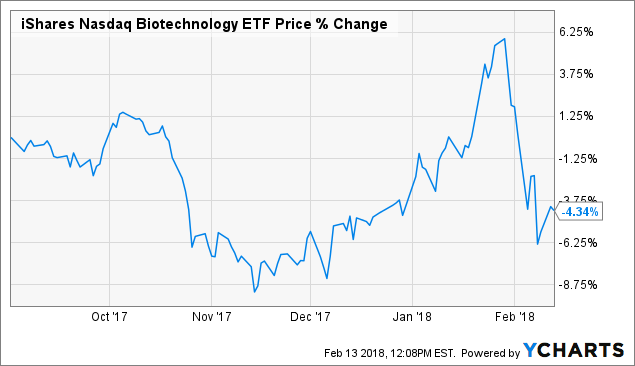 Keep in mind that all trades take place at the day's closing price when an article is published for the sake of transparency.
While the benchmark (S&P 500) above is automatically included in TipRanks, readers should be aware that I don't care much for the use of portfolio benchmarks. For me, the past decade or so, it's only been about absolute returns, consistent profits, and learning from my rough patches.
Current ROTY Contenders



Remember that the Contenders List consists of stocks that are potentially setting up for a big move and serves as an alternate idea bank for us. They are not official ROTY picks, but we keep an eye on them for possible swapping out for a current holding.
Catalyst Tracker
Below I´ve included links that will take you to the Excel spreadsheets for ROTY Model Account Holdings and Contenders. Feel free to Private Message me with any material events you believe should be included.
Catalysts for ROTY Model Account
General Commentary
I saw a headline the other day about Amgen (NASDAQ:AMGN) looking hard to find deals to take advantage of their $27 billion cash position. The argument is that it is hard to find value-priced assets considering that so many biotech stocks have run up so high. A bonus of the recent (and possibly ongoing) pullback is that some of these companies with prized assets may become available at more palatable prices.
A lot of the time I discuss with readers various aspects of the psychology of trading. One question that many have asked me is how we deal with feelings of indecision- in other words, what do we do when we don`t know what to do?
My first response is usually to reevaluate your thesis and chart for each stock. Ask yourselves how is it playing out. If necessary take time away from the market. In ROTY we are patient with our winners but nimble with trading out of losers or underperformers. Readers are aware I`ve been conflicted with several ROTY positions where I believe my fundamental analysis is solid and yet the stock isn`t moving. I consider digging in my toes, cutting my losses, going half size or a myriad of other options. Time away at a friend`s birthday party yesterday, a few dances with my wife and a good night`s sleep helped put things back into perspective.
For me it`s more important to be authentic than to be right. Part of posting in a public forum is that readers are going to get front row seats to my mistakes. It`s my hope that as I learn from them (or relearn as the case may be) that you benefit as well- either you are in the same boat or possibly viewing from the sidelines. Either way, feel free to take note of such situations and what I did right (or wrong) so as to be confident in your own decision making when it happens to you.
Updates on Model Account Positions
Amicus Therapeutics (FOLD)- The FDA accepted their marketing application for migalastat. A PDUFA date of August 13th has been set.
MyoKardia (MYOK)- For readers who own a position here or are considering doing so, I highly suggest reading this recent interview with management. It´s a fascinating look at the company, their background, aspects of current operations and future outlook. Special thanks to Bay Area Biotech Investor for the heads up.
Updates on Contenders
Aquinox Pharmaceuticals (AQXP)- The company reported that they met their enrollment threshold of 300 females int he LEADERSHIP 301 clinical study evaluating rosiptor in interstitial cystitis/bladder pain syndrome. Data is projected to read out in the third quarter. The stock has been in a steady uptrend since mid-December. They also received a key analyst upgrade from Guggenheim with a $26 price target.
AVEO Oncology (AVEO)- The company announced positive preliminary data from the phase 2 portion of the TiNivo study combining tivozanib with PD-1 inhibitor nivolumab for the treatment of metastatic renal cell carcinoma. Of 14 patients assessed (7 of whom received at least one prior systemic therapy), ORR was 64% and DCR was 100%. 11 of 14 patients continued on study at the time of data collection, an encouraging sign. The positive results coincide with the thesis presented in my prior piece that the drug candidate could be sufficiently differentiated from other VEGF inhibitor TKIs due to fewer toxicities and better tolerability. Top-line data in the second quarter from the TIVO-3 study remains a binary catalyst with large upside considering the company has its sights on seeking regulatory approval for both first and third line settings.
The UK´s NICE published a Final Appraisal Determination recommending FOTIVDA for first line advanced renal cell carcinoma (triggered a $2 million milestone payment from EUSA Pharma).
Achaogen (AKAO)- The company announced that it will report fourth quarter financial results on Tuesday after the close and host a conference call.
Abeona Therapeutics (ABEO)- The company announced that the FDA granted orphan drug designation for ABO-202 for the treatment of infantile Batten disease. The drug candidate should enter the clinic later this year.
Today's ROTY Model Account Trades
Adding a quarter position to NCNA as a bounce appears possible with catalysts coming as explained before. At market close the model account will own a half-size stake.
Initiating pilot position in CTMX after recent pullback (possible ASCO/ESMO runner with strong partnerships and good looking chart).
Initiating pilot position AQXP on recent weakness with runup into year end pivotal study results. I should have initiated this one sooner as we`ve been pointing out the strength in this chart for some time.
I will be eating some humble pie and selling the entire TCON position. I still am optimistic on results for RCC and we may miss out. However, ROTY guidelines have us sell losers and I want to be a good example here.
Selling entire SNDX stake due to recent underperformance in spite of optimism regarding upcoming results. The two newer positions we are initiating help lower the risk profile for the model account and we have binary exposure in other plays.
***Position explanation/one sentence thesis and Catalyst Tracker will be updated in the next edition.
Changes to the ROTY Contenders List
Additions: RGNX
Removals: Taking out ABEO due to underperformance. Like it as a long term idea but near term weakness continues.
Final Thoughts
Keep in mind that my objective for readers is to make their own decisions, trade their own plans, and adapt ROTY to fit their own needs and objectives. If you don't agree with some of the holdings in the model account (or they simply don't appeal to you), consider substituting ideas from your own research or the Contenders List while still implementing the overall strategy.
Feel free to ask questions, as we strive to have an ego-free atmosphere where readers bounce ideas off each other and contribute their own DD. The ROTY community consists of both expert and novice traders/investors who are quite generous with their time and knowledge.
In the end, the goal is to constantly improve, booking more profits and especially managing risk and emotions. We learn from losers and winners alike, knowing that if we stick to the process and analyze our trades, the end result is a growing brokerage account.
Notes
*Each position entails its own unique risks, from binary catalysts to disappointing data, competition to dilution. Weakness in the biotech space, as well as ideas with a lack of near-term catalysts, could also contribute to increased volatility.
**All positions in the ROTY model account are established at the closing price on the day this article is published for the sake of transparency.
In response to readers' requests, I am preparing to launch the ROTY Marketplace service. Subscribers will receive exclusive access to the ROTY model account, Contenders List, Catalyst Tracker, related articles and archived content, ego-free live chat and more. Your feedback has been very helpful and incorporated, including the need for a competitive price point that allows accounts of all sizes to continue to follow along.
For those of you who choose not to subscribe, I appreciate you following as well and will continue to publish non-ROTY ideas and the Core Biotech series as public content. While it sometimes takes me a while to respond due to a hectic schedule, I am and will continue to be available via private message for concerns or questions you have going forward.
Author's note: My goal is to bring to readers' attention undervalued stocks with catalysts that could propel shares higher, as well as provide a fresh perspective on stocks you may already be aware of. I also touch on planning trades and risk management, as those are two areas I feel are often neglected. If you found value in the above article, consider clicking the orange "Follow" button and getting email alerts to receive my latest content. My sincere appreciation for readers who add value and join the discussion in the comments section, as well as those who share my work with others who could benefit from it.
Disclaimer: Commentary presented is not individualized investment advice. Opinions offered here are not personalized recommendations. Readers are expected to do their own due diligence or consult an investment professional if needed prior to making trades. Strategies discussed should not be mistaken for recommendations, and past performance may not be indicative of future results. Although I do my best to present factual research, I do not in any way guarantee the accuracy of the information I post. Investing in common stock can result in partial or total loss of capital. In other words, readers are expected to (and encouraged) form their own trading plan, do their own research and take responsibility for their own actions. If they are not able or willing to do so, better to buy index funds or find a thoroughly vetted fee-only financial advisor to handle your account. I am in a collaborative relationship with The Biotech Forum/Bret Jensen.
Disclosure: I am/we are long FOLD, GBT, GLYC, NVCR, SNDX, TCON.
I wrote this article myself, and it expresses my own opinions. I am not receiving compensation for it (other than from Seeking Alpha). I have no business relationship with any company whose stock is mentioned in this article.
Editor's Note: This article discusses one or more securities that do not trade on a major U.S. exchange. Please be aware of the risks associated with these stocks.