J.C. Penney (NYSE: JCP) was often spoken in the same vein as Sears (NASDAQ: SHLD) just a few quarters back. However, the company has shown decent performance in the first three quarters of 2017 and it had an amazing holiday season. This has allowed the company to improve its free cash flow position. It is also looking forward to showing profitability in 2018, for the first time in several years. The market is still doubtful of JCP's turnaround which is why the company has one of the lowest PS ratios among all retailers with positive FCF. JCP provides investors with a good bargain buy at the current price point.
A successful turnaround and positive tailwinds
Good performance in a single holiday season hardly counts as a successful turnaround. But we should also look at the expectation versus performance. The expectations from JCP at the start of 2017 were quite low. In the first three quarters of 2017, the company delivered comp sales decline of 1% on the back of flat comp sales in 2016. This seems like a poor performance but we should also compare this figure against other retailers. For example, Macy's (NYSE: M) showed comp sales decline of 3.6% in the first three quarters of 2017 and 2.9% decline in 2016. Hence on a cumulative basis, JCP has had a decent performance.
We should also look at the holiday season performance on a cumulative basis. A particular retailer can show a strong headline comp growth rate but it should be measured with the performance in the year-ago holiday season also. Kohl's (NYSE: KSS) has been at the center of all talks of a retail rebound during the last few weeks. It showed a staggering comp sales growth of 6.9%. On the other hand, JCP showed 3.4% comp growth and Macy's showed 1.1% comp growth. But in 2016 holiday season comp sales fell by 2.1% at KSS, 2.1% at Macy's and only 0.8% at JCP.
Hence on a two-year cumulative basis the comp sales growth by KSS was 4.8%, JCP was 2.6% and Macy's was negative 1%. KSS is currently riding high on its recent performance and is trading at a trailing twelve months, ttm, PE ratio of 16.5. The PS ratio of KSS is 0.57 whereas JCP is trading at only 0.087 PS ratio.
JCP's management has not changed its guidance for full-year comp performance. It had earlier forecasted comp sales to dip by 0% to 1% in 2017. This would mean that Q4 comp sales growth would be between -1% to 2%. The holiday season has shown that JCP will easily beat the higher end of the forecast which means that the full year comp sales growth would be over 1%. This is not a strong turnaround but it is still a decent performance against the earlier expectations and especially when comp growth is measured on a two-year cumulative basis.
JCP has got the benefit from the poor performance at Sears, whose comp sales declined in the double digits. If Sears ends up going into bankruptcy in 2018 or closes a large percentage of stores, JCP will reap maximum benefit because of the similar income level of their customer base to that of Sears. JCP's appliance sales have been particularly strong as customers move from Sears to JCP.
Sears is an order of magnitude bigger than Bon Ton which recently went into bankruptcy. Bon Ton had annual revenue of $2.5 billion whereas Sears had a revenue base of $22 billion. Hence if Sears does go into bankruptcy or reduces its footprint significantly, it will reduce the competitive pressure for JCP and also provide immediate sales growth. This should help JCP show improvement in both margins and sales.
Why bargain hunting is attractive
The threat from Amazon (NASDAQ: AMZN) is real but the doomsday prediction for retailers is also exaggerated. There are several retail segments which Amazon will find it difficult to enter unless it has a big physical store presence. This could be seen by the entry in physical grocery segment through the purchase of Whole Foods. Similarly, it would be difficult for Amazon to get a big market share in heavy appliance segment or beauty products. JCP is targeting both these revenue streams. JCP has rapidly increased the stores which have Sephora shops within them. By the end of last year, JCP had Sephora shops in 75% of its stores.
These new segments should help JCP stabilize its retail operations and show modest growth in the next few years. However, JCP and other physical retailers would not be growth stocks. Hence any investment which is made must be on companies which are trading at a huge bargain and provide good margin of safety.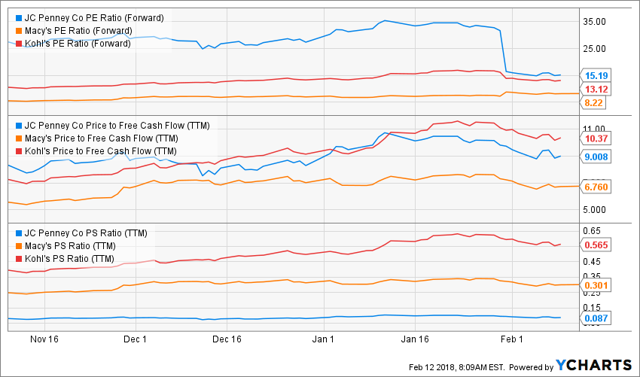 Although JCP has a higher forward PE ratio than that of Macy's and Kohl's, it would be relatively easier for JCP to beat the current EPS estimate due to very low margin expectation from the company. As Sears sales decline JCP should see good jump in net income and free cash flow. At the same time it has very low PS ratio compared to all major retailers.
Investor Takeaway
JCP looks like a good investment when we look at the cumulative comp growth numbers, new initiatives by JCP, tailwinds due to lower store count among other retailers and a low valuation multiple. If the current comp growth momentum continues over the next couple of quarters, JCP's stock can see a decent bullish momentum. At the current price point JCP is a BUY.
Disclosure: I/we have no positions in any stocks mentioned, and no plans to initiate any positions within the next 72 hours. I wrote this article myself, and it expresses my own opinions. I am not receiving compensation for it (other than from Seeking Alpha). I have no business relationship with any company whose stock is mentioned in this article.