On Thursday, NVIDIA (NASDAQ:NVDA) announced another strong fourth quarter that capped another record year. Reported headline numbers beat the consensus by a wide margin as Revenue of $2.91B (+ 34.1% Y/Y) beats by $230M and EPS of $1.72 beats by $0.56. As we head into F2019 the management has issued positive outlook and investors have responded with great euphoria by sending the shares up almost 10% in after-hours trading.
We think as investors celebrate another record year and record profits, it is important to take a pause and understand what has driven NVIDIA's success thus far and what to expect for fiscal 2019.
Recap of a Successful Fiscal 2018
NVIDIA again delivered stunning returns for shareholders with over 80% return compared to AMD (AMD) and Intel (INTC). The successful year was met with a last-minute selloff across the equity market that erased part of the earlier gains. AMD lost all of its previous gains and ended the year down almost 20% while Intel logged a mere 20% gain at the end.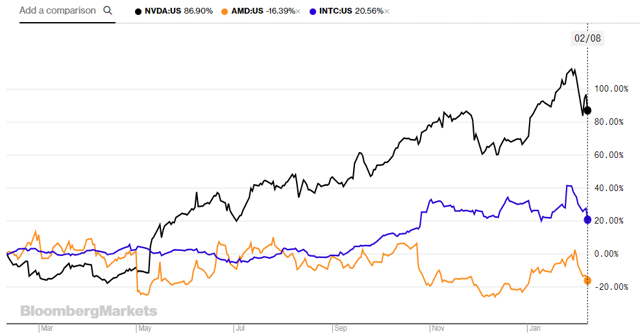 `
Q4 F2018 - Finished Strong
NVIDIA reported better-than-expected results across the board. Revenue for the quarter jumped 34 percent from a year earlier, and revenue of the full fiscal year of $9.71 billion was up 41% from last year.
Earnings: $1.78 per share, vs. $1.17 per share as expected by analysts, according to Thomson Reuters.
Revenue: $2.91 billion, above consensus estimate of $2.69 billion
Gaming: $1.74 billion in revenue, above consensus estimate of $1.54 billion
Data center: $606 million in revenue, above the consensus estimate of $552 million.
Cryptocurrency demand contributed to sales growth for Nvidia's Pascal-generation graphics processing units for gaming, however, the company did not isolate the impact of cryptocurrency mining
Nintendo Switch contributed to Nvidia's growth in the quarter.
NVIDIA's Tegra processor revenue, which totaled $450 million, representing a 75% increase from last year.
NVIDIA introduced the Titan V graphics processing unit for desktop PCs which employs its 7th-generation Volta architecture
Strong Q1 2019 Guidance
Revenue is expected to be $2.90 billion, plus or minus two percent.
GAAP and non-GAAP gross margins are expected to be 62.7% and 63.0%, respectively, plus or minus 50 basis points.
GAAP and non-GAAP operating expenses are expected to be approximately $770 million and $645 million, respectively.
GAAP and non-GAAP tax rates are both expected to be 12 percent, plus or minus one percent
`
Segment Performance
NVIDIA's successful 2018 was largely driven by its success in its two largest segments, Gaming and Datacenter. Both segments together account for more than 80% of the total revenue and both have been growing at double-digits in the last year. We believe going into 2019 investors will continue to focus on these two segments for any clues as to whether NVIDIA will be able to sustain its impressive growth trajectory.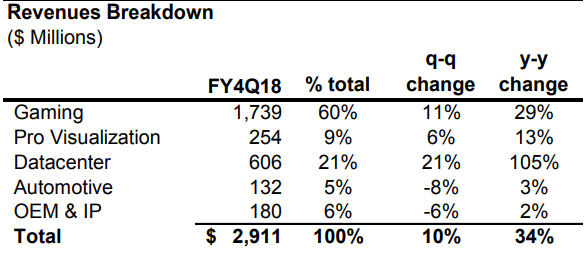 (BMO Research)
Gaming
Gaming revenues were $1.74 billion, up 11% from last quarter and up 29% year over year. The growth in gaming was driven by largely by strong demand across Pascal GPUs. The company also noted an increase in cryptocurrency mining demand that exceeded management expectation although management did not quantify the impact. The company also noted it sees pent-up demand for GeForce GPUs as channel inventory was below the historical level. We expect the company to try to fill up channel inventory during the next quarter which could provide a further tailwind for the segment.

(NVIDIA Investor Presentation)
Datacenter
Datacenter has proven to be a resilient key growth driver for NVIDIA. Revenue for the quarter was up 21% sequentially and up 105% over last year. Management noted that the Datacenter outperformance was driven by V100 GPUs, new DGX systems, and design wins in HPC.

(NVIDIA Investor Presentation)
`
GPU vs CPU
NVIDIA's success relies on the adoption of GPU and we thought it might be worthwhile to review what is a GPU and what are its applications. For investors new to the space you should understand NVIDIA's main product before making any investment decision. If you ever wonder what is the difference between a CPU and GPU (NVIDIA focuses on GPU exclusively), you won't be able to fully appreciate NVIDIA's future until you understand the concept. Insight64 principal analyst Nathan Brookwood described GPU this way:
"GPUs are optimized for taking huge batches of data and performing the same operation over and over very quickly, unlike PC microprocessors, which tend to skip all over the place."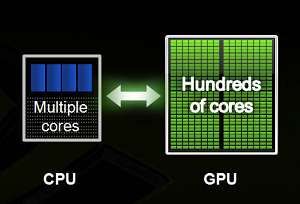 Source: NVIDIA
According to NVIDIA "the CPU (central processing unit) used to be the brain for PCs. But increasingly, that brain is being enhanced by another part of the PC – the GPU (graphics processing unit). All PCs have chips that render the display images to monitors but there are different types of chips used in your PCs. Intel's integrated graphics controller provides basic graphics that can display only productivity applications like Microsoft PowerPoint, low-resolution video, and basic games. The GPU is unique in that it goes far beyond basic graphics controller functions, and is a programmable and powerful computational device in its own right."
`
NVIDIA's Future
We think the three things to watch for in 2019 and onwards would be the three largest markets for NVIDIA. Gaming already counts for the lion's share of revenue and will continue to have an outsized impact on overall revenue and profitability. AI / Datacenter have proven far more resilient and high-growth than most of us had expected and we do not expect it to slow down anytime soon. Autonomous vehicles represent a small segment of the overall pie now, but NVIDIA is fully engaged and well-positioned once the market takes off in the coming years.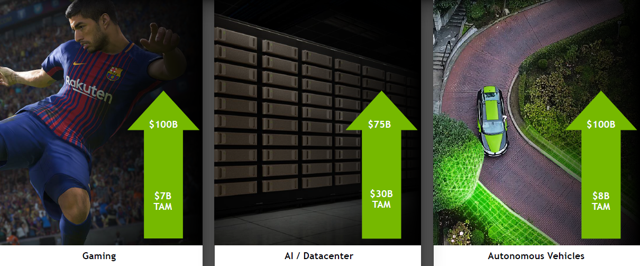 (NVIDIA Investor Presentation)
Gaming to Remain Strong
Going into 2019 and for years to come, Gaming will continue to generate a larger portion of NVIDIA's revenue. As new games become increasingly demanding on graphics, NVIDIA is poised to benefit from continued growth in video games. New titles released by major companies such as Electronic Arts (EA), Activision Blizzard (ATVI), Take-Two (TTWO) are all upgrading to 4K, HDR, and VR. The proliferation of eSports is also helping drive increasing demand for gaming equipment. We believe 2019 will be another year of strong growth for NVIDIA's gaming division as the trends are not slowing down. Major gaming companies all reported upbeat guidance for the upcoming year and we expect the success in Nintendo Switch to continue. Major title releases will continue to drive strong demand for NVIDIA's products including Call of Duty: WWII, Star Wars Battlefront II, Destiny 2. All the new games released are increasingly asking for stronger graphics and NVIDIA is perfectly positioned to benefit from the transition to 4K gaming.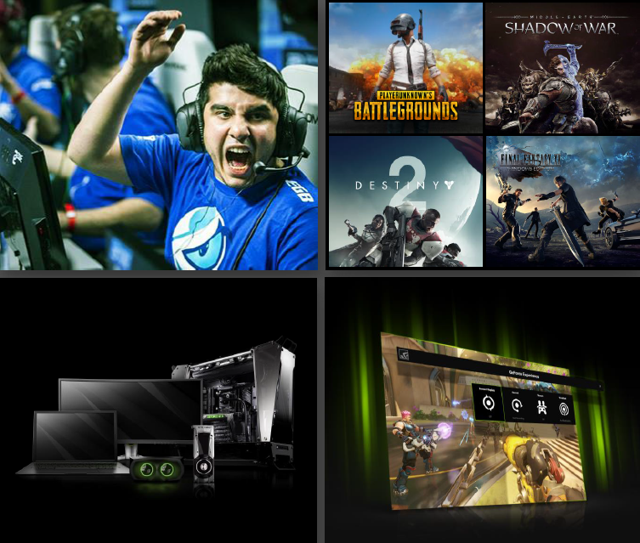 (NVIDIA Investor Presentation)
At this year's CES, NVIDIA introduced new products including NVIDIA BFGDs (Big Format Gaming Display), a big-format gaming display under a partnership with Acer, ASUS, and HP. The new gaming monitor boasts 65-inch 4k display with ultralow latency gaming and has popular streaming devices integrated such as Netflix, YouTube, and Hulu. NVIDIA also introduced GeForce NOW, designed to transform Macs or PCs into high-performance gaming machines. With this new product, Mac users are able to play PC-made games on their Macs including some of the most popular AAA games.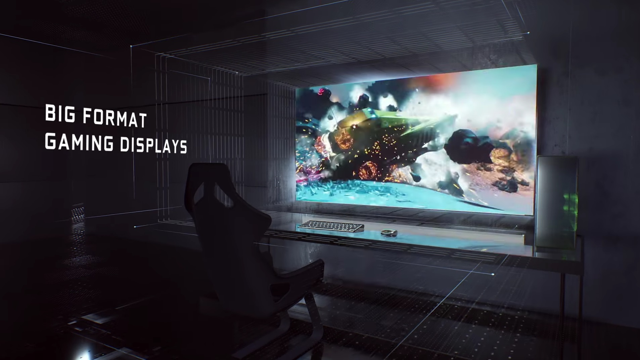 (NVIDIA Investor Presentation)
Crypto Volatile but Small Contribution
NVIDIA management commented on the impact of crypto mining on its fourth quarter result after saying that it had planned for a flat contribution:
"While the contribution of cryptocurrency mining to our business is hard to quantify, it is likely to have been higher than in previous years. However, we remain committed to our gaming demands as cryptocurrency trends are likely to remain volatile."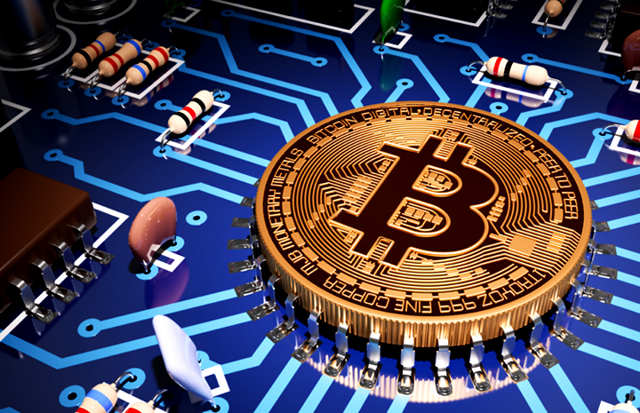 (Trend Micro)
We think the contribution of crypto miners (OTCQX:GBTC) (COIN) will ultimately depend on the fate of cryptocurrencies and NVIDIA is not in the business of predicting such outcome. The management will continue to have tamed expectation for this small segment of demand and we expect the contribution to be flat to slightly down in the coming year - although NVIDIA does not disclose such revenue. Crypto mining has gone mainstream and several companies have gone public including HIVE (OTCPK:HVBTF) that will drive continued demand for high-spec mining equipment.
AI / Datacenter
NVIDIA has an incredible position in the AI / Datacenter business. Its launch of Tesla V100 GPUs was a huge success with every major cloud provider counted as its customer, including Alibaba, Amazon Web Services, Baidu, Google, IBM, Microsoft Azure, Oracle, and Tencent. Going into F2019 and the future we think the trend is clear that big tech names are increasing their spend on data centers. Facebook (FB) announced that it will double its capital expenditure in 2018. We think the continued adoption of cloud services and advancement of AI technology will drive strong demand for NVIDIA's GPUs for the years to come. Expect this segment to grow at a faster rate than Gaming.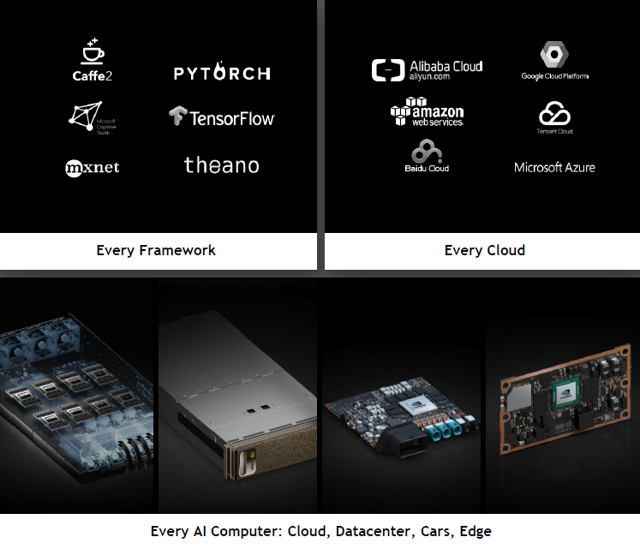 (NVIDIA Investor Presentation)
Autonomous Vehicles
NVIDIA's strategy for autonomous driving is based on creating the de facto platform for both hardware and software. NVIDIA DRIVE becoming the largest platform for developers in the autonomous driving industry. DRIVE PX is a scalable architecture for autonomous driving. DriveWorks is a Software Development Kit (SDK) that contains reference applications, tools and library modules for developers.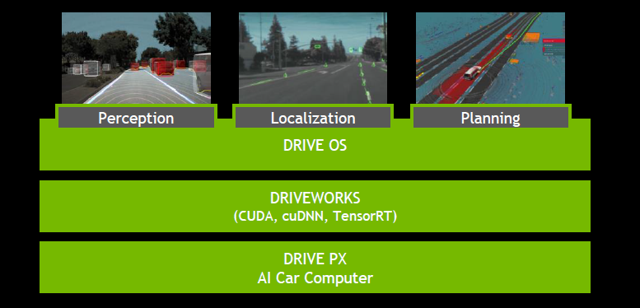 (NVIDIA Investor Presentation)
So far NVIDIA has engaged over 320 partners to develop on its NVIDIA DRIVE platform. The partnership includes some of the most innovative car companies, tier 1 suppliers, and mapping and sensor companies. Its recent success in securing partnerships with leading companies in the auto and related industry solidified its leadership position in autonomous driving:
Announced Baidu and ZF partnership
Announced Aurora partnership
Announced Uber partnership to deploy its first fleet of Volvo XC90 SUVs
Announced Volkswagen partnership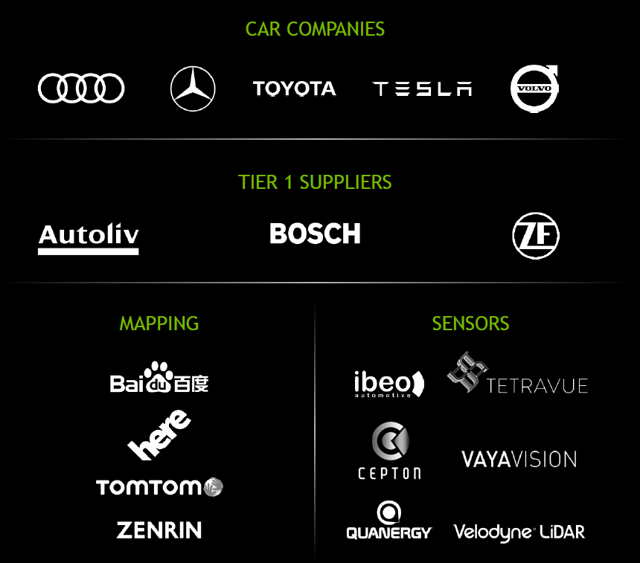 (NVIDIA Investor Presentation)
`
Summary
Gaming is a mature market with favorable underlying demand trends that will continue to drive growth for years to come. AI / Datacenter will exhibit high growth and its impact on NVIDIA will only grow bigger over time. Autonomous vehicle (AV) is an emerging industry and we think NVIDIA has invested heavily to position itself for an eventual breakthrough in this market. We expect 2019 to see another record year for gaming and data center, while autonomous vehicles continue to evolve and develop with relatively small contributions in the near-term. NVIDIA is the leader in its respective fields and is uniquely positioned to reap benefits from several industry tailwinds. NVIDIA's past success was built on its market-leading position as the #1 gaming platform, #1 AI platform and #1 AV platform. Gaming is mature and growing steadily, AI is growing at a fast rate and reaching scale and AV represents another multi-billion market.
2018 was great, and we think 2019 could be even better. We are optimistic that NVIDIA will continue its beats and raises pattern as it did consistently in the past. The question for 2019 is one about what is priced in after years of rapid growth and astounding share price gains (17x return in 5 years).
`
Author's Note
We hope you found our article worthwhile. Consider "following us" to receive updates for future publications as we roll out our coverage of chipmakers.
Editor's Note: This article covers one or more microcap stocks. Please be aware of the risks associated with these stocks.