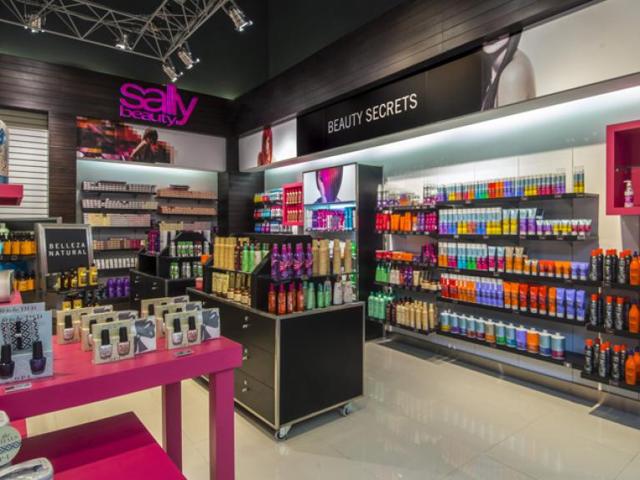 I have been constructive on Sally Beauty Holdings (SBH) of late, a position I had to convince myself of considering the way the chart looks below. SBH has had a difficult time in the past couple of years, warding off pressure from competitors that include Ulta (ULTA) and even Amazon (AMZN). But SBH has some strong points in its corner as well. The stock tanked heading into Q1 results earlier this month. But a very strong reaction to the report has shares back at $17 as I write this. The report wasn't all that great to be honest, but the stock had become cheap enough that lots of bad news was priced in - is that still the case?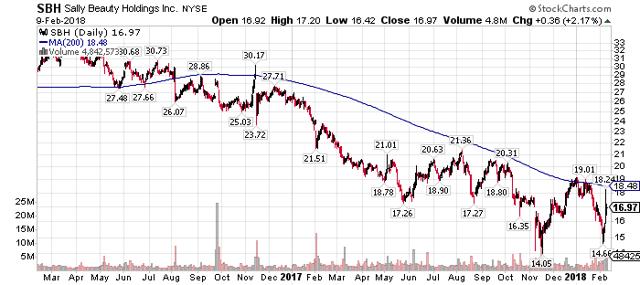 The 200-DMA remains an impenetrable barrier
I'll mention the chart briefly here because a very clear pattern has emerged - the 200=DMA has become a brick wall for this stock. We can see no less than seven times in the past two years where the stock has come into the 200-DMA only to be rebuffed. And it happened earlier this year as well as right after the earnings report. The 200-DMA is starting to flatten out and that's great. But the bulls have to show some conviction when the stock gets there and punch through. Until that happens, we've got an ever-shrinking ceiling on the stock price.
Q1 wasn't great
Apart from that unpleasantness, SBH's fundamentals have shown signs of improvement, although those signs tend to be fleeting. That was the case again in Q1 as there honestly wasn't a great deal to like. The stock showed a relief rally, not one that was driven by a newly discovered upward trend in SBH's operating results.
Total sales were down 50bps in Q1 so that certainly wasn't a disaster, but comps were down 2.2%. That's a much worse result, and again, not a disaster, but certainly not what those of us that are bullish were hoping for. SBH has struggled for a while with traffic. And while its plan is to try and increase its online presence with its two-day delivery push, I'm afraid that may not be enough. I was a little disappointed to see the weak comp result and I didn't see anything in management commentary to suggest there's a viable plan for dealing with it.
On the plus side, the weak dollar contributed 120bps to sales and I suspect we'll see more of that as the year goes on. The dollar has bounced a bit thus far this year but the trend is clearly lower and until that changes, SBH stands to gain meaningfully from it. It is a most welcomed development because the comp sales number it produced in Q1 was very weak. And while forex translation gains aren't as high quality as traffic or average ticket, they still count and SBH can use all the help it can get right now.
Gross margins fell 30bps in Q1 to 48.9%, so that's certainly not a huge decline by any means, but it obviously doesn't help. SBH blamed pricing initiatives and increased international mix on the move down in gross margins, both of which are things that very well could hang around for a long time. SBH's pricing initiatives to try and get back some lost market share are fine so long as they drive higher revenue. The problem is that it is seeing lower margins because of it while simultaneously posting lower comps - that's a downward cycle that can be difficult to get out of. The magnitude of the problem is small thus far, but it is something to keep an eye on going forward.
On the bright side, SG&A costs were leveraged down slightly so the loss to operating margin was just 20bps to 11.6%. That's actually a relatively high operating margin rate for a retailer so it isn't like SBH has an inferior model or something. The problem is that it is having a very difficult time with growth as it invests in lower prices but also isn't driving extra traffic in the process.
The buyback is the key
Those high margins do, however, allow for some pretty robust FCF generation, which was the basis of my bull case lately. SBH continues to buy back a lot of stock and retired another $65M in Q1. That's good for about 3% of the float, or an annual run rate of roughly 12%. That's a huge pace of buybacks and this is undoubtedly going to be the largest source of EPS growth for SBH going forward. While I'd certainly prefer actual dollar earnings growth, this will do just as well and SBH continues to make buybacks a priority.
Guidance for this year was underwhelming with just about everything guided to be flat except for operating margins, which SBH reckons will tick slightly lower. But that means so long as SBH continues to buy back stock, we should see 10% or so EPS growth for the foreseeable future and that may just be good enough. The stock is going for just 8 times this year's earnings, which is tremendously low in today's market and puts its PEG at well under 1. SBH has its fair share of problems and I'm certainly not denying that, but buying back 10% of the float annually covers up a lot of ugly. And at just 8 times earnings, SBH is very cheap. I don't think its operating results are anywhere near bad enough to make it a sell here so I'm sticking to my guns on the bullish side for now. SBH is not perfect but it doesn't deserve to trade at 8 times earnings and I think once the 200-DMA barrier is broken, it will be off to the races.
Disclosure: I am/we are long SBH.
I wrote this article myself, and it expresses my own opinions. I am not receiving compensation for it (other than from Seeking Alpha). I have no business relationship with any company whose stock is mentioned in this article.