A reader recently asked me:
Besides the standard list of Dividend Champions, what companies do you think will be excellent investments for the next 20 years?
I decided I would build a miniature portfolio. These are the companies that I think deserve attention:
Roughly speaking, here's how I think about them at a high level.
Ability to weather the storm (mostly non-cyclical)
Solid but stable growth potential (strong earnings growth)
Excellent credit quality and also strong agency ratings
Growing dividends and strong buybacks (generally speaking)
Here's a quick at-a-glance view: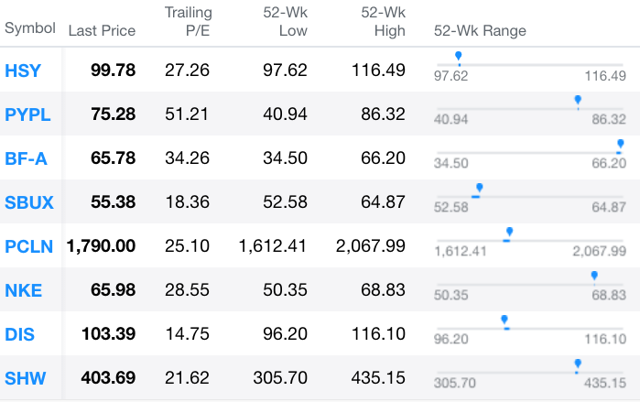 Let's get one thing out the way.
These are the stocks that I would not buy today due to overvaluation:
I have BF-A and NKE in my own portfolio today. But I'm not adding at these prices. I think they are wonderful, but I'm not buying more. All of them are a hold for me.
And, these are the stocks that I am very closely watching today because they are starting to get near my buy prices:
I have DIS and HSY in my own portfolio. I like HSY, SBUX and SHW right now, but I'm being patient about them. I really want bargains when I buy.
Here's another view of these companies:

I like to look at P/E ratios from multiple sources (e.g., Yahoo Finance, Scottrade, Seeking Alpha, F.A.S.T. Graphs, and others). Of course, I'll hit source documents as well. But, this approach is useful in finding discrepancies plus it helps me think through various assumptions being made about the present and future.
The Beta Factor
As you can see, I've snuck Beta into this view. Here's what Beta tells us:
A beta of 1 indicates that the security's price moves with the market. A beta of less than 1 means that the security is theoretically less volatile than the market. A beta of greater than 1 indicates that the security's price is theoretically more volatile than the market.
All of these stocks are below a beta of 1.5 which I like. In general, lower beta seems to work out better in two ways. First, if a stock is less volatile it is easier on my rational mind but also on my emotions. Low beta keeps me "cold" about my stocks and less likely to want to trade. Second, low beta stocks seem to perform better over time.
I think this spells it out pretty clearly:
Buffett is less a sage stock picker than a principled practitioner who has long understood the Low Volatility Anomaly and who had an investment vehicle that allowed him to avoid costly liquidations in times of stress. The average beta of his public stock holdings was just 0.77 over this period.
So, these stocks have an average beta of 0.97 and that's acceptable. I would have liked something down around 0.85 to 0.90 but this still works.
What About Yield and Credit Ratings?
You can scroll back up to take a look at yields. PCLN and PYPL do not pay dividends. To be very blunt, I don't like this because I love dividends, especially growing dividends. But, I also believe that these companies will eventually pay once internal growth opportunities begin to decline. That's a key reason I own Berkshire Hathaway (BRK.B). Eventually, I think they'll pay a juicy dividend. And, for these companies, I could sell to create an artificial dividend although I have no plans to do that.
So, here's what we've got with the other six companies:
BF.A has a starting yield of 0.96% (8.6% Dividend CAGR)
DIS has a starting yield of 1.32% (11.6% Dividend CAGR)
HSY has a starting yield of 2.63% (9.4% Dividend CAGR)
NKE has a starting yield of 1.21% (14.1% Dividend CAGR)
SBUX has a starting yield of 2.17% (28.7% Dividend CAGR; 8 years)
SHW has a starting yield of 0.84% (11.2% Dividend CAGR)
I also like to look at credit ratings. Here's a quick view.
Credit Quality
BF.A has S&P Credit Rating: A-
DIS has S&P Credit Rating: A+
HSY has S&P Credit Rating: A
NKE has S&P Credit Rating: AA-
SBUX has S&P Credit Rating: A-
SHW has S&P Credit Rating: BBB
PCLN has S&P Credit Rating: BBB+
PYPL has S&P Credit Rating: BBB+
So, all of them are Investment Grade: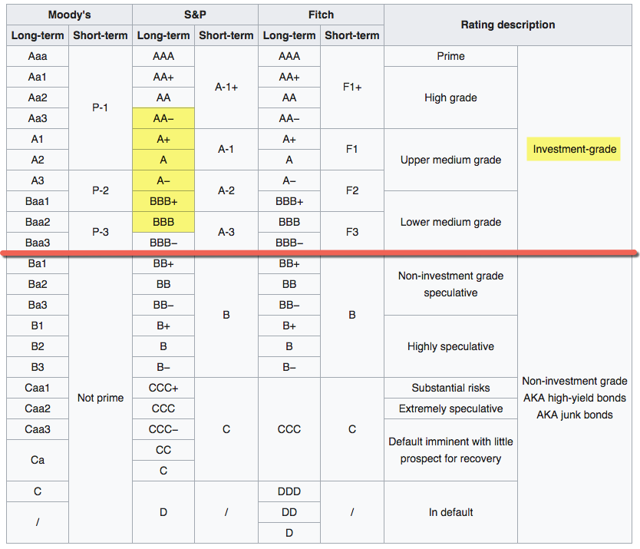 Moving forward...
What About Near-Term Growth Potential?
in my mind, these are mostly growth companies. Here's how it actually looks:
BF.A estimated earnings growth: 10.9%
DIS estimated earnings growth: 11.4%
HSY estimated earnings growth: 8.7%
NKE estimated earnings growth: 12%
SBUX estimated earnings growth: 15.7%
SHW estimated earnings growth: 16.4%
PCLN estimated earnings growth: 14.1%
PYPL estimated earnings growth: 20.3%
It's pretty interesting that the lowest estimated growth is 8.7% which I see as being quite respectable. I also find it interesting that six out of eight of these "mostly growth" companies pay dividends.
(Mostly) Cannibals Over Long Periods of Time
And, out of curiosity, what about share buybacks? Are these cannibals?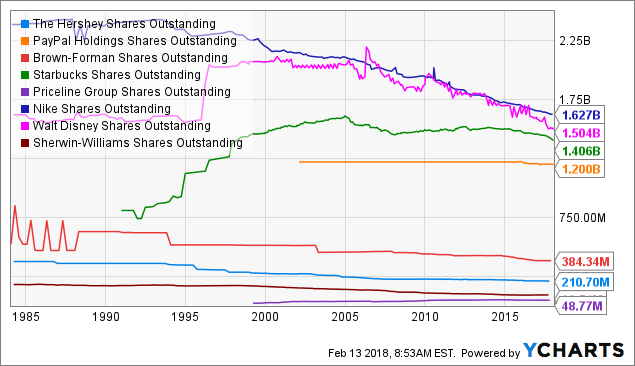 Generally speaking, since 2005 these companies have been buying back shares. The scale kind of warps things. So, I'll break out HSY, NKE, SHW and also PCLN (because it's not a cannibal).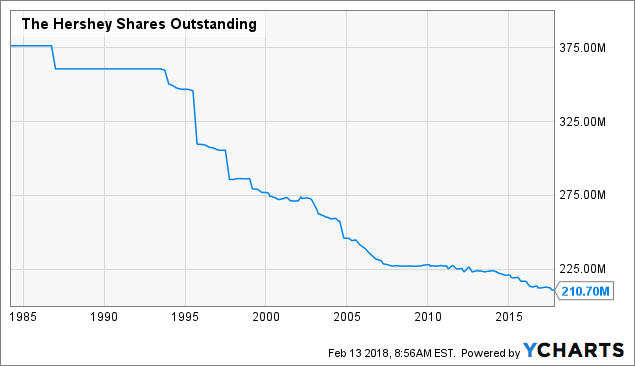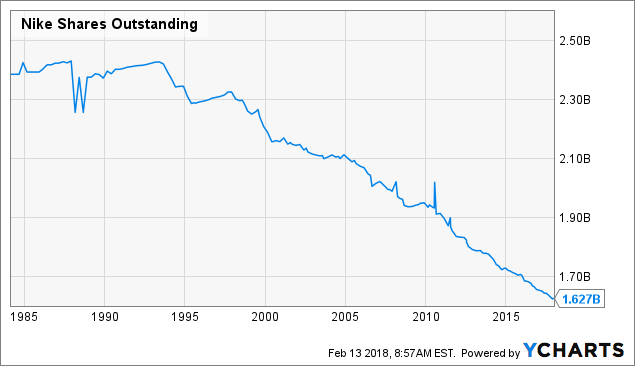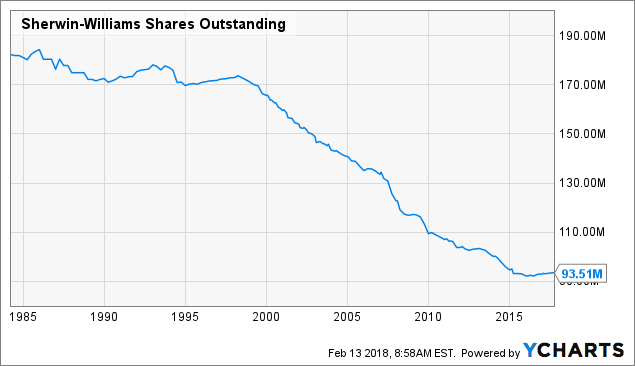 I definitely see an exception here, and that's PCLN: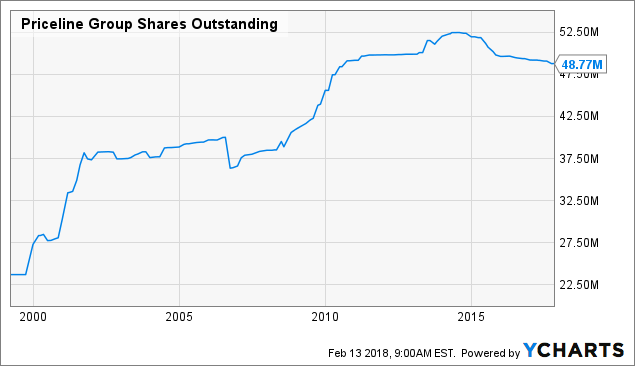 That would require some additional due diligence but my hunch is that this might be executive compensation, although it also could be from M&A activity. Again, this gives us the clues for deeper analysis and it's why we do this.
Additional Notes and Caveats
HSY is an old company, founded in 1894. I like this. I also like this business because it's extremely easy to understand. There's low complexity. The Hershey brand is very powerful, well known and generally respected. It's mostly a U.S. company with room to grow internationally.
PYPL was a crown jewel of eBay (EBAY). It was founded in 1998, then

IPOed

in 2002 and then got folded into eBay. In 2015, it was spun out. I'm a fan of Visa (V), Mastercard (MA), and American Express (AXP). I see PYPL as a "new breed" of payment processing with tremendous upside. Although it will end its exclusive agreement with eBay by 2020 I'm not too worried. That's because eBay is "only" about 10% of PYPL's sales. It'll be fine.
BF is a gem in plain sight. On January 23rd they unleashed all of this: 5:4 stock split, special $1.00 dividend, fully funded pension, and more. They also have tremendous brand power with Jack Daniels.
SBUX looks flat over the last couple of years - lower than expected growth, possible wage inflation, and so on. But there's still growth, just not as fast as many investors want or expect. There's also huge potential in China and Japan. The biggest pressures are likely to keep coming from McDonald's (MCD) and other companies. But SBUX has a very strong brand.
PCLN is probably the biggest wild card - I need a huge margin of safety with this one. It grows like crazy. ROIC has been over 12% (and often much higher) for the last 10 years. It's innovative, it's No. 1 in many categories and it's the leader in online travel services. But, to be totally clear, I don't like the share dilution.
NKE has an extremely strong brand. It's got a great culture and Phil Knight's story is incredible. It figured out how to "exploit" the power of sports and celebrity power. But you don't have to be an athlete to enjoy.
DIS is an entertainment and cultural powerhouse. While EPSN continues to drag on Disney, I'm not worried. With Marvel Studios, Star Wars, Pixar, Disney World, Disneyland, ABC, A&E and more, I'm quite comfortable. I think this is accurate: Charlie Munger refers to Disney as an oil company that pumps money out of the ground, then puts it back for a generation to return to it when the time is right.
SHW is such a boring business - paint. It's eating Valspar right now but should work out just fine. It's a very easy hold if you've already got it. I've got a lot of respect for this old but constantly growing company. At some point in time, I expect I'll cover my portfolio in paint. We'll see.
Super Fast Wrap Up
At this high level, there's plenty more due diligence required. But, I really like these companies especially at the right prices.
If I had to remove one company and replace it with another, it would likely be Priceline. I would like a better debt profile and I'm not keen on the share growth. That requires deeper analysis.
If I did remove Priceline, I'd very comfortably add Visa (V). I already have a payment company in the mix with PayPal but Visa is just a money making machine. I've already held Visa for many years and will continue to hold it.
I welcome your comments and insights.
Stay frosty!
ATTN: Individual Investor!
You know how it's hard to be a winning investor on your own?
I solve that with Rhodes to Wealth.
I send out a FREE daily email that shows you how I've beat the market for years... using simple tactics, buying great companies and piling up dividends, month after month.
Disclosure: I am/we are long HSY,BF.A,NKE,DIS,V,MCD,BRK.B,AXP. I wrote this article myself, and it expresses my own opinions. I am not receiving compensation for it (other than from Seeking Alpha). I have no business relationship with any company whose stock is mentioned in this article.