The recent stock market sell-off is viewed by many market analysts to be triggered by at least two things: 1) a rise in interest rates, and 2) a rise in the VIX (e.g. stock volatility index). These narratives certainly make sense.
We also are hearing near-daily calls about the "end of the bond bubble." Perhaps these calls are accurate. On the other hand, one might view the recent sell-off in bonds to be typical first quarter action and mean-reversion within an upward trend. CBOT Bond futures, for example, have not yet fallen below weekly trendline support, as shown below.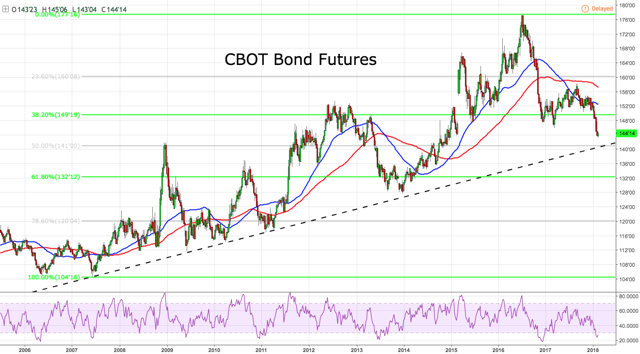 The iShares TIPs Bond ETF (TIP) is an ETF that invests in inflation-protected treasury bonds. Specifically, the interest rate that an investor will earn from an investment in TIP will be protected if inflation rises unexpectedly.
We can see below how TIP has close correlation with the value of the SPDR Gold Trust (GLD). However, these two ETFs began to diverge in mid 2017, and the divergence began to accelerate at the end of 2017. This is one of the potential "canaries in the gold mine" that suggests that gold is gaining more prominence as a safe haven.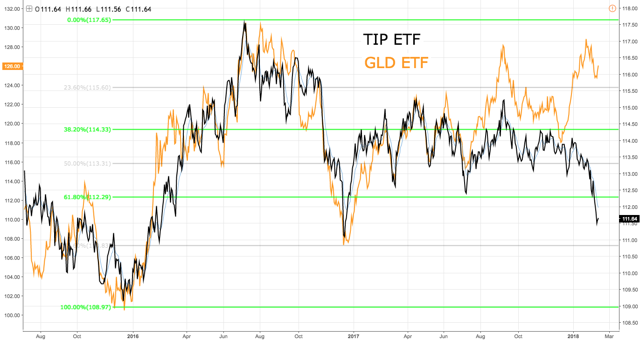 Is the "monetary reset" on the horizon? If so, then the divergence between TIP and GLD might be viewed in hindsight as a harbinger of it. If a monetary reset results in high inflation in the U.S., TIP might perform well, since its yields are protected. Moreover, if there's a systemic financial shock, then it is not likely that all certificate holders in GLD will be made whole (this should spark a vigorous defense below). Paper metals don't have the same safe haven characteristics as physical metals.
If we assume for a moment that we are NOT witnessing the end of the fiat monetary system, then one might expect TIP to recover and perhaps even outperform GLD over the next year, as the two ETFs revert to a mean relationship.
iShares reports that the current real yield in its portfolio is 0.61%. That's certainly better than cash or a money market investment.


Source: iShares
Conclusion
I believe that it is reasonable to convert some cash to TIP for a portfolio-type allocation. If we are on the cusp of a "monetary reset," then TIP might be just as good as GLD (if GLD certificate holders are not all made whole). If we are not heading toward a monetary reset, then TIP may outperform GLD over the next year if the two ETFs revert to a mean relationship.
Commodity Conquest
In my Marketplace Service, I publish a daily update on option expiration price magnets for gold, crude oil and natural gas, along with other indicators and commentary. In addition, I conduct buy-side coverage on nine energy and commodity companies. My verifiable record of completed public trades since June 2017 is shown below.

Disclaimer
This article has been written for information purposes only and is not a recommendation to buy or sell any securities. I never intend to give personal financial advice in any of my articles. All my articles and posts are subject to the disclaimer found here.
Disclosure: I am/we are long TIP. I wrote this article myself, and it expresses my own opinions. I am not receiving compensation for it (other than from Seeking Alpha). I have no business relationship with any company whose stock is mentioned in this article.