The year started off with Agrium and Potash closing the merger of equals to form Nutrien (NTR). The leading crop nutrient company provided a first look into the expectations for the new entity and the results were mixed, but the underlying benefits of the merger will play out in 2019.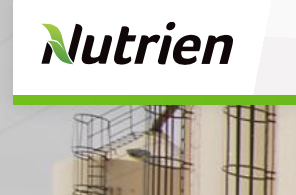 Projections
The stock has trended down since initial trading under the new ticker - NTR. Nutrien reached $56 in early January and barely trades above $45 now. Potash rallied into the deal closing and my warning was that the benefits of the merger were priced into the stock.
The weak market hasn't helped, but the company guided towards a low end EPS of $2.10 this year. The range is rather large and analysts think Nutrien is being conservative with actual estimates up at $2.44. These numbers are closer to the high end outlook of $2.60.

Source: Nutrien Q4'17 earnings release
A key aspect of the disappointment in the market was the lack of the typical full synergy inclusion in the first year numbers. The company forecasts a synergy benefit midpoint of only $200 million in 2018. The full $500 million synergies will take a couple of years with Nutrien entering 2019 at only a $250 million run rate.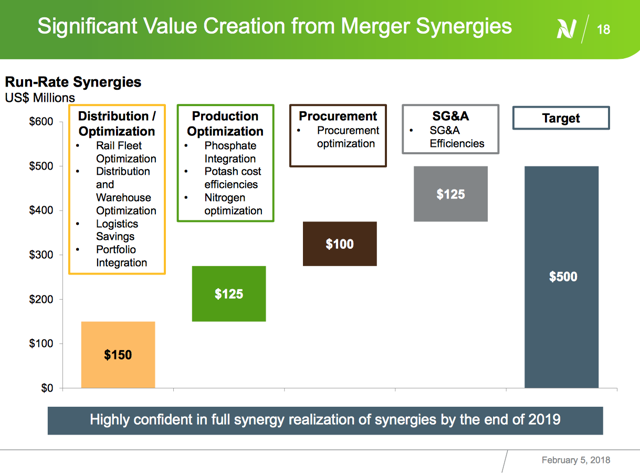 Source: Nutrien Q4'17 presentation
Remember that the additional $300 million in synergies will contribute about $225 million in after-tax profits that amount to an additional EPS boost of $0.35 based on a new share count of roughly 650 million.
Analysts apparently see tons of EPS upside with a 2018 EPS of $2.44 seeing a boost to $3.10 in 2019. Assuming the full synergy benefit in 2018, Nutrien would have pro-forma earnings of $2.79 per share. Analysts are forecasting about 11% organic EPS growth next year.
More Diversified
Naturally, the business is more diversified with an equal focus on retail operations, potash and nitrogen. Each sector is set to contribute roughly $1 billion in annual EBITDA so anybody investing in the growth prospects of potash won't find this stock as attractive.
The valuation turns attractive on this stock dip as the market ignores profits, causing the forward P/E multiple to fall below 15.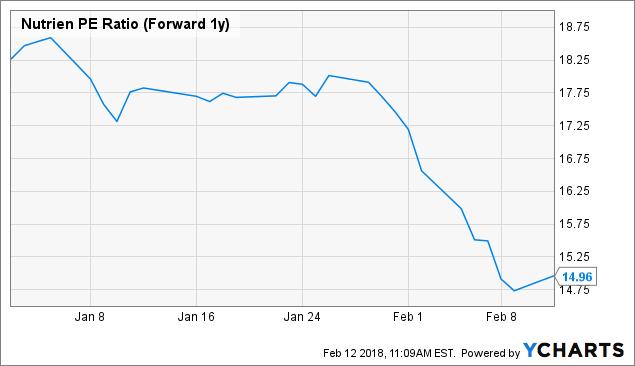 The company should get a cash flush with up to $4.5 billion from selling investment positions. Nutrien already sold Israel Chemicals for $685 million and analysts forecast key sales of SQM and Arab Potash will generate another $3.8 billion in net proceeds.
The only offset is that these investments generated $173 million in earnings last year so the bottom line will take a hit. Though sales proceeds suggest Nutrien is obtaining solid values for the units and a very large cash influx for a stock with a market cap of only $29 billion.
Takeaway
The key investor takeaway is that investors need to look beyond the initial headline generating EPS guidance. The company won't see the majority of the synergy benefits until next year while selling key investments for a large cash influx will help Nutrien reward shareholders.
The new leader in crop nutrients makes for a solid investment after this dip as the market focuses too much on the short term.
Disclosure: I/we have no positions in any stocks mentioned, and no plans to initiate any positions within the next 72 hours.
I wrote this article myself, and it expresses my own opinions. I am not receiving compensation for it (other than from Seeking Alpha). I have no business relationship with any company whose stock is mentioned in this article.
Additional disclosure: The information contained herein is for informational purposes only. Nothing in this article should be taken as a solicitation to purchase or sell securities. Before buying or selling any stock you should do your own research and reach your own conclusion or consult a financial advisor. Investing includes risks, including loss of principal.