We've been following Chico's FAS (CHS) for the last few years and finally started a position in early 2018. Chico's has a strong balance sheet, an established brand identity and a deep management team, and the company pays a dividend of about 3.5%, which it can easily cover with free cash flow. We believe that the company has a very reasonable valuation and with a bit of growth, the stock price can double. Moreover, there is a possibility of a buyout, and given the trading of the last month, it appears that somebody might be accumulating the stock.
Current Valuation
Chico's FAS is profitable, having earnings of $91 million in 2016, and likely to post a similar number for the full year 2017. The company also pays a dividend of about 3.5% per year, based on the current share price, and has a history of modestly increasing the dividend. Cash flow is also strong, with cash from operating activities reaching over $230 million in 2016 (see financials here). This strong performance is happening despite sales, which have been sliding for 2 years. Management has been able to mitigate sliding comparable store sales by closing stores, cutting costs and optimizing their supply chain.
Over the last few years, Chico's has seen its share price slide despite its strong financials. Management has used this as an opportunity to buy back over 25 million shares (approximately 17% of the outstanding shares) while still maintaining a health balance sheet with almost $200 million in cash and short term investments and only $72 million in debt.
Recent Stock Performance
The stock price has been very buoyant over the last month. The shares are up almost 10% year to date. Given the market turbulence, it should have been expected that a small company like this, in the retail space and which is forecast to show negative year over year same store sales for the last quarter, would have been under selling pressure. The exact opposite seems to have happened. Every time the stock has fallen by a few cents, the price rebounds, almost instantly.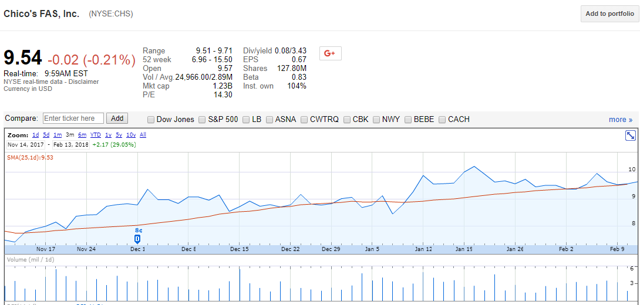 Somebody is accumulating this stock on every dip. Could it be just an institutional owner looking to open a position? Sure, but why such an urgency to buy the stock now? The shares were trading lower a few months ago; why start buying now, on every dip?
Share Buyback
The most likely reason for the recent share performance is the company's share buyback plan. Over the last year the company has repurchased about 1.5 million common shares but the company still has over $125 million in cash and $139 million remaining in its share repurchase program as of Q3, 2017. It would make sense that the company is actively repurchasing shares now that the stock is low. Furthermore, with the company recently increasing guidance for their Q4 2017 sales, perhaps the company is expecting the share price to increase in the near future.
Takeover Potential
Another hypothesis is that an outside buyer is building a stake in the company for a potential buyout. There is no hard proof of this, but Chico's has been the subject of buyout deals in the past, and given the depressed stock price, it would make sense that a buyout company is taking a second (or third) look at Chico's now.
Sycamore Partners Circa 2015
In early 2015 rumors started circulating that New York based Sycamore Partners, a large private equity firm specializing in the retail industry, was in talks to buy Chico's FAS. The stock saw its share price surge by over 20%, to reach a high of just over $18 per share when news of the rumors was confirmed on February 10, 2015 by the Wall Street Journal and Bloomberg.
The takeover deal eventually failed as, according the the Wall Street Journal, Sycamore Partners failed "to line up financing for the deal on acceptable terms." It was speculated that the deal would have valued the company at over $3 billion dollars.
The rumor mill started again in October of 2015, as it was speculated that Sycamore Partners had once again made a buyout offer to Chico's FAS. Reuters reported on the possible deal, but citing "financing and valuation concerns", the deal eventually failed again.
At that time, Chico's FAS shares were trading at in the $15 range and the company had 152 million shares outstanding, giving the company a total market cap of $2.28 billion.
Could Sycamore be buying shares with the plan to make another buyout offer? It's honestly anybody's guess, but the potential for such an event to happen and the fact that Sycamore has already made 2 offers in less than 3 years probably provides a floor for the shares price.
Chico's Potential to Grow on Its Own
While the retail landscape has faced very hard times over the last couple of years, management at Chico's FAS has been working hard to optimize the company and focus on core customers. The company's share price remains depressed as many investors have lumped this fashion retailer together with other struggling retailers. But looking at the company's financials, we can see a much different story. Chico's FAS has a total market cap of only $1.3 billion dollars, yet has minimal debt, has revenue of over $2 billion, income of over $90 million per year, has almost $200 million in cash, and total equity value on the balance sheet of $635 million (with minimal goodwill and accumulated depreciation on the books). These are juicy numbers for any retailer to post.
There is more to the Chico's story than simply nice financials. The Chico's brand is strong and caters to a more affluent and mature customer base.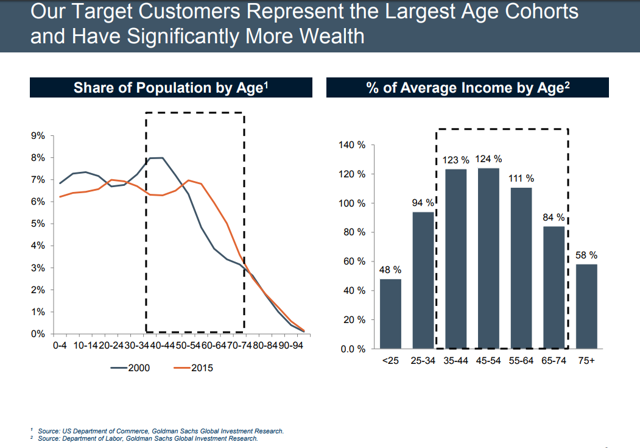 Source: Chico's FAS analyst day presentation
These customers can afford the higher-priced clothing items at Chico's stores and that has helped Chico's maintain high margins (35% to 40%) and post consistently strong cash flow.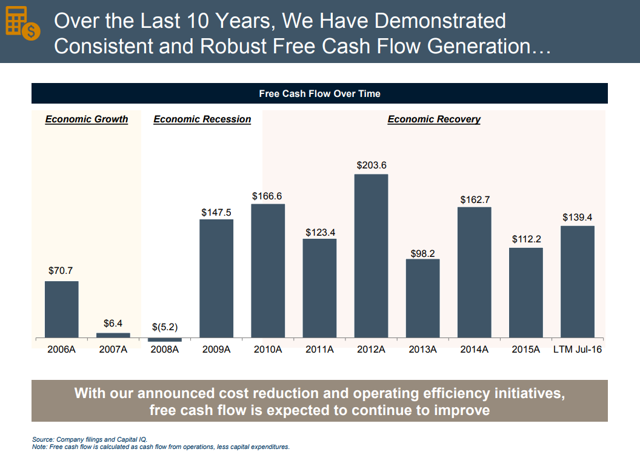 Chico's also uses a loyalty program to stimulate repeat customers and has a well trained staff to guide customers to unique purchases and up-sell extra products.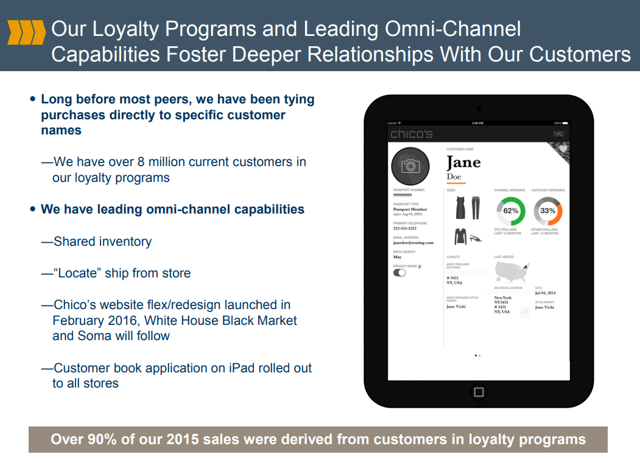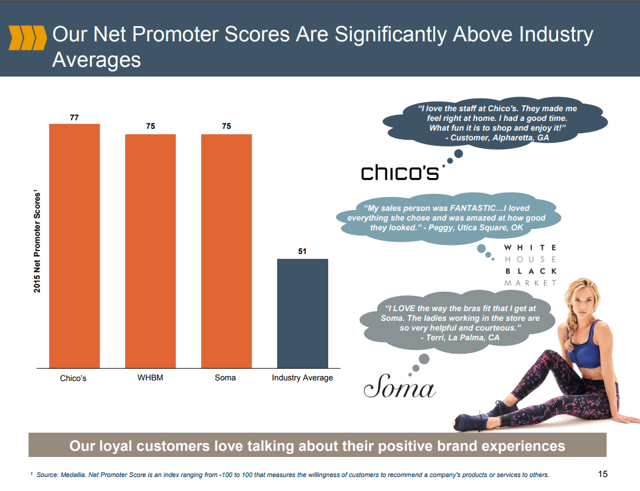 Source: Chico's FAS analyst day presentation
Unlike most passive retailers which are watching sales drop and trying to react, Chico's has been positioning its brand to upscale clients, focusing on maintaining its core branding and streamlining operations so that the company can generate good returns even with lower overall sales.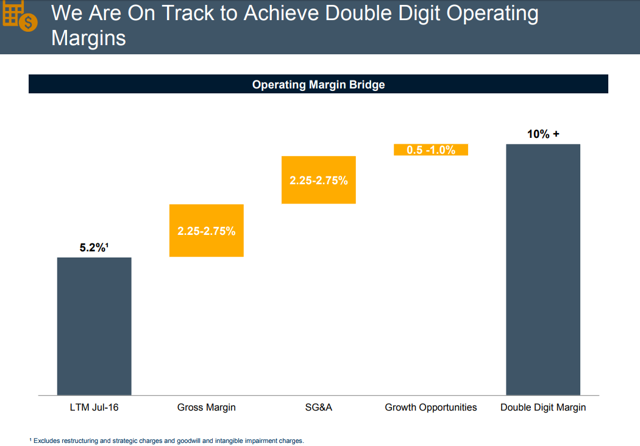 Source: Chico's FAS analyst day presentation
Summary
Chico's FAS shares are cheap by any measure. Despite that, one would expect that the recent market volatility would have impacted the share price negatively. In reality, it seems that there is a buyer who is accumulating a position at these levels and providing a floor for the stock price.
The company is performing well despite the general downturn in the retail industry. Time will tell how this all plays out, but one thing is certain: Chico's FAS shares are cheap, and they have a lot of room to go higher. We have initiated a position in the company and anticipate management to deliver strong result when they report Q4 numbers at the end of February. Guidance should call for stabilized comp sales for 2018 and we believe that this will drive a share price recovery this year, likely taking shares into the high teens to low $20 range.
Disclosure: I am/we are long CHS. I wrote this article myself, and it expresses my own opinions. I am not receiving compensation for it (other than from Seeking Alpha). I have no business relationship with any company whose stock is mentioned in this article.