2/13/2017 Share Price – $2.30
Company Overview: Macro Enterprises (OTC:MCESF) ("Macro", "MCR.V" or the "company") provides pipeline and facilities construction as well as maintenance services to oil and gas majors (previous customers include Encana (NYSE:ECA), Shell (NYSE:RDS.A) (NYSE:RDS.B), and AltaGas (OTCPK:ATGFF)) in Western Canada. The company has a long track record of success and safety with 15 consecutive quarters and 3 million man hours with no lost-time incidents (as of May 2017). The company was founded in 1994 and is headquartered in Fort St. John, British Columbia. All figures, unless otherwise noted, are in Canadian dollars ("CAD").
Investment Thesis:
The company recently announced a 50/50 joint venture for pipeline construction work on the Trans Mountain Expansion Project worth $375mn.

The long-term outlook for the Canadian Pipeline Market remains strong.

The company has a large base of owned assets whose value is likely well in excess the company's current market cap.

The company has a strong balance sheet with ~$18mn in net cash.
Joint Venture: The company announced in October of 2017 that their 50/50 JV with Spiecapag had successfully negotiated a construction contract on the Trans Mountain Expansion Project. The contract is for construction of ~85 kilometers of 36-inch pipeline along the Coquihalla-Hope corridor in British Columbia (known as pipeline "Spread 5B"). The contracts estimated value is $375mn, of which Macro's share is $187.5mn. Construction is expected to begin once all the regulatory requirements have been met, and end in November of 2019. The Trans Mountain Expansion project has been successful in the early stages of the regulatory process (future updates can be seen here or here). Future regulatory issues will likely be resolved as Canada's Prime Minister Justin Trudeau has stated that his government will ensure that the Trans Mountain oil pipeline expansion is built.

Source: Trans Mountain Website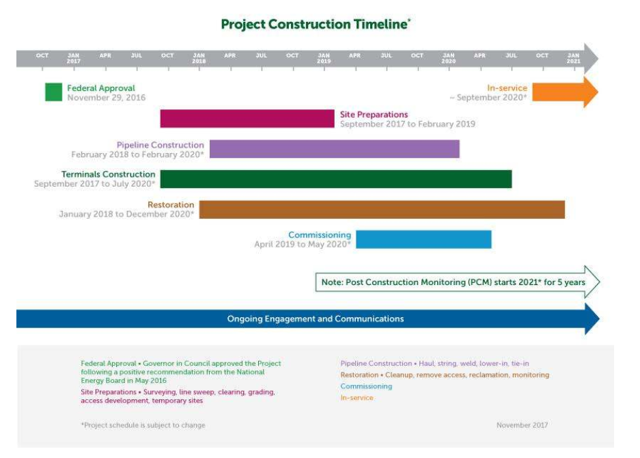 Source: Trans Mountain Website
Canadian Pipeline Market: The downturn in oil and gas prices in 2014 and 2015 led to a Canadian Pipeline market collapse in 2016. As such, the company's financial results were materially affected as oil and gas companies delayed their capital expenditure programs as well as new projects. However, the pipeline market has improved recently with the uptick in energy prices. Furthermore, the market's long-term outlook remains positive as it looks to decrease the price gap between Canadian and American energy. Pipeline bottlenecks and additional transportation costs (from less efficient means of transportation) are among the reasons for the discount. Ongoing projects and applications for new projects remain strong and can be seen here. The company typically bids against 3-8 other competitors including Surerus Pipeline, the Ledcor Group, and Banister Pipelines.
Asset Base: The company has a large asset base with Net PP&E totaling ~$43mn. However, this is likely understated. A recent appraisal of the company's current fleet of equipment valued it at roughly $80mn. Their equipment list can be seen here. The company also owns ~28 acres of land in Fort St. John. Since 2013, the company has spent ~$14.4mn in capital investments to acquire a 4.3-acre parcel of land, construct a new corporate headquarters, and upgrade their mechanics shop. Book value of the company's land and buildings is ~$19mn, which is also likely understated.
Income Statement: The company's revenue is driven by master service agreements (MSAs) and project work. MSAs are executed for maintenance work and last anywhere from 2-5 years. They generally comprise the majority of revenue during downturns (80% in 2016 compared to roughly 50% in 2013 and 2014). The company currently has three MSAs with Enbridge (NYSE:ENB), Pembina (NYSE:PBA), and TransCanada (NYSE:TRP). MSA margins generally carry 15-25% margins. Project revenues are non-recurring and carry lower margins at 12-18%. SG&A expenses typically ramp before revenue growth and top out around $9mn. The company expects margins to improve in the fourth quarter of 2017 with slightly lower revenues compared to Q3 2017. I expect revenues to grow to ~$212mn in 2018 with a 55% / 45% split between MSAs and projects, respectively.
Balance Sheet & Cash Flow Statement: The company has a strong balance sheet with ~$19.2mn in cash and $1.2mn in debt. The cash balance is likely higher as $21.1mn of the company's $36.2mn accounts receivable value was due within 30 days of September 30, 2017. The company also has a large base of owned assets with Net PP&E valued at $43mn. I expect the company to spend ~$8mn in capex and book a ~$5mn depreciation charge in 2018.
Valuation: I utilized a DCF analysis to value the company. I feel a DCF is appropriate as recurring revenues generally comprise 50% or more of the company's revenue base (which will likely grow as more Canadian pipelines come online), thus allowing for a longer term valuation technique. Furthermore, it gives me a better approximation of short and long-term results (which are heavily discounted) as opposed to valuing the company say off a 2019E EV/EBITDA ratio which won't take into account that the company's recent contract win is one time in nature and similar wins may not occur in the future. Below are my financial projections.

Source: Author using data from the company's financial statements
Note: Equity Value assumes diluted share count of 33,583 and $2.30/share.
Valuation Assumptions:
Revenues decline 40% in 2020, which is followed by 3% growth in perpetuity.

Perpetual EBIT margin of 12%.

Capital Expenditures outweighing D&A until they counterbalance each other in 2024.
Risks:
The company's financial results are closely tied to energy prices, which are volatile and may decline.

The company's projects are subject to governmental approval, which are not in managerial control.
Conclusion: Based on my DCF analysis, I estimate a ~65% upside. The downturn in the oil and gas industry has concealed the true value of this company. Furthermore, the company's 50/50 JV is likely being undervalued by the market as the company's share price is right around where it was pre-announcement. Lastly, the company's strong balance sheet and large asset base provide a significant margin of safety should results not meet expectations.
Thank you for reading this Seeking Alpha PRO article. PRO members received early access to this article and get exclusive access to Seeking Alpha's best ideas. Sign up or learn more about PRO here.
Disclosure: I am/we are long MCESF. I wrote this article myself, and it expresses my own opinions. I am not receiving compensation for it (other than from Seeking Alpha). I have no business relationship with any company whose stock is mentioned in this article.