It has been just over a week since the stock market's panic attack and already some observers are suggesting that another 2008-type crash lies ahead. In this commentary we'll look at evidence which decisively disproves this overly pessimistic conclusion. We'll also see that the evidence shows that both the financial market and the economy are still in excellent shape on a longer-term perspective.
The Google dictionary defines panic as a "sudden uncontrollable fear or anxiety, often causing wildly unthinking behavior." This definition perfectly describes both the market plunge and its immediate aftermath. When analyzing a market panic it's important to discern not only the cause, but the nature of the panic. Specifically, was the panic news/event-driven or was it liquidity-driven? Panics that begin over liquidity concerns are invariably the most dangerous since they imply the market has become aware that participants' buying power is drying up and that the fuel behind the market's rise is therefore exhausted. What follows from this realization is a sharp initial sell-off followed by continued declines as the market continually deteriorates.
News-related panics by contrast are much more sanguine than the former. When participants become focused on a single factor or event and a panic results, the market's ensuing decline tends to be short-lived and the market eventually recovers its losses completely. Recent examples of this would include the August 2015 China panic, the June 2016 "Brexit" panic, and the August 2017 North Korea crisis. In each case the market regained its equipoise shortly after the initial panic after the initial fear wore off and investors were able to carefully deliberate the factors which caused the panic. When it became clear, as it always does in such cases, that the stock market remains in a position of fundamental strength with ample liquidity then the market's prevailing upward trend reasserted itself.
This time should prove no different since the latest panic was not a liquidity-driven episode. Indeed, as we'll examine here there market is still blessed with abundant liquidity – unlike the year 2008 – and therefore a new bear market is not a likely outcome. While there may still be some residual weakness in the near term, the market's underlying long-term upward trend will eventually reassert itself and carry equity prices to new highs once the market has finally stabilized from its fear-driven spill.
The fear which drove the stock market plunge last week was primarily over investors' fears of rising interest rates. The financial press has been drawing attention to this developing trend for several months, and after an extended rally in the CBOE 10 Year Treasury Yield Index (TNX), below, investors finally decided they had had enough and began booking profits in their equity long positions. Before long, simple profit-taking turned into a widespread rout as stock prices collapsed under the weight of across-the-board selling pressure.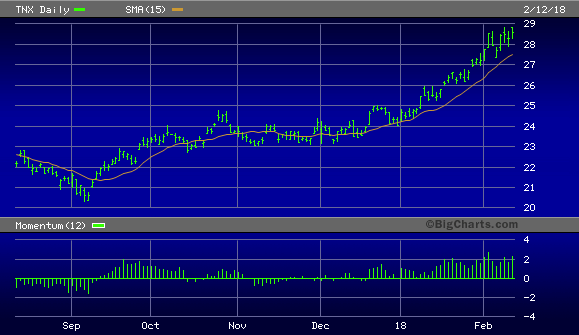 Source: BigCharts.com
There is proof enough that the recent sell-off wasn't a liquidity-driven event. Consider for example the testimony of credit spreads. To the surprise of many bears, corporate spreads are still in a declining trend and have shown no signs whatsoever of distress even in the face of the recent broad market panic. Shown below is a graph of the BofA Merrill Lynch U.S. Credit Spread Index, a widely watched benchmark. The Credit Spread Index recently hit its lowest level since 2007 and is only slightly above it as of this writing. This extremely bullish chart reflects not only ample liquidity, but growing confidence in Corporate America's ability to repay debt. It also indicates an extremely low probability of economic recession. In view of this testimony, I can only conclude that intermediate-to-longer-term money flows into equities won't be threatened despite the latest volatility increases like the one witnessed last week.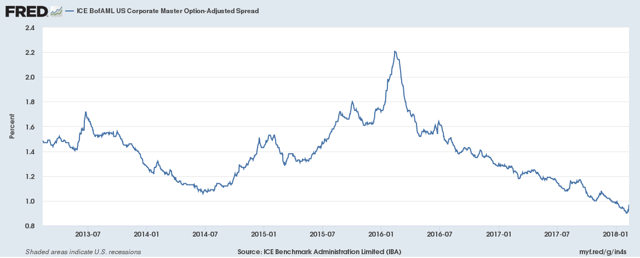 Source: fred.stlouisfed.org
Moreover, the financial sector has shown a remarkable degree of relative strength compared with most major industries after last week's decline. Shown here is a short-term graph of the NYSE Securities Broker/Dealer Index (XBD) with the S&P 500 (SPX) price line superimposed. Note that XBD, which is an important leading/confirming indicator for the broad market, has shown decisive relative price strength since the panic commenced. The XBD price line has made higher lows while the SPX made lower lows. This suggests that informed investors aren't overly concerned about a possible bear market and are content to maintain long positions among financial sector stocks for now. That's a vote of confidence for the broad market outlook.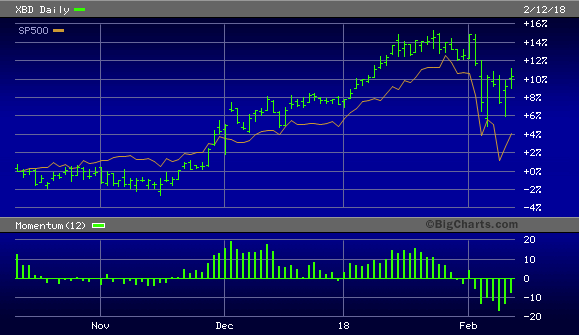 Source: BigCharts.com
The exact opposite case was true in the months leading up to the 2008 bear market. Back then, many leading broker/dealer stocks had already entered into a major decline and were showing considerable weakness versus the S&P 500. Broker/dealers and other financial sector equities are extremely sensitive to shifts in the availability of liquidity and other concerns which impact the stock market's health. As such, the financial sector can be considered a bellwether for the equity market's intermediate-term direction. If we're now on the precipice of another major market disaster, surely it would have already been discounted by the financial sector stocks; however, that's clearly not the case.
A final consideration in our overview of broad market liquidity is the very factor which catalyzed the sell-off, namely rising interest rates. When taken at face value, the increase in the Treasury yield index (TNX) shown above would certainly give anyone pause for thought as to the stock market's ability to continue rising in the face of higher rates. Yet as with almost anything in the financial market, relative strength is the key to deciphering the interest rate conundrum.
When viewed in comparison with the fed funds interest rate, it quickly becomes apparent that rising Treasury yields are not a major concern for the stock market right now. Consider the following graph. This compares the 10-year Treasury bond yield with the fed funds rate and shows whether rising rates are truly a threat to economic growth and the financial market outlook. When the following ratio, which is calculated by dividing the 10-year yield by the fed funds rate, reaches 1.0 or higher it suggests that Federal Reserve monetary policy is becoming restrictive and thereby endangering to stock market liquidity.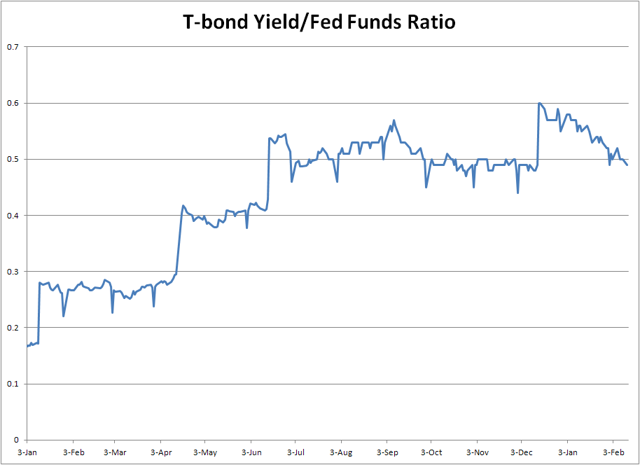 Chart created by Clif Droke
Instead what we're now seeing is that the T-bond/Fed funds ratio is actually declining and is currently just under the 0.50 level – which is neither too high nor too low. In other words, the ratio is currently showing equilibrium. This is another indication that the market isn't worried about liquidity and that the bull market which began in 2009 should remain intact despite the volatility increase.
On an immediate-term (1-4 week) basis, the stock market is still somewhat unsettled and hasn't yet confirmed a bottom. The S&P 500 Index (SPX) did manage to close above its 5-day moving average on Monday, which is a step in the right direction toward confirming an immediate bottom. As we've discussed in previous commentaries, an additional close above the 5-day MA for the SPX would indicate that the immediate selling pressure has lifted enough for the SPX to begin established a bottom. For now the bottoming process has only just started and hasn't yet been confirmed.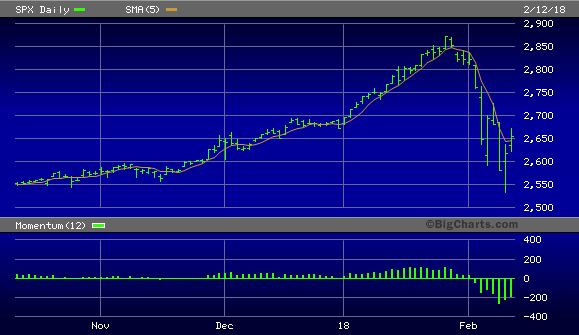 Source: BigCharts.com
As I've continuously emphasized here, we also need to see a contraction in the number of NYSE-listed stocks making new 52-week lows. On Monday, the number of new lows was 80 which is still entirely too high. The historical norm is for less than 40 stocks to make new 52-week lows for several days running. This would let us know that the market's internal health has been restored enough for the stock market to confirm a bottom and begin to recover its prior losses.
On a strategic note, conservative investors should continue to wait for the technical confirmation signals discussed here before doing any new buying. I also recommend building watch lists of stocks and ETFs showing exceptional relative price strength (vs. the SPX) for when the final low is confirmed. Investors can also maintain their core long-term positions as the market's fundamental position and dominant longer-term trend both remain positive.
Disclosure: I/we have no positions in any stocks mentioned, and no plans to initiate any positions within the next 72 hours. I wrote this article myself, and it expresses my own opinions. I am not receiving compensation for it (other than from Seeking Alpha). I have no business relationship with any company whose stock is mentioned in this article.