By Bob Ciura
It might seem strange to mention Tesla, Inc. (TSLA) in the same sentence with General Motors Company (GM) and Ford Motor Company (F), given that they are such different stocks. Whereas Tesla is a growth stock, GM and Ford are classic deep-value stocks. Ford and GM have both been in business for over 100 years. With dividend yields above 3%, Ford and GM both meet our definition of a "blue chip" stock. You can see our full list of blue chip stocks here.
That said, as of this writing, Tesla, GM, and Ford have market capitalizations of $54 billion, $59 billion, and $42 billion, respectively. They hold similar market values, despite the fact that Tesla sells only a fraction of the vehicles as GM and Ford.
Tesla stock has enjoyed a huge run-up in the past five years, but this does not automatically make Tesla the better investment going forward. While those fortunate enough to have invested in Tesla early on have generated outstanding returns, the stock trades at a dangerous valuation today.
This article will run down the recent earnings reports from the 3 major U.S. automakers.
Earnings Overview
Tesla reported quarterly earnings on February 7th. The company had a net loss of $675 million for the fourth quarter, which amounted to a net loss of $4.01 per share. Excluding non-recurring items, the net loss came to $3.04 per share, which actually beat analyst expectations by $0.08 per share. Revenue of $3.29 billion rose 44% year-over-year, and also beat expectations, by $10 million. Tesla's full-year loss was $1.97 billion, up significantly from a loss of $675 million in 2017. Full-year revenue rose 55%, to $11.8 billion.
Tesla had record Model S and Model X deliveries in the fourth quarter. The company delivered 28,425 Model S and Model X vehicles, and another 1,542 Model 3 vehicles, for a grand total of 29,967 deliveries. Combined Model S and Model X deliveries rose 28% in the fourth quarter, year over year.
Meanwhile, GM had very strong quarterly earnings of its own. Revenue of $37.7 billion fell 5% year over year, but beat analyst expectations by $1.15 billion. Adjusted earnings-per-share of $1.65 came in $0.27 per share ahead of forecasts.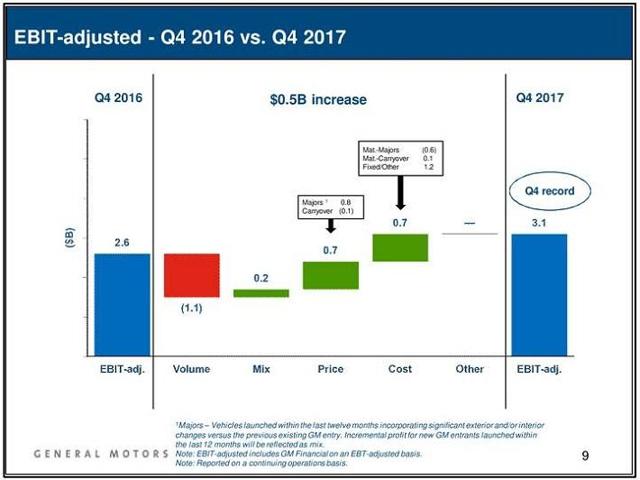 Source: Earnings Presentation, page 9
GM reported record adjusted earnings-per-share for both the fourth quarter, and the full year, driven by a third-straight year of 10%+ margins in North America. Adjusted earnings-per-share of $6.62 for 2017, rose 8.2% from 2016.
Ford had a more mixed quarter. Revenue of $41.3 billion rose 6.7% year-over-year and beat analyst expectations by $4.31 billion, but earnings-per-share of $0.39 only met analyst expectations. For the full year, Ford generated adjusted earnings-per-share of $1.78. This came in below analyst forecasts, which called for earnings-per-share of $1.84.
Growth Prospects
Tesla is clearly the growth stock of the three, presumably because of its compelling story. As an electric vehicle manufacturer with exposure to renewable energy, Tesla has great promise to lead the way into the future. The company is targeting a Model 3 production rate of 5,000 per week, by the end of the 2018 second quarter. Tesla believes once it hits a production rate of 5,000 per week, it can quickly scale up to 10,000 per week from there.
In addition to increasing Model 3 production capacity, Tesla's growth catalysts include expanding its charging infrastructure, as well as rolling out new vehicles. In 2017, Tesla opened 338 new Supercharger locations, bringing the total to 1,128. Separately, in November Tesla unveiled the Tesla Semi, which the company believes can disrupt the diesel truck category. According to Tesla, its semi has up to 500-mile range.
It is easy to view GM and Ford as relics of a past age, but they are moving quickly in electric and autonomous vehicles as well. For example, GM plans to launch at least 20 electric vehicles by 2023.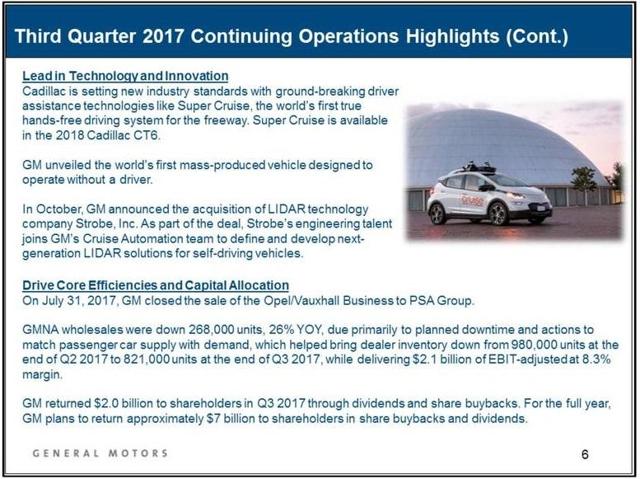 Source: Earnings Presentation, page 6
GM also expects to deploy self-driving vehicles in a ride-sharing environment in 2019. Its major investments in technology include the October acquisition of Strobe, Inc., for its LIDAR technology, which will help further develop next-generation self-driving vehicles. In addition, GM has requested to test an autonomous car without a steering wheel, pedals, and other manual controls. It expects the Cruise AV to roll out by 2019.
Not to be outdone, Ford has several growth catalysts of its own. First, Ford announced it will expand its electric vehicle portfolio to 40, including 16 full-battery electric vehicles, by 2022. It also plans to deliver a full-battery electric SUV by 2020.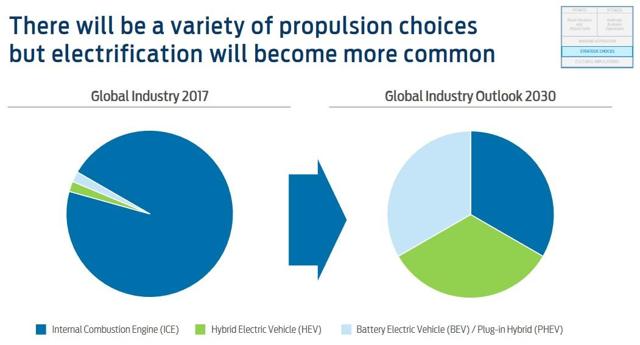 Source: CEO Strategic Update Presentation, page 38
Ford is also active in autonomous vehicles. It plans to have a purpose-built vehicle, along with self-driving technology, in production by 2021. It has already announced collaborations with Domino's Pizza (DPZ), Lyft, and Postmates, to test self-driving vehicles in a pilot program.
Ford has sealed partnerships with Mahindra in India and Zotye in China, to develop vehicles and services for growth in those markets. India and China are compelling growth markets for Ford, as both nations have large populations, and high economic growth rates.
Lastly, Ford is making progress in SUVs. Due to strong demand to start 2018, Ford announced it will increase production of the Expedition and Lincoln Navigator, by 25%.
Valuation & Dividend Analysis
In raging bull markets, such as the current one that has persisted for nearly the past 10 years, growth stocks tend to outperform. Value and dividends often take a back seat, as investors become obsessed with growth. However, valuation is an important consideration, and is why buying Tesla today could be a big mistake.
ValueLine analysts expect Tesla to produce earnings-per-share of just $1.00 in 2018, and $2.25 in 2019. Tesla stock trades for a price-to-earnings ratio of 143, based on 2019 earnings forecasts. This is a sky-high valuation, even with the assumption that earnings-per-share will more than double in 2019, from 2018 levels, which may or may not happen.
The problem with buying stocks like Tesla at such a high price-to-earnings ratio, is the extremely high level of expectations embedded in their valuations. In order to justify its current valuation, Tesla not only needs to turn a profit, it needs to grow earnings at a huge rate each year. Otherwise, it could enter a prolonged period of multiple contraction, not entirely unlike the infamous 'dot-com' bubble of the late 1990's.
Meanwhile, Ford and GM both trade for a price-to-earnings ratio of just 6.4, using 2018 ValueLine earnings-per-share estimates. These are very low valuations, which indicate a high level of negative sentiment. However, the market pessimism may be misplaced. As previously discussed, both Ford and GM have positive long-term growth potential. They have also significantly improved their balance sheets. Barring another Great Recession or severe economic downturn, their dividends appear secure.
When it comes to dividends, it goes without saying Tesla is not a good choice for income investors. It does not pay a dividend today, never has, and quite possibly never will. In order to pay dividends to shareholders, a company has to be profitable. With huge operating losses, Tesla does not have any excess cash flow left over to pay dividends with.
On the other hand, Ford and GM are both attractive dividend stocks, with dividend yields of 3.7% and 5.7%, respectively. Ford's dividend yield is particularly high. Ford is on our list of 407 high-yield dividend stocks. You can see the full list of 5%+ yielding stocks here.
With such dividend yields, GM and Ford could produce 10%+ annual returns, if they can simply manage to grow earnings in the mid-single digit range each year. If their price-to-earnings ratios expanded from the current level of 6.4, it would create even stronger returns for shareholders.
Final Thoughts
Tesla has captivated investors with a compelling story. It is growing revenue at a high rate, and the stock has skyrocketed as a result. However, it is still not growing profitably. Losses are escalating, meaning the company is not creating underlying value for shareholders. Buying the stock today, at such an alarming valuation, could result in negative long-term returns.

Ford and GM certainly do not have the same flashy growth story as Tesla, but they do provide profitability, sane valuations, and high dividend yields. For value and income investors, this makes Ford and GM the clear winners.
Buying undervalued dividend growth stocks can be a recipe for outstanding long-term returns. We created our service Undervalued Aristocrats for just this purpose. None of these three stocks are Dividend Aristocrats, which have increased their dividends for 25+ consecutive years. Undervalued Aristocrats provides actionable buy and sell recommendations on some of the most undervalued dividend growth stocks around. Click here to learn more.
Disclosure: I am/we are long F. I wrote this article myself, and it expresses my own opinions. I am not receiving compensation for it (other than from Seeking Alpha). I have no business relationship with any company whose stock is mentioned in this article.