In this article, we will review the most recent data as well as projections from the Energy Information Administration (EIA) in order to make sense of the current state of the global oil (NYSE:USO) market. The continued growth in U.S. production combined with a recent uptick in the U.S. rig count has led to a sharp reversal in sentiment, with renewed fears over the potential for U.S. production to once again swamp global oil markets, ultimately leading to a renewed plunge in prices.
However, as we will discuss in this article, the situation remains different from 2014 and 2015. Further to this, there remain a number of anomalies or differences in some of the data and projections coming out of the EIA and other official research bodies. But, let's start by looking at the most recent Short-Term Energy Outlook (STEO) released by the EIA.
The February 2018 STEO projects U.S. crude oil production to grow by 1.2mn barrels per day (bpd), which would take U.S. crude oil production from roughly 10mn bpd in December 2017 to 11.2mn by December 2018. Interestingly, the EIA is projecting Natural Gas Liquid (NGLs) production to grow by roughly 500,000 bpd in 2018, a larger annual growth rate than that projected for either oil or natural gas.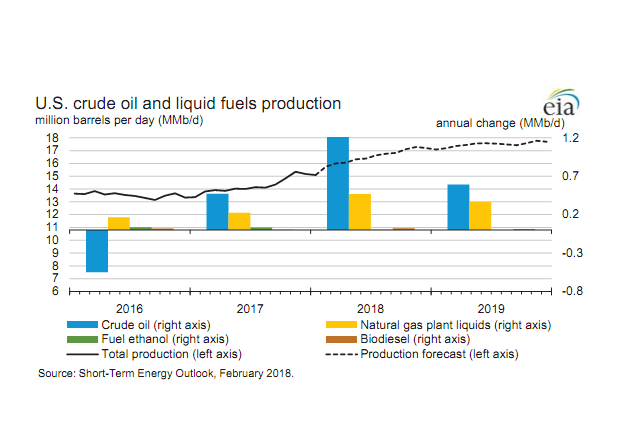 Source: Short-term Energy Outlook, February 2018
This implies total "liquid fuels" growth of roughly 1.7mn bpd, which is slightly less when compared to the 2mn bpd estimate for North America as a whole, which would include Canada and Mexico.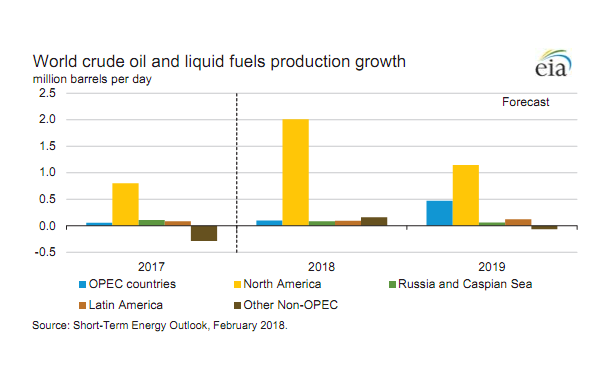 Source: Short-term Energy Outlook, February 2018
Therefore, what is most notable from the above graphic, is that almost all of the global oil or liquid fuel production growth expected in 2018 will come from the U.S. and Canada. The IEA is estimating production growth of around 0.3mn bpd in Canada in 2018, most of which will be due to the ramp-up of Suncor's Fort Hills project (200,000 bpd). We should note that the Fort Hills project will only reach full production by the end of 2018, while there are already severe pipeline capacity constraints in getting Canadian oil to market.
So in summary, if U.S. oil production does indeed grow by 1.2mn bpd, we may be fortunate enough to reach a total global growth figure of 1.5mn bpd, but only by the end of 2018. Current global demand growth estimates for 2018 are also around 1.5mn bpd, which means that the entire global oil market will remain almost solely dependent on the expected rapid growth in U.S. oil production in order to prevent a further widening in the supply deficit.
Therefore, we can quickly see how important the production outlook in the U.S. is in terms of making any kind of projection for future oil prices. So let's turn our attention and examine the current state of the U.S. oil industry a bit more closely. We think it's important to break down U.S. oil production into three different segments given the different dynamics and economics that pertain to each segment, namely; Gulf of Mexico or GOM (Offshore), Shale Oil and Conventional Oil.
Below we provide a production estimate for each segment, taking the total production data as provided by the EIA on a monthly basis.
We then subtract from this the estimate for Shale oil output as per the monthly EIA rig productivity report.
We also need to make a small adjustment given that the Rig Productivity report did not include estimates from the Anadarko basin in December 2016 (as far as we can tell).
Finally, we subtract PADD 3, Federal Offshore production as reported separately in the first data set. In theory, the residual here would equal legacy conventional land-based oil production. We present the data in the table below (2018 figures are estimates).
Oil Output by Segment
Barrels per Day
December
2016
2017
2018
Shale Basins
4.9mn
6.3mn
7.3mn
GOM
1.7mn
1.7mn
1.7mn
Conventional
2.2mn
2mn
1.8mn
Total
8.8mn
10mn
10.8mn
Average Land Oil Rig Count
700
800
Source: Blue Quadrant Capital Management
What stands out to us is the large percentage of total production that is still attributable to legacy conventional* reservoirs (including Alaska), and the relatively sharp decline rate that we have observed (in theory) over the past year. If we assume a similar decline rate in 2018, conventional oil production will decline by 0.2mn bpd to 1.8mn bpd, which would in turn require (assuming GOM production remains flat) shale production to grow by 1.4mn bpd in order for total US oil production to grow by 1.2mn bpd.
So the next question is whether U.S. shale production can indeed grow by 1.4mn bpd in 2018. On the surface it would appear possible, given that at least according to the EIA shale production grew by 1.4mn bpd in 2017, with an average rig count of only 700. This is lower than the current rig count (onshore oil) of around 790. However, the EIA's Rig Productivity Report specifically includes liquid condensate (a much "lighter" form of crude oil) in its estimates:

Source: EIA's Rig Productivity Report
*As the footnote above states, the EIA includes some conventional oil production from the same shale basins covered in the Rig Productivity Report. As such our estimate of residual conventional oil production may be lower than what it actually is.
Unfortunately, there has been some confusion as to what percentage of total U.S. crude production is comprised of condensate, as opposed to more 'normal' crude oil. So far, the best we can do is to extrapolate by looking at the data provided in another EIA release. The data here seems to provide an estimate for shale crude oil production excluding condensate, and perhaps quite notably for December 2017, shows a figure of just 5.1mn bpd, not 6.3mn.
This implies that some 1.2mn bpd of shale oil production was in fact condensate. If we look at another EIA data set that provides a breakout of U.S. crude oil production by API (API essentially is an indicator of how "heavy" or "light" the oil) - Crude Oil and Lease Condensate Production by API Gravity.
We can see that total U.S. production (therefore including shale, conventional land as well as GOM offshore) above an API of 45% totaled 2.1mn bpd in November 2017. We know that the oil being produced in the various shale basins tends to be of the lighter variety, so to come up with an estimate of 1.2mn bpd of condensate production from the various shale basins does not seem too far-fetched.
Further to this, the crude oil production (excluding condensate) data cited in the above data sets reports a production level of roughly 4.2mn bpd (December 2016), some 0.7mn bpd lower than the total output figure reported in the Rig Productivity Report of 4.9mn (if we include an estimate for the Anadarko basin). This would imply that of the 1.4mn bpd in total shale oil production growth during 2017, some 65% or 0.9mn bpd comprised traditional crude oil and the rest was in fact condensate.
Oil Output by Segment
Barrels per Day
December
2016
2017
2018
Shale Basins
4.9mn
6.3mn
7.3mn
Of which condensate?
0.7mn
1.2mn
?
GOM
1.7mn
1.7mn
1.7mn
Conventional
2.2mn
2mn
1.8mn
Total
8.8mn
10mn
10.8mn
Average Land Oil Rig Count
700
800
Source: Blue Quadrant Capital Management
This would suggest that if we exclude condensate from our crude oil output data, then even when taking into account the slightly higher rig count at present, it is hard to envisage total U.S. crude oil output (excluding condensates) growing by 1.4mn bpd! If we assume that the composition of condensate relative to lower API crude grades stay the same, then in order for lower (below API 45) API crude to grow by 1.4mn, total crude oil production including condensates will need to grow by 2.1mn bpd!
So it is clear that the EIA's aggressive forecasts not only for existing U.S. oil production, but also projected growth going forward, must include an estimate for condensate production and condensate production growth. Some readers may now be thinking why are we differentiating between the types of crude being produced in the U.S.?
Well condensate has different characteristics in terms of the "product" yield that it will deliver in a refinery. Not only that, but most modern refineries are defined as "complex," therefore specifically geared to refine heavier grades of oil. As such in certain countries such as the U.S., the capacity of the refinery industry to absorb growing condensate production is limited. This is why exports of condensate and Naphtha (a by-product of condensate that has been processed through a "splitter") are soaring.
For a more detailed and comprehensive discussion on the nature of oil condensate as well as the different types of condensate, I would direct readers to this article.
We will return to the issue of demand and supply for condensate (and by association Naphtha) a bit later. For now, let's return to the EIA's forecast for US oil production growth. The EIA has projected that total U.S. oil production including condensates will grow by 1.2mn bpd in 2018. Even this figure including condensates may be somewhat aggressive. As we have pointed out and taking into account the potential decline in conventional oil output, total production from the various shale basins will probably need to grow by some 1.4mn bpd.
This would equal the production growth achieved in 2017 and of course, the rig count is higher today than it was one year ago and may well rise even further over the course of the year. However, the other factor that many participants may be overlooking is the increase in legacy oil decline in the various shale basins, which increases as total production levels rise. If we look at the chart below taken from the January 2018 EIA Rig Productivity, we can see how the average monthly decline in production in each shale basin has increased by over the past year.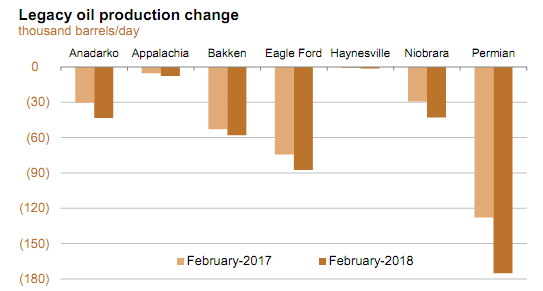 Source: EIA's Rig Productivity Report, January 2018
This means that as the absolute production level grows in order for the annual rate of production growth to remain the same, the rig count needs to move higher, assuming no change in rig productivity. So it could very well imply that in order for total production growth to match that seen in 2017, the rig count will in fact need to be some 10% to 15% higher. If we look at rig productivity, we can see that with the exception of the Bakken shale basin, productivity levels are mostly unchanged (or lower in the case of the Eagle Ford) over the past year.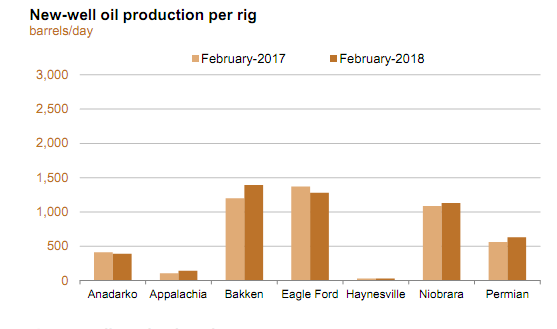 Source: EIA's Rig Productivity Report, January 2018
It's not a surprise then, that the indicated monthly change in shale oil production (new oil production less the legacy decline) is actually lower when compared to the EIA estimates from one year ago. The net change in this estimate for the Bakken and the Permian is particularly notable.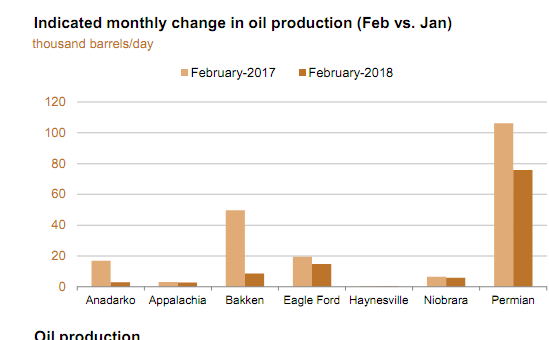 Source: EIA's Rig Productivity Report, January 2018
What these metrics imply, is that total oil and condensate growth in 2018 may actually end up lower than what was the case in 2017 (assuming no further increase in the Rig Count). Based on a rough estimate and assuming these metrics remain unchanged going forward, total oil AND condensate growth may only reach 1.2mn bpd.
Therefore, even if we assume condensate growth only accounts for 20% of this increase in 2018 (as opposed to the 36% in 2017), it confirms the view that total shale crude oil output excluding condensate will at best grow by 1mn bpd and taking into account a likely further decline in conventional oil production, may only grow by 0.8mn bpd! This is well below what is needed to match anticipated global demand growth.
Some of the more bearish prognosticators will point out that at levels above $50 per barrel, the U.S. rig count will continue to climb and that rig productivity will also continue to improve. Thus, even if we exclude condensate from our figures, total U.S. crude production will continue to grow sufficiently in order to meet the growth in global demand.
We are not sure this will happen at prices below $60 per barrel, and possibly not even below $70 per barrel. Yes, we have seen a recent uptick in the U.S. oil Rig count, but as detailed previously, the increase thus far is only likely to prove sufficient to compensate for the increase in the legacy decline in the various shale basins. Further to that, as the slide below taken from a recent Helmerich & Payne (NYSE:HP) (the largest US land-based rig contractor by market share) presentation shows, the capacity utilisation for high-powered AC rigs has almost reached 100%.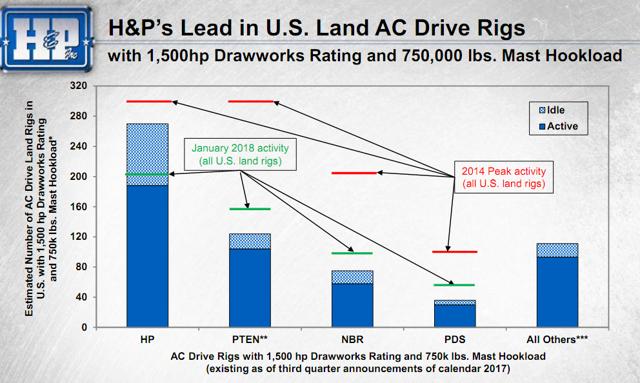 Source: Helmerich & Payne presentation, February 2018
We can't be sure but if we consider the fact that almost the entire active U.S. land-based rig fleet is comprised of these higher-power rigs as opposed to 4 years ago, we would argue that a large portion of the productivity gains registered in recent years has come from this shift. In 2014, only some 41% of active rigs were AC rigs (Alternative Current) and an even smaller fraction were high-powered rigs (Horsepower above 1500).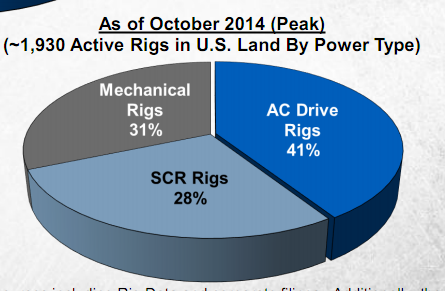 Source: Helmerich & Payne presentation, February 2018
In January 2018, almost 68% of active rigs were AC rigs and almost all of them were higher powered rigs. AC rigs are critical for horizontal or shale basin drilling and the more powerful the rig, the quicker it can drill.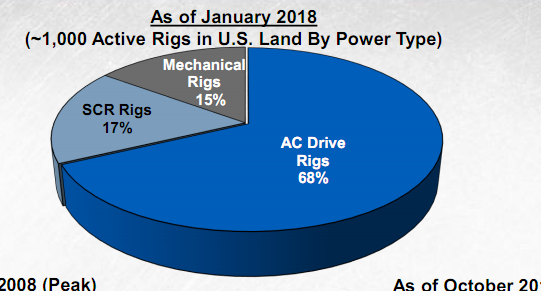 Source: Helmerich & Payne presentation, February 2018
So there are 680 active AC rigs at present and returning to the first slide from the HP presentation, only some 620 high-powered AC rigs. As the slide below confirms, the capacity utilisation in this segment is already essentially 100%, a marked shift from December 2016.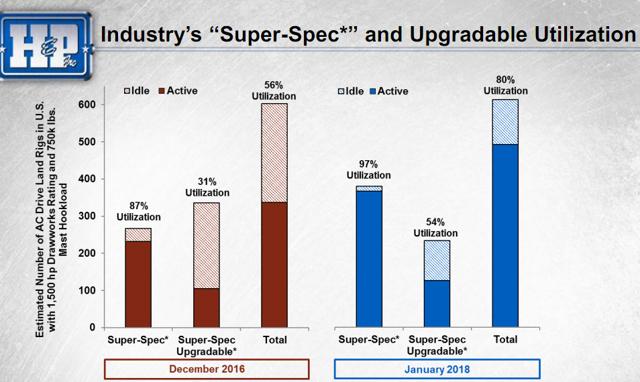 Source: Helmerich & Payne presentation, February 2018
So the ability of oil producers to increase the number of higher powered AC rigs, at least in the shorter-term, would appear limited. Yes, they could employ older or less powerful rigs, but what would this mean for overall rig productivity? Alternatively they can wait for some of the less powerful rigs to be upgraded or the construction of new " super spec" rigs to increase. But will rig contractors oblige at current rig day-rates, especially given some of the strained balance sheets exhibited by some of the operators in the sector?
It is very likely that in order to stimulate meaningful new investment in the sector and the production of new super spec rigs, day rates will have to increase. If day rates increase, the economics of shale extraction will change, which suggests that in the absence of much higher prices the overall rig count (or at least of higher powered rigs) will not grow by that much and therefore, nor will total oil production growth.
In summary, taking all of the factors that we have discussed in this article, we would be surprised to see traditional crude production in the U.S. increase by more than 1mn bpd in 2018 and by a similar amount in 2019, without markedly higher prices and capital investment in the sector. Even at these levels of production growth, taking into account the potential for incremental demand growth of some 1.5mn bpd per year, the market will be in deficit and inventories will continue to decline, at least for crude below an API of 45.
Now in conclusion we will briefly address the issue of demand and supply for condensate or high API crude oil. Again some readers may question why we are bifurcating our analysis, when surely if the surplus condensate and light oil can be exported it will still impact on the global supply of crude oil and satisfy demand somewhere.
Indeed in parts of Asia and in particular in China there appears to be growing demand for condensates and by association Naphtha. Demand is growing for products such as Naphtha and Methanol that are used as blending stocks feeding into the national gasoline pool as well as in the petrochemical sector to produce chemical products such as ethylene. In the case of the former, the increase in demand is being driven by higher octane ratings and a requirement to decrease gasoline sulfur content as the regime in Beijing move forward with efforts to curb pollution.
As the chart below shows, total ethylene production capacity in China (which will predominantly use Naphtha as a feedstock) is expected to grow by at least another 10mn tonnes over the next several years. As we understand it, some 3.3 tonnes of Naphtha is required to produce one tonne of ethylene, so based on these numbers, the growth in Chinese ethylene production capacity would require some 33mn tonnes in additional Naphtha feedstock (which would be need to be imported either as the feedstock or in a cruder form such as oil or condensate).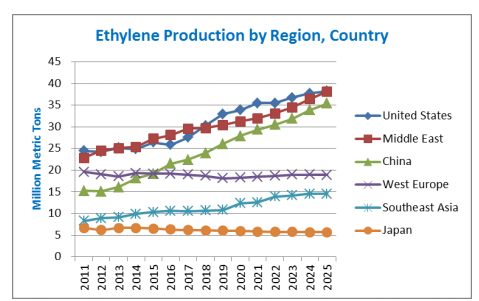 Source : Mitsubishi Chemical Techno-Research, March 2017
Based on a conversion ratio of 9, this would translate into incremental demand growth of roughly 800,000 bpd. This is not all that meaningful perhaps but we are only looking at the Chinese market in isolation, while petrochemical and associated product demand will also grow in other key markets such as India and SE Asia more broadly.
So if the IEA estimates for global oil consumption growth is not accurately capturing the incremental demand growth that will also be derived from the petrochemical sector, we can perhaps feel more comfortable with growing oil supply in the U.S. (even taking into account that a large % will be comprised of lighter oil or condensates).
Further to this, we believe that if the oil market is truly at risk of being oversupplied, it will first become noticeable in niche markets such as the market for Naphtha and condensates. If U.S. oil supply growth is truly "swamping" global oil markets, we would likely start seeing a significant narrowing in the Naphtha "crack" spread or the price of Naphtha relative to crude oil, an indicative profit margin for refiners that process oil and produce Naphtha as a by-product.
Although the crack spread has indeed narrowed somewhat since reaching a cyclical high in November, it remains wider than was the case a year ago and still substantially wider than the levels we would expect to see, if there was a genuine oversupply problem developing. To be sure, this is not to suggest we won't see an oversupply of condensate and Naphtha develop at some point, indeed we think it is very likely in the next few years.
However, even if such a scenario unfolds, it will not necessarily negatively impact demand or pricing for traditional crude grades, although it would presumably start to place downward pressure on condensate pricing and perhaps lead to a narrowing in the differential between lighter crude grade such as West Texas Intermediate/Brent and heavier crude grades.
In the final analysis, the potential for a "segmented" oversupply of one specific grade or type of crude oil is very different to a broader or generalized oversupply of the global crude oil market. Analysts, commentators and participants should be aware of the potentially growing bifurcation in global oil markets and not misinterpret some of these dynamics as indicative of a generalized oversupply situation.
Disclosure: I/we have no positions in any stocks mentioned, and no plans to initiate any positions within the next 72 hours. I wrote this article myself, and it expresses my own opinions. I am not receiving compensation for it (other than from Seeking Alpha). I have no business relationship with any company whose stock is mentioned in this article.