A New Year for IBM
IBM (IBM) once again reported quarterly earnings, and once again the market responded by sending shares downward. But it wasn't because of another quarter of shrinking revenue. This time during Q4 2017, IBM posted revenue growth over Q4 2016 by nearly 4%! For a company that has been tagged with having revenue losses for over 5 years, this is a pleasant development. After IBM's Q3 2017 performance where quarterly revenue held steady from the previous year, it might be that IBM has finally stopped the revenue losses, and may return to steady growth. IBM has also continued improving its strategic imperatives revenue, up 17% for the quarter. At $36.5 billion, the strategic imperatives segment is now 46% of IBM's revenue, in line with the company's vision to transform its operations. Cloud revenue alone reached $17 billion, nearly half of the entire strategic imperatives segment. However things weren't all sunshine and roses. Shares fell during the following trading day, after all. Margins declined somewhat through certain segments, perhaps from pressure from competition or from concessions by IBM to increase sales from customers. Regardless, IBM still presents value in this market. The company might have nearly 30% upside, while paying a moderate and growing 4% dividend. With the recent market declines from rate hike fears, profit-taking, and whatever else spooks today's investors, IBM's price is now heading back toward the glorious buy-zone of sub-150/share. I would be interested in adding IBM at this level, should sufficient funds be available.
Shareholder Returns
IBM continued its long tradition of generously returning funds to shareholders. During 2017, the company paid out $5.5 billion in dividends, while at the same time spending $4.3 billion to repurchase shares. IBM began the year with a share count of 950 million basic shares, and ended the year with only 925 million basic shares.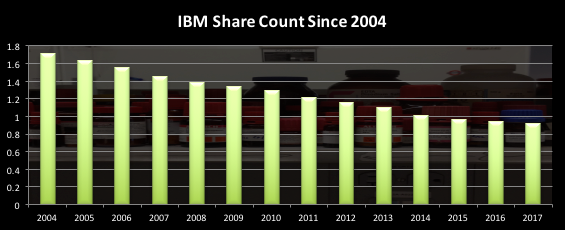 Source: IBM, chart by author.
The sustained nature of IBM's share repurchases have continuously lowered the company's share count, with the 2017 repurchases bringing down the share count by a bit over 2%. As the company's share price was not as low as it has been in some recent periods, management tempered the repurchase amounts to both take advantage of opportunistic pricing and maximize shareholder returns.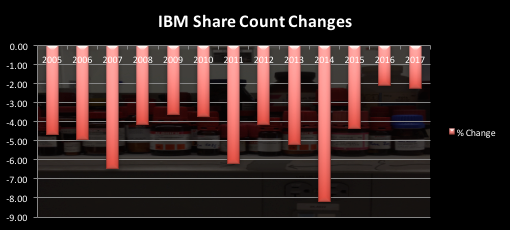 Source: IBM, chart by author.
The Deadly Debt
While shareholder returns like dividends and repurchases are terrific, excessive levels of debt can derail these and potentially force a company to pay down debt rather than pay shareholders or expand the business. IBM's debt has been growing over the past several years, reaching $46.8 billion. When taken at face value, it would appear that IBM's debt load is quite daunting. However, a predominance of this debt is used to support the company's global financing segment and will be paid back by the company's customers.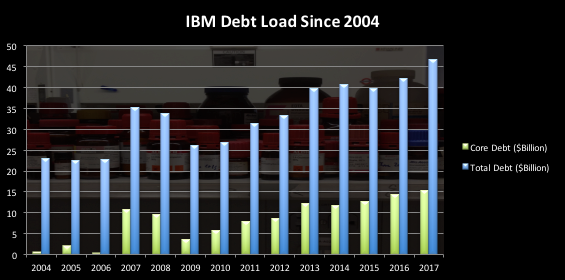 Source: IBM, chart by author.
IBM's financial position is much stronger than its debt level would indicate, since the company's core debt is than the total debt level. Additionally, IBM has maintained a significant amount of cash and equivalents to cover debt maturities or other emergency situations.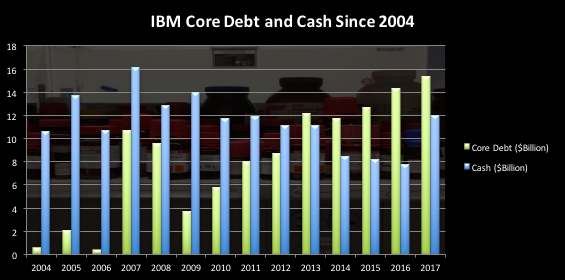 Source: IBM, chart by author.
The company's cash stockpile of $12 billion (excluding marketable securities) is well-suited to both cover short term (maturing within 1 year) maturities of roughly $7 billion and other corporate expenses.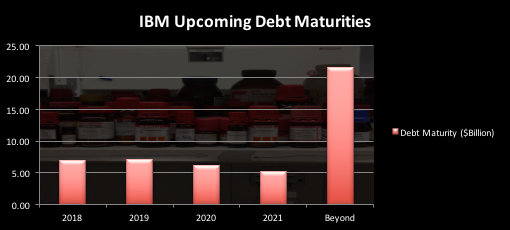 Source: IBM, chart by author.
IBM is in a strong financial position, capable of managing its debt levels while still directing plenty of its cash flow toward shareholder returns.
Why the Disappointment?
As briefly mentioned above, IBM's strategic imperatives have reached 46% of the company's revenue. At nearly $37 billion, this is quite a large amount. The company's strategic imperatives also still have a strong double-digit growth rate, growing 11% over 2016. For the quarter, SI revenue was up 14% over Q4 2016.
Strategic Imperative Growth Rate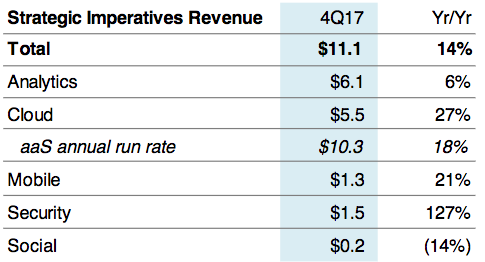 Source: IBM
For all this SI growth, it didn't stop the company from one more annual decline of revenue. Full year 2017's revenue of $79.1 billion was 1% lower than 2016's revenue. But since Q4 2017 revenue was higher than Q4 2016 revenue, continued growth will allow the company to post annual gains as well.
Revenue gains are great for IBM, signaling that the company appears to be returning to growth with a successful turnaround. Less beneficial for the company is the decline in margins year over year. This could be from competition from other companies, or from concessions given by IBM in order to boost sales volumes. Hopefully as IBM continues its growth fewer such concessions will be made. Margins should be watched moving forward to make sure they don't continue to deteriorate.

Source: IBM
Depleted or not, IBM's gross profit margins are still robust and should remain so for the time being.
Cash Flow Model and Fair Value Estimates
Fair value methodology has been adapted from guidelines here. A representative output is as follows.
SI revenue is expected to continue at a double-digit growth rate of roughly 11% for the next several years, eventually slowing to a 10% growth rate. Legacy segments are likely to continue declining at around 10% annually throughout the projection. Should the company continue its progression, then IBM might return to revenue growth this year.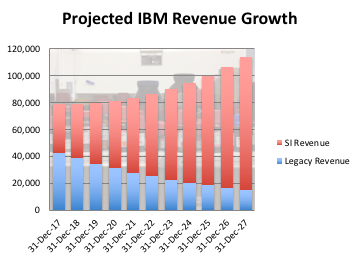 Source: Author's projections.
EBITDA margins were projected at 23% of revenue, according to historical average, and are estimated to rise slightly to 24% and later 25%. Capex and R&D were projected at around 8-8.5% of revenue throughout the estimate. Depreciation and amortization (D&A) were projected at 5.5%, of revenue similar to historical average. Net working capital, NWC, as a percentage of revenue was estimated at 6%. To estimate FCF (free cash flow), D&A was subtracted from EBITDA to get EBIT estimates. Taxes (set at 16%, according to company estimates) were subtracted from EBIT to get NOPAT (net operating profit after taxes). Since corporate tax rates are set at 21%, IBM does not appear that it will gain a large benefit from future tax rates. NOPAT was adjusted by subtracting R&D/capex and NWC investment, then by adding back D&A to give FCF.
WACC, weighted average cost of capital, was found from adjusted betas from other comparable companies. High and low estimates of unlevered beta were used, then combined with debt and equities % of capital (from peer comparison). The IBM tax rate was used to find relevered beta. Relevered beta estimates were then used as multipliers for market risk premium (5.5%). The adjusted risk premium was tuned further by combination with the risk-free rate (4%), then adjusted again to account for IBM's inherent risk (considered to be low here since IBM is a stable company with a long history). The average of historical EBIT/interest ratios was found, and indicated a low default spread (0.8%), which was combined with the risk-free rate to give the company's implied cost of debt. This cost of debt was adjusted according to IBM's tax rate, to give the estimated after-tax cost of debt. A high and low estimate of WACC was found by scaling costs of equity and debt by estimated equity and debt percentages of capital respectively, and summing. The midrange of estimates was selected, 9.4%. A range of discount rates was found by adjusting the selected WACC by 100 basis point increments. Discounting periods were estimated using the mid-year convention, then were used in combination with the range of discount rates to form an array of present value scaling factors. This scaling array was combined with the FCF estimates for each year to obtain present values, which were summed to bring a net value. A range of perpetuity growth rates was estimated, from stagnation to the rate of inflation since IBM is a mature company. These growth rates were used in conjunction with the terminal FCF, discount factor, and discount rate to form a terminal value estimate. This present value of the terminal value was combined with the present value of cash flows to find enterprise value estimates. To these enterprise values were added cash and equivalents, and other investments, while debt was subtracted, giving a value of the common equity. These values were divided by IBM's outstanding shares (roughly 929 million diluted shares) to give a range of implied stock prices. This was done for each discount rate and growth rate, supplying a range of value estimates. My updated fair value estimate of $190.38 lies near the largest cluster of price estimates in the distribution, and is roughly 30% above the current price.
Total Revenue Projections

EBITDA Projections

Capex Projections

Depreciation and Amortization

Net Working Capital

Free Cash Flow

Comparable Companies

Re-Levered Beta

Cost of Equity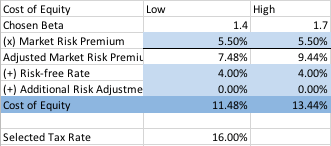 Cost of Debt

Weighted Average Cost of Capital

Discount Factors

Present Value of Cash Flows

Growth Rates and Enterprise Value

Fair Value Methodology

Fair Value Range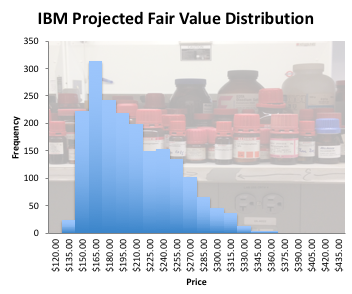 Source: Author's projections
Final Thoughts
IBM has come a long way with its strategic imperative segment. After over 5 years of revenue declines, the company might be turning back to revenue growth. While margins have declined some, the company should be able to reverse this trend as it returns to revenue growth. My new price target for the company is a bit over $190/share, nearly 30% upside from the current price. IBM is hovering right above my buy-price of $150/share, and should shares dip back to the sub-$150 level with the market's fluctuations, I would be interested in adding more, depending on the availability of funds.
Author's Note: I am on the lookout for high yet sustainable dividends or value opportunities with a significant margin of safety. If you're looking for the same, please hit the "Follow" button by my name at the top of the article, and hopefully you'll get some good ideas for value and income stocks.
Disclosure: I am/we are long IBM.
I wrote this article myself, and it expresses my own opinions. I am not receiving compensation for it (other than from Seeking Alpha). I have no business relationship with any company whose stock is mentioned in this article.
Additional disclosure: I am neither a certified investment advisor nor a certified tax professional, and do not claim to be either. The data presented here is for informational purposes only and is not meant to serve as a buy or sell recommendation. Investors and potential investors should do their own research and make their own decisions. In the event that an investor or potential investor does not feel qualified to make such a buy or sell decision on their own, they should consult a certified advisor that they trust or feel comfortable with. Investing may involve losses, including potential loss of principal. The author relies on external links for some information that may have appeared on this perspective. These external links, although believed to be accurate, have not been verified independently. Therefore the author is unable to guarantee their accuracy.