The Consumer Price Index for All Urban Consumers (CPI-U) increased 0.5% in January on a seasonally adjusted basis, the U.S. Bureau of Labor Statistics reported today. Over the last 12 months, 'headline' inflation rose 2.1%.
The consensus estimate for January inflation was 0.3%, so this report could roil the stock and bond markets. Fears of rising inflation - and matching rises in long-term interest rates - have had the markets on edge the last two weeks. Stock market futures dipped immediately after the BLS report was released at 8:30 am. EST.
The BLS noted that the rise in inflation was "broad-based, with increases in the indexes for gasoline, shelter, apparel, medical care, and food all contributing." Gasoline prices rose 5.7% in the month and fuel oil costs were up 9.5% after very cold weather in the eastern U.S. Apparel prices were up 1.7% in the month. Food prices rose a moderate 0.2%.
Core inflation - which strips out food and energy - was up 0.3% in January and has increased 1.8% over the last 12 months, still below the Federal Reserve's target of 2.0%.
The year-over-year increase in prices was moderated by sharp price increases in January 2017, when headline inflation rose 0.6%, the sharpest rise in four years. That strong increase was nearly matched by the January 2018 number, and year-over-year inflation remained stable at 2.1%. Here's the 12-month trend for headline and core inflation: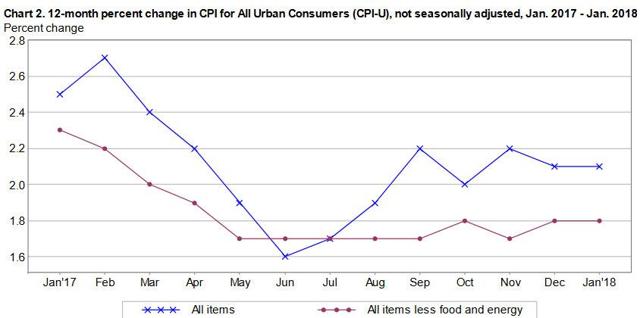 This trend line doesn't look too scary, but the early 2017 trend of declining inflation has definitely ended. Are we stabilizing, or heading up? My guess is that inflation will continue trending higher, but moderately.
What this means for TIPS and I Bonds
Holders of Treasury Inflation-Protected Securities and U.S. Series I Savings Bonds are also interested in non-seasonally adjusted inflation, which is used to adjust principal balances on TIPS and set future interest rates for I Bonds.
The BLS set the January inflation index at 247.867, an increase of 0.54% over the December 2017 number. That broke a three-month string of flat or negative non-seasonally adjusted inflation. For holders of TIPS, it means that their principal balances will rise 0.54% in March, after falling 0.12% from October to December 2017. Here are the new March 2018 inflation indexes for all TIPS.
For holders of I Bonds, the January number is the fourth of six monthly reports - from October 2017 to March 2018 - that will determine the I Bond's new variable rate, to be reset May 1. At this point, with two months remaining, inflation has increased 0.42%, which would result in a new variable rate of 0.84%, well below the current rate of 2.48%. But two months remain. Here are the numbers: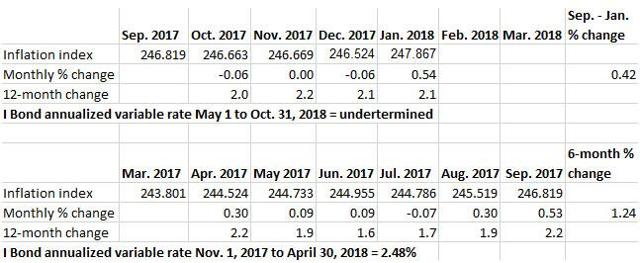 If you are planning an investment in I Bonds in 2018, you would be wise to wait until the March 2018 inflation report is issued at 8:30 a.m. EST on April 11. That will set the new variable rate and you'll have two weeks to decide to invest before or after May 1. In my opinion, there's a reasonable chance the I Bond's fixed rate will rise above 0.1% on May 1. Lots to think about.
What this means for the markets and interest rates
Today's inflation report shows prices rising across a broad spectrum of categories, not just energy. If core inflation continues rising at 0.3% - or even an average of 0.25% a month - annual inflation will be gradually approaching 3.0%. The Federal Reserve would be forced to act by raising short-term interest rates - possibly beyond expectations - and bond investors will demand higher long-term interest rates.
We've seen head-fakes before on U.S. inflation, but most of the recent periods of increases have been energy related, such as in the months late last summer after hurricanes struck Texas and Florida.
The initial reaction from the stock market has been negative, with the Dow futures down about 155 about 20 minutes before the market opens.
Disclosure: I/we have no positions in any stocks mentioned, and no plans to initiate any positions within the next 72 hours. I wrote this article myself, and it expresses my own opinions. I am not receiving compensation for it (other than from Seeking Alpha). I have no business relationship with any company whose stock is mentioned in this article.