Signet Jewelers (NYSE:SIG) is the world's largest diamond jewelry retailer. It operates its jewelry stores in various malls and off-mall locations in the US under brands such as Kay, Kay Jewelers Outlet, Jared, Jared Vault others.
Recently, I became interested in the company, as its stock experienced an exponential depreciation in the last couple of years. If we look at Signet stock chart, we will see that its shares have fallen by 80% in 2017, as its cash flow remained relatively stable during that period of time.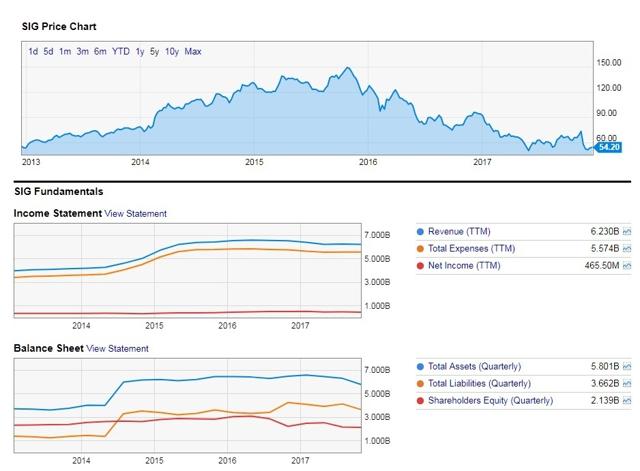 Source: YCharts
As for the other metrics, during the first nine months of the fiscal year, the revenue was $3959,9M against $4138,5M a year before and the company's net income was down by 59% to $143,4M Y/Y. While at first we could think that the recent stock correction has been justified by these numbers, there is a lot more to consider before making final conclusion about Signet's potential.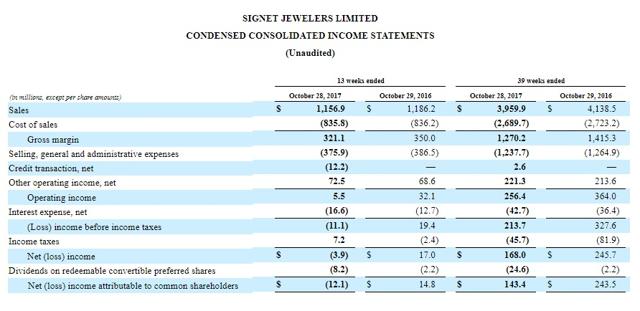 Source: Signet
One of the main reasons for the businesses slowdown was due to the number of incidents related to its business operations that made it harder for the company to show positive financial results.
Going forward, Sigma management plans to improve its performance and restore investors' confidence, primarily by repurchasing its stock. During the latest quarter, the company bought 400 million of its shares, while throughout previous fiscal year it bought more than $1B worth of its shares. Such a move could be viewed as a serious commitment from the management, considering that the company's overall market cap is only $3.2B.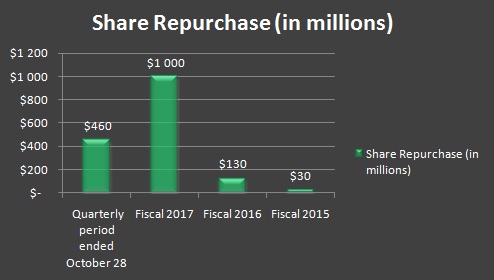 Source: Company Report
If we look at the overall jewelry segment, we will see that its market is expected to grow by 3% annually by 2020. This could be viewed as a positive catalyst for investors, since Sigma's business will directly benefit from such a growth. In addition, the US economy is expected to grow by 2.1%, which is also a positive sign for Signet, considering that its stores are located primarily in the States.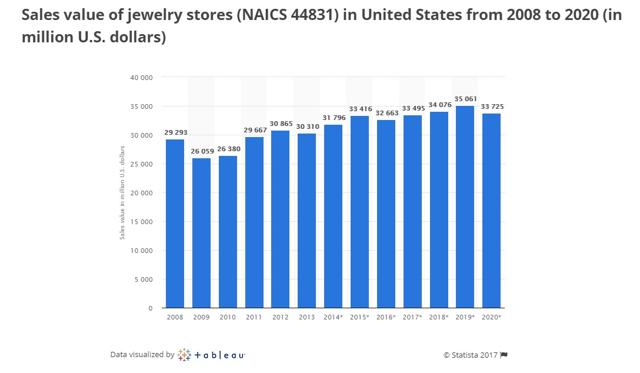 Source: Statista
Taking all of this into a consideration, I decided to create a DCF model, which will forecast the potential future growth of Signet using the revenue multiple technique. The table below shows Signet's rate of growth of its revenue and its EBITDA. The projection has been made using analysts' estimates of the company's performance in the coming years, data from the market participants and Signet's historical performance.

Source: Own estimates
By forecasting Signet's CAPEX, I relied heavily on the company's own projections for the upcoming quarters. In addition, I believe that the capital expenditures will be heavily increased due to the company's plans to expand into other regional markets.

Source: Own estimates
After that, I decided to calculate WACC, where the beta has been calculated using the historical data of the company. As we could see from the table below, Signet's beta is not as high in comparison with others, which is a good thing for investors, as they shouldn't expect a lot of volatility and the increased short interest to their stock.
The risk-free rate of return is the same as the yield of the 5-year US treasury bonds. Data for the Additional Risk Adjustments and Market Risk Premium has been taken from here. The tax rate has been close to the historical level of the company. When I consolidated all of this, I came to a conclusion that Signet's weighted average cost of capital is 8.5%.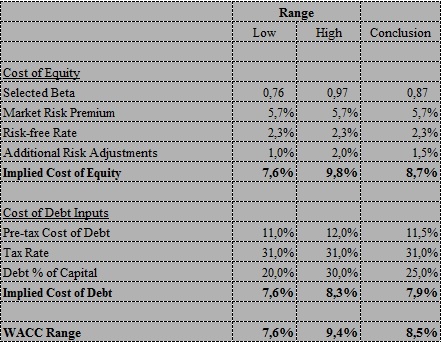 Source: Bloomberg, NUY, Own estimates
The next step of my calculation was to find out at which multiples the company is being valued by different advisory firms. Using the data from Google Finance, I found out that Signet's multiples are as follows: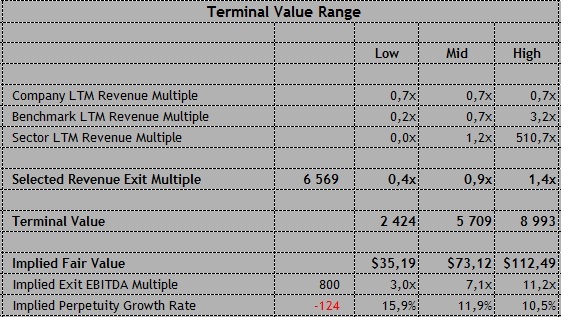 Source: Data from Google Finance, The table has been created by the author
After collecting all of the data from the previous tables, I have been able to complete my DCF model and came to a conclusion that Signet stock has an upside of more than 30% from the current price.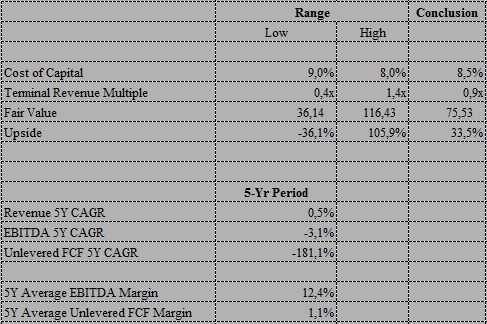 Source: Own estimates
To make sure that my DCF is correct, I decided to compare Signet to its peers using different metrics. The table below shows that our target company has a lot of upside, as it is not as overvalued as others and it has better multiples in comparison with the industry's median.

Source: gurufocus
Conclusion
Taking everything that I have written above into a consideration, I could easily say that Signet is a perfect long-term play for patient investors with a lot of upside in the future. While the recent earnings results have been poor, the company has no debt and its stock has already dramatically depreciated in value since 2016 and is currently trading at the bottom. By analyzing Signet's multiples and conducting a DCF model, I could say that the downtrend is about to end and Signet's stock has every chance to start to rise in value once again.
Disclosure: I am/we are long SIG.
I wrote this article myself, and it expresses my own opinions. I am not receiving compensation for it (other than from Seeking Alpha). I have no business relationship with any company whose stock is mentioned in this article.