The technology industry is fertile ground for innovation and growth, and many of the most profitable stocks in the market come precisely from the tech sector. On the other hand, tech stocks also are quite volatile, and they operate in an always changing environment. This means that the sector also is more risky and unpredictable than other areas of the market.
You can't just build a complete investment thesis about a company by looking at the numbers, you need to understand the main business drivers behind those numbers in order to fully evaluate the risks and potential returns in a particular investment. However, a welt-built quantitative system can be enormously valuable in terms of providing a solid framework for decision making based on cold-hard quantitative data.
3 Key Return Drivers To Consider
The following quantitative system applies the PowerFactors ranking algorithm to companies in the technology sector. PowerFactors is a stock picking algorithm exclusively available to members in my research service: The Data Driven Investor. The system basically selects companies based on three main factors: Quality, value and momentum.
The PowerFactors algorithm compares a wide variety of ratios and indicators across these three main dimensions, and then it averages those numbers to reach a final PowerFactors ranking for a particular stock.

Here's a quick overview of the variables considered by the algorithm:

Quality includes profit margins such as gross profit margin and free cash flow margin. The system also includes long-term growth expectations for the company and profitability ratios like return on equity and return on assets. All else the same, the more profitable the business, the more value it creates for investors over time.

A high quality company deserves an above average valuation. However, it's important to keep valuation at reasonable levels and avoid companies with unrealistically high price tags. For this reason, the system includes traditional valuation ratios such as price to earnings, price to earnings growth, and price to free cash flow. Cheaper companies obviously get a higher ranking in the algorithm.
Momentum is about both financial performance for the company and market performance for the stock. The system measures a stock's relative strength in comparison to other names in the market, looking for companies that are doing better than average. In addition, the system looks for companies that are reporting better than expected sales and earnings, as well as driving increasing expectations about future performance.
Leaving the mathematical considerations aside, it's important to understand the rationale behind the quantitative model. The PowerFactors system is basically looking to buy solid businesses (quality) trading at reasonable prices (value), and also delivering above-average performance (momentum). It's easy to see why it makes sense to expect attractive returns by investing these kinds of stocks over the long term.
Backtested Performance And Portfolio Recommendations
The following backest considers only companies in the tech sector, and it builds an equally weighted and monthly rebalanced portfolio with the 50 names exhibiting the highest PowerFactors ranking. The portfolio is assumed to have an annual expense ratio of 1% to account for trading expenses, and the benchmark is the Technology Select Sector SPDR ETF (XLK).
Backtested performance numbers are quite impressive. Since January of 1999 the system gained 25.52% per year, far surpassing the 4.77% produced by the Technology Select Sector SPDR ETF. In terms of cumulative returns, the system gained 7,601.98% vs. 143.61% in cumulative gains for the benchmark.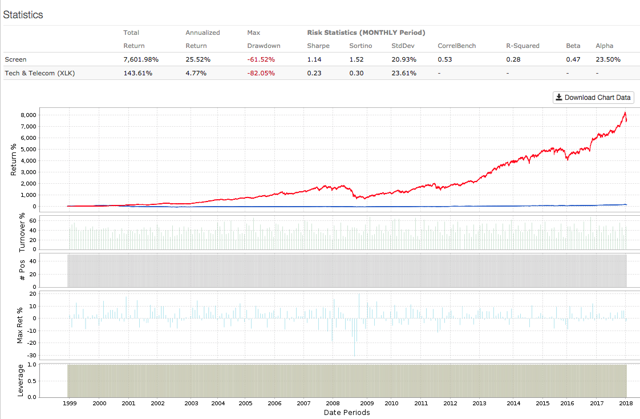 Backtesting data and charts are from Portfolio123.
In other words, a $100,000 investment in the sector-tracking ETF in January of 1999 would currently be worth $243,600, and the same amount of capital allocated to the portfolio recommended by the PowerFactors system would have a much larger value of over $7.7 million.
Importantly, the system also outperformed the benchmark in terms of downside risk. The maximum drawdown for the system was 61.52%, while the benchmark suffered a maximum drawdown of 82.05% during the backest period. This is clearly due to stock selection, since the system avoided the most overvalued and unprofitable stocks during the tech bubble period in 2000 and 2001.
Nevertheless, a maximum drawdown of over 60% is probably too large for many investors. In order to reduce risk we can implement a dynamic hedging system that takes a short position in the Technology Select Sector SPDR ETF when earnings estimates for companies in the S&P 500 are trending lower. Basically, the system goes short the ETF when the five-day moving average in earnings estimates is below the 21-day moving average.
Again, the specific parameters are not particularly important. The main game-changer is the concept behind the strategy. When earnings estimates are rising, the system is long a portfolio of tech stocks with strong quantitative attributes. Conversely, if earnings estimates are declining the system remains long such a portfolio, but it hedges market risk with a short position in the benchmark ETF.
This version including a dynamic hedging system performs even better. Annual return for the system is 26.08% vs. 4.77% for the benchmark and 25.51% for the version without the hedging system. Also, downside risk is significantly smaller. This system has a maximum drawdown of 45.13% vs. 82.05% for the benchmark and 61.52% for the version without the hedging mechanism.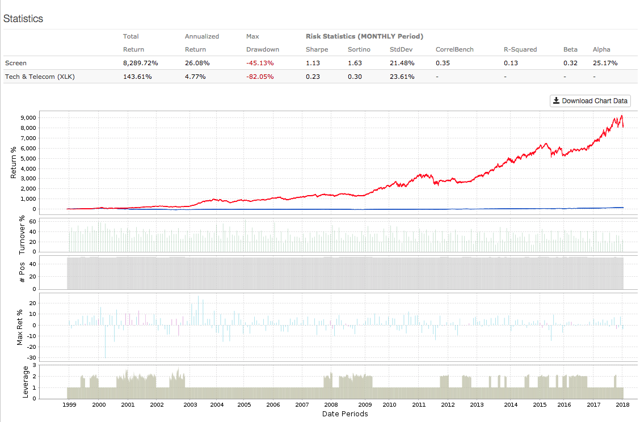 Source: Portfolio123.
Past performance is no guarantee of future returns, and implementing a quantitative system in real life can be more difficult than it seems to be. This means that backtested performance numbers should be interpreted with caution and agnosticism.
That being acknowledged, there's plenty of academic research proving that quantitative systems can be remarkably effective at optimizing both return and risks, and my own backtesting work confirms such idea.
Without further prologue, the table below shows the 50 tech stocks currently selected by the PowerFactors system, ordered by market capitalization. There's plenty of variety to choose from, with companies of different sizes and risk profiles.
| | |
| --- | --- |
| Name | Mkt Cap ($Millions) |
| Apple (AAPL) | $835,118 |
| Facebook (FB) | $503,174 |
| Intel (INTC) | $208,073 |
| Applied Materials (AMAT) | $52,523 |
| Micron Technology (MU) | $49,366 |
| Cognizant Technology Solutions (CTSH) | $45,929 |
| NXP Semiconductors NV (NXPI) | $39,395 |
| Netease Inc (NTES) | $39,392 |
| DXC Technology Company (DXC) | $27,767 |
| Lam Research (LRCX) | $27,515 |
| Skyworks Solutions (SWKS) | $18,893 |
| FleetCor Technologies (FLT) | $17,440 |
| KLA-Tencor (KLAC) | $16,321 |
| NetApp (NTAP) | $15,684 |
| Total System Services (TSS) | $15,644 |
| Seagate Technology (STX) | $14,123 |
| Alliance Data Systems (ADS) | $13,618 |
| | $10,645 |
| ON Semiconductor (PN) | $9,202 |
| Open Text (OTEX) | $9,192 |
| F5 Networks (FFIV) | $8,808 |
| Teradyne (TER) | $7,963 |
| YY Inc (YY) | $7,478 |
| Microsemi (MSCC) | $6,952 |
| Momo (MOMO) | $5,618 |
| MKS Instruments (MKSI) | $5,527 |
| Entegris (ENTG) | $4,407 |
| Versum Materials (VSM) | $3,932 |
| Tower Semiconductor (TSEM) | $3,170 |
| Mellanox Technologies (MLNX) | $3,129 |
| | $3,105 |
| Orbotech (ORBK) | $2,286 |
| Cheetah Mobile (CMCM) | $1,953 |
| Silicon Motion Technology (SIMO) | $1,579 |
| Alteryx (AYX) | $1,562 |
| SolarEdge Technologies (SEDG) | $1,543 |
| Hollysys Automation Technologies (HOLI) | $1,486 |
| Blucora (BCOR) | $1,083 |
| KEMET (KEM) | $973 |
| CalAmp (CAMP) | $830 |
| Axcelis Technologies (ACLS) | $748 |
| SMART Global Holdings (SGH) | $721 |
| Nova Measuring Instruments (NVMI) | $693 |
| Ichor Holdings (ICHR) | $595 |
| Electro Scientific Industries (ESIO) | $568 |
| Daqo New Energy (DQ) | $542 |
| Xcerra Corp (XCRA) | $540 |
| Utstarcom Holdings (UTSI) | $193 |
| Quarterhill (QTRH) | $191 |
| Prophotonix (OTCPK:STKR) | $11 |
As always, please remember to do your own research in order to make sure that a particular stock fits your own investing strategy and risk tolerance level before making an investing decision.
Members in The Data Driven Investor have access to quantitative systems to pick stocks and ETFs with the potential to outperform the market in the long term. In addition, the service offers multiple strategies to protect your portfolio in bear markets, and members know in real time when I make a buy or sell decision for my personal portfolio. Free trial available now in this link.
Disclosure: I am/we are long AAPL, FB, LRCX, MU.
I wrote this article myself, and it expresses my own opinions. I am not receiving compensation for it (other than from Seeking Alpha). I have no business relationship with any company whose stock is mentioned in this article.
Editor's Note: This article covers one or more microcap stocks. Please be aware of the risks associated with these stocks.