Geron (GERN) has been a yo-yo stock for a long time. It is not the Lone Ranger among its small cap biotech peers in this boom or bust market sector. However, it is a particularly stark example; Geron is about as close to a one-trick pony as you can find.
Its one trick, imetelstat, has the potential to be endlessly useful in combatting a wide variety of cancers. However, if it fails, Geron's plan B is of particularly murky provenance; current shareholders would be lucky to recover pennies on a dollar invested if Geron resorts to a makeshift plan B.
Recent SA articles have taken massively different approaches to Geron. This article will attempt a more balanced approach. It will explain my decision to hold a modest long position in this battleground stock. While investment in Geron is riddled with risk for longs and shorts, my thesis here is that shorts are taking the far greater risk.
The good: Geron has an exciting positive narrative
Geron has been many things for many people. Its most important role has been as a source of a life saving elixir for critically ill cancer patients.
It assumed early prominence in this arena with a seminal Mayo Clinic study that initiated and enrolled its first patient in 2012. The study was written up in the New England Journal of Medicine in 2015 in an article titled, "A Pilot Study of the Telomerase Inhibitor Imetelstat for Myelofibrosis", by lead author Ayalew Tefferi, M.D.
The study is ongoing with an estimated primary completion date of January 2019. To reach its current iteration, this study has had a baker dozen of changes. Originally funded in its entirety by Geron, Geron's collaboration partner, Janssen Pharmaceuticals, a subsidiary of Johnson & Johnson (JNJ), has now assumed leading roles. Janssen entities are listed as the "Sponsors and Collaborators", "Investigators" and "Responsible Party" for the study as it proceeds.
This study, known as IMbark, is listed in clinicaltrials.gov as study NCT01731951. Its brief formal title is "Imetelstat Sodium in Treating Patients With Primary or Secondary Myelofibrosis".
The opening paragraph of the cited New England Journal writeup set out the difficult plight facing myelofibrosis patients:
...stem-cell transplantation is currently the only method of treatment for patients with myeloproliferative neoplasm-associated myelofibrosis that [achieves] long-term disease-free remission.1 Unfortunately, [it] is associated with a relatively high rate of treatment-related death and [serious] complications, .... Furthermore, many older patients are not eligible for this intervention. Other treatment strategies, including the use of Janus kinase (JAK) inhibitors, are palliative and ... often cannot induce complete or partial remissions, reversal of bone marrow fibrosis, or molecular responses.3-6
The intriguing aspect of the IMbark study has been the prospect that it increases overall survival for patients with myelofibrosis. This is the brass ring that keeps Geron's investors coming back for more, no matter the delays they face. Imetelstat goes beyond palliative care. It may actually induce complete remission.
Boiled down, the following line from Geron's 4/10/2017 press release is the key:
In these relapsed or refractory MF patients treated in the 9.4 mg/kg dosing arm, ... the data suggest a potential overall survival benefit associated with imetelstat treatment in these patients. [emphasis added]
An additional study, NCT02598661, with a start date of November 24, 2015, and an estimated primary completion date originally set at March 2018, is ongoing. This second study known as IMerge, recently 10/19/17, moved the primary completion date forward several years to 2/26/21.
The IMerge study focuses on treatment of imetelstat for myelodysplastic syndromes. The trial is currently set up in several cohorts as described in the slide below from Geron's January 2018 corporate presentation: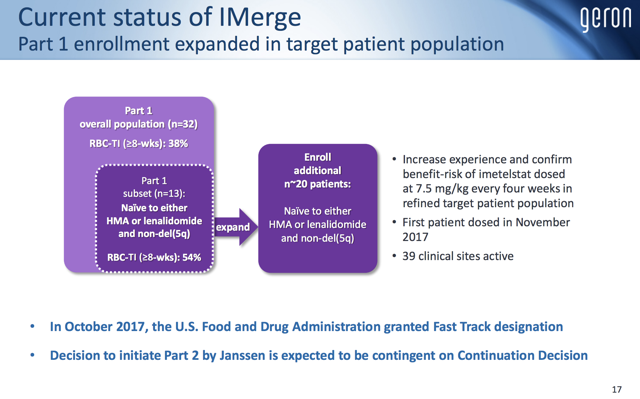 This slide includes the supporting notation that the FDA granted Fast Track designation for imetelstat.
The bad: Geron has a disturbing negative narrative
Geron is also the issuer of its stock that has generated prominent storylines since the 1990's. Its path to investment prominence has been riddled with casualties. At the moment, its success or failure hinges upon its collaboration with Janssen Biotech, Inc. In connection with imetelstat.
Although IMerge may prove important in time, the Janssen collaboration is primarily dependent on IMbark. It is the outcome of IMbark that will likely be determinative of whether existing shareholders realize any value from their Geron shares.
My original Geron article chronicled Geron's futility over its long existence with the following chart: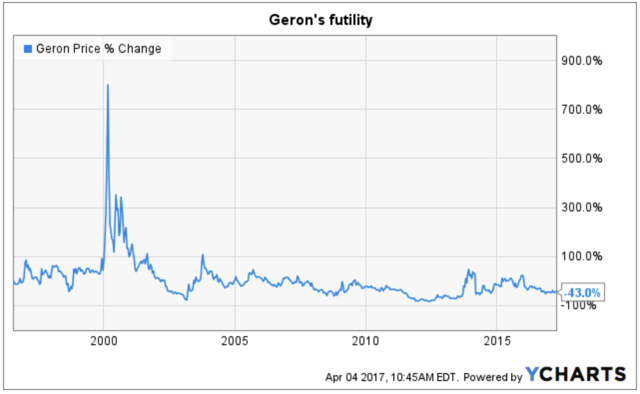 Now, nearly a year further down the road, Geron's futility looks equally futile.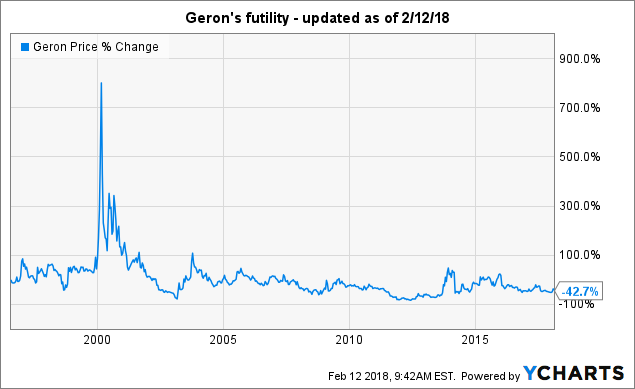 The devilish demons of the investing world, those who walk the short side of the street have taken their bets. They appear to like their odds per the chart below: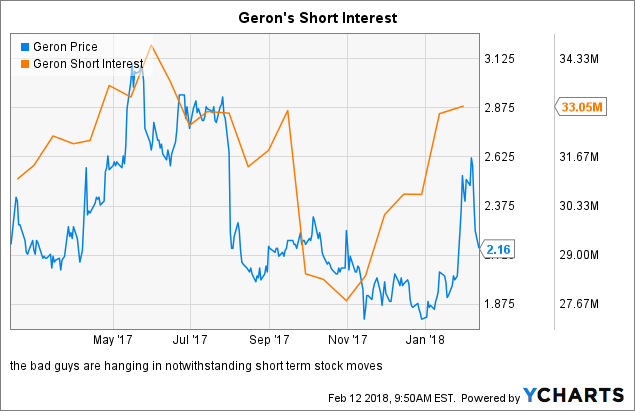 Nasdaq gives us two 2018 data points on Geron days to cover. January 31st 2018 was a high volume day (~3.5 million), so days to cover the ~33 million short came to 9.4. January 12 was a more typical volume day with 1.4 million traded, so the days to cover rose to over 23.
The chart above shows complacency on the part of shorts. Instead of shutting down, short interest rose while Geron's price ran from below $2.00 up to above $2.50. Now with Geron's price dropping while the overall market is soaring, Geron shorts are being further vindicated.
While Geron's longs cheer positive Geron articles by MedTechBio, shorts remain undaunted. They have their own SA champion in Alpha Exposure (AE) per his recent article, "Geron: Imetelstat's History Of Deaths And Safety Issues".
AE focuses on Geron's mites, such as imetelstst's unfortunate record in trials for solid tumor cancers and notably, its 2014 FDA clinical hold for safety issues. AE also quotes scary scenarios laid out in several of Geron's 10-Q disclosures. AE goes on to value imetelstat at zero and to value Geron at 47¢ per share based on its cash and marketable securities.
The ugly manifests itself in Geron's crazy stock price action as its day of reckoning fast approaches
The fact that analysts have sharply different takes on Geron's story is no surprise. Geron is careening forward to a date of reckoning. Geron's stock is like a small craft caught in heavy seas. Swells of optimism float it up, a nearly 40% rise in late December/17 to mid January/18, then poof, a few weeks further on and it is back near where it started.
As I write today, on 2/13/18, it trades <$2.20. It could drop well below $2.00. It could shoot back up to >$2.50. Geron's price action should be substantially independent of the larger market or even of the small cap clinical biotech stocks' sector. Geron is marching to the crazy beat of its own drummer.
What is causing Geron's stock to rip higher or to drop lower? Geron's day of reckoning approaches. Janssen's decision on whether or not to issue a positive continuation decision under its collaboration agreement has seemed an ever receding asymptote...no longer.
Bit by bit, the likelihood that such a decision is imminent and that it will be positive are growing. Janssen is calling the shots. Investors and analysts who are best able to handicap its decision have the upper hand.
In this regard, consider that back in 2014 Janssen's elite acquisition corps elected to proceed with the collaboration agreement immediately after the FDA released its clinical hold. This is not a situation where the FDA's safety concerns were a surprise to Janssen.
Janssen considered imetelstat's potential as sufficiently promising for it to enter into the collaboration agreement, notwithstanding known safety concerns. That was November of 2014. Fast forward three years and months. During the intervening time, Janssen has learned ever more about imetelstat.
There have been two formal data reviews. Janssen continues to devote time and resources to imetelstat. In 2015, it listed imetelstat as a potential 2019 blockbuster in treatment of myelofibrosis. In May 2017, it continues to do so with its date for blockbuster status rolled back.
In October of 2017, Janssen submitted a data package:
...in response to an information request received from the FDA for additional efficacy and safety data, including deaths, justifying continued treatment of patients enrolled in IMbark...
Such a request could be a précis to another clinical hold. It could derail the entire Janssen imetelstat train. However, that does not seem to be Janssen's read of the situation. Instead, we have learned in late January 2018 of imetelstat being touted as an important clinical asset. Accessible information on Adis Insight shows Janssen plans as of 1/23/18 to file for regulatory approval of Geron's therapy for myelofibrosis within three years.
Available information is admittedly fragmentary; this is not unusual in such situations. Nonetheless, I am certainly expecting the long road that Geron investors have been traveling, the one that leads to Janssen's continuation commitment to Geron, is coming to positive end.
Geron has targeted a third data analysis by the end of Q1, 2018...only a few weeks distant. Then a final data analysis is only a few more months later, anticipated to occur by the end of Q3, 2018. Geron's January 2018 investor's day set out the following timetable: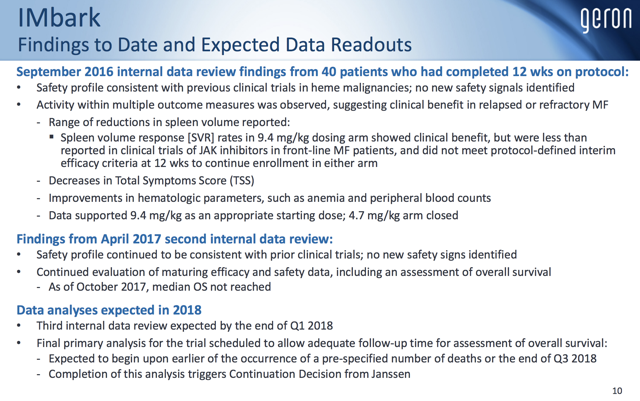 We can credibly expect a continuation decision later this year. After years of waiting during which shorts have grown fat off the suspense, Geron's future is starting to rush forward.
Conclusion
As this catalyst appears ever closer, Geron's stock is reacting. Using the past as a guide we are unsurprised that this reaction is dramatic. The only thing we know for sure is that Janssen has the absolute right to pull the plug at any moment.
This one certainty will tend to keep shorts in the game serving as a gravitational force anchoring the stock on the downside. Longs, such as myself, will focus more on the story as it has unfolded over the years.
Geron has been an agonizing stock for longs over the last several years. The general market has been roaring; Geron has been boring as in headed underground. The reason for this disconnect is that Geron is entirely an event driven stock. The event that is driving it has kept receding into the distance.
We shall know soon enough. The third data review is right around the corner. Shorts must be counting on more mumbo jumbo about the data still not being "mature". If such turns out to be the case, I for one will be disappointed; I will not be surprised or despondent.
I will draw comfort from the fact that a decision, even if yet again delayed, is imminent. At some point Janssen must get off the pot.
When it does so I am expecting that it continue forward on this trek that it began in 2014. At that point AE's short thesis will have been entirely discredited.
Geron's private event driven volatility gives traders opportunities that I forgo. I do, however, take advantage of the good days, when optimism runs high, to sell calls against part of my long position. Then when optimism flags, I can buy them back at a discount.
Disclosure: I am/we are long GERN AND JNJ. I wrote this article myself, and it expresses my own opinions. I am not receiving compensation for it (other than from Seeking Alpha). I have no business relationship with any company whose stock is mentioned in this article.
Additional disclosure: I may buy or sell share in Geron over the next 72 hours.