In mid-November 2017, I wrote an article titled, "Johnson & Johnson: Does This Dividend Giant Still Offer Value?" This piece discussed why I viewed Johnson & Johnson (JNJ) as overvalued at the time due to the fact the price appreciation was far outpacing the earnings growth. At the time of the previous article, JNJ was priced at $140.
As part of this week's roller coaster ride the market has put investors through, JNJ dipped 10% at one point, erasing all gains since late September. I wasn't able to get in during the complete fallout, which saw the price drop to $128, but I did initiate a position shortly after at a price of $129.
As recently as a two and half weeks ago, JNJ traded at its 52-week high of $148.32. This top happened to be the day before the company reported Q4 2017 earnings, which disappointed investors and resulted in a 5% drop the following trading session. Investors also seemed to be unhappy with the low future sales growth the company guided during their earnings call. Rarely do investors have the opportunity to pick up a blue chip dividend aristocrat at a fairly valued price. In this piece, we will take a quick look at their recent earnings results and then focus on the future of the company, to see if the recent drop was warranted or a BIG OPPORTUNITY.
A Quick Look Back
Johnson & Johnson (JNJ) has been one of the most respected, well-managed, and consistent companies for decades now. When thinking of dividend growth staples, one of the first companies that come to mind for most investors is JNJ. The company has increased the dividend an astonishing 55 consecutive years now. Over the years, investors have bought JNJ stock for their conservative approach, low volatility, and a dividend that is both stable and growing. JNJ has been a staple in many dividend growth portfolios for some time now, and I do not expect that to change.
Taking a quick look back at the company's Q4 and full year 2017 results, JNJ had a big year. Here is a snapshot of the company's Q4 and 2017 full year results:
| | | |
| --- | --- | --- |
| | Q4 2017 | YOY Change |
| Revenue | $ 20,195 | 11.5% |
| Gross Margin % | 64.1% | (530)bps |
| Selling, Marketing and admin expense | 6,025 | 13.5% |
| R&D expense | 3,635 | 37.7% |
| Adj EPS | $ 1.74 | 10.1% |
| | | |
| | | |
| | 2017 | YOY Change |
| Revenue | $ 76,450 | 6.3% |
| Gross Margin % | 66.8% | (300)bps |
| Selling, Marketing and admin expense | 21,420 | 7.4% |
| R&D expense | 10,554 | 16.0% |
| Adj EPS | $ 7.30 | 8.5% |
Chart created by author
As you can see in the results charts above, Q4 revenue increased 11.5% compared to the yearly growth of 6.3%, which has been the single highest top line growth since 2013, when top line sales grew 6.1%. This bodes well for investors as the pipeline of products continues to be full.
The company saw strong growth in the second half of 2017, primarily related to their pharmaceutical and medical device sales. These two segments are the two largest in the company (see chart below), which attributed to the company meeting their goals during the transition year. The transition I am alluding to, or which the company alludes to as well, is related to various acquisitions and portfolio restructurings that took place, as planned, during 2017.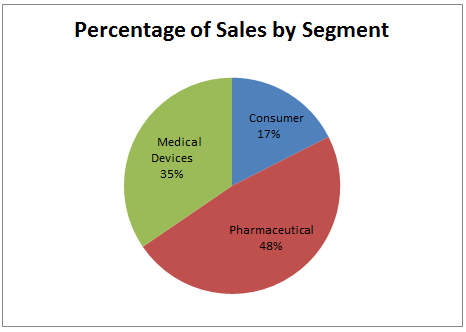 Chart created by Author
In the Pharmaceutical sales segment, the strongest growth was seen within Oncology, which included the drug Darzalex. The drug is the first monoclonal antibody approved for use in multiple myeloma, which is a blood cancer related to leukemia. Darzalex grew 82% in Q4 and 117% over the year, surpassing $1 billion in sales. Another drug used to treat other forms of leukemia is Imbruvica, which saw its sales grow 51% worldwide on the year. Remicade, which has been a huge success in terms of treating patients and a revenue driver for the company over the last decade, has continued to see its sales decline due to expiring patents and the release of Merk's (MRK) generic form. During the year, Remicade sales declined 10% worldwide.
Looking at the Medical Device segment, this segment of the company had fantastic year, growing 5.9%. This is the first year this segment has shown revenue growth since 2013. The driver behind the growth was related to the segment's vision care sector, which saw revenues grow 46% and top $4 billion.
At first glance, areas of concern would be the contraction of gross margin percentages, as well as growth in the SG&A expenses. However, on the Q4 conference call, Mr. Gorsky addressed these areas in particular and maintained that these areas were negatively impacted by the acquisitions made during the year as well as the launch of new products. I will be keeping a close eye on these areas as we move into 2018.
To give a little color as to the "transition year" I alluded to above, 2017 was a huge year in terms of investments made by the company. They looked for areas to improve their portfolio through investments in further research, growth through acquisitions, and divested themselves from areas they did not see fit. To put the investment into perspective, here is CEO Alex Gorsky explaining the year on the Q4 conference call:
In 2017, we achieved record levels of investment. We invested $10.5 billion in research and development, and $35 billion in M&A, which resulted in a number of value-creating acquisitions and collaborations including Actelion, the company's largest acquisition to-date, which added a sixth therapeutic area to our Pharmaceutical business and Medical Optics, which continued to fuel growth and establish leadership in the eye health space. In total, we completed 16 acquisitions and licenses of various sizes, 60 innovation deals and made 21 new investments from our Johnson & Johnson Development Corporation during 2017. In 2018, we will continue to enhance our status as a preferred partner being agnostic to where the best science and technology resides and aggressively pursuing transformational innovation."
Pipeline
During the company's Q4 earnings call, CEO Alex Gorsky discussed the pipeline expectations for the couple of years. As of last year, the company was granted FDA approval on their Tremfya product used to treat psoriasis. In 2018, the company expects approval for their Apalutamide product, which delays metastasis in prostate patients. The product is currently in Phase III testing, and recent data shows the product reduced death by 72% in patients with prostate cancer. The FDA is scheduled to make a final decision on the product by the end of April. In addition to Apalutamide, the company expects to file for approval of Esketamine, which is used in treatment for depression. A report released at the end of 2017 by Janssen Research & Development, one of the pharmaceutical companies under JNJ, noted the phase II study of the product showed "significant improvement of depressive symptoms in people with treatment-resistant depression." In addition to the three specific products discussed above, JNJ is working on an additional seven products that are expected to be released by 2021, each having potential to surpass $1 billion in sales.
Looking Ahead To 2018
During the company's Q4 earnings call, CFO Dominic Caruso issued the plans for 2018. The company guided 2018 as follows:
Organic Sales Growth (w/o acquisitions): 2.5% - 3.5%
Operational Sales Growth (w/ acquisitions): 3.5% - 4.5%
Reported Sales Growth: 5.5% - 6.5%; $80.5 B to $81.5B
Adj EPS: $7.80 - $8.00, growth of 7% - 9.5%
Based on how the company ended the year, I was expecting momentum to continue and the growth numbers to be slightly higher, so I was a little down with this guidance. However, the company is known for issuing conservative guidance to investors, so we will have to see how the year progresses. Shares of JNJ fell over 4% the next trading session, primarily related to the weak 2018 expectations from the company.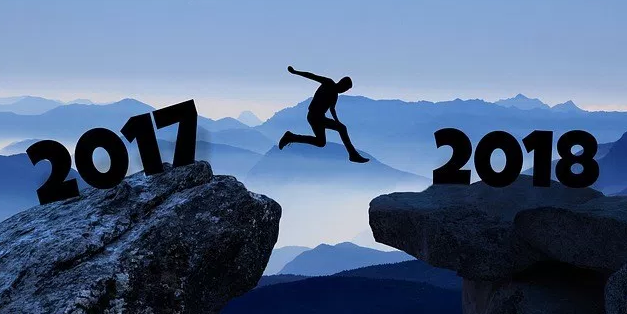 Reading into the company's recently released products, combined with those I mentioned in the pipeline section, I am still bullish on the company and believe 2018 will be another solid year. In terms of the new tax code, the company will be able to bring back the $16 billion of cash currently oversees to hopefully address the company's net debt position. Some investors will look for management to return some of that capital via higher dividend growth, but based on the net debt position the company is currently in, I would rather them pay that doubt and look for more strategic acquisitions. I think investors can look to expect much of the same from JNJ in terms of dividend growth going forward.
To Buy or Not To Buy
When I wrote my recent JNJ article back in November, JNJ was priced at $140 and trading at a P/E of 19.5x. I suggested that the company seemed a little rich, but at the same time, as we saw with the financial results, the company was growing at a much quicker pace than prior history, while the normal P/E was only 16.0x at the time.
Now that we have been on a little roller coaster with the market combined with the decline after earnings, I believe JNJ is more fairly priced. I jumped in at $129 recently with the intention of this being a long-term hold.
Currently, the stock is trading at $130.27, which is a P/E of 17.6x, more in-line with their normal P/E of 17.1x looking at a 7 year FAST Graph chart.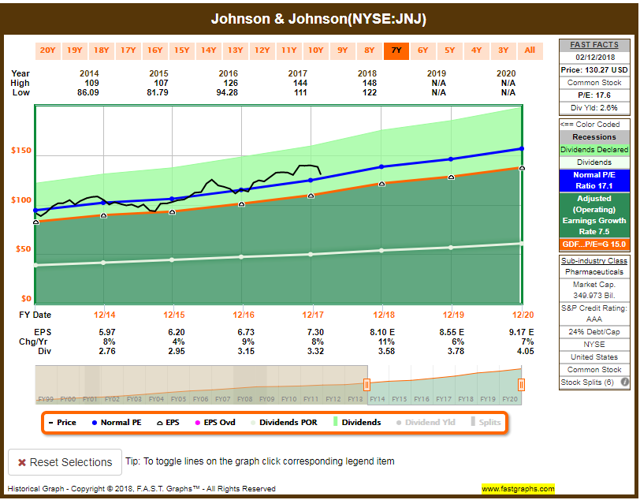 Source: FAST Graphs
Based on the FAST graph above, the drop in price realigned the stock with current earnings, and in my opinion, presented an opportunity for investors to add a high-quality, dividend aristocrat to their portfolio.
Turning our attention to dividends, looking at the F.A.S.T. Graphs below, you can see management has increased the dividend an average of 7% since the last recession in 2009, with 2017 growth of 5% being the lowest in the history of the company. I think we can attribute the slower growth in 2017, as it relates to the dividend, is due to the large acquisitions made during the year. We will have to see if 5% growth continues or if it truly was a one off. Currently, the dividend yield sits at 2.6%. The recent run up in the stock price caused the dividend yield to fall below 2.4%, which was the lowest level it has hit in over five years. A 2.6% dividend growing at just a 7% annual rate does not get you super excited as a dividend growth investor, but if you are looking for consistent and stable returns, this is about as safe as they get.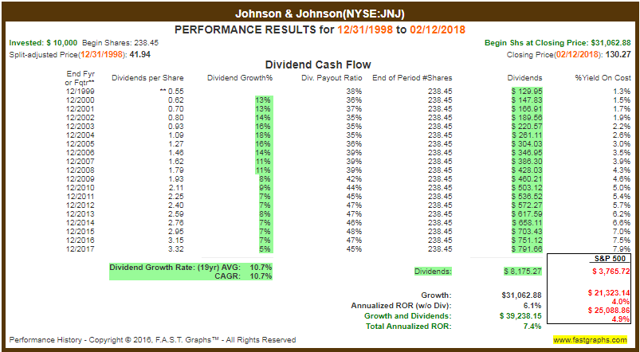 Source: FAST Graphs
Looking at the FAST Graphs dividend chart above, you can see the dividend payout ratio has held consistently around 47% for the last five plus years, with it currently sitting at 45% at the end of 2017. JNJ being the mature company that they are these days, slower dividend growth is to be expected with double digit dividend growth days well behind them. I would expect JNJ management to continue increasing the dividend in the 7%-8% range going forward.

Source: JNJ.com
Conclusion
To conclude, Johnson & Johnson had a great 2017 year that saw growth in all three of their segments, which was the first time all three segments saw positive growth since 2013. Recently released products are performing well and the pipeline remains strong; as such, I do not see why this high-quality management team cannot keep thing rolling. Obviously the expiration of patents related to Remicade is a continued area of concern, but have also been there, so declines will continue as it relates to that. The company's net debt position could be improved with the repatriation of overseas cash, and the projected decrease in the company's effective tax rate due to the new Tax Cut law that recently passed. Overall I believe the positives far outweigh the negatives. As I echoed above, Johnson & Johnson is about as safe and high quality a company one could invest in, and as a value investor, I like the current price point for entry. I look forward to reading your comments below, and Happy Investing!
Note: I hope you all enjoyed the article and found it informative. If you do not currently follow me and would like to be notified of future articles, please hit the "Follow" button above. As always, I look forward to reading your comments below and feel free to leave any feedback. Happy Investing!
Disclosure: I am/we are long JNJ.
I wrote this article myself, and it expresses my own opinions. I am not receiving compensation for it (other than from Seeking Alpha). I have no business relationship with any company whose stock is mentioned in this article.