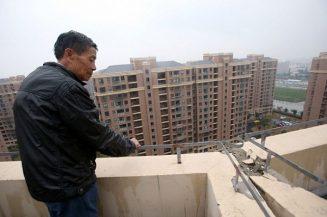 Elliott R. Morss, Ph.D. ©All Rights Reserved
Introduction
On the face of it, 2017 appears to have been a better year for Xinyuan (XIN) than 2016, except for net income.
Table 1. - Annual Financial Data

Source: SEC Filings
Consider next Table 2 where data is presented by quarter. The fact that dollar sales grew more rapidly than square meters means that average selling prices also grew. There are several items worth noting in the balance sheet part of the table. Total debt grew 58% from the 4th quarter in 2016. I also calculated a net debt figure where cash equivalents are deducted from debt. It grew 45% since 2016. Note that properties under development are about the same as at the end of the 3rd quarter while net debt has grown by $507 million. Apparently, money is being set aside for "land bank" purchases.
Table 2. - Quarterly Financial Data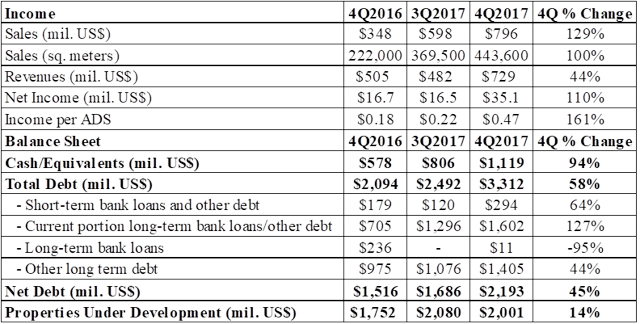 Source: SEC Filings
The Oosten Property
There are problems with Oosten. XIN has been sued by a contractor. And sales have slowed. Only 4 units sold last quarter, leaving 44 remaining to be sold. XIN has "beefed up" its sales and management team by adding a Chinese partner.
The Hudson Garden Property
XIN reported that Target has committed itself to a large contract on this property. Will this work? A major department store at a time when Americans are increasingly buying "department store products" online?
The Blockchain Business
I initially invested in XIN because of its focus on 2nd Tier Chinese cities where real estate demands continue to outpace supply. Since then, XIN has invested in 1st Tier cities including Beijing, Shanghai, and New York. And now blockchain. I have absolutely no idea on XIN's blockchain prospects, but I worry. These new directions that XIN have taken increase risks and that is on top of the fact that real estate development has always been a risky business.
A Deficit in the First Quarter of 2018?
I quote Helen Zhang, XIN's CFO:
"We remain cautious about the market as the government's restrictive policy continues, but we are optimistic about our ability to adjust to the environment and deliver strong financial results. We will continue to seek additional avenues of growth in our core development business as well as our new construction management service business. We remain committed to our shareholders and are proud to have achieved 24 consecutive quarterly dividends thus far."
Helen goes on: "For first quarter of 2018, contract sales are expected to be on par with the prior year first quarter period and the Company expects significant pressure on earnings in the first quarter due to slower sales associated with Chinese New Year and increased interest expense associated with new debt from land acquisitions in late 2017."
Questioner: "Okay. Now, another question I have is, you said there's going to be a lot of pressure as far as for net income in the first quarter. Do you anticipate making a profit in the first quarter of 2018?"
Helen: "We're saying that we have a significant pressure on net income for Q1. So, if we're taking Q1 alone, I am prepared for a loss."
Questioner: "Okay. So, potentially, there is going to be a loss for the first quarter. However, your guidance for the whole year is -- sorry?"
Helen Zhang: "Yes. That's true. If you check Q1 track record in 2016 and 2017, you will see that we are -- we were making profit, but the number is quite minimal. And since we have more interest expense because of the leverage associated with the more debt of land acquisition, so I am prepared for a loss for Q1."
Table 3 does bear Helen out. For the last several years, the first quarter has been XIN's worst quarter.
Table 3. - XIN Profits (mil. US$)

Source: SEC Filings
For all of my investments, I keep an eye on the payout ratio - the dividend share of net income. When this starts to exceed 50%, I start worrying to about the dividend being cut. As noted in Table 2, net incomes per ADS were 18¢, 22¢ and 47¢ per share for the three quarters listed. With a dividend is 10¢ cents quarterly, the payout ratios have been 55%, 45%, 21% respectively.
I hope XIN does not lose money in the first quarter of 2018. But more importantly, I hope it dips into "savings" and continues to pay the 10¢ dividend.
Conclusions
I recently wrote a piece on investment biases. Several of the most prevalent biases involve staying with investments for too long. However, I am not selling XIN yet: let's see what happens in the first quarter….
Disclosure: I am/we are long XIN. I wrote this article myself, and it expresses my own opinions. I am not receiving compensation for it (other than from Seeking Alpha). I have no business relationship with any company whose stock is mentioned in this article.