January was an exciting month and one of the strongest for the U.S stock market with the Dow Jones rising a staggering 5% and topping at around 26,500 points. At the same time, the euro continued its strong rally and peaked above $1.25 at a fresh 3-year high.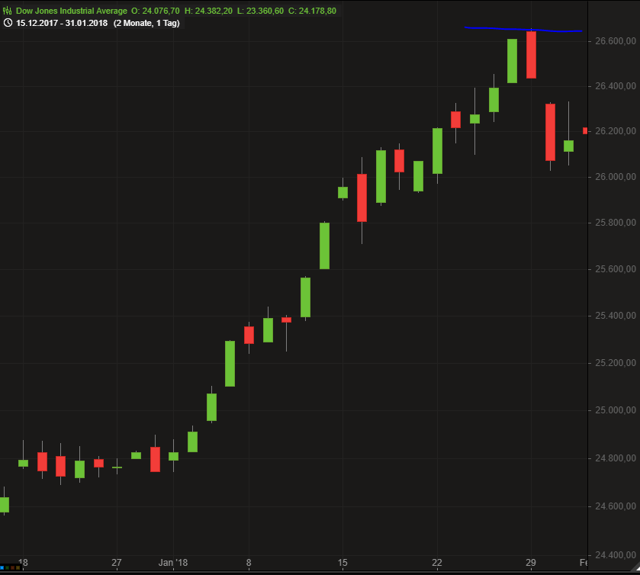 Source: Godmode Trader
Little did I know about the heavy selling due to happen in February which has seen the DJIA plummeting more than 10% (briefly) in one of the worst weeks since the financial crisis.
I continued adding to existing positions with dividend income soaring and new yearly targets being defined. It still baffles me that the euro kept on appreciating against the dollar, given that the interest differential across the two economic regions is heavily skewed towards rising interest rates in the U.S. Now that the labor report was published in early February igniting fears about an accelerated rise in interest rates, the euro has currently retreated almost 3 full cents, and I am wondering if that trend will continue.
Most of my time in February so far has been dedicated to understanding what is happening and picking some "buy-the-dip" opportunities, which means that I still have not found time to working on developing a proper tool to easily monitor and track FX impact and portfolio performance for current and prior years.
Portfolio Changes | 0 new stocks, 0 sales and 16 repurchases
I spent around $3,000 for adding to existing positions in January and for the first time in several months neither entered a new position nor closed an existing one.
The top three purchases were 20 shares in heavily beaten Omega Healthcare Investors (OHI), 5 shares in "out-of-favor" Gilead (GILD) stock, and 3 shares of Texas Instruments (TXN) as the stock was heavily sold once the company reported earnings. In retrospect, due to the following February selloff, all of these purchases were too early, but as I am intending to hold them long term, it will just take a bit longer.
Texas Instruments reported very solid Q4/2017 results beating estimates top and bottom line and despite in line guidance tanked more than 6% post earnings. I consider TXN to be a must-own dividend growth stock as it has a stellar dividend track record and is enjoying a wide moat in the Internet of Things. This was the first dip in the stock for a very long time, and right now, it is trading around 20% around its 52-week high yielding almost 2.5%.
For Omega, the situation is different. Ever since tenant issues surfaced followings its Q3 earnings report, the stock only knew one direction - south - hitting fresh 52-week lows all the time. At the time of this writing, the forward yield is double digits at 10% and was around 9.5% when I pulled the trigger. The upcoming Q4 report due on February 14 is either a Valentine's gift or curse, but in any way, it should provide a sizable movement up or down. It will be key to understand if tenant troubles are contained to the already known 2-3 tenants or ominous signs of worse to come. I have taken the optimistic side of that bet and will closely eye its conference call. If there are any signs that these troubles have exacerbated themselves, I may be forced to realize a substantial loss and close the position. A high yield is of no value if it jeopardizes the company's ability to service it which should ultimately lead to a dividend cut.
And finally Gilead! This stock requires patience, lots of patience. It has enjoyed a nice rally ever since hitting its low of $63.76 last year but is still trading at almost ridiculously low forward earnings metrics. It is true that the decline is HCV sales is ongoing but now that the base revenue has been declined so much, it is no longer of real relevance for the company's future. Instead, the future continues to look bright with CAR-T potentially being a game changer and Gilead's new HIV bictegravir treatment having been approved by the FDA. Ironically, only a day later, ViiV Healthcare has filed a patent infringement lawsuit against Gilead as it claims that bictegravir infringes on one of its patents. It is tough to ignore all the noise and doom-and-gloom with Gilead, but in the long run, I remain very confident that this investment will pay off multiple times.
Other main purchases break down as follows:
1) Continue ongoing monthly stock savings plans: These are routine investments between $50-115 each into Wells Fargo (WFC), Visa (V), McDonald's (MCD), Johnson & Johnson (JNJ), Apple (AAPL) and the lesser known Commonwealth Bank of Australia (OTCPK:CBAUF).
2) Invest in existing growth stocks: I added to Microsoft (MSFT) as the company had just reported another stellar fiscal quarter and continues to fire on all cylinders, especially in cloud, where Azure has enjoyed another quarter of 90%+ growth. I added to Dominion Energy (D) once it hiked its dividend by a staggering 10% and to AbbVie (ABBV). The stock of the latter exploded by 14% once it reported very impressive Q4 sales and crushed its previous guidance for 2018. A high-flying stock such as ABBV also was not spared by the market's correction and is currently trading around 10% off its 52-week-high. AbbVie is a compelling and unique investment opportunity as well as an excellent income vehicle. Fundamentally, its business has never been in better shape and as management can rely on its Humira blockbuster to generate abundant cash reliance on that very same drug will decrease with new products launched and existing products expanded. A strong tailwind from the U.S. corporate tax rate reform provides a further catalyst.
3) Invest in existing dividend stocks: I added to AT&T (T) as I was impressed by the company's fourth quarter results and is surprisingly upbeat 2018 guidance. Little did that help to boost the stock price apart from an initial 4% post earnings rally. Again, as with Gilead, patience is required. I am in it for income and do not expect any capital appreciation unless the Time Warner (TWX) merger gets completely cancelled and AT&T decides to invest this money otherwise.
4) Speculative buys: None
All purchases in January can be found below: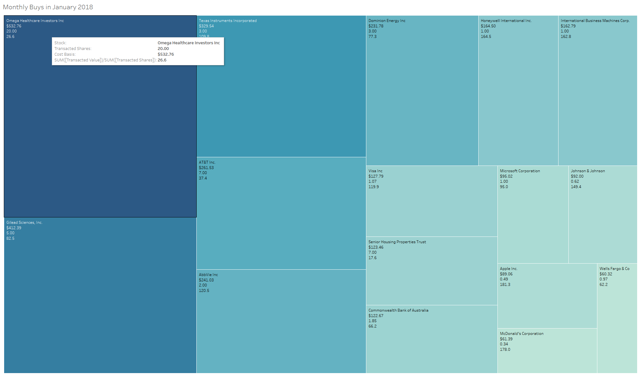 Dividend Income: What happened on the dividend side?
My income from 24 corporations amounted to $169.22 in dividends, down 1% sequentially and up 64% Y/Y.
The tiny decline on a sequential basis is entirely driven by a semi-annual dividend payment from the Commonwealth Bank of Australia in October 2017 ($25.13). Excluding that impact, sequential growth comes in at 16%.
In December 54% of total dividend income originated from five companies, spearheaded by Altria (MO), my second largest portfolio position. The short-term stock performance has been disappointing and with the 10-year Treasury rate soaring and the FDA having rejected Philip Morris (PM) IQOS claims, I would be surprised if that changes anytime soon. This will likely create further attractive buying opportunities for Altria in the following months. Right now, thanks to the market selling off, Altria has retreated to $65 and is sporting a 4.0% yield again.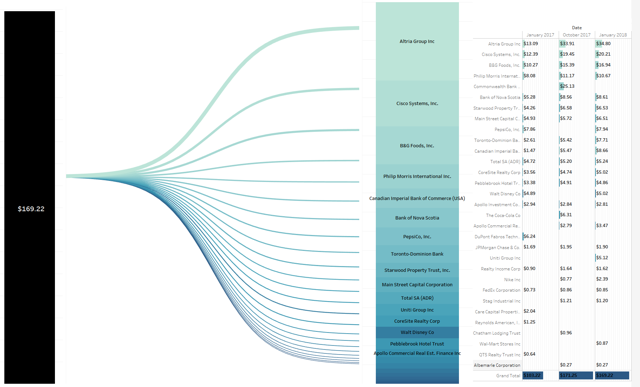 This dashboard shows how the monthly dividend income breaks down into the individual stocks. It also shows the change in income vs. the previous quarter and year.
Here is a look at my favorite chart, the net dividend income development by month over time between 2015 and 2018, where you can easily see the development of my dividend income as well as the average annual dividend in a given year: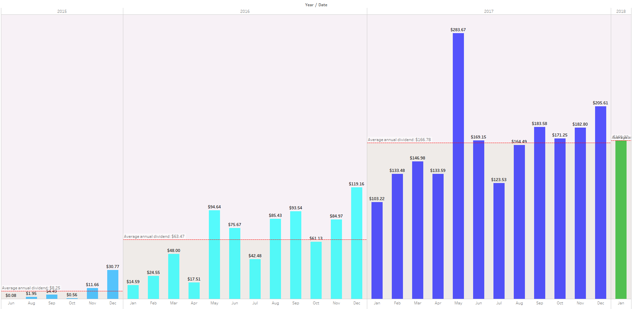 Next, I have scattered all the individual dividend payments I have ever received and colored them by year rearranging the years side-by-side rather than horizontally as in previous updates: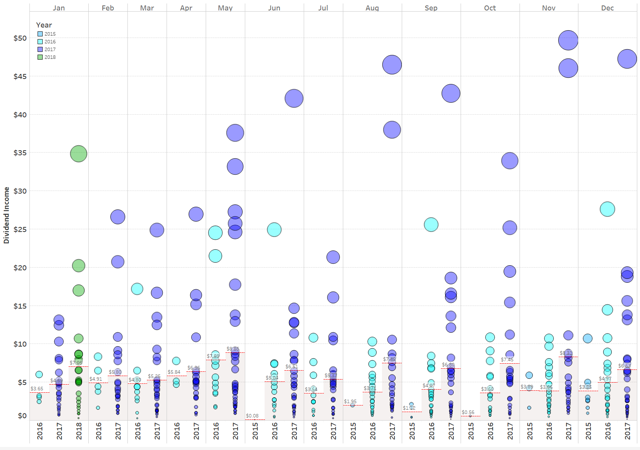 The readability of the numbers is rather poor as there is so much data, but the bigger picture becomes apparent regardless of these numbers. I am just looking at the size and quantity of the bubbles as they keep on climbing higher and expanding in size. With Altria topping my January dividend income by a mile, this bubble becomes clearly identifiable. I just cherish this development and could not be happier about it.
It remains fascinating to watch how all these metrics develop over time. Right now, as I am still in the early stages, these metrics are not that impressive, but the growth is truly striking, and all these instruments help me measure it and provide meaning to it.
Speaking in terms of meaning, another way to express the monthly dividend income is in terms of Gifted Working Time (GWT). I am assuming an average hourly rate of $25 here. Compared to 2017, I have increased that rate by $5 due to inflation and the EUR/USD development. I also readjusted the chart below retroactively to account for that higher average hourly rate. My annual target is to replace 100 hours of active work with passive dividend income. This translates to $2,500 in annual net dividends or around $208 per month. I am not sure if I am sandbagging here and thus may readjust that target after the first 3-6 months.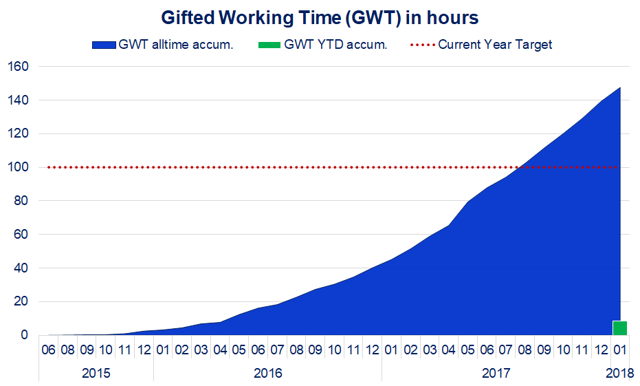 What this shows is the following...
1) All-time (blue area): Around 118 hours or more than 15 days of active work have been replaced with passive income since the start of my dividend journey. Assuming a 5-day work week that equals three weeks of vacation funded via dividends.
2) YTD (green bars): Around 7 hours or 0.85 days of active work have been replaced with passive income. The chart certainly looks quite empty right now, given that it only has one data point, but over time, these green bars will approach the red line and hopefully beat it as well.
Upcoming February Dividends
The snapshot below is taken from my newly released Dividend Calendar & Dashboard Tool (make sure to follow instructions) and shows expected gross dividend payments for February 2018.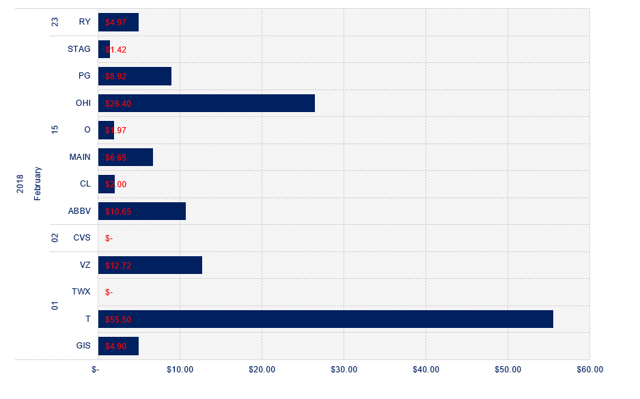 I use that tool basically every day, and I would be happy if you give it a try as well, for free, of course. I am also very interested in your ongoing feedback regarding this as it continues to be popular across the community. In case of any problems, I am more than happy to assist you in setting up everything. I am also working on simplifying and automating it further as well as adding new features. This, however, takes a lot of time actually, so please be patient.
My portfolio composition
As of end of January, based on cost basis and previously mentioned clustering, my portfolio is composed as follows: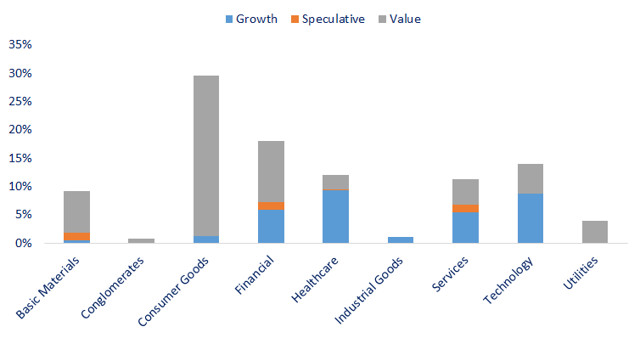 | | | |
| --- | --- | --- |
| AT&T Inc. | (T) | 6.94% |
| Gilead Sciences, Inc. | (GILD) | 5.67% |
| Altria Group Inc. | (MO) | 5.63% |
| Royal Dutch Shell Plc | (RDS.B) | 4.12% |
| Cisco Systems, Inc. | (CSCO) | 3.35% |
| McDonald's Corporation | (MCD) | 3.09% |
| Apple Inc. | (AAPL) | 2.82% |
| Southern Co. | (SO) | 2.77% |
| Visa Inc. | (V) | 2.19% |
| Unilever NV (ADR) | (UN) | 2.18% |
| Bayerische Motoren Werke AG | (OTCPK:BMWYY) | 2.15% |
| B&G Foods, Inc. | (BGS) | 2.11% |
| Commonwealth Bank of Australia | (OTCPK:CBAUF) | 2.03% |
| Main Street Capital Corporation | (MAIN) | 1.99% |
| Wells Fargo & Co. | (WFC) | 1.95% |
| Johnson & Johnson | (JNJ) | 1.93% |
| AbbVie Inc. | (ABBV) | 1.93% |
| Omega Healthcare Investors Inc. | (OHI) | 1.91% |
| PepsiCo, Inc. | (PEP) | 1.68% |
| Toronto-Dominion Bank | (TD) | 1.51% |
| Verizon Communications Inc. | (VZ) | 1.49% |
| Bank of Nova Scotia | (BNS) | 1.41% |
| Philip Morris International Inc. | (PM) | 1.39% |
| Daimler | (OTCPK:DDAIF) | 1.38% |
| Procter & Gamble Co. | (PG) | 1.31% |
| Microsoft Corporation | (MSFT) | 1.30% |
| The Coca-Cola Co. | (KO) | 1.25% |
| BASF | (OTCQX:BASFY) | 1.22% |
| Senior Housing Properties Trust | (SNH) | 1.16% |
| Dominion Energy Inc. | (D) | 1.14% |
| Exxon Mobil Corporation | (XOM) | 1.14% |
| Honeywell International Inc. | (HON) | 1.12% |
| Fresenius SE | (OTCQX:FSNUF) | 1.06% |
| Walt Disney Co. | (DIS) | 1.03% |
| Spectra Energy Partners, LP | (SEP) | 1.03% |
| Nike Inc. | (NKE) | 1.01% |
| General Motors Company | (GM) | 0.99% |
| Canadian Imperial Bank of Commerce (USA) | (CM) | 0.97% |
| Texas Instruments Incorporated | (TXN) | 0.90% |
| 3M Co. | (MMM) | 0.85% |
| Momo Inc. (ADR) | (MOMO) | 0.84% |
| General Mills, Inc. | (GIS) | 0.83% |
| Target Corporation | (TGT) | 0.77% |
| Allianz SE | (OTCPK:AZSEY) | 0.77% |
| Drillisch | (OTC:DRHKF) | 0.76% |
| Bank of America Corp. | (BAC) | 0.73% |
| BP | (BP) | 0.72% |
| Realty Income Corp. | (O) | 0.72% |
| Advanced Micro Devices, Inc. | (AMD) | 0.71% |
| Morgan Stanley | (MS) | 0.68% |
| Royal Bank of Canada | (RY) | 0.65% |
| Pebblebrook Hotel Trust | (PEB) | 0.58% |
| Bayer AG | (OTCPK:BAYZF) | 0.55% |
| Starwood Property Trust, Inc. | (STWD) | 0.47% |
| Citizens & Northern Corporation | (CZNC) | 0.46% |
| Teekay Tankers Ltd. | (TNK) | 0.45% |
| Baozun Inc. (ADR) | (BZUN) | 0.45% |
| FedEx Corporation | (FDX) | 0.44% |
| Colgate-Palmolive Company | (CL) | 0.44% |
| CoreSite Realty Corp. | (COR) | 0.44% |
| JPMorgan Chase & Co. | (JPM) | 0.41% |
| Lanxess AG | (OTCPK:LNXSF) | 0.38% |
| Stag Industrial Inc. | (STAG) | 0.38% |
| Enterprise Products Partners L.P. | (EPD) | 0.37% |
| Tableau Software Inc. | (DATA) | 0.32% |
| Starbucks Corporation | (SBUX) | 0.30% |
| Galapagos NV (ADR) | (GLPG) | 0.24% |
| MediGene AG | (OTCPK:MDGEF) | 0.24% |
| Fresenius Medical Care | (FMS) | 0.23% |
| Time Warner Inc. | (TWX) | 0.23% |
| Frontline Ltd. | (FRO) | 0.23% |
| Costco Wholesale Corporation | (COST) | 0.22% |
| Uniti Group Inc. | (UNIT) | 0.22% |
| Facebook Inc. | (FB) | 0.21% |
| International Business Machines Corp. | (IBM) | 0.21% |
| NVIDIA Corporation | (NVDA) | 0.20% |
| CF Industries Holdings, Inc. | (CF) | 0.19% |
| CVS Health Corp. | (CVS) | 0.18% |
| Delta Air Lines, Inc. | (DAL) | 0.18% |
| Apollo Commercial Real Est. Finance Inc. | (ARI) | 0.18% |
| Macquarie Infrastructure Corp. | (MIC) | 0.17% |
| Energy Transfer Equity LP | (ETE) | 0.17% |
| Activision Blizzard, Inc. | (ATVI) | 0.17% |
| Apollo Investment Corp. | (AINV) | 0.17% |
| DHT Holdings Inc. | (DHT) | 0.16% |
| Albemarle Corporation | (ALB) | 0.16% |
| CenturyLink Inc. | (CTL) | 0.16% |
| Atlassian Corporation PLC | (TEAM) | 0.14% |
As always, I hope that you find this update interesting and relevant. The biggest inspiration for me is reading these updates from other authors and following their progress over the years. Compared to them, I am still really at the beginning of my journey, and I would appreciate if you want to follow/continue to follow my journey as well. I hope to inspire many more readers to also start and share their journey.
Author's note: If you enjoyed this article, the only favor I ask for is to click the "follow" button next my name at the top of this article. This allows me to develop my readership so I can offer my opinion and experiences to interested readers who may not have received them otherwise. Happy investing :)
Disclosure: I am/we are long AAPL, BP, CSCO, KO, CL, XOM, GILD, JNJ, MCD, PM, PG, RDS.B, UN, DIS, PEP, VZ, V, WFC, GIS, BGS, SEP, MSFT, MAIN, CTL, TNK, HCP, ABBV, FIG, CLDT, RY, EPD, QTS, DFT, GM, CZNC, OHI, CM, T, JPM, STAG, HPT, FDX, AINV, SNH, DHT, FRO, HON, STWD, PEB, MS, CF, SO, RAI, FLO, CCP, BNS, MO, PFE, CVS, TWX, O, COR, HCN, TOT, TD, ARI, D, FB, ALB, TGT, WMT, AMD, 3M, BZUN, MOMO, DATA, ATVI, TTWO, LNXSF, TXN, ETE, TEAM, SBUX, UNIT, MIC, GLPG.
I wrote this article myself, and it expresses my own opinions. I am not receiving compensation for it (other than from Seeking Alpha). I have no business relationship with any company whose stock is mentioned in this article.
Editor's Note: This article discusses one or more securities that do not trade on a major U.S. exchange. Please be aware of the risks associated with these stocks.