Infrastructure Upgrade Looming? Keep An Eye On These Sectors
Summary
The Trump administration released a $1.5-trillion infrastructure upgrade plan.
Big government spending programs can inject billions or even trillions of dollars into the economy.
Many pieces still need to fall into place before any infrastructure upgrades become a reality.
Big government spending programs can inject billions or even trillions of dollars into the economy, often giving industry a boost.
This was true in the "go-go" years of the 1950s and 1960s when the government built the Interstate highway system and sent men rocketing to the moon. The stock market had some boom times back then, hitting record highs as federal money filtered into various industries. Another example was the 1980s when the Reagan-era arms build-up injected vigor into the defense and technology sectors.
Now, the Trump administration is targeting infrastructure, unveiling a $1.5-trillion plan Monday aimed at upgrading and rehabilitating the nation's transportation network - roads, bridges, tunnels, and more. There are three primary questions:
How might this new influx of money from Washington, D.C., affect various industries, whether stocks - or certain stock sectors - could benefit, and what might this mean for the overall economy in a time of inflation-related worries? Down-to-Earth, or Over-the-Moon?
While the plan could potentially help various parts of the economy - possibly lifting those sectors - keep in mind a couple of things before getting excited and buying railroad and airline stocks. First, the specifics have yet to be revealed, and any final agreement might look quite different from this first draft.
"The president's infrastructure bill is just the first salvo, in what will be a negotiation process," said JJ Kinahan, chief market strategist, TD Ameritrade (NASDAQ:AMTD).
Second, President Trump's infrastructure plan might not progress quite like past government spending programs did, back when Washington handed out money pretty loosely. This plan, whose official title is "Legislative Outline for Rebuilding Infrastructure in America," involves the matching of federal funds with state and local funds, as well as possible public-private partnerships. That could conceivably put the states into a delicate position where they might have to raise taxes in an election year to get some priorities done. It also puts the federal government into the position of potentially pushing already massive spending deficits even higher, perhaps with a resulting hike in interest rates.
Some sectors might benefit...
The plan outlines several priorities. Since this is an infrastructure initiative, some of the potential beneficiaries probably won't sound too surprising.
"Any time you talk infrastructure, you talk about any company involved with building," Kinahan said. "An infrastructure plan typically helps railroads and trucking companies by making things easier for them. And it tends to help anyone involved in the construction business, as well as airlines and plane makers."
Better roads, railroads, and runways, Kinahan said, might potentially enable transport companies to move goods more efficiently, giving them a chance to increase their bottom lines. Much of the costs these companies bear is in moving goods across the country. Transportation bottlenecks - such as traffic congestion on major highways, byways, and railways - can become a drag on profits.
...but we're still early in the process
The question, Kinahan added, isn't so much who the plan might help, but what the plan might ultimately look like.
"Where it's at and where it ends up aren't the same," Kinahan warned. "It's Washington, D.C., so there's probably going to be a lot of back and forth."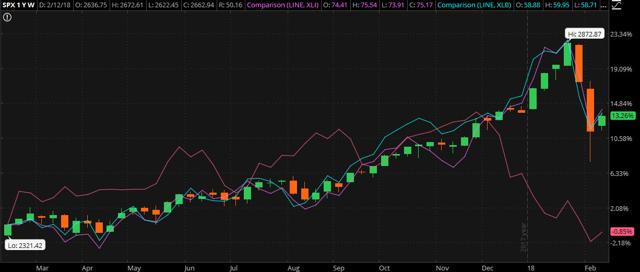 SPX VS. SECTORS. The S&P 500 Index (SPX) vs 3 sectors that could benefit from infrastructure upgrades: Industrials (purple line), Materials (blue line), Utilities (red line). Data source: S&P Dow Jones Indices. Chart source: The thinkorswim® platform from TD Ameritrade. For illustrative purposes only. Past performance does not guarantee future results.
The initial plan didn't address as much "technical infrastructure" as might have been anticipated. Technical infrastructure has grown in importance recently and includes electronic advancements that help the flow of data. Instead, the plan focuses on the more visible elements of the economy, like bridge repair.
This could change, but for the moment, it looks like the information technology and telecommunication sectors might benefit less than some had thought. On the other hand, if the public-private partnership structure gains traction, such infrastructure upgrades could spread to these industries down the road.
More Sectors that Might Benefit, Sooner or Later
The plan does direct a lot of effort toward the farm economy, Kinahan said, and that's likely positive because farms and rural areas have often been neglected in the past. And when combined with possible upgrades to rail infrastructure, firms like agribusiness could win on both sides of the equation.
Another sector marked for enhancement is utilities, specifically water systems. Just after the plan was announced, market analysis and research firm Briefing.com, in its Briefing In Play page, listed 13 water utilities, along with a selection of railroad and general infrastructure companies, as having a positive outlook.
The plan isn't just a federal mandate, but instead brings public-private partnerships into play. "That's not a bad idea, to get more skin in the game," Kinahan said.
When infrastructure gets involved, it's easy to look at the major S&P 500 sectors and hone in on a few of them, like industrials and materials, that might get a lift. However, it might also be interesting to delve a little deeper into various sub-sectors. Interestingly, some of the sub-sectors that underperformed in the last week and a half, since the stock market retreated from record highs, are ones that potentially could get some help from a major infrastructure effort. For example, three of the worst-performing sub-sectors from the Jan. 26 peak of the market to the end of the day Feb. 8 were:
Air freight and logistics, Construction materials, Construction machinery and heavy trucks
Each of these fell 13% or more in just two weeks, according to research firm CFRA. It should be interesting to see if any of them gets a boost now that the infrastructure plan is getting more traction. Another way to monitor companies that might benefit would be to focus on the Dow Jones Transportation Average (DJT), which tracks a number of major airlines, railroads, and trucking firms.
Don't just think of construction and trucking firms because other types of companies could benefit indirectly from better infrastructure. That could include delivery firms like UPS (UPS) and FedEx (FDX), as well as companies that depend on the transportation network to get their goods straight to consumers' doors, like Amazon (AMZN), or "big box" stores like Walmart (WMT) that are emphasizing their online sales these days.
And what about the consumer discretionary sector? Ease of mobility could mean travel becomes more palatable to many who have become "travel-averse" due to crowds and congestion. Autos, hotels, and leisure are among the sub-sectors that could see a bump down the road.
Investors might also want to watch certain asset classes outside traditional stock sectors. For example, real estate investment, such as commercial real estate investment trusts ("REITs"), could join the investment parade. The same goes for industrial metals such as aluminum and copper. It also might be prudent to watch interest rates. The labor market is already entering 2018 historically tight, with wages starting to become pressured to the upside. Add in the possibility of higher deficits and new public-private partnerships competing for capital, and we could see even more upward momentum on interest rates.
But again, we're still early in the process. Many pieces still need to fall into place before any infrastructure upgrades become a reality.
TD Ameritrade® commentary for educational purposes only. Member SIPC.
Disclosure: I/we have no positions in any stocks mentioned, and no plans to initiate any positions within the next 72 hours. I wrote this article myself, and it expresses my own opinions. I am not receiving compensation for it. I have no business relationship with any company whose stock is mentioned in this article.