Chegg (NYSE:CHGG) is an under-the-radar company that is changing the education landscape, while enriching its investors. I have been profiling companies in recent weeks that highlight the future of industry, largely through technological and online change. Chegg's share price is breaking out to record levels on strong earnings. Over the last year, its share price has yet to experience a major pullback as investor optimism grew surrounding the company. With regard to its fundamentals, Chegg is seeing real traction in its innovative efforts regarding education and learning. I am personally buying call options to leverage upside potential, while avoiding broader market volatility.
Price Action
Chegg's share price has been very strong in recent months. Since bottoming in 2016, its share price has risen by nearly 400%. The rise, however, has been steady, and has not yet reached an exponential phase of unsustainable buying support. Similarly, the company's share price has not seen an extended pullback over the last two years, even as equity market volatility has increased.
This relative strength to the broader market is a bullish signal. The most recent breakout above $17.5 on the hourly chart was a zone of strong resistance. I am adding to my position on this breakout, with $17.5 acting as a price at which I may reconsider the stock's prospects, should it trade back below that level.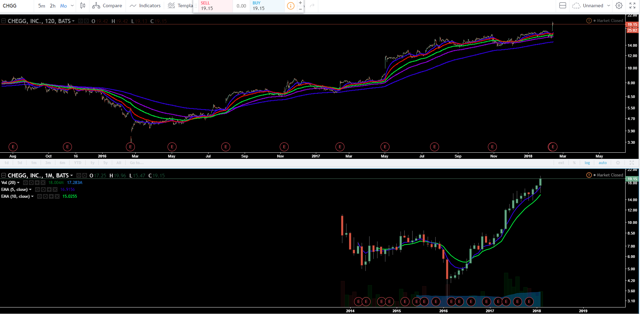 (Source: Trading View)
Fundamental Narrative
Chegg is experiencing record growth due to its online initiatives and innovative thinking. In its most recent earnings announcement, management stated that Chegg Services revenue grew 44% year over year, significantly improving profitability. The company's ability to leverage its all-digital model led management to similarly raise 2018 guidance due to operational momentum.
Its revenue model is comprised of two main revenue streams: Chegg Services revenues, which includes Chegg Study, Chegg Writing, Chegg Tutors, Brand Partnership, Test Prep and Internships; and Required Materials revenues, which includes commissions from Ingram and other partners, on the rental and sale of print textbooks, as well as revenues from eTextbooks.
Chegg's latest push has been to convert the company to an all-digital model. 2017 was its first year as an all-digital company, positioning it to be a high-growth, high-margin, more predictable business.
By using an all-digital model, the company is better able to engage more users, as well as engage its users in a deeper way. For the full year of 2017, Chegg Services subscribers grew 45% to a record 2.2 million, including 47% growth in Q4 alone, according to management. Chegg Services revenue grew 44% and more than doubled its adjusted EBITDA from 2016.
Chegg Study now includes nearly 7 million textbook solutions from 28,000 ISBNs, and more than 13 million unique questions that have been asked by students and answered by its network of over 35,000 experts, according to management.
Moreover, the company is continuing to invest in key areas of growth where students need access. In recent quarters, Chegg acquired Math 42, which is expected to expand its coverage of math significantly in 2018. Chegg also continues to invest in careers services, as over 70% of students say they go to college to get a job, according to the company.
Chegg operates in a trillion dollar a year industry, in which 44 million Americans have borrowed over $1.4 trillion to participate in a system, according to management. The company is attempting to evolve in order to meet modern students' learning needs both in the U.S. and globally.
Education is a recession-proof industry, and in many ways, education increases during periods of economic hardship as many go back to school to either sharpen or learn new skills.
Student are becoming increasingly dependent on online, personalized, learning that is more convenient, more affordable, and more relevant to improve their outcomes. Chegg has made strides to meet the current demand, and is showing that its efforts are gaining traction due to its growth in both subscribers and revenue. As the company becomes more efficient in its all-digital platform, earnings should grow, leading the share price similarly higher.
The Trade
I am buying call options in the name to limit downside risks, while also allowing for upside potential. I currently own shares in the name, but am selling part of my stake in order to replace with call options. The broader equity market is seeing increased volatility, and many believe valuations are stretched. This systematic risk is causing me to be cautious about my Chegg position.
I am specifically buying the July 2018 $20 strike call options for roughly $2/contract. There is not a lot of open interest in the issue, but implied volatility is not too expensive. This position allows me to gain upside potential, while also limiting losses. Remember that it is possible to lose your entire premium when trading options, so weight the position appropriately.

(Source: ThinkorSwim)
Conclusion
Chegg is an under-the-radar company that is evolving within a growing industry. Its share price has been in a strong trend higher, with a recent breakout to record levels. Moreover, management is focused on innovating its operations and becoming a strong all-digital company. Chegg's recent earnings show that it is having success in its efforts. I am buying call options as a way to gain hedged upside potential in the company.
Disclosure: I am/we are long CHGG. I wrote this article myself, and it expresses my own opinions. I am not receiving compensation for it (other than from Seeking Alpha). I have no business relationship with any company whose stock is mentioned in this article.