Welcome to the Weekly Oil Storage Report Edition of Oil Markets Daily!
Highlights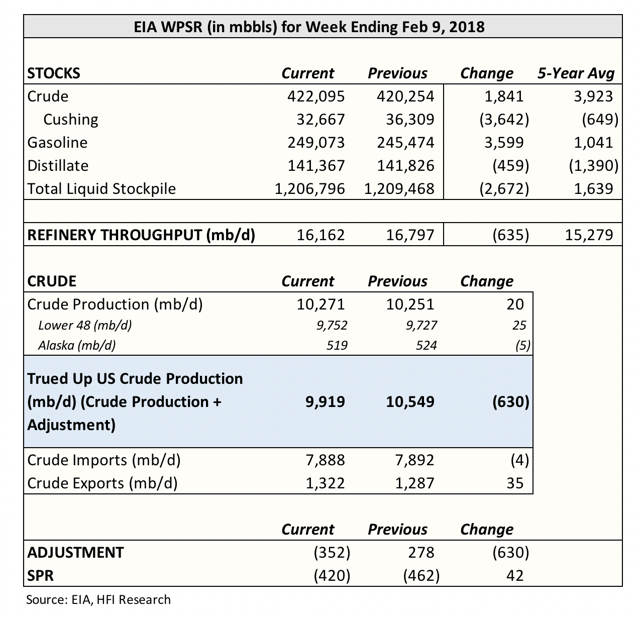 EIA reported a build of 1.841 million bbls in crude storage. This is ~1 million bbls higher than our estimate last week of +0.8 million bbls. This is much smaller than the 5-year average of 3.923 million bbls, and crude storage is off to a great start in Q1 2018.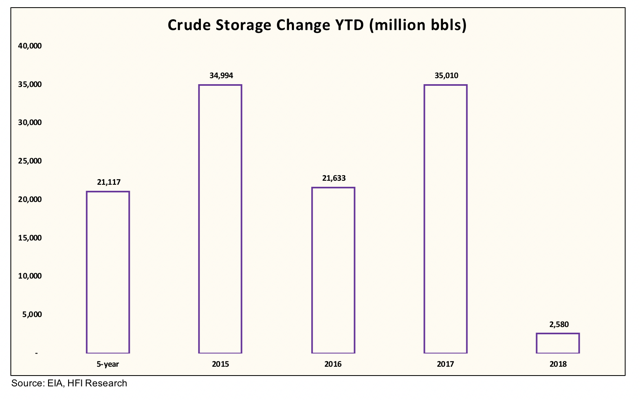 Total crude storage build YTD is 2.58 million bbls versus the 5-year average of 21.117 million bbls. This continues to trend alongside our bullish Q1 2018 storage forecast we put out at the end of 2017. We reiterate our view that Q1 2018 crude storage change will be very bullish.
This week also saw EIA report US oil production reaching another all-time high of 10.271 million b/d. But keen observers of the oil market will know that this weekly US oil production forecast was the result of a bullish revision in EIA's short-term energy outlook (STEO), and the STEO changed as a result of the bullish surprise in EIA 914 report for November. This is not the actual U.S. oil production, but a mere estimate. That's why it's important to also track the adjustment factor which went from +278k b/d to -352k b/d indicating that the trued up U.S. oil production came in at 9.919 million b/d.
Since reaching an all-time high in U.S. oil production in November 2017, the trued-up U.S. oil production figure has steadily declined as shown in our chart below: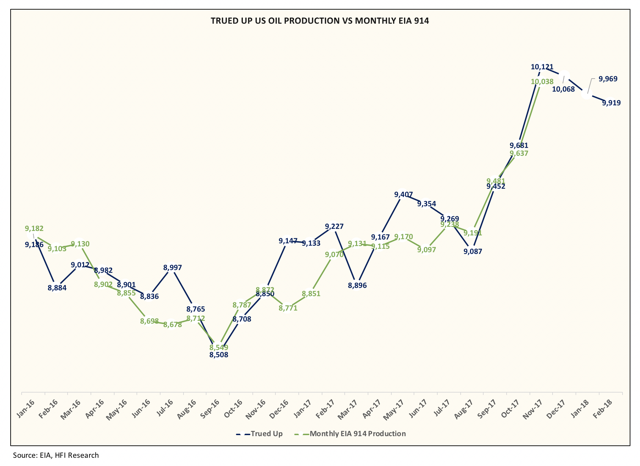 Cushing storage balance continues to draw counter-seasonally coming lower w-o-w by 3.642 million bbls.
Gasoline storage came in on the bear side as the build of 3.599 million bbls was much higher than the 1.041 million bbls for the five-year average.
Distillate storage also came in on the bear side with a decrease of 459k bbls versus a five-year average draw of 1.39 million bbls.
Total liquid stockpile decreased 2.672 million bbls w-o-w versus the five-year average of 1.639 million bbls.
Crude imports came in basically flat w-o-w at 7.888 million b/d. Crude exports came in higher 35k b/d w-o-w at 1.322 million b/d.
Adjustment, as we said above, came in at -352k b/d, or a 630k b/d difference from last week's +278k b/d.
SPR reduced crude storage build by 420k bbls.
Overall, this report was very supportive and bullish. The key factors that we were watching for this week came in to surprise to the upside. U.S. oil production, combined with adjustment, moved materially lower, and exports rebounded while imports were flat w-o-w.
This EIA oil storage report bodes well for the balances for the rest of Q1 2018, and once we see physical oil markets tighten, oil prices will start the uptrend again.
Next Week's Forecast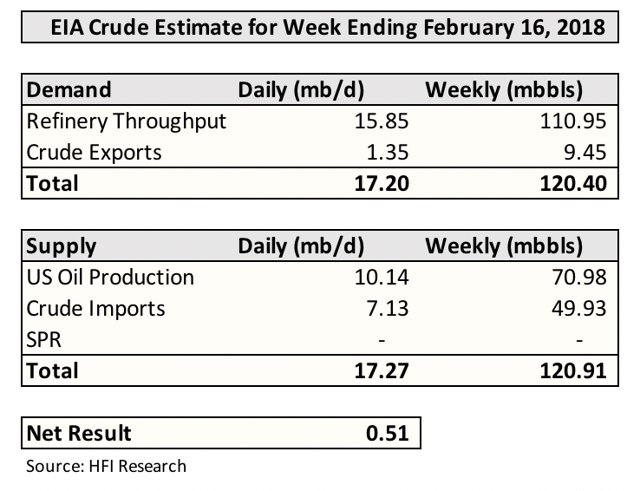 For next week, we have a preliminary forecast of +510k bbls for crude storage. We have now revised lower our assumptions of US crude exports for the rest of Q1 2018, and as a result, you will see our balances change slightly in the "crude" section.
We do expect a big drop in crude imports, but these figures are preliminary and could be subject to change by next week.
U.S. Oil Production + Adjustment
The big variable for us this week was the adjustment. Last week's trued up U.S. oil production came in at 10.5+ million b/d, which shook the bullish oil thesis a bit if the adjustment remained positive, but it didn't.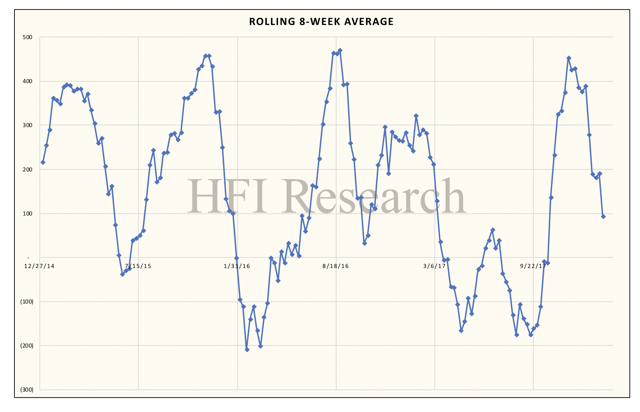 The rolling 8-week average for the adjustment is decreasing rapidly as EIA has recently revised higher weekly U.S. oil production figures. This week's negative adjustment figure puts trued up U.S. oil production at 9.919 million b/d, which is below our forecast of 10.12 million b/d for this week.
Since the start of the year, trued-up U.S. oil production averaged 9.969 million b/d for January and 9.919 million b/d so far for February. January was impacted by freeze-offs.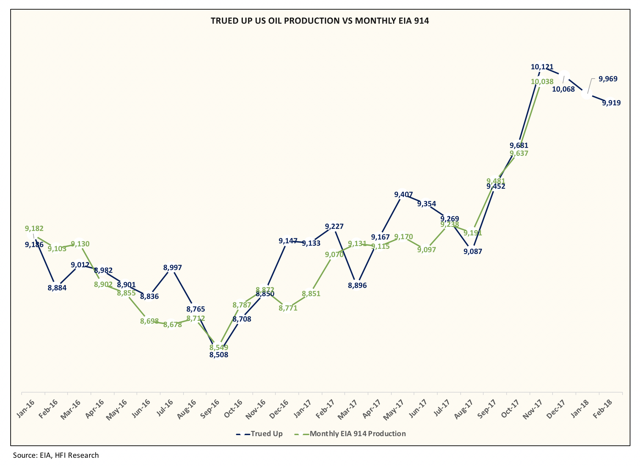 Over the coming weeks, we will see what the average for February is for trued-up U.S. oil production.
Crude
Next week, we are forecasting a build of 0.51 million bbls. We have recently revised lower U.S. crude exports to average 1.35 million b/d for the rest of Q1 2018, and the result is we are seeing a slightly higher end of Q1 2018 figures: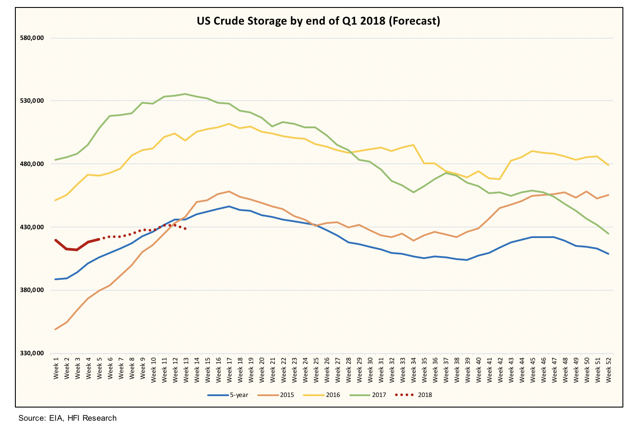 The balance, however, remains very bullish for Q1, and we think once the physical market starts to show signs of tightening, oil prices will resume its previous uptrend. We see indications of physical tightening once Chinese New Year is done (we explain why to subscribers in our service).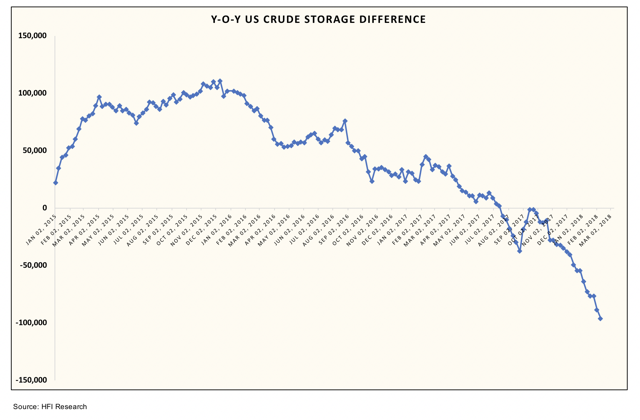 Y-o-y crude storage is showing accelerating declines as should be expected. The comparison will only get better as U.S. crude storage reports dismal builds for the rest of Q1 2018.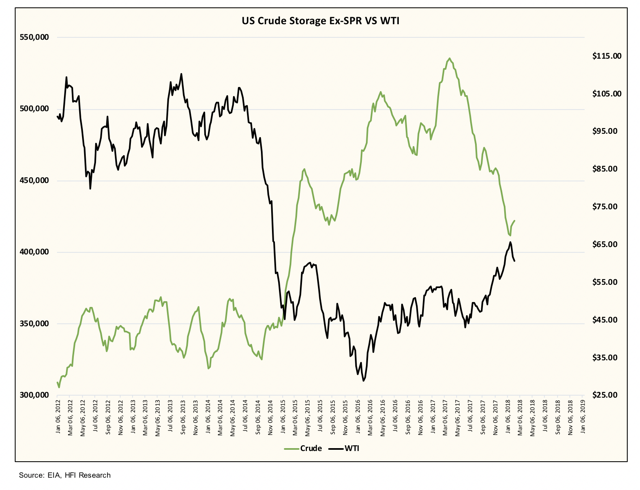 Cushing
Cushing storage continues to draw counter-seasonally. From what we know, Keystone is still operating at ~85% according to our knowledge, and this along with other factors that we do not know about may be contributing to this decline.
Gasoline
Gasoline storage build was negative, and the recent builds have started to impact crack spreads in a very negative way. If the bearish relative changes in gasoline storage continue, we think refinery throughput could be lower than what we are currently forecasting.
Distillate
Distillate storage change was also bearish this week with a draw of 459k bbls vs. the five-year average of -1.39 million bbls. The same is said with distillate as crack spreads have been negatively impacted thus far. If the bearish changes continue, then we could see refinery throughput surprise to the downside.
Refinery Throughput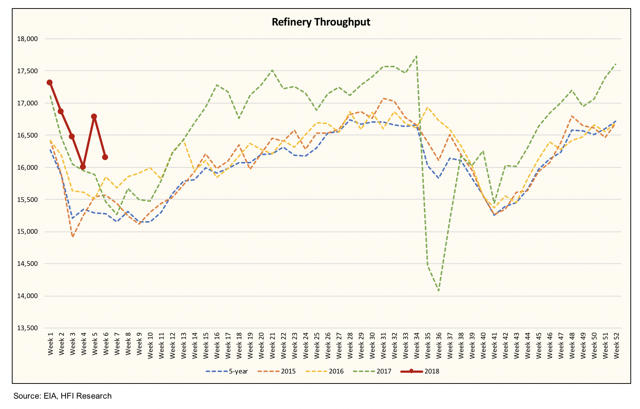 Refinery throughput remains materially higher seasonally speaking. We expect lower refinery throughput ahead, and this week's refinery throughput was ~100k b/d higher than we forecast.
US Crude Imports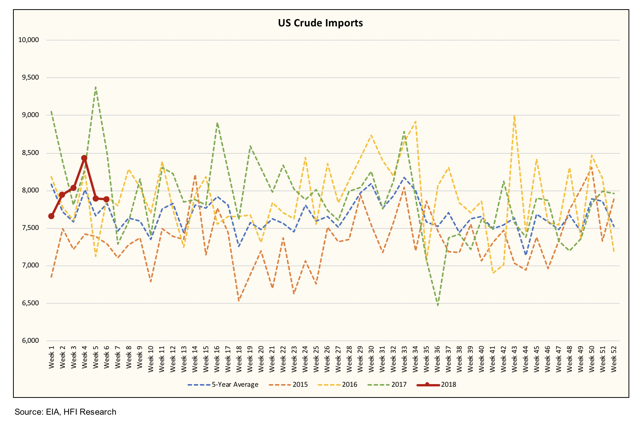 Crude imports were flat w-o-w. We are forecasting a big dip in crude imports in next week's EIA storage report.
US Crude Exports
Brent-WTI spreads are starting to bottom out a little bit. We have also revised lower our Q1 2018 crude export figure from 1.5 million b/d to 1.35 million b/d.
Once we see Brent-WTI spreads widen, we will readjust our export figures accordingly.
Total Liquid Stockpile
Total liquid stockpile surprised to the bull side with a draw of 2.672 million bbls. Next week has the five-year average storage change at -3.448 million bbls. We expect to see a draw next week.

The y-o-y deficit continues to increase as you can see.
Days of Supply
Conclusion
Q1 2018 is off to a great start with U.S. crude storage showing YTD build of 2.58 million bbls and in line with our expectation for a bullish Q1 2018. While oil prices are up today, we are expecting the physical oil markets to show us signs of tightening first before prices resume the uptrend.
There are still signs of physical weakness in the global oil markets, and our take is that the physical market will start tightening after Chinese New Year. Nonetheless, for the EIA to keep reporting bullish relative oil storage reports, we need to see imports move lower, negative adjustments, and higher crude exports. We continue to watch imports, exports, and adjustments closely.
HFI Research Premium
For those of you who have found our articles insightful, interesting and different, we think you should sign up for HFI Research. Our incentive is aligned with our readers as we put our money where our mouth is, and our contrarian analytical framework was what set us apart when we made the $65/bbl Brent call in June 2017 and $60/bbl WTI call for the end of 2017. For more information about our service, please click here. We look forward to seeing you join the HFI Research community.
Disclosure: I/we have no positions in any stocks mentioned, and no plans to initiate any positions within the next 72 hours. I wrote this article myself, and it expresses my own opinions. I am not receiving compensation for it (other than from Seeking Alpha). I have no business relationship with any company whose stock is mentioned in this article.