When it comes to retail brands, there are very few that have as strong of an image as strong as Nordstrom's (JWN). While most people will be generally familiar with Nordstrom's generous return policy, they may not have been familiar with L.L. Bean, the outdoor goods manufacturer and retailer that had perhaps an even more generous policy.
L.L. Bean, the iconic Maine company is a well known brand in the outdoor goods market which became famous for its 100%, Lifetime, no hassle return policy. If it ever broke, bring it back, at any time.
Based on that ironclad policy, L.L. Bean was able to grow their catalog business for over 90 years at which point they started expanding and now run over 50 retail stores in addition to their online sales.
Knowing that the company stood behind their products, many customers such as myself didn't think twice about spending $150 on a pair of winter boots, $300 on a child carrier or $200 on a winter jacket. The items were almost always full price and seldom on sales, but at the very least, you knew that even if 5 years in the future the boots fell apart, you will be able to return it, no questions asked.
For the last few years, my family has spent our dollars purchasing at L.L. Bean instead of Dick Sporting Goods (DKS), Cabelas (CAB), Nike (NKE) and broader department stores such as Macy's (M) and Walmart (WMT) ALL because of the generous return policy.
That is... until now!
A few days ago L.L. Bean shocked the world when it unveiled that it would be ending its lifetime return policy and instead replacing it with a 1 year return policy. The company cited abuse of its policy with examples of customers returning clothes they purchased elsewhere and bringing in shoes which were otherwise worn out. Link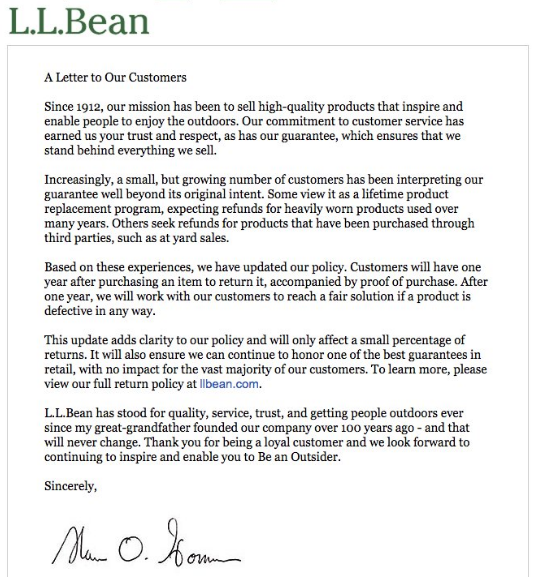 Source: L.L. Bean
Outrage showed throughout the media and the company may have shot themselves in the foot!
The situation became even more serious when a customer filed a lawsuit against L.L. Bean over their return policy.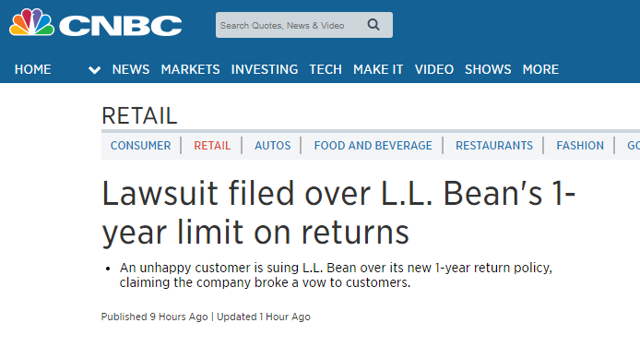 Source: CNBC
Being a loyal customer myself, who only returned a pair of sneakers after they fell apart in 6 months (they were not L.L. Bean brand), I was irritated myself and came to the thought, "if I personally have no more reason to shop at L.L. Bean, perhaps there are others too?"
On one hand, yes, the company needed to do something about the abuse, but there are two questions to consider here.
1. What percentage of the sales that were generated were BECAUSE of the grantee and return policy?
and
2. Wasn't there an intermediate step? (rather than going down to 1 year from a lifetime policy).
On the first question, I personally believe a significant amount of sales that L.L. Bean generated were strictly tied to the lifetime warranty.
On the second question, I was left scratching my head. If the company wanted to stop the abuse, why not simply require proof of purchase for the lifetime warranty?
By simply requiring proof of purchase, you will instantly stop the abuse of people buying used clothing and then exchanging it for new. This is after all how many other companies with "Lifetime" warranties and return periods operate.
Or perhaps this is just a cover for a bigger issue?
Also reported but widely missed by the media was this piece of news,
L.L. Bean, Maine's fifth-largest employer, has started an employee buyout plan and other belt-tightening measures after a couple years of flat sales.

The measures, announced last February, started Jan. 1, with the aim of reducing its workforce by 500 full-time people, or 10 percent of its 5,000 employees, said L.L. Bean spokeswoman Carolyn Beem. Of L.L. Bean's total employees, 4,000 are in Maine working in manufacturing, call centers, stores and administrative offices.

Source: "L.L. Bean starts employee buyouts, ends pension plan."
And now it all makes sense!
Are There Any Winners?
L.L. Bean is unique in that their closest competitors are also private companies such as Cabelas and Bass Pro, companies who are both retailers and manufacturers of their own goods. In this space they are also competing with other outdoor companies such as the co-op REI and Eastern Mountain Sports.
While L.L. Bean had a legitimate competitive advantage and a reason for customers to pick L.L. Bean versus their competitors, in one shrewd micro managing, bottom line cost cutting effort, the company has eliminated their competitive advantage in a short sighted move. This move makes as much sense as someone cutting off their arm in order to lose some weight!
Being predominately North East based, the biggest winners on the retail side may be retailers Dick Sporting Goods (DKS) and privately held Modells.
Are they winners in that they are doing something special? No.
They are winners because L.L. Bean no longer offers a competitive advantage to shopping at their stores.
Of course, there are also other potential winners on the manufacturing side too.
Perhaps the biggest winner here is V.F. Corp (VFC) who owns iconic and competing brands such as The North Face, Timberland, SmartWool, JanSport and Reef.
Another big winner is also Columbia Sportswear Company (COLM) which owns the three iconic brands Columbia, Sorel and Mountain Hardwear.
Bottom Line
I believe there are a number of lessons here which can be learned.
The very first one is obviously that after 100 years of building your business around a central customer promise, you CANNOT change the way you do business by taking that promise away out of the blue with ZERO repercussions.
While the company may save some money in the short term, it will SURELY impact the top line and send customers away in the intermediate future.
The second lesson to take away here is that this move to take back the company's promise to customers while an extreme move, may be necessary in order to avoid financial collapse in the near future.
It is no great secret that retail has been severely impacted by online shopping, thank you Amazon (AMZN), and value leaders such as Walmart (WMT) which are selling competing products that while they are 90% as good, are selling for 80% less! When upscale retailers like L.L. Bean are reducing head counts and cutting benefits in a "strong economy," investors in the sporting goods sector and those upscale brands need to be paying attention.
Finally, I believe L.L. Bean may present itself as a good pickup for a tuck in acquisition by a larger competitor.
With it's estimated $1.6 billion sales revenue, L.L. Bean may be a bit too much for a company such as Columbia Sportswear to swallow. It would however be quite manageable for V.F. Corp. to pick up this iconic brand or a retailer like Dicks Sporting Goods (DKS) to add lots of credibility with the iconic brand and be able to sell a house brand, along with picking up the option for 50 or so North East retail locations.
Thinking further out of left field, I can even make the case for a win win situation for one of my favorite companies to write about, Vista Outdoor (VSTO) to spin off their non-core firearms brands and merge it with L.L. Bean in order to create another broad diversified outdoor brands portfolios.
Vista can take their non-core brands such as Serengeti, Bolle, Cebe, Camelbak, CampChef, Bell and Giro and combine it with L.L. Bean. The combined company would be true to the outdoor lifestyle and the existing L.L. Bean stores and website would create a natural distribution channel for those Vista outdoor brands!
What would be left for Vista is a true outdoor and firearms company with lots of efficiencies and a solid investment case.
A boy can dream, right?
Disclosure: I/we have no positions in any stocks mentioned, and no plans to initiate any positions within the next 72 hours.
I wrote this article myself, and it expresses my own opinions. I am not receiving compensation for it (other than from Seeking Alpha). I have no business relationship with any company whose stock is mentioned in this article.