Well... it happened again!
Another bankruptcy in the firearms industry, and this time it was Remington's turn!
As reported on Friday and confirmed yesterday, Remington Outdoor Company, the large privately held firearms group owned by Cerberus Group and previously known as Freedom Group has filed for bankruptcy protection and will be going through restructuring.

Source: Seeking Alpha
Having had some time to go through Remington's documents and upon reader request, let's take a deeper look into what lead Remington into restructuring and what impact this may have on the 3 publicly traded competitors.
Remington Outdoor Company
While many gun owners will know the story, the majority will likely not.
As investors know, both Vista Outdoor (VSTO) and American Outdoor Brands Company (AOBC) have over the past few years gone on an acquisitions spree in order to form diversified outdoor and shooting sports companies. As novel as the concept is, this was done more than 10 years ago by Stephen Feinberg, the owner and founder of Cerberus Capital.
In 2007, Cerberus started acquiring companies in the highly fragmented firearms industry in order to create "Big Gun," the first $1 billion in sales firearms company. By acquiring many companies and putting them under one umbrella, the idea was that you can unlock value in a combined sale.
Called "Freedom Group," Cerberus acquired the iconic brands such as Bushmaster, Marlin, DPMS, Remington, H&R, Parker, Dakota Arms and Nesika, and also picked up a number of firearms accessories manufacturers such as Advanced Armament Corp. ("AAC"), Stormlake, TimberSmith, and Barnes Bullets.
The company had also acquired terrific firearms manufacturers like Para Ordinance USA in 2012 only to kill the brands a few short years later!
By all accounts, the company made acquisitions at fair to good prices at the time and was looking to sell itself for over $1 billion; however, it had no takers.
Things got bad for the company after the Sandy Hook shootings brought firearm ownership to the forefront and the numerous public pension funds such as CALPERS did not want to support gun ownership or want firearms in their investment portfolio.
While a mass shooting was great for "scary looking rifles" where Freedom Group was concentrated, this took the IPO largely off of the table.
Around this time, the company rebranded "Freedom Group" into "Remington Outdoor Company."
Leading Into Bankruptcy
As astute gun owners and my readers know, there is nothing that sells more scary guns than a mass shooting or the fear of firearms being taken away. Such a gun ban was most likely in the immediate aftermath of Sandy Hook shootings under President Obama.
Looking at the adjusted NICS data shows us long gun background checks which nearly doubled from around 400,000 to just under 800,000 in the aftermath of Sandy Hook.
Since then, however, the numbers have not only returned to normal but have been in a multi-year decline.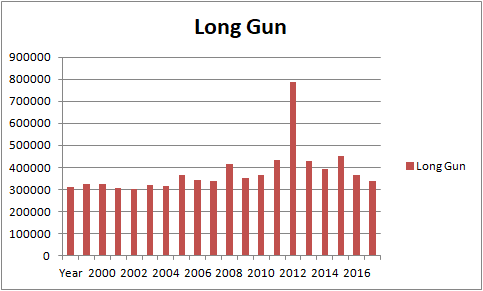 Source: FBI Data, Compiled by Author
Being so exposed in "tactical" and AR-15s in particular with brands such as Bushmaster and DPMS, Remington was severely hurt.
At the same time, the company did not help themselves by hiring financial managers rather than gun people to run the company.
Immediately following their acquisitions, gun owners quickly noted the significant drop in quality in firearms, especially with well-known brands like Bushmaster and Marlin.
All of this occurred after management put a focus on centralizing production, thus, many brands which were well known for their artisan quality and hand fitting quickly lost that personal touch.
The quality became so bad that Bushmaster's original owner started up a new company, Wyndham Armory and rehired the bulk of the employees who were let go by Bushmaster!
Chapter 11 Restructuring
If there is one constant that I keep harping about, it is the use of debt in this cyclical industry.
While you have to respect companies such as Ruger (RGR) for running clean balance sheets, both Vista Outdoor and American Outdoor Brands scare me with their use of debt.
Remington, like a "good private equity" firm leveraged up its balance sheet and used debt for both acquisitions and operations.
Over the years, Remington acquired over $1.3 billion in total liabilities, of which $954 billion are long-term liabilities.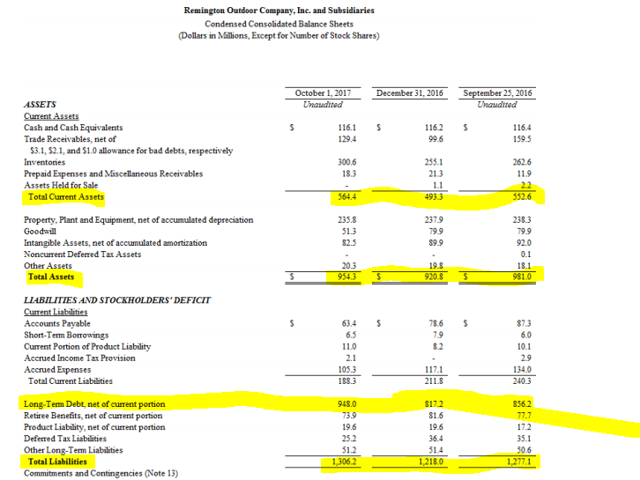 Source: Remington Outdoor 10-Q
Much like our 3 followed publicly traded companies, Remington also has inventory issues.

Source: Remington Outdoor 10-Q
The company's total inventories rose by about $45 million or 18% since the elections, almost all of which is in finished products that were not yet sold/shipped, implying a 30% increase in finished goods inventories.
Of course, what I was worried about with Vista is exactly what was most responsible for Remington seeking bankruptcy, its debt, and debt payments.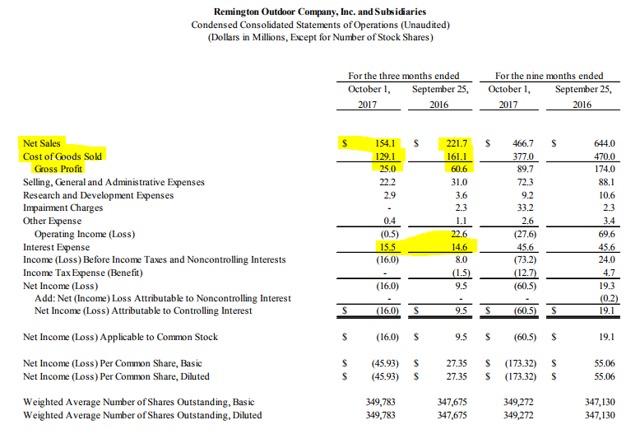 Source: Remington 10-Q
The company has been paying about $15 million per quarter in interest expenses alone, which in recent quarters has been nearly what the company generated in gross profits, before taking into account any operational expenses.
For all of those reasons, Remington Outdoor Company has entered into a deal to essentially give itself up to its creditors who will now own the entire new restructured company.
For more details on the restructuring, read the press release.
How Does Remington Stack Up?
Can this happen to either Vista or AOBC?
Let's see how Remington stacks up.
Looking first at the total debt, we can see that there is an uncanny resemblance in the debt levels between both Remington and Vista Outdoor with long-term debt of around $1 billion and $1.4 billion in total liabilities.
Unlike Remington though, Vista Outdoor has been fairly aggressively paying down debt over the last year or so. Of course, it can only do so as long as it is generating cash flow.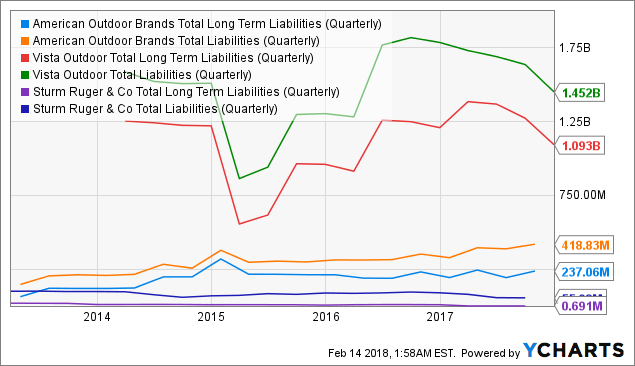 We also have to keep in mind AOBC's growing debt obligations.
Putting the debt into perspective, we can take a look at Remington's long-term debt as a percentage of assets.
As we know from the data above, Remington has $948 million in long-term liabilities against $954 million in total assets! That is nearly 100%!
When we look at the publicly traded peers, we can see they are significantly lower!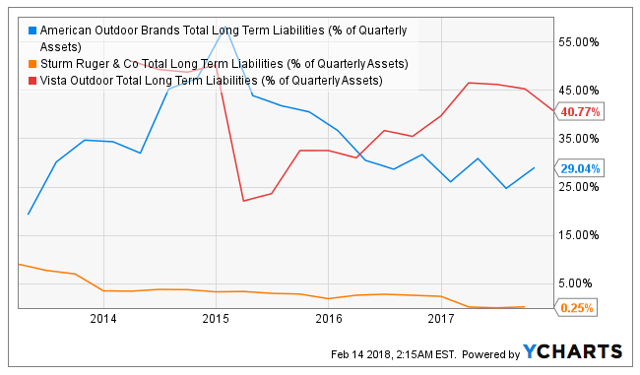 If we look at the debt as a portion of current assets, we find Remington's 1.6x is quite a bit higher than both Vista and AOBC, however, both of those companies were in the same range just 3 years ago or so.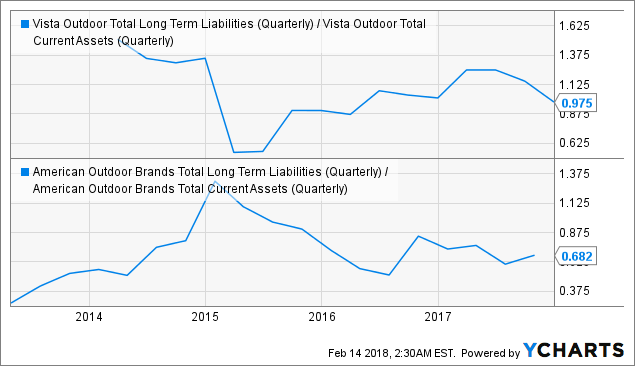 Looking at the top line, we find Remington is right in line now with both AOBC and Ruger, after being hurt with significant slowdowns in AR-15 sales.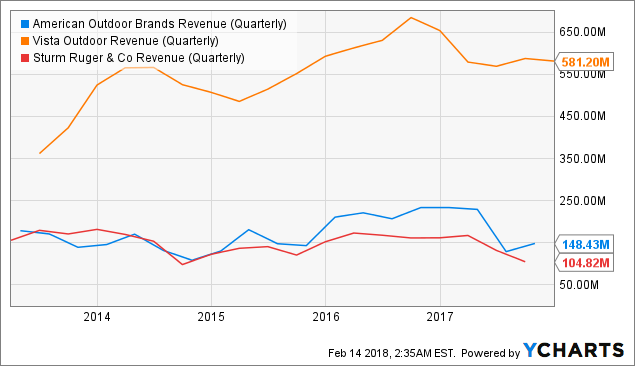 One interesting note to find was certainly Remington's gross profit margins.
From Remington's bankruptcy disclosure we know that for the year-end December 2017 the company's gross profit margin declined to 20.9% from 27.4% in the previous year.

Source: Remington BK Disclosure
These margins declined about 6.5% since the elections and place the company right in line with Vista Outdoor.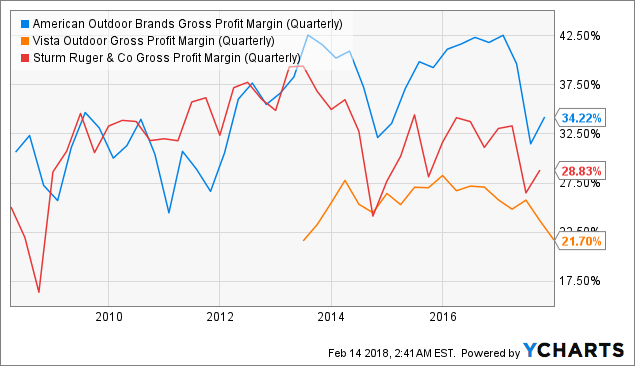 Why the difference?
I firmly believe, once again the lower margins for Remington are tied meaningfully to the reliance and exposure to modern sporting arms on which prices have plummeted significantly both since the mass shootings and the elections.
Bottom Line
So what are Vista Outdoor, American Outdoor Brands, and Ruger investors supposed to take away from this?
I believe this Remington bankruptcy should be that additional reminder that even the "safe" industries are not immune to massive losses.
In the case of Remington, it was not massive losses or some major lawsuit that put the company over the edge. It was simply a meaningful shift and a decline in sales getting to the point where your growing debt's interest payments were the primary difference between being profitable or in a loss.
How close are our publicly traded peers?
They are not there yet.
Versus Vista Outdoor, the comparisons are quite clear. The debt loads for both companies are virtually identical and a few short years ago, Remington's revenues of about $1 billion placed the companies in the same ballpark.
What is different, however, is that while Remington was highly exposed to AR-15 sales, Vista derived its revenues from ammunition. Today, however, while Vista has debt... it does still have cash flows.
What would change here, however, is that if we have a continued decline in sales which will impact Vista's free cash flow, Vista would be the first on my "death by debt" list.
Versus American Outdoor Brands, we can view Remington as an example of what AOBC can look like if the current trends continue over the next few years.
AOBC out of the three publicly traded companies is, in my opinion, the most exposed to modern sporting rifles considering the Smith & Wesson M&P 15 Sport is typically considered the best bang for the buck in value priced ARs. The price on these rifles has declined considerably and is having an impact on overall sales and margins.
While it is completely true that AOBC's long-term debt is nowhere near Remington's levels, the company was this leveraged throughout its long-term history. If the company continues making questionable acquisitions at questionable prices, such as Gemtech, it will not be too difficult to imagine the company facing further margin pressures as we have seen with Remington.
One other aspect that bears an uncanny resemblance to Remington is the indigestion from the acquisitions. While the previous AOBC acquisitions have been smooth as far as we know, Gemtech, the recently acquired suppressor manufacturer, is suing its acquirer, American Outdoor Brands over earn-out payments. This is eerily reminiscent of the outrage that customers and employees had of Freedom Group buying out and mismanaging Bushmaster, Para, and Marlin.
Versus Ruger, there really is not good comparison. The two companies are at opposite ends of the spectrum for both business practices and financial position.
While Remington has been leveraging up its balance sheet, Ruger is committed to running debt free. While Remington has become what it is through acquisitions, Ruger has stayed away from the "growth through acquisitions" punch bowl. If anything, Ruger would be an acquisition target for a larger conglomerate such as Remington if they had the money or one formed around Ruger.
From the sales perspective, I doubt this will have any major or meaningful positive impacts for our three companies as things are still business as usual at Remington. The only change is who now owns the company. In the case of Remington, much like many other firearms ventures over the past 10 years, some wealthy bankers decided to get into the gun business.
Final Note
After submitting the article early in the day on February 14th, Americans were horrified to find out that there was another mass shooting at a Florida high school.
It is without a doubt a horrible event, but much like with the Las Vegas mass shooting late last year, I urge investors not to make that emotional trade they may have done under President Obama.
As I wrote in my blog post, the focus of this shooting will likely be on the mental health of the shooter, rather than the firearms they used. While it is possible that there is a short spike in sales on fears of new gun legislation, I believe that much like with the Las Vegas shooting, there will not be any meaningful rebound in sales.
Over the next few days and week, I will hope to follow up with some dealers to find out if they have seen any changes and what the mood is like. I urge anyone trying to make an investment decision, particularly if they are thinking of going long or adding to their position to do some firsthand research and visit a few local gun stores.
Disclosure: I/we have no positions in any stocks mentioned, and no plans to initiate any positions within the next 72 hours.
I wrote this article myself, and it expresses my own opinions. I am not receiving compensation for it (other than from Seeking Alpha). I have no business relationship with any company whose stock is mentioned in this article.