Introduction
Having played a lot of chess, I like to think about the probable strategy of secretive companies such as Apple (AAPL) and Amazon (AMZN). They hide as much as they can for long term competitive advantage. While some AAPL products have arrived later than promised, basically AAPL-watchers are left to guess and infer what is coming down the pike. We know that for now, AAPL is doing well in relatively stagnant, mature markets such as desktop/mobile computers, tablets and even smartphones. But if AAPL is lagging in self-driving cars, if "Siri sucks," how can it really grow? Thus, the low P/E.
I expended some digital ink on this topic in Seeking Alpha in 2015, with AAPL depressed off its then-highs in the $135 range. My major point was that AAPL around $115 underestimated its earnings power, due to its very large, expanding and highly loyal user base. The argument then was that AAPL was seriously undervalued relative to the general large cap market (SPY) and also undervalued, though less so, in absolute terms relative to "normalized" valuations (whatever exactly those are). I called for a $200+ fair value at the time.
In general, markets took a while, but eventually they began seeing things my way, and AAPL has matched the SPY on a 3-year basis, while outperforming significantly on 1- and 5-year time frames.
Now that the Fed has begun taking the "punch bowl" of easy money away with determination, via both interest rate hikes, my base thesis has changed from bullishness (since the Trump election) to caution. I rode the tech momentum wave enthusiastically, then decided it was acting toppy and as mentioned in a late January article, mentioned the parabolic chart of the NASDAQ 100 (QQQ), specific signs of froth and other factors, and mentioned that I had "reduced a marked overweight tech position." This included taking AAPL from a heavy overweight to a normal (overweighted) position, selling Amazon and lightening up a good deal on semiconductor capital equipment stocks.
That accomplished, and with AAPL suddenly below $160, I began to wonder if AAPL might actually have a strategy for substantial growth. Could it be more than just a value play? So I began to wonder if AAPL's strategy were that of a chess grandmaster, gaining the tempo while setting up for victory using deceptive tactics.
After researching AAPL's open focus on augmented reality, or AR, I came to the thesis that indeed, AAPL has been playing chess. It has been gaining market share where it needs in order to evolve to dominate what some have called a business opportunity on the scale of the Internet. Further, this would fit AAPL's modus operandus of entering and popularizing fields where other companies were either operating, or had tried and failed. The most prominent AR major company failure has been Alphabet's (NASDAQ:GOOG) (GOOGL) Google Glass. I expect that when Jony Ive, AAPL's lead designer who is now freed up from overseeing the build-out of AAPL's new HQ, finishes work on an "iGlass" or whatever AAPL creates (and whatever its name is), AAPL will have a product that will be another iPod, iPhone, Apple Watch, etc., that is, something that brings AR to the mainstream. For now, the iPhone X and its 99% customer satisfaction numbers will just have to do to help move the AR field forward.
So the case this article makes is simple. Either AAPL is a decent mature company investment just on the basis of its dominance in major fields, as it is trading at about a 1/3 discount to the SPY (GAAP P/E's). Or, AAPL should be a strong investment, generating nice alpha, if it is an important part of a duopoly with, say, GOOGL and Samsung (OTC:SSNLF), in AR hardware and core software. But there is a good, perhaps likely chance that AAPL is poised to be the unitary force to take the lion's share of the profits from a burgeoning, eventually gigantic AR hardware market along with the associated App Store-like cut of the software.
A little background as to why this opportunity on the world's #1 brand could even be available. It's because AAPL may be:
The most underestimated large company
Here is one concrete recent example of the Street's mindset:
In the November conference call, reporting on Q4 and AAPL's full year, the following interchange was recorded:
Steven Milunovich

And then I wanted ask, the Street historically has been a little skeptical about continued innovation... Historically, you weren't first to large screens, you weren't first to OLED. Now though, you're leading in AR, you're leading with face ID, which... was kind of very reminiscent of the aggressive Apple. Is it possible going forward that you could accelerate share gains from Android because you're now in a stronger competitive position?

Timothy D. Cook

I think, Steve, we've been in a competitive position. And so I probably maybe have a different view than you do or the folks that you're quoting. There's always doubting Thomases out there. And I've been hearing those for the 20 years I've been here and suspect I'll hear about them until I retire, right. So I don't really listen to that too much. There's lots of fantastic people here and they're doing unbelievable things. And yes, I view AR as profound. Not today, not the app that you'll see on the App Store today, but what it will be, what it can be. I think it's profound and I think Apple is in a really unique position to lead in this area.
In the face of AAPL being first with fingerprint readers, first with a next-gen smart watch, with AirPods, and so on, I was surprised about the innovation comment from the questioner. That spells opportunity to me: a misperceived company.
The good news is that even a skeptic acknowledged that AAPL is leading in AR. So I am assuming that AAPL really is ahead in AR.
The next sections briefly lay out the opportunity and then the case that AAPL may be in a permanent leadership position in AR, and, very briefly...
Why AR could be huge
Unlike VR, or virtual reality, AR is designed to enhance (augment) the world we see and hear around us. Current VR technology requires a bulky, uncomfortable headset and is a niche technology. Microsoft's (MSFT) HoloLens also uses a bulky headset to produce a "mixed reality" product that has AR and VR characteristics.
AR has countless everyday uses. The types of ways that AR can work have been characterized as being 4-fold:
marker-based
markerless
projection-based
superimposition-based.
Please see the linked web page for much more information, with pictorial examples.
As Tim Cook told The Independent last year, AAPL expects great things from AR:
Cook claims that shopping will be changed "entirely" by augmented reality, and says that he doesn't think "anything will be untouched"...

Cook says that it [AR] will end up not simply being used by some kinds of people but for "everyone"; like the App Store when it launched, it might not be huge right now, but AR will go on to have the same "dramatic" climb to take over the world that [apps] did.
Articles about the ascendance of AR go back to the 2012 period, but as with so many fields that AAPL was not in until it moved in and took over, the time is becoming right for AAPL now. For example:
The New York Times has a web page showing a woman holding an iPhone X. She has downloaded the NYT's app that lets her "see" an old, rusty newspaper dispensing machine in 3-D simply by looking through her iPhone. The picture just below this paragraph is a still of the GIF that runs on the web page, showing the lady seeing and walking around this dispenser appear in real time; but it's not really there. However, this is current-generation AR; the observer has to walk around the "object" while looking at it through the iPhone, so it's awkward. (A lightweight iPad, specially made with a small, non-all-day-capable battery, would be more convenient.)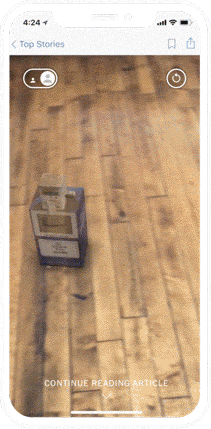 This is a "here-and-now" app, and the product placement of the 'X' in the promo shows that AAPL has been beating the bushes to have the X be thought of as the AR phone. But something better is coming, and AAPL's goal is for sales of the X and its successors to help the upgrade cycle accelerate.
One other example:
The British Broadcasting Corp. has a recent blog post titled BBC launches augmented reality app for Civilisations. It shows - what else? - an iPhone X in someone's hand. The screenshot is of a sarcophagus, but then as an overlay, the iPhone shows the mummy inside the coffin. The article mentions that this technology is going to grow over many years.
That is AAPL's plan. It wants to sell "iGlasses" and/or next-gen iPhones, have killer apps for AR, and in general prompt a huge new round of upgrades. AAPL plans to shape the future of AR as much as it can, while empowering developers, museums, municipalities, businesses, media content creators, etc. to contribute to AR utilization turning sigmoid upward on the curve.
Here's why AAPL's product trajectory has done points toward it moving toward an AR-fueled new growth phase.
What AAPL has been up to

One AAPL product and one innovation or improvement has led to the next big thing. The iPod kept getting better, then it suddenly morphed into an iPod, a phone and an Internet communicator. Developing those devices as one product - the iPhone - was much more difficult and expensive than one might think, as a 2013 NYT article describes in excruciating detail. One of the most telling points in the article shows how little has fundamentally changed since that day in January 2007 when the 3-in-1 device called the iPhone was announced. Describing the presentation, the Times reports on all the core functions that the first iPhone had:
...Jobs had the iPhone play some music and a movie clip to show off the phone's beautiful screen. He made a phone call to show off the phone's reinvented address book and voice mail. He sent a text and an e-mail, showing how easy it was to type on the phone's touch-screen keyboard. He scrolled through a bunch of photos, showing how simple pinches and spreads of two fingers could make the pictures smaller or bigger. He navigated The New York Times's and Amazon's Web sites to show that the iPhone's Internet browser was as good as the one on his computer. He found a Starbucks with Google Maps — and called the number from the stage — to show how it was impossible to get lost with an iPhone.
That pretty much describes the smartphone's use 11 years later.
Until the iPhone X, with its Face ID and Animojis (down payments on what's coming), only Siri has been functionally transformative. Basically, the iPhone has gotten bigger, better, faster, etc., but now I see this as the pattern:
Perhaps it has been AR all along to which AAPL has been working. The accelerometer, camera improvement, GPS, superb screen etc., have been put into the iPhone as next-gen features, but they are all necessary for AR.
Furthermore, the Apple Watch and AirPods may be useful as part of the complicated apparatus necessary for the technology to take off. Moving from handheld AR viewing, AAPL will likely go to some eyeglass-type system or else a highly sophisticated projection system. The sensors that tell the AR system where to locate the image can be various places, just so they send the right visual images to the field of vision. So: the Apple Watch as part of the system? If so, then AAPL's focus on the Watch makes even greater sense. (Same for AirPods.)
Now, think of physical device areas where AAPL has lagged.
Why would AAPL make sure to innovate rapidly and dominate the wearable space with the Apple Watch and AirPod, but pay little attention to Apple TV?
One proposed answer: AAPL has focused on the shift to wearables in part in the service of future AR products.
Also, why would AAPL build location awareness into HomePod? Perhaps because it's so necessary for AR, it was easy to do?
Why AAPL will have trouble losing and probably can't be matched in AR
Software companies have gotten much more P/E respect than hardware companies on the Street since IBM (IBM) began fading decades ago. Maybe there has been a pigeon-holing of AAPL as a hardware, commoditizable company that has kept its P/E so low relative to the SPY and the other (also mature) members of the DJIA (DIA).
Great hardware, meshing with software, in an attractive and convenient package, will allow AR to go mainstream and its growth curve to begin to go parabolic upwards. This sort of product achievement has been the province of one tech company: AAPL.
Beyond that top-down concept, AAPL may have two core advantages in becoming/staying the AR leader.
First, it has designed and controlled the hardware in its devices in its methodical fashion to both generate huge profits but also in a long, self-aware march toward AR. If AR emerges over a period of years, we might see a return to the glory days of IBM, when Big Iron was dominant. The hardware part of consumer-acceptable AR is tough, including the appropriate algorithms and computing capacity (hardware-software integration). If AAPL can "crack that code," then look out above for the stock.
The second key reason is the Android fragmentation, with many manufacturers and very poor uptake of the latest operating system updates. With AAPL showing the way, other companies will come up with hardware solutions to AR, but only Samsung has close to the scale that AAPL has. What would a developer like to write first, code for an AR app for one iPhone (or perhaps a few) that will sell vast quantities of units, or a second-tier manufacturer with less affluent purchasers? If AAPL can push its current lead in AR, I think it can drive the AR economy in its direction. Could there be a sort of Facebook (NASDAQ:FB)-like network effect that makes it truly dominant?
In AR, could AAPL even approach becoming the Wintel of the 2020s or the IBM of the 1960s?
Probably not from a unit sales standpoint, but perhaps it could from a profits perspective.
Valuation adds to the case for AAPL
Based on AAPL's Monday-Tuesday trading range, it is trading at 13-14X projected CY 2018 EPS, whereas the S&P 500 is around 18-19X lately, using GAAP numbers.
So if AAPL merely succeeds along with GOOGL, SSNLF, and some of the Chinese device manufacturers, I believe that all players will grow sales. And, importantly, if new technologies make handsets, smart watches, and new AR-enabling physical gear more useful than current cutting-edge devices, then the share of global GDP will likely increase above current levels. So: a larger opportunity.
The ultimate key to this very bullish thesis on AAPL is that Tim Cook is correct: AR is the next big thing in AAPL's field of operation, and that as the hardware and software get better together, eventually AR (and later, mixed reality and VR) can be gigantic markets, perhaps as ubiquitous as the Internet itself. Of course, if that happens, it will take many, many years and tons of investment - and that's just the point for AAPL's mega-bull case. If AAPL takes the lead in catalyzing these technologies into the mainstream, perhaps future investors will look back at how small a product the iPhone was just as we look back at how small the iPod was.
If this whole mega-thesis is correct, it makes little sense for a company of AAPL's financial and operational strengths to trade at a 1/3 discount to the P/E of the SPY, while boring food and toothpaste companies trade at the P/E of the SPY and often, still, 10 - 20% premia.
Beyond the fragmentation, Google stumbled with the recently-abandoned Project Tango. Now GOOGL has ARCore (an odd capitalization pattern given that ARC means, to many people, AIDS-related complex). Is GOOGL really going to be able to compete with AAPL here, or just play for second place in AR profits?
It may be AAPL, rather than GOOGL, that will appear, some years from now, to better deserve a high P/E.
Concluding theme: it was AAPL all along
With AAPL saying at Tuesday's annual meeting that its wearable segment is getting close to being a Fortune 300 "company," it dominates in wearables and dominates the AR aspect of the quasi-wearable consumer tech product of our era, the smartphone.
Thus I look at AAPL as a relatively low-risk stock in a high-risk SPY and DIA in the face of Fed tightening.
To summarize, first it appears that AAPL may have been developing the capabilities of the iPhone, then the capabilities of the Apple Watch and AirPods, with AR in mind from the early days of the iPhone.
Second, the value aspect of AAPL at Tuesday's closing price of $164.34 means that even if it does not make a big success of AR, it is a relatively cheap stock. That leaves other ways for AAPL shares to generate positive total returns for investors, and possibly alpha even if it proves to be past its peak (which is not my thinking).
Third, if AR does take off sooner rather than later, AAPL can easily be re-rated as a higher P/E stock in anticipation of future growth in whatever devices and software services AAPL will profit from. In the field of biotech, AbbVie (ABBV) doubled between last year and this year on that basis. Mr. Market changed its view of ABBV as a low P/E stock overly dependent on one product to viewing it as a growth stock. AAPL could follow that pattern.
Finally, the home run scenario is that AR becomes huge and AAPL becomes truly dominant in it. Likely it would not really become a monopoly as IBM and Wintel were in their heydays, but from a profits standpoint, it might achieve a similar dominance.
As some readers know, I've been very cautious right now on stocks, thinking that the Fed tightening will tend to bring P/E's down. AAPL looks to me like a potential exception, given its low forward P/E right now and potential to regain growth stock status in the eyes of Mr. Market. Thus I have reloaded this week in the $158-165 range to a heavy overweight in AAPL, while taking further profits elsewhere on the rebound in the market.
Thanks for reading and sharing any comments you wish to contribute.
Disclosure: I am/we are long AAPL,GOOGL,ABBV.
I wrote this article myself, and it expresses my own opinions. I am not receiving compensation for it (other than from Seeking Alpha). I have no business relationship with any company whose stock is mentioned in this article.
Additional disclosure: Not investment advice. I am not an investment adviser.