The shares of Idexx Laboratories Inc. (NASDAQ:IDXX) are up about 24% over the past twelve months and in my view, investors would be wise to take the money and run at this point. In my view, there are many positive tailwinds here, so it would be difficult to say goodbye to this name at this point. That being said, it's always best to leave a party when it's still "rocking" and the same can often be said of investments. In a nutshell, the shares are priced for perfection. For that reason, investors face a skewed return profile in my estimation: if the company simply does what's expected, there'll be little upside (as the shares are priced with that expectation in mind). If, as is typical in human endeavors, the company stumbles at some point, the shares will fall in price. In my view, there's less upside than downside at this point. I like the company a great deal, but I don't think it makes sense to buy at these levels. I'll go through the specifics of my reasoning below.
Background
Idexx operates through three business segments, all of which have very positive economic tailwinds driving them. The most important of these segments is the Companion Animal Group (which consists of a host of diagnostic and information technology products that serve the veterinary market). Also critical as the world finally starts to grapple with the global water crisis is the Water group. The Water Group develops diagnostic tools that help test for the presence of microbial contaminants in water. The third group is the Livestock, Poultry and Dairy group. This group develops tests that ensure the safety of milk and food.
A key driver for the growth of this company is the fact that veterinary and related services are growing rapidly.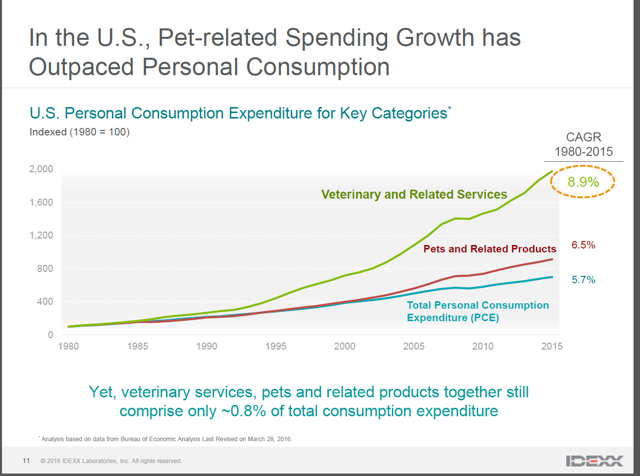 Source: Idexx Laboratories Investor Presentation Slide
Pet expenditures have grown massively over the past three decades and that trend is expected to continue. Idexx is an obvious beneficiary of that trend.
Additionally, international growth offers a tremendous opportunity here, as evidenced by the fact that fully 40% of revenue comes from outside of the United States.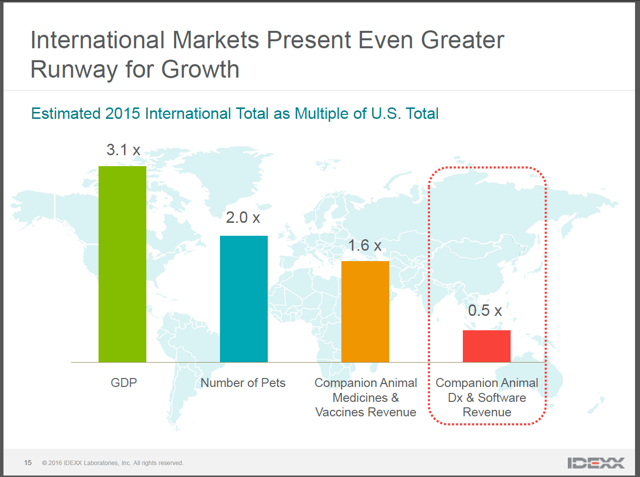 Source: Idexx Laboratories Investor Presentation Slide
Financial Snapshot
This massive growth in the companion animal markets is obviously reflected in the financial performance of the firm. Over the past five years, Idexx has generated impressive returns. Specifically, over the past five years, revenue and net income have grown at a CAGR of 7.4% and 7% respectively. At the same time, management has treated shareholders well, in light of the fact that share count has dropped at a CAGR of about 3.8% over the past five years. I like the fact that management has a demonstrated history of being quite shareholder friendly, having returned just over $1.8 billion to owners in share buybacks over the past five years.
Nothing is perfect, though and this company is no different. While revenue, net income and EPS have grown at an impressive rate, long term debt has grown at an astounding CAGR of about 32% over the past five years. This is troublesome in my view, because debt increases risk. This is especially the case in a world of generally rising interest rates.

Source: Company Filings, 10-K, 10-Q
The Stock
One of the things investors sometimes find tricky is the fact that there is a distinction between the underlying business and the stock which supposedly acts as a proxy for the health of the underlying business. The problem is that the proxy-stock often acts according to rules all its own. For this reason, you need to get both things "right." You need to buy a company that has the potential to generate tremendous future returns and whose shares are trading at a reasonable valuation.
It's in this latter part of the equation where Idexx really falters as an investment in my view, simply because it is so expensive. When I judge how expensive a stock is, I do two things. The first is to examine price and infer from that what the market's expectations about long term growth are. In order to do this, I employ the methodology outlined by Professor Stephen Penman in his excellent book "Accounting for Value." The specific methodology is beyond the scope of this article, but in a nutshell, Penman uses a fairly standard finance formula and the magic of high school algebra to isolate the "g" (growth) variable. At the moment, the market seems to expect that the company will grow in perpetuity at ~8%. Eight percent perpetual growth is a ridiculously optimistic forecast for long term growth. Sooner or later, the market will be disappointed in my view.
For those interested in a more traditional approach to valuation, I also compare price to free cash flow per share. At the moment, Idexx is more expensive on a price to free cash flow than it has been for more than a year.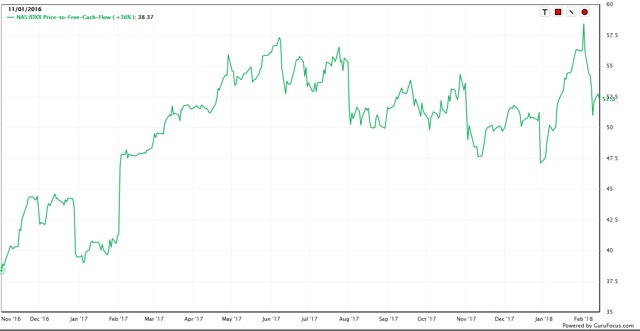 Source: Gurufocus
Conclusion
Investing can be a dream or a nightmare. It's a dream when you buy stocks that have excellent growth prospects at a reasonable price. That is ideal because the investor can simply "wait out" the market, until price and value inevitably collide. It's a nightmare when you buy a company - even a great company like Idexx clearly is - at too high a price. In that circumstance, time is your enemy because when price and value inevitably intersect, you will lose capital. In my view, that is the state of things with Idexx Laboratories at the moment. The company itself is wonderful in many ways, but the stock reflects that and more. This is on my watchlist, but I'm not buying at these levels.