A couple of months after its IPO in October of 2013, Twitter's (NYSE:TWTR) stock has been nothing but a disaster. The company made its first ever profit in the recent Q4, but its net loss since going public is more than $2 billion, its returns on equity (ROE) and returns on assets (ROA) are in a negative territory and despite beating analysts' revenue estimates in the last four quarters, it continues to underperform on an annual basis. Only recently, Twitter's stock started to bounce from its lows, but there is a possibility that it will fall down in a foreseeable future, if the management fails to use the current momentum to improve things inside the company.
One of the reasons why Twitter was showing poor results in the past was the inability of the company's leadership to ada pt to the market changes and quickly fix its advertising problems, which led to poor financial results. Also, the management wasn't prepared to meet Wall Street's high expectations for the company and received a lot of criticism from its investors, which resulted in the departure of Twitter's then CEO Dick Costolo. In addition, Twitter still struggles to achieve strong growth numbers, as its monthly active users (MAU) are barely growing on an annual basis, while its competitors are experiencing an exponential growth of their services, as their MAU's are in double digits Y/Y.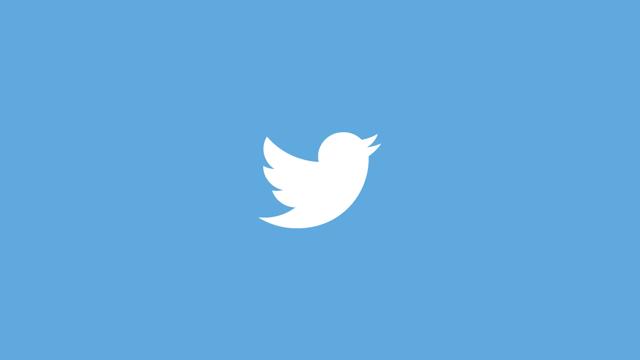 Image: Twitter
When we look at Twitter's current state of affairs, we will see that it still struggles to find its customer base, as the recent changes on its platform didn't achieve a lot of success, while its non-core assets like Periscope are failing to keep up with the competition and find it hard to establish a stronger foothold in the markets in which they are competing.
When we looked at Twitter's financial results over the last couple of years, we saw that its revenues have grown up substantially since 2014, but all the other metrics like EBIT or EBITDA are still in a negative territory. So, in order to fully understand the financial health of the company and find out in which direction its business is moving on, we decided to create a discounted cash flow model, which will show us how strong or weak Twitter is from within.

Source: Bloomberg, Own estimates
The table above shows Twitter's financial forecast for the next 10 years. The revenue's percentage of growth in the model is in-line with Bloomberg estimates and the terminal growth rate is 2%. Also, the weighted average cost of capital is 7.7%, where the cost of equity is 10% and the cost of debt is 4%.
When we consolidated all of that data, our DCF model showed a fair value of Twitter's stock to be $11.62 per share or a discount of more than 60% from its current market price: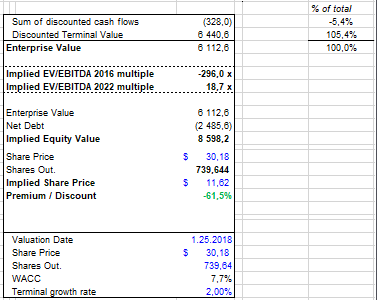 Source: Own estimates
When making the additional comparable analysis, we decided to see how Twitter is being valued against its rivals. The table below shows that it's impossible to calculate multiples for Twitter's EBIT and EBITDA metrics since the company is unprofitable. In addition, Twitter has a big total debt to EBITDA ratio, which shows that its business is in deep debt and it will be harder for the company to pay off its interest going forward.
After making all the necessary comparable calculations, our peer to peer analysis showed that Twitter's fair value is $25.41 per share or a downside of around 15% from the current price.

Source: Capital IQ, Own estimates
When completing comparable analysis and the DCF model, we decided to use both of them and calculate the final fair value of Twitter. Since the DCF model has more fundamental data behind its analysis, we gave it more weight in the final calculation against the peer to peer analysis.
After consolidating all of the data and making the final calculation, we came to a conclusion that Twitter's final fair value is $18.52 per share, which represents a downside of more than 35% from its current market price.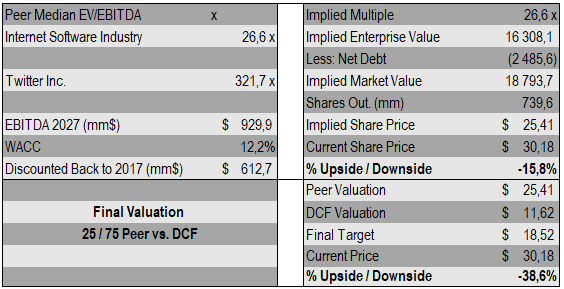 Source: Own estimates
One of the main reasons why Twitter has such a downside in our analysis is due to its unprofitability on an annual basis and a slow pace of growth. While the management achieved some progress in Q4, the growth is still too slow, which results in the company's inability to bring more advertisers to its platform and create a functional ecosystem that benefits its shareholders. Because of that, we are planning to open a short position in Twitter's stock, but before doing so we will wait for the appreciation of the company's stock in the short-term, since currently it is holding a momentum thanks to the fairly good Q4 results.
Disclosure: I/we have no positions in any stocks mentioned, but may initiate a short position in TWTR over the next 72 hours.
I wrote this article myself, and it expresses my own opinions. I am not receiving compensation for it (other than from Seeking Alpha). I have no business relationship with any company whose stock is mentioned in this article.