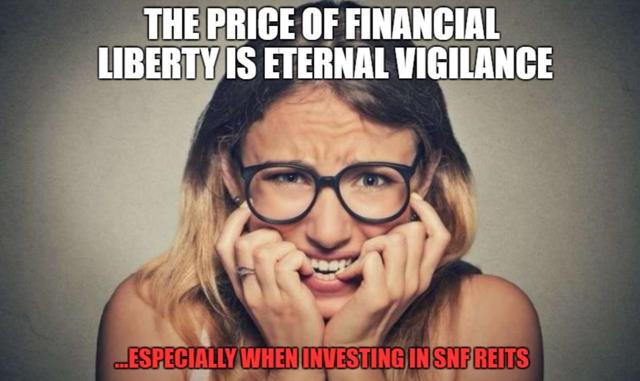 Source: imgflip
The ultimate goal of my high-yield retirement portfolio is to achieve maximum safe yield, with strong long-term, sustainable dividend growth. This means finding a careful balance between deeply undervalued blue chip dividend stocks, while also managing risk, especially as it pertains to the safety of the dividend.
About a month ago I explained why I didn't consider Omega Healthcare Investors (OHI), a long-time high-yield dividend growth darling, a sleep well at night or SWAN stock. Specifically I focused on the numerous major challenges currently buffeting the skilled nursing facility or SNF industry, which seem to be finally catching up to what has historically been the gold standard of this industry.
Personally I define SWAN stocks by their dividend safety, under the following criteria:
Dividend Risk Ratings
Ultra low risk: (Limited to ETFs with proven histories of steadily growing dividends over time); max portfolio size 15% (core holding). SWAN Candidate
Low risk: High dividend safety and predictable growth for 5+ years, max portfolio size 10% (core holding). SWAN Candidate
Medium risk: Dividend safe and potentially growing for next two to three years, max portfolio size 5%.
High risk: Dividend safe and predictable for one year, max portfolio size 2.5%.
Ultra High Risk: Dividend Cut is Likely in the next year or two (like WPG), max portfolio size 1%. Note that I personally do not invest in ultra high risk dividend stocks.
Back in January I rated Omega Healthcare a "medium risk" stock, due to the large uncertainties facing a declining SNF industry and the company's guidance for the first negative AFFO/share growth in 13 years.
Omega's most recent earnings report and guidance reveals further continued deterioration in the business model, including some very troubling new trends. Let's take a closer look at what has me increasingly concerned about Omega's future payout security, including the specific reasons that I'm downgrading the stock to "high-risk".
Most importantly of all, find out what actions need to be taken (or not taken) if you either own Omega currently (as I do), or are considering buying at today's ultra low prices.
No Way To Spin It, Omega Had A Terrible Year And 2018 Looks To Be Even Worse
| | |
| --- | --- |
| Metric | 2017 YOY Change (Except Payout Ratio) |
| Revenue | 0.8% |
| Funds From Operation | -32.7% |
| Adjusted Funds From Operation | -0.8% |
| Funds Available For Distribution | 0.4% |
| Shares Outstanding | 2.5% |
| AFFO/Share | -3.5% |
| FAD/Share | -2.0% |
| Dividend | 7.6% |
| FAD Payout Ratio | 84.7% |
Source: Omega Healthcare Earnings Release
While Omega was still able to deliver slightly positive revenue growth, what really matters, cash flow, has started to accelerate in the wrong direction. The large drop in funds from operation or FFO was almost entirely (99%) a result of $213 million in impairments resulting from the Orianna lease default and provisions for other non-collectible accounts (from other distressed tenants).
While AFFO and more importantly funds available for distribution (what pays the dividend) were not impacted nearly as much, they still declined on a per share basis. In fact, 2017 was the first time since 2003 that Omega Healthcare's AFFO/share growth was negative. More troubling is that management guidance for 2018 indicates that AFFO/share will decline by about 9%, while FAD/share will fall about 10%.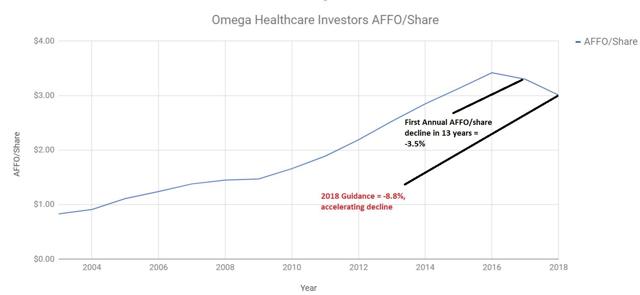 Source: Omega Healthcare Earnings Releases
And thanks to Omega's 22 straight quarters of raising its dividend, the FAD payout ratio, which was a nice and safe 77.1% in 2016, rose to 84.7% in 2017, and is expecting to hit a rather unsettling 98.1% in 2018.
"As a result of our strategic repositioning activities, 2018 will not be a growth year, and therefore, we do not expect to increase the dividend during 2018. However, I want to be very clear that we are confident in the payout percentage coverage and sustainability of our current quarterly dividend." - Taylor Pickett, Omega CEO
The quick evaporation of Omega's dividend safety buffer has caused management to wisely freeze the current payout, at least until cash flow growth can resume. Analysts (the two that cover Omega) expect this to occur in 2019, when Omega's AFFO/share is expected to rise 5% from about $3.01 to $3.15.
But what about 2018? What is causing Omega's fundamentals to start moving in the wrong direction, and at an accelerating pace? And why is it that management, as well as the few Wall Street analysts that cover the REIT, think that 2019 will see Omega turn the corner?
Challenging Turnaround Ahead But Growth Still Possible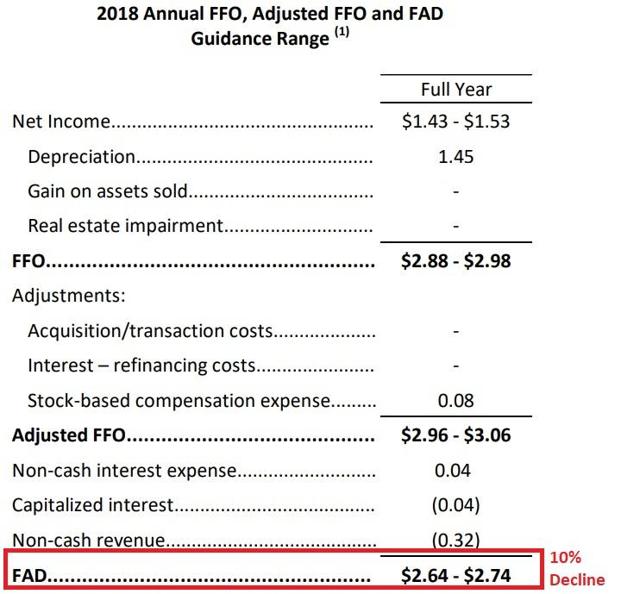 Source: Omega Healthcare Earnings Presentation
For a REIT that has grown AFFO/share at 9.1% CAGR over the past decade the steep decline Omega is predicting in 2018 is certainly troubling. However, there is good news.
The $2.64 to $2.74 FAD/share guidance that Omega is predicting is as conservative as it can get.
"Our 2018 guidance reflects the revenue reduction related to our fourth quarter asset sales, assets held for sale and approximately $300 million of potential asset dispositions." - Bob Stephenson, Omega CFO
In fact the reason that Omega is so confident in the safety of the dividend is because they are considering about $400 million in asset sales (about 6% of total assets), which would result in much less cash flow from rents. So in effect the 2018 guidance is a "worst case scenario" that assumes Omega actually closes on 100% of its potential asset sales, and thus loses that cash flow temporarily.
But this might actually be a good thing. This is because Omega's business model is essential composed of two parts. First, it provides financing to SNF (and some senior housing) operators, via its "sale-leaseback" model. Omega basically buys a facility, providing cash to the operator. It then signs long-term triple net leases (tenant pays maintenance, insurance, and taxes), generally at highly favorable rates.
For example, in Q4 2017 the company purchased six Texas SNFs for $40 million at a 9.25% initial cash yield, and with 2.5% annual rental escalators. This cash flow is what funds Omega's dividend.

Source: Omega Healthcare Earnings Presentation
However, in recent years Omega's tenants have been under severe stress due to two main factors. First, the overwhelming majority of its operators get most of their funding from Medicare and Medicaid. While Omega has been gradually focusing on private payer operators, this change has been very slow.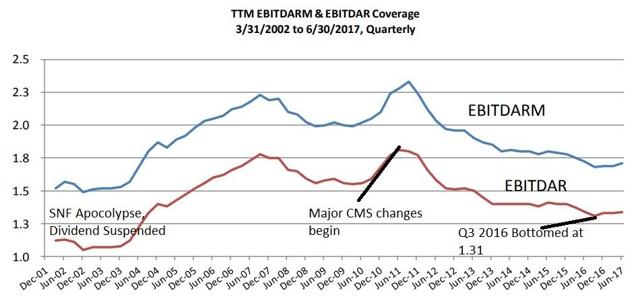 Source: Omega Healthcare Investor Presentation
The Centers For Medicare and Medicaid Services (CMS) has been making some profound changes in recent years that have resulted in shorter-stays, and lower reimbursement to SNF operators.
In addition, labor costs have been rising, because the SNF industry is highly labor intensive, and the job market has been tightening for years. For example, Orianna, one of Omega's biggest operators, has seen its labor costs rise by 6% over the past three years, compared to revenue increases (from higher occupancy) of just 2%.
This has been lowering the EBITDAR/rent coverage ratio across most of the industry, and why Orianna ended up having to default on its rent. Omega expects to eventually restructure these leases (including with other operators), but at about 25% less rent than before.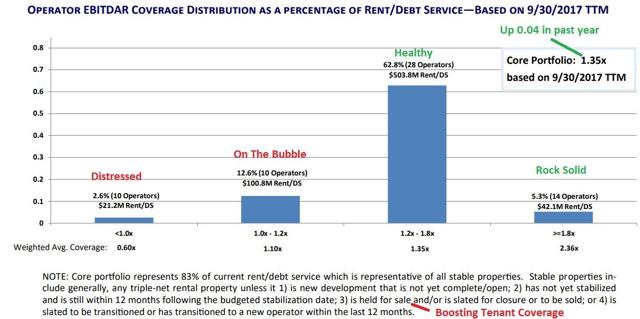 Source: Omega Healthcare Earnings Presentation
Omega appears to be trying to sell off the properties that are leased to distressed operators, recycling the capital into funding new properties leased to much healthier tenants.
This is why its core portfolio EBITDAR/rent coverage has been steadily rising over the past year. Note however, that this is artificially elevated because "core" portfolio doesn't include new properties that have yet to be stabilized (occupancy rises to long-term levels) nor properties that management plans to sell in the future.
It should also be noted that there are still 20 operators (out of 74) representing 15.2% of its portfolio that are either distressed (and will certainly default on rent) or are on the bubble. These represent potential property sales in the future.
Ok, so it's clear that Omega is trying to separate the wheat from the chaff, and consolidate its portfolio around only the strongest operators and tenants. The kind that will be able to ride out the SNF downturn and keep paying rent.
But since this is a process that might continue beyond 2018, how is it that management and analysts think that Omega will return to growth in 2019 and beyond?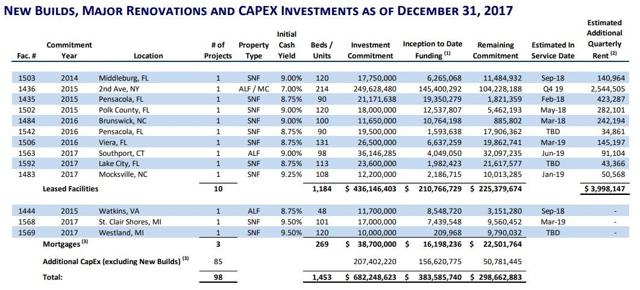 Source: Omega Healthcare Earnings Presentation
The answer lies in two parts. First, Omega has about $300 million remaining on its current growth pipeline that will be mostly completed by mid-2019. This is expected to boost its total rent by about 2% annually.
To get the remaining 3% we need to consider something that CFO Bob Stephenson said during the earnings call: "We fully expect to redeploy most of the capital from the sales by year end; however, the timing is very unpredictable."
Remember that Omega will be trading potentially $400 million or so in facilities for cash, and that's why it's backing out the cash flows from those properties. In reality until it sells a property it still collects rent. So that $2.69 per year in FAD/share is likely a sandbagged, highly conservative figure.
Once Omega uses that cash to buy new properties (with hopefully thriving tenants) then, assuming its historical 8.75% to 9.5% cash yield on new properties, it would see about $36 million in additional cash flow. That's about 4% of 2017's figures and when combined with the development pipeline represents potentially around 6% AFFO/share growth in 2019.
In other words, Omega's apparent collapse of 2018 AFFO and FAD per share is a strategic move. One that's designed to ensure a stronger tenant base going forward, and more reliable cash flows. But while Omega certainly has the experienced and proven management team to pull off a turnaround such as this successfully, that doesn't mean that the dividend is likely to resume growing anytime soon.
That's because even if Omega sees 5% growth in cash flow per share in 2019, that would raise FAD/share to $2.82 and represent a 93.6% payout ratio.
| | |
| --- | --- |
| 2018 Projected Cash Cost Of Capital | 7.6% |
| Historical Cash Yields On New Investments | 8.75% to 9.5% |
| Gross Cash Yield Spread On New Investments | 1.2% to 2.0% |
Sources: management guidance, FastGraphs, Gurufocus
That's a much safer level than the near 100% we're likely to see this year. However, it still leaves very little retained cash flow for growing the business. And with the share price in the toilet, this means that Omega's cash cost of equity (AFFO yield) has risen to 11.8%. That in turn has raised the REIT's overall cash cost of capital to levels that make accretive growth harder to come by.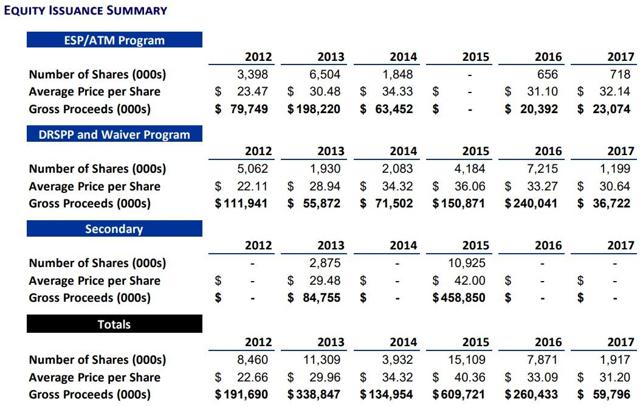 Source: Omega Healthcare Earnings Presentation
You can see this in the fact that the REIT has been issuing less and less new equity in recent years, including just $6.6 million in Q4 of 2017. Basically the REIT is beginning to fall into a liquidity trap, at least in terms of raising equity growth capital.
The good news is that Omega can still borrow very cheaply (average interest rate 4.3%). But with interest rates rising there is a limit to how much it can borrow before its balance sheet starts to look dangerous and potentially risk a credit downgrade.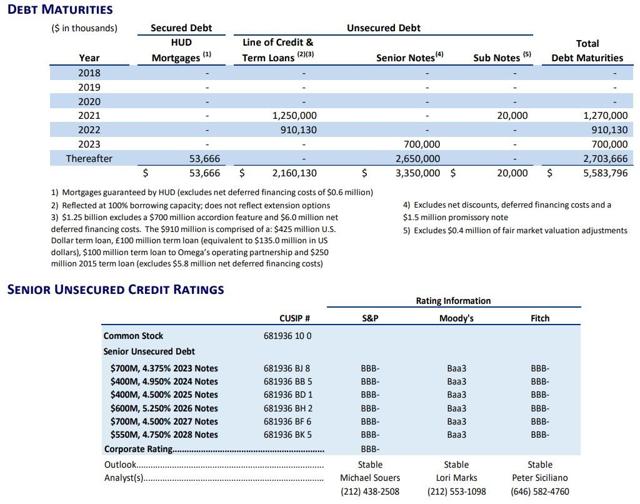 Source: Omega Healthcare Earnings Presentation
For now Omega's credit ratings remain investment grade, with stable outlooks from all three rating agencies. However, if Omega were to try growing too aggressively via debt alone, then it could get downgraded to junk and see its future borrowing and refinancing costs rise.
If that were to happen then Omega could be completely locked out of growth capital markets and have no way of growing, diversifying or strengthening its portfolio, except for ongoing asset sales of distressed properties.
So basically what Omega needs is the share price to recover. Unfortunately that relies on short-term sentiment of fickle investors, who are extremely bearish on REITs in general (due to rising rate concerns), and SNF REITs in particular. The bad news for Omega investors is that this sentiment won't change until the SNF industry definitely turns a corner, which might be for several more years.
Industry Challenges Not Likely To End Anytime Soon
The basic bullish thesis for SNFs and SNF REITs goes like this. A rapidly aging population will mean much higher medical spending in the future, including for SNFs, which provide specialized medical care for patients who have no other alternatives.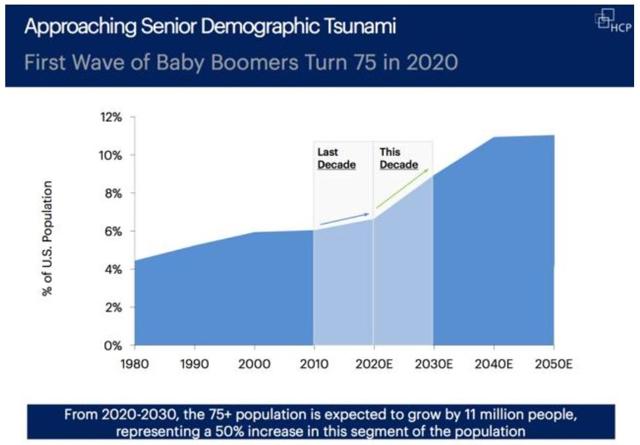 Source: HCP Investor Presentation
The number of SNF beds has actually been declining in recent years, meaning that this strong demographic wave is likely to raise occupancy rates significantly, and thus the fortunes of SNF operators and their landlords.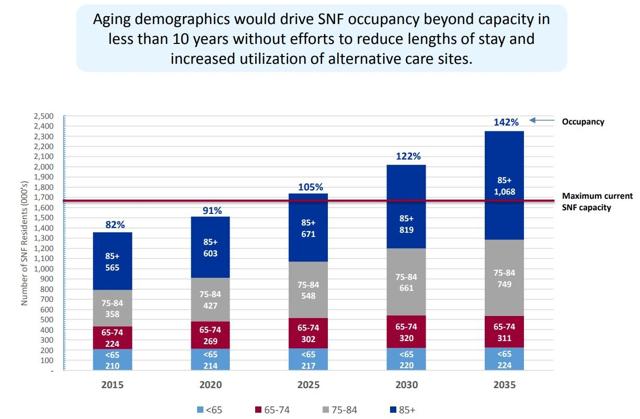 Source: Omega Healthcare Investor Presentation
While there is a lot of truth to this bull thesis, as with most things in life, things are more complex than they appear. For one thing the major demographic wave is not here yet, and likely won't really kick in until about 2023.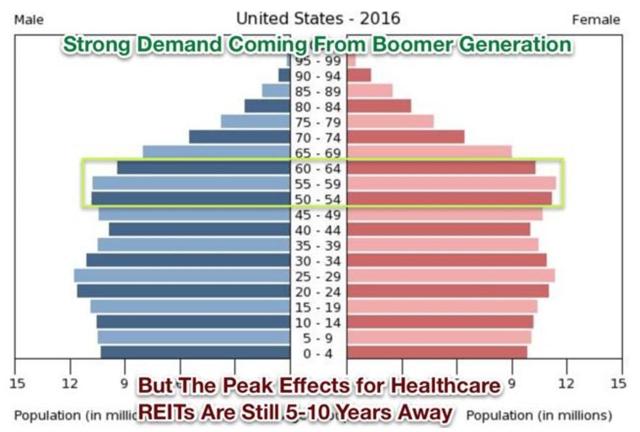 Source: Hoya Capital Real Estate
In the meantime ongoing changes in Medicare and Medicaid policies will likely continue to cap how much operators can get from the Federal government.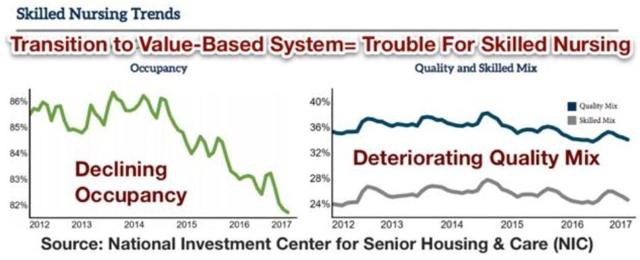 Source: Hoya Capital Real Estate
Medicare/Medicaid policy changes have already led to a rapid deteriorating in occupancy that may not be reversed by that silver tsunami (aging demographics) for several more years. In the meantime SNF operators have a major issue to deal with; rising labor costs.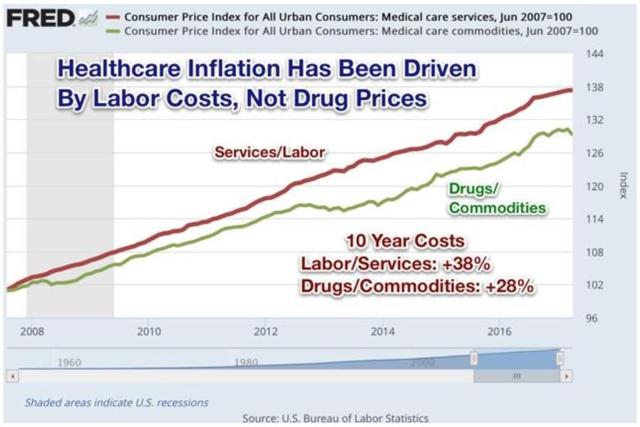 Source: Hoya Capital Real Estate
Labor costs in medicine are actually the biggest reason that medical costs have been rising at about double the overall inflation rate for the last 30 years. And with the labor market now the tightest in nearly 20 years, this means that US wages in general are likely to start rising quicker.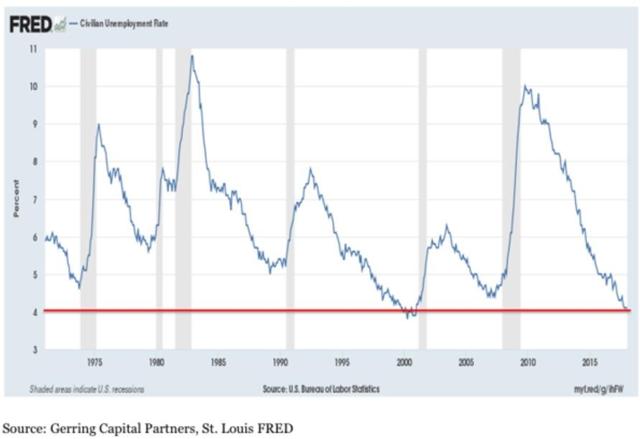 In fact, according to the US Bureau of Labor Statistics wage growth has recently shown signs of finally accelerating:
November 2017: wages up 2.5% YOY
December 2017: wages up 2.7% YOY
January 2017: wages up 2.9% YOY
Rising wages are stoking inflation fears, because usually when companies need to pay more for labor (thus threatening margins) they raise prices. In other words, pass on the highest costs to customers. But if Medicare and Medicaid are your major customers then you are out of luck. Reimbursement rates are locked in once a year, and so SNF operators have far less flexibility to pass on rising costs than most companies.
That's not to say that the bullish thesis behind SNFs might not yet prove true. After all, as tens of millions of more seniors age and require SNFs, the industry will rebound. The issue for Omega investors is whether the REIT can evolve its portfolio into one whose tenants base is strong enough to weather the storm that might not have yet peaked.
Do I believe in Omega's management? Yes, I consider them the best in the industry. However, that doesn't necessarily mean that the dividend will remain sustainable beyond the next year or two if current industry trends continue.
The greatest captain in the world could not have saved the Titanic once it struck the iceberg. Similarly, Omega Healthcare's management's top priority isn't the dividend, but the long-term health of the REIT.

Source: Simply Safe Dividends
Back in the early 2000's major changes in Medicare resulted in a SNF apocalypse, with numerous top operators going bankrupt.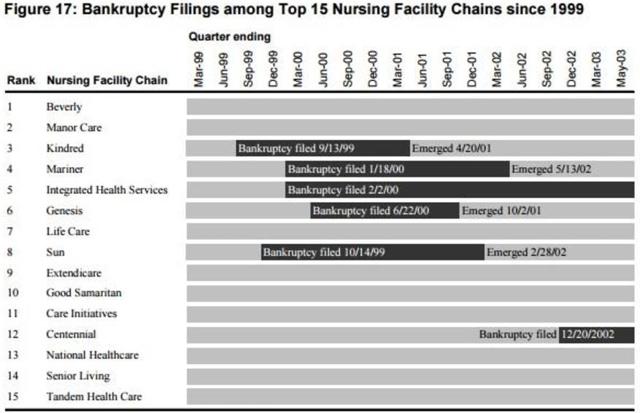 Source: Center for Medicare & Medicaid Service 2003 Market Update
The industry as a whole survived, as did Omega Healthcare, which went on to make investors very wealthy over the years. However, note that the dividend has yet to reach the record levels achieved in 1999.
The bottom line is that I have zero concerns that SNFs will still exist 10 years from now. Nor do I doubt that Omega Healthcare will still be around, as it's America's largest SNF REIT, and so will likely survive any severe industry consolidation.
However, whether or not the current dividend remains intact? Well that is much less clear.
Dividend Profile: Excellent Yield That's Safe For Now BUT Safety Cushion Is Deteriorating Rapidly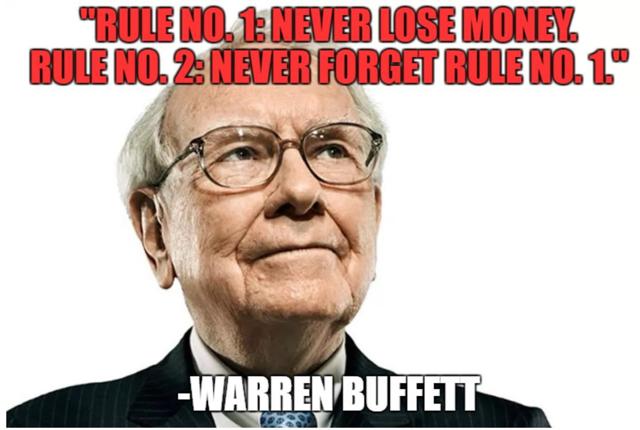 Source: Imgflip
As a dividend investor my goal is max safe income, with strong long-term dividend growth. That is what I buy a stock for, and will hold for as long as the thesis remains intact.
To help determine whether or not that is the case, I look at a stock's dividend profile which consists of three parts: yield, dividend safety, and long-term growth prospects.
| | | | | |
| --- | --- | --- | --- | --- |
| Stock | Forward Yield (based on price of $25.60) | 2018 Projected FAD Payout Ratio | 10 Year Projected Dividend Growth | 10 Year Annual Total Return Potential |
| Omega Healthcare Investors | 10.3% | 98.1% | 0% to 4% | 10.3% to 14.3% |
| S&P 500 | 1.8% | 50% | 6.2% | 8.0% |
Sources: management guidance, FastGraphs, Multpl.com, CSI marketing
Omega's decision to potentially sell up to 6% of its assets in 2018 means that in a worst case scenario (it sells the assets but doesn't use the cash to buy new ones), the FAD payout ratio will rise dangerously close to 100%.
However, remember that Omega is being as conservative as possible, and in reality the only asset sales that it knows it will do in 2018 are $87 million, not the potential $400 million maximum amount. So in reality Omega's dividend is likely to remain safe this year.
Now there is another important component of dividend safety, the balance sheet. After all, if a REIT is drowning in debt, then it doesn't matter if cash flows cover dividends, because timely debt payments to creditors always get first priority.

Source: Omega Healthcare Earnings Presentation
There are two main things I look for with any REIT. First, is the leverage ratio (Debt/Adjusted EBITDA) a modest or safe amount (6 or less)? In this case that is indeed the case, however note that Omega's leverage ratio has been steadily rising as it's been forced by a low share price to rely more and more on debt funding.
Two other important metrics are worth checking:
Interest coverage ratio: 4.3
Fixed-charge coverage ratio (EBITDA minus unfunded capital expenditures and distributions, divided by total debt service: 4.1
Generally with REITs, if the interest coverage is above 3.5, the REIT has a manageable balance sheet. The number to beat for fixed-charge coverage is 3.0. On both counts Omega's balance sheet appears reasonably secure. This is confirmed by checking the debt covenants, which are credit metrics set by bond holders.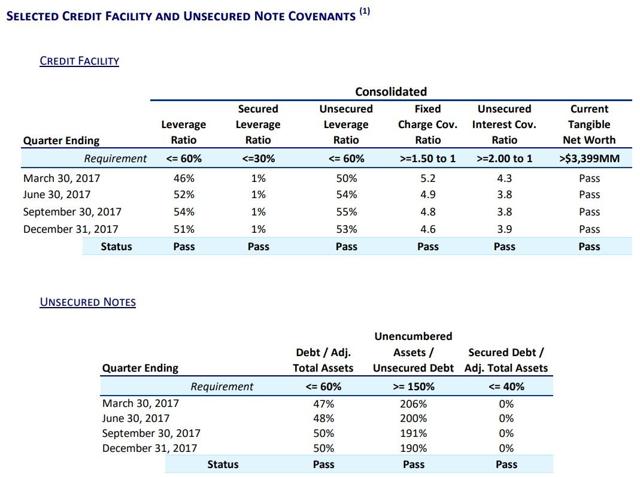 Source: Omega Healthcare Earnings Presentation
If a REIT violates a debt covenant, then creditors can declare it is in default and immediately call in the loan. That means that Omega would have to come up with hundreds of millions immediately which could force a dividend cut, or even outright suspension.
In this case, Omega is nicely below its debt covenants and in no short-term risk of a breach. However, note that the rising debt levels of the past year are bringing Omega closer to some of its covenant limits. This indicates that management will need to soon turn off the borrowing tap or risk a full blown liquidity crisis.
Omega's management is smart enough to not risk such a catastrophic event, but this does highlight the fact that the REIT is potentially at risk of falling into a full on liquidity trap in 2018. That's when a REIT has no ability to borrow or raise accretive equity growth capital and is thus 100% reliant on organic cash flow growth (from things like rental increases or well executed capital recycling).
This is why I am not as optimistic as I was before about Omega's future dividend growth prospects. I think that the analyst consensus of 4% dividend growth over the next 10 years might be too optimistic.
That's almost certainly the case for the next few years, when Omega's main goal isn't growth. Rather it will be stabilizing its cash flows and using capital recycling to jettison properties with weak tenants and replace them with ones leased to strong ones.
What Would Make Me Sell
The key to long-term success in investing isn't to avoid ever being wrong, because even the best investors in history have made bad calls. Rather the key is to practice good risk management.
That includes:
diversification (spread your risks around)
weighting positions by risk (in this case dividend risk)
closely monitoring high risk stocks for signs that the thesis breaks
My definition of a high dividend risk stock is one in which the dividend is safe, for now. Specifically the dividend remains covered by cash flow, and the balance sheet is one at little risk of a covenant breach. However, high risk stocks have deteriorating fundamentals (falling AFFO/share), and so the dividend might not remain safe (or growing) for more than a year or two.
Omega's two consecutive years of falling AFFO/share (and FAD/share) certainly make it fit into this category. However, that doesn't mean that I will be selling Omega, even though it currently exceeds my 2.5% max position cap on high risk stocks (it makes up 3.4% of my portfolio).
Rather I'll simply avoid adding to it until I grow the portfolio (by purchasing other stocks) to the point where my Omega position dilutes down to the appropriate level.
When would I actually sell (and advise readers to do the same)? That's if Omega's fundamentals deteriorate to the point where the thesis (safe, generous dividend with good long-term growth prospects) breaks.
This would happen if Omega became an "ultra high risk" stock. My definition of that is a stock whose cash flows no longer cover the dividend, and thus represent a destructive return of capital that is fundamentally eroding a stock's long-term health. In the case of Omega Healthcare that worst case scenario might look like this:
2018 FAD/share comes in at, (not above) management's super conservative (worst case) guidance, representing about a 10% FAD/share decline.
2019 guidance calls for further FAD/share declines (due to even more asset sales as more tenants become distressed and need to be replaced)
Debt levels continue to rise bringing Omega dangerously close to breaching its covenants
Rest assured that I watch any high risk stock I own like a hawk, including detailed quarterly fundamental writeups I publish on Seeking Alpha. If Omega's thesis breaks, then I will let everyone know that the high-yield party is over and it's time to cut our losses and move onto better and safer alternatives.
But please don't think that I'm predicting that Omega's slide into oblivion (ultra high risk status) is set in stone. I actually believe the REIT's super conservative FAD/share guidance is designed to create a very low bar for Omega to clear this year. Thus I fully expect the REIT's FAD/share to come in well above the proffered guidance levels.
In fact, once Omega is sufficiently below my max risk cap, I may even add to it, in order to bring it back to 2.5%. That's assuming the turnaround is proving successful and the fundamentals remain strong enough to ensure ongoing dividend sustainability. That's because at current prices, the safe (for now) payout adequately compensates investors for the stock's heightened risks.
Valuation: Value Trap Or Deep Value Opportunity?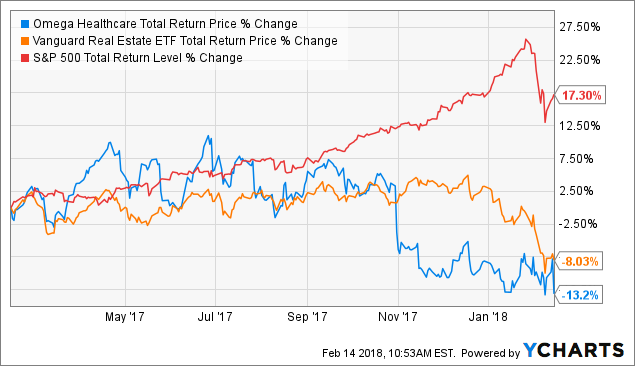 It's been a rough year for Omega investors, with shares badly underperforming not just the S&P 500 but REITs in general. However, remember that even high risk stocks can make good long-term investments if you manage your risk and buy at a great price.
| | | | | |
| --- | --- | --- | --- | --- |
| P/AFFO (2018) | Historical P/AFFO | Yield | Historical Yield | Percentage Of Time In Last 22 Years Yield Has Been Higher |
| 8.5 | 11.5 | 10.3% | 6.5% | 10.3% |
Sources: management guidance, FastGraphs, Gurufocus, YieldChart.com
In this case Omega certainly appears to be a bargain. The P/AFFO (REIT equivalent of a PE ratio) is well below its historical norm, which was never usually that high to begin with. More importantly, the current yield is about 60% above its 13 year median value, indicating that the high payout adequately compensates for the greater risks.
In fact, looking back all the way to 1995, (including both the SNF apocalypse of the early 2000's and the financial crisis), Omega's yield has only been higher about 10% of the time. This indicates that we may be nearing the bottom, even if the industry's fundamentals don't experience a major turnaround in the coming year.
However, backwards looking valuation methods can only tell us so much. After all profits and dividends are generated in the future, not the past. This is why I like to use a forward looking, long-term discounted dividend model. This helps estimate the net present value of a stock based on its expected future payouts.
| | | | | | |
| --- | --- | --- | --- | --- | --- |
| Forward Dividend | Projected 10 Year Dividend Growth | Projected Dividend Growth Years 11-20 | Fair Value Estimate | Dividend Growth Baked In | Margin Of Safety |
| $2.64 | 0% (conservative case) | 0% | $38.89 | -12.0% | 31% |
| | 2% (likely case) | 1% | $42.57 | | 37% |
| | 4% (bullish case, analyst consensus) | 3% | $47.52 | | 43% |
Sources: management guidance, FastGraphs, Gurufocus
I use a 9.1% discount rate. This is because since 1871 this is the total return, net of expense ratio, that a low cost S&P 500 ETF would have generated. Since this is the best default investment option for most people, I consider it the opportunity cost of money.
Of course, the problem with a DDM model is that it requires long-term assumptions about smoothed out growth rates that are educated guesstimates. This is why I use a variety of what I consider reasonable long-term growth rates to get a range for what a stock's intrinsic value might be based on likely dividends going forward.
In this case Omega appears highly undervalued, even if you assume no dividend growth going forward, for as long as 20 years. In actuality I do believe that Omega will return to slower payout growth once the SNF industry finally experiences its demographic tailwinds starting in the early to mid-2020's. Under such a scenario (the most likely one in my opinion) Omega is presently 37% undervalued.
If one believes the analyst consensus, which I consider potentially overoptimistic (it assumes a return to dividend growth in 2019), then Omega is 43% undervalued.
The bottom line is that Omega's risks indeed warrant a discounted share price. But the market is currently pricing in a 10 year dividend growth rate of -12%, which would mean that Omega's dividend would need to be 72% lower than today's, in 2028.
I consider that a highly unlikely scenario, which requires a total industry collapse that is worse than what happened in the early 2000's. In fact, it would actually require a near total and persistent annihilation of the SNF industry. I don't consider that realistically possible given that demand for skilled nursing facilities will only increase in the coming years and decades.
Bottom Line: Omega's Thesis Remains Intact But Management Has A Lot To Prove In 2018
There is a reason that diversification is so critical to any long-term portfolio's success. Even the best run blue chips can run into trouble, especially if a once promising industry ends up facing mounting challenges that potentially equate to a slow motion train wreck (SNF Apocalypse 2.0).
Please don't misunderstand me, I'm definitely NOT saying that Omega Healthcare is a "sell" right now. In fact, at current valuations, I still consider Omega a "buy", just a high-risk one. This means that the risks to the dividend's sustainability are mounting, but not insurmountable. Analysts expect 2019 to see a return to strong growth for Omega, and if the experienced management team can indeed achieve this, then Omega could prove to be a great long-term high-yield investment.
So the bottom line is that my recommendation regarding Omega Healthcare is:
Existing Investors: hold or add up to whatever portfolio allocation you are comfortable with (2.5% or less). If your position is above this, then hold and continue adding other positions to lower your Omega concentration risk.
Potential Investors: buy now, but only if you are comfortable with the high risk profile, and be prepared for shares to drop a bit further (maybe as much as 10% to 15%).
Disclosure: I am/we are long OHI.
I wrote this article myself, and it expresses my own opinions. I am not receiving compensation for it (other than from Seeking Alpha). I have no business relationship with any company whose stock is mentioned in this article.