Overview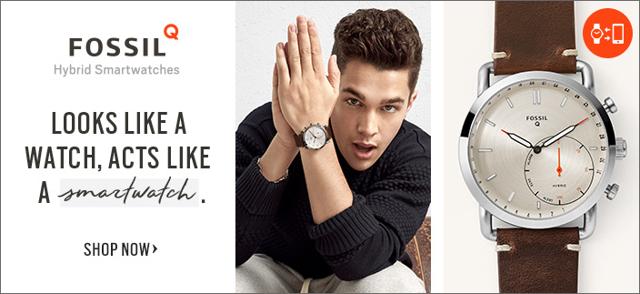 Last month, we came in heavy on Fossil (NASDAQ:FOSL) with our final purchase to complete our position in Fossil. We felt at the back of the bullish industry-wide holiday sales, Michael's Kors bright smart watch results, the rumour of a potential buyout at $15.75, and a glut of institutions adding to their shares, Fossil was poised to end FY 2017 on a positive note.
The results completely blew us out of the water! Simply stunning, a "Moonshot for Fossil"! We congratulate investors who stayed the course! For us, it is a huge relief as we have been holding Fossil for more than 18 months, at times holding 65% loss. We had our chance to average down, and we did from $12 to $9.
We will not celebrate yet, we rejected the $15.75 rumour offer in our last call, and buyers will need to raise the price considerably now!
Fantastic Q4 results
First, a weaker U.S. dollar was a welcome wind and looks to continue in 2018. The benefit of the devalued currency increased net sales by $29.9M and operating income by $11M. Across products and geography, sales continued to be challenged. The only exception was sales in Asia, where growth in China and India were more than offset by decreases in other Asian countries.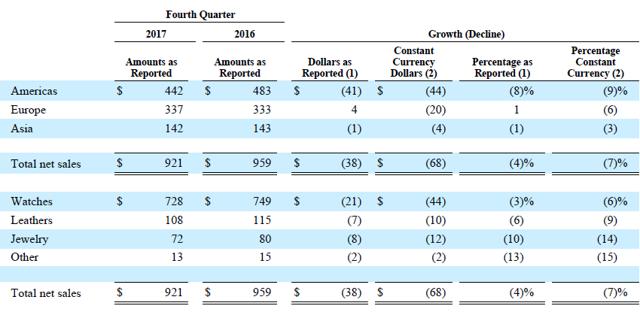 Source: Fossil Q4 – 2017 8K report
Amidst the challenged sales figures, to our surprised, wearables sales dazzled! Holiday sales improvement proved crucial. Fossil nearly doubled its wearables sales to over $300M in just two years, now representing 14% of total watch sales for the year, and 20% for Q4! The growth in this segment improved the growth rates for Fossil watches by more than ten percentage points in the quarter. Another notable mention is the huge chunk of the wearables sales were in the US, its largest market.
Fossil already has the scale and size advantage as a watch producer, the increasing volume and variety of wearables will add more strength to the economies of scale. It also fits very well with the New World Fossil initiative. Size advantage helps Fossil to streamline operations and enhance margins. Going forward, we see a high probability that Fossil can pass those efficiency savings to the bottom line. The top line is stabilising, and margins are on the right track, the expected$200M net income of the New World Fossil initiative in 2019 is feasible.
Kudos to management moves to an earlier launch ahead of the holiday and continued commitment to adding new SKUs across its 14 brands, it helped not just Fossil wearables but also allowed Michael Kors (NYSE:KORS) to drive a double-digit increase in its Q4's Armani watch sales. Together with Skagen, and Diesel, they form a part of the core product offering.
The wearables improvement shows that younger and more aspirational fashion customers (predominately female) are finally being lured to Fossil. This year Fossil CRM efforts expanded social followings by 20% and online sales grew by 31% in the quarter (23% in the U.S., 59% in Europe, and 44% in Asia), which represented about 17% of total sales. It's a clear indication that Fossil has the brand and capability to expand its online presence to resonate with the younger customers.
More importantly, it positioned its products well in a high growth wearable market, which is estimated to be $17B currently and forecasted to grow to $32B by 2020, globally. By this year, it will be as big as the addressable traditional watch market for Fossil ($65B currently; with Swiss watches taking about half). Lastly, it is estimated that 50% of the sales on wearables globally was done on e-commerce. Fossil is poised for benefits on both fronts, wearables and e-commerce.
Balance Sheet Improvement
What we love about Fossil is that despite all the challenges, it still manages to keep itself very healthy financially. During Q4, it managed to generate $120M OCF, invested only $8M in CapEx, hence bringing us to $112M FCF!
Q1 $47M,

Q2 -$24M,

Q3 $21M,

Q4 $112M
Total for the year was a massive $156M
The FCF allowed it to pay off further $41M of debt, which ended the year with debt of $446M compared to $636M a year ago. Fossil's end of year cash is $231M, making its net debt position of $215M. In a good year, it could pay the debt down in one year of FCF!
The strong FCF may have explained Fossil new bank facility of $750M, reduced from $1B. Structurally, it entails a $425M Term Loan and a $325M revolver and provides much-needed liquidity.
Near future
Fossil three strategies, Operation Streamline, Innovation and E-commerce Expansion, are already well underway. With hints of costs saving potential, new product lines earning recognition for design and relevance, and lastly social following are expanding to the right target customer; Fossil is expected to complete its New World Fossil initiative in 2019 by achieving $200M net income.
In the year ahead,
"…we expect to be a smaller yet more profitable company that is on a solid path for the future," Mr Kartsotis, continued […] our commitment to drive out costs through our New World Fossil initiative and with improved sourcing costs, we expect to deliver more profit to the bottom line. The credit agreement completed last month increases the financial flexibility we have to continue to invest in support of our growth and achieve our ultimate goal of creating greater value for all Fossil stakeholders." (emphasis added)
In light of the continued effort to transform the Company's business model to address changes in consumer behaviours and their purchases of traditional watches and connected devices, as well as jewellery and leathers. Management has provided guidance accordingly: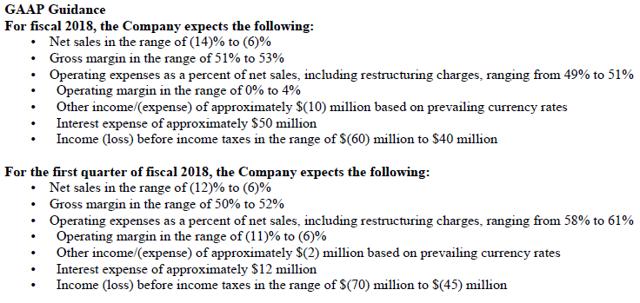 Source: Fossil Q4 – 2017 8K report
Fossil thus expects forward EBIDTA for 2018 to be around $180 ($150M -$200M)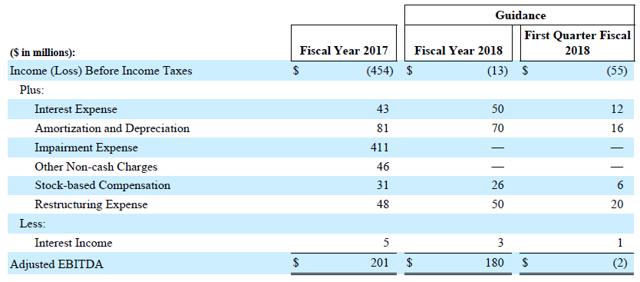 Source: Fossil Q4 – 2017 8K report
Beyond 2018, management expects the company to sufficiently stabilise in 2019, and return to growth in 2020. They also expect to return operating at 6% operating margin!
"Our longer term view is that after top-line contraction in 2018, our initiatives should begin to stabilize sales levels in 2019 with sales growth returning in 2020 and continuing to grow annually thereafter.
Five-year plan
Fossil's management is obviously confident with its strategies execution to unveil its five-year project. Moving a step too far perhaps? Nevertheless, it shows that first and foremost they are truly
"We remain focused on stabilizing and growing our core watch business on bringing more innovation to Connected Products with new features and function, driving efficiency through the company while investing in our ecommerce and digital marketing opportunities."
And that they are well aware of the fast change consumer trends and are already planning for an even better future
"…we must continue to reinvent the company by increasing speed and simplicity and reducing complexity and cost. This will include further expansion of our digital capabilities for not only digital marketing and ecommerce, but also for consumer insight, analytics and the use of data across many parts of our company."
Take away
Fossil's Q4 results were stunning, but the watch market remains challenging. Sales will contract in 2018 but absolute dollar decline in traditional watches may surpass the growth in wearables. Nevertheless, wearables as a hedging strategy for Fossil is aiding the company in stabilising and recovering. Who knows, maybe it can eat its traditional watch segment in the next 5-10 years?
The bottom line is, further costs streamlining and top line stabilization alone will bring back a lot of sceptics. We continue to watch Fossil closely and believe the company operation is well positioned; its initiatives are well supported by the recent credit agreement and earnings.
We reiterate our previous valuation at $25/share.
Disclaimer: Please do your additional due diligence before investing.
Disclosure: I am/we are long FOSL, GNC, FSTR.
I wrote this article myself, and it expresses my own opinions. I am not receiving compensation for it (other than from Seeking Alpha). I have no business relationship with any company whose stock is mentioned in this article.