On February 14th, 2018, the consumer price index (CPI) came in higher than expected. It posted 2.1% instead of 1.9%. 10 year bond yields surged to 3% on this news and the U.S. dollar fell. It will be interesting to see how the Federal Reserve will react to this news in March's FOMC meeting. Will it increase interest rates on this higher inflation data, or will it hold rates? I believe the Federal Reserve is not able to raise rates much more and I will tell you why.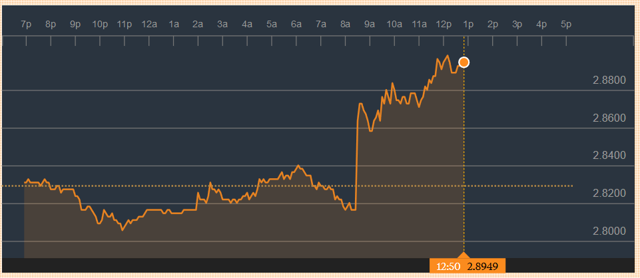 As a reminder, higher bond yields result in a lower U.S. dollar. More on that can be found in my previous article (See FRED chart below).

I mentioned the huge drop in interbank lending in that article, seen in January 2018 (See FRED chart below).
Curiously, the FRED site has now discontinued the chart for some unknown reason.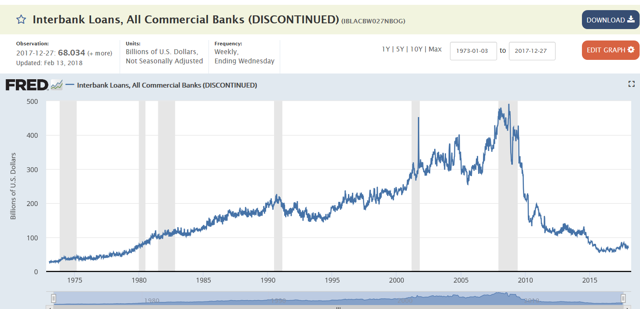 This leads me to believe that something fishy is going on in the central bank world. They could be in trouble. One of the reasons why interbank lending has dropped is because banks don't trust each other anymore. Another reason is that the Federal Reserve is paying these banks for their deposits at the Fed. The current rate of interest is 1.5% (see FRED chart below). So the banks are getting free money from the Fed at this moment. On October 6th, 2008, the Federal Reserve Board announced that it would begin paying interest on depository institutions' reserve balances and ever since that announcement, interbank lending dropped.

In 2017 alone, the Fed paid $30 billion to the banks for interest on excess reserves, which are at an all-time high at the moment (see FRED chart below).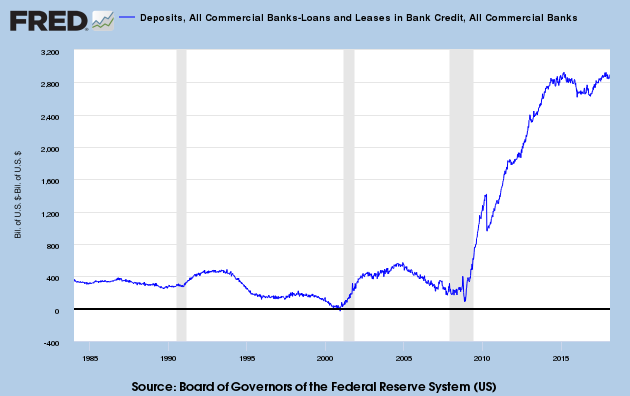 Now where does all that money come from? It comes from the assets that the Federal Reserve bought via the QE programs. Income from its $4.45 trillion of assets - including $2.45 trillion of U.S. Treasury securities and $1.76 trillion of mortgage-backed securities amounts to $113.6 billion. $30 billion of that goes to the banks as interest payment on excess reserves and the other $80 billion is remitted to the Treasury. Remittances to the U.S. Treasury can be found below (see FRED chart below). As you can see, the Federal Reserve's remittances to the Treasury are going down, because of the higher interest rates on excess reserves. So the Federal Reserve is limited in raising rates. If it were to double the interest rate, then remittances to the Treasury could go to zero and the Treasury is already empty at the moment (government shutdowns).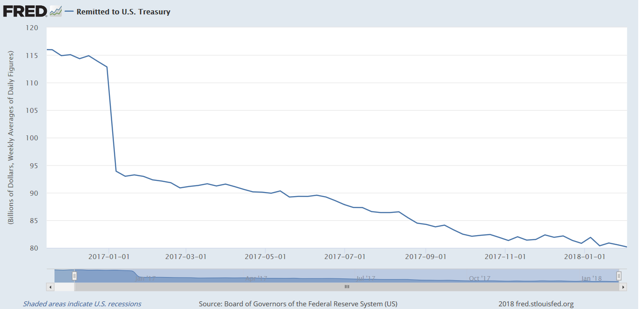 Another hurdle for the Federal Reserve is the huge amount of assets ($4.45 trillion) on its balance sheet. As bond yields rise, the value of these assets will decline. This is reported by the Federal Reserve as "net unrealized gains (losses) on available-for-sale securities", which are currently standing at -$27.3 billion as of January 2018.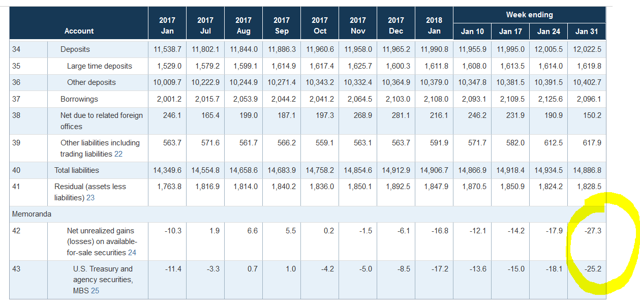 There is a clear correlation between bond yields and these unrealized losses. Since 2017, the chart has been in the red, so at these bond yields, the Federal Reserve is having losses. Maybe that's why it wants to get rid of these securities as soon as possible. They know that higher yields are coming and it would make the Federal Reserve insolvent. The Federal Reserve has a capital buffer of around $40 billion and the unrealized losses are already at -$27.3 billion. The Federal Reserve cannot afford to see much higher bond yields.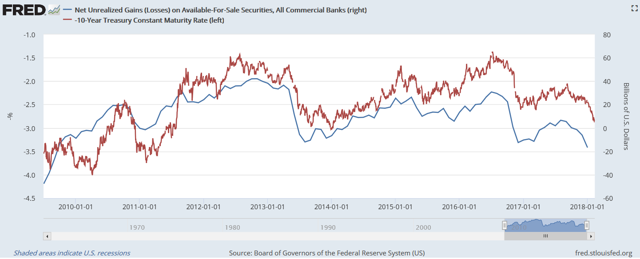 All these reasons lead me to believe that the Federal Reserve cannot raise rates much higher or it will suffer huge losses. Especially when it tries to sell its assets into the market to reduce its balance sheet. Add to this the higher deficits from the Trump tax cuts, the infrastructure bill and the 2-year budget deal and you have a deadly mixture. Not to mention the decreased tax revenue from stocks that are plunging due to higher yields. Interest payments as a percentage of tax revenues are about to soar. As a matter of fact, the Federal Reserve has no other choice but to initiate QE4.
To conclude, I can see a clear trend here. First we had the dot.com bubble in 2000, then the housing market bubble in 2008 and now we have our third bubble: the central bank bubble (see chart below from Bloomberg, TCW).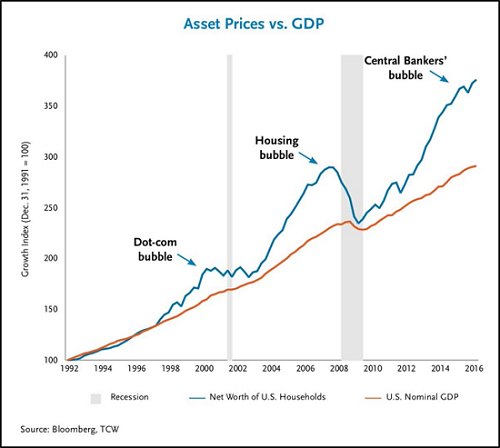 Disclosure: I/we have no positions in any stocks mentioned, and no plans to initiate any positions within the next 72 hours.
I wrote this article myself, and it expresses my own opinions. I am not receiving compensation for it (other than from Seeking Alpha). I have no business relationship with any company whose stock is mentioned in this article.