This idea was discussed in more depth with members of my private investing community on January 17, 2018.
Arista Networks, Inc. (ANET)

Arista Networks is poised to benefit from the trend of strong spending on public cloud services and infrastructure, which is forecast by IDC to more than double from an estimated $128b in 2017 to $266b in 2021.
Already this cloud networking solutions company has taken more than a 14% share in the high speed data networking market while its largest competitor Cisco Systems share in this market has declined to just over 50%, according to Crehan Research.
In its own words, Arista Networks has been "…outperforming Cisco in "price, product, roadmap and vision." Arista is demonstrating very strong fundamental momentum, with ROIC reaching its highest level in 11 quarters.
Over the last several quarters financial results have consistently come ahead of expectations, which has been followed by guidance higher than consensus.
Our scenario-based DCF price target of $298 takes into account what we think could be a lower tax rate of 20% going forward versus our previous assumption of 28%. Our Base Case stock price target of $289 (not a typo) assumes free cash flow growth of 18% annually from an estimated $372m in 2017 to $2,1222m in 2027.
On January 17 the stock was priced at $265.19 and we suggested that investors keep ANET in mind for a down day. While the stock did reach a brief intraday low of $250.41 on February 6, we do think there could be additional opportunities ahead to get into this fairly volatile stock of a high growth company.
At the current price of $302, the stock is not a bargain relative to our $298 one-year price target, nor is it a bargain on a relative basis. In our opinion, the recent stock price increase is related in part to it being made a Goldman Sach's Conviction Buy with a $320 price target on February 7, RBC's price target revision to $310 from $234 on February 13, and a favorable court ruling in favor of Arista in a patent fight with Cisco on February 14 (see TheFly.com for more details).
The stock has shown bouts of volatility before, and we suggest investors purchase the shares if it declines 20% lower on any news of slowing revenue growth as it approaches a "normalized" sales growth level of 20-30%.
Company Background
Arista Networks is an $22.1b market cap cloud networking company based in Santa Clara, California. It pays no dividend. The company was founded in 2004 by Andreas Bechtolscheim, David Cheriton, and Kenneth Duda and held its initial public offering in June 2014 at a listed price of $43.
Current President and CEO Jayshree Ulla joined Arista in 2008 after 15 years at Cisco Systems (CSCO) and has been a key force behind LTM revenue growth that has averaged more than 39% in 2017 and more than 45% since 3Q14.
Bechtolsheim is the company's Chief Development Officer and Chairman. Cheriton left the company following its IPO but remains its second largest shareholder. Duda is Arista's Chief Technology Officer who along with more than 800 developers is responsible for the development of its "Extensible Operating System" (EOS), a key component of Arista's value proposition.
The company's primary competitor is Cisco Systems (CSCO). According to the company, Arista has been "…outperforming Cisco in "price, product, roadmap and vision" and, in the words of one customer, Cisco was "on target to become irrelevant" in the majority of data centers." Arista has been embroiled with Cisco in patent infringement litigation since 2014. This remains a key risk to the company but so far it has managed well on the legal front. According to Gartner's Magic Quandrant for Data Center Networking, Arista and Cisco are the leaders in the industry.
Arista's EOS is easy to use and customize, and is a key driver of its value proposition
According to the company, EOS "…is the most advanced, resilient, and programmable operating system." Further, "it combines modern-day software and operating system (O/S) concepts… open platform development, (AND) an un modified Linux kernel…" A Linux kernel has the advantage of being extremely stable and widely accepted across many different systems and environments. The single image architecture of Arista's EOS reduces the initial hardware qualification time that customers require for initial purchases, and simplifies its interoperability, saving customers time and money.
Largest shareholders
Bechtolscheim and Cheriton are the largest shareholders of Arista Networks, with 17.3% (12.7m shares) and 9.3% (6.8m shares) ownership, respectively. Capital Research and Management Company is owns 9.05% (6.6m shares), The Vanguard Group, Inc. owns 5.4% (3.98m shares), and President and CEO Jayshree Ullal owns 5.2% (3.78m shares). Together insiders own 33.6% of the company. It is unclear how many shares Duda owns.
Relative valuation
ANET currently trades at 48.2x the consensus 2018 EPS estimate of $6.27, and at a 1.93x PEG multiple to the consensus long-term earnings growth estimate of 25%. In contrast, the 800 pound gorilla Cisco Systems (CSCO) trades at only 16.4x 2018 consensus EPS of $2.52 at a PEG multiple of 2.78x to the consensus long-term growth estimate of 5.9%.
Adjusting for its growth prospects, ANET is relatively attractive on a PE-to-Growth basis compared to Cisco. However, the stock is not attractive on a relative basis relative to other stocks in the Technology sector at the current level. As a result, ANET was removed from our Core Long Model portfolio strategy on January 31.
Cash, dividends, and share repurchases
At the end of 3Q17 ended September 30, 2017, Arista Networks held $1,343m of cash and short-term investments, and only $38.2m in debt in the form of lease financing obligations. Cash levels have increased every quarter from the $800m reported as of 3Q16, benefitting from increasing cash flow from operations and low capital spending. LTM free cash flow, as defined as CFO less capex, was more than $450m. LTM free cash flow, using our estimated adjusted working capital figures, was $283m. We estimate free cash flow could move to $500m next year assuming no changes in working capital. It has never paid a dividend or repurchased shares.

Founders have past ties to some of the most influential technology companies in the world
The three cofounders have a storied and very interesting history. All three have ties to Stanford University's PhD program and Cisco Systems, Inc. Bechtolscheim received a PhD in Computer Science and Electrical Engineering in 1982 before leaving to found Sun Microsystems, which was acquired by Oracle Corporation (ORCL) in 2010. Cheriton has a PhD in Computer Science from University of Waterloo and has worked as a professor at Stanford University since 1981. Duda received his PhD in Computer Science from Stanford in 2001.
Bechtolscheim and Cheriton were the famous first investors in Google. The duo were also cofounders of Granite Systems – the gigabit Ethernet company that was acquired by Cisco Systems, Inc. in 1996. They were also the cofounders of Kealia – the high-capacity streaming video server company was sold to Sun Microsystems in 2004. Cheriton is also known as an early stage investor in VMWare, which was acquired by EMC in 2003, which in turn was acquired by Dell Inc. in 2016. Duda's first PhD project at Stanford University formed the basis for what later became Granite Systems, where he was an early employee.
Litigation with Cisco and OptumSoft
Arista and Cisco have been embroiled in patent infringement litigation since 2014. In a legal update posted on December 6, 2017, Arista stated that "despite Cisco's distorted messaging, Arista has obtained significant victories" in its litigation. Arista is also being sued by OptumSoft, which asserts ownership of certain components of its EOS network operating system. OptumSoft is owned by Arista cofounder David Cheriton. "In a way, he's suing himself." Any litigation setback could have a significant negative impact on the stock price, but so far Arista has managed this risk well, in our opinion. On February 14, the company received good news in the form of an appeals court upholding a prior ruling that invalidated patent infringement claims by the International Trade Commission.
Spending on cloud services and infrastructure could double in 5 years
According to IDC, worldwide spending on public cloud services and infrastructure is expected to more than double from an estimated $128b in 2017 to $266b in 2021, representing a compound annual growth rate of 21.0%. Driving this growth is demand from professional services, banking, and telecommunications. The United States is expected to represent 60% of worldwide revenues throughout the forecast period.
According to Dell'Oro Group Server Research, which Arista Networks cites in its 3Q17 presentation, in 2010 only about 10% of the servers were cloud based. This has moved to about 50% today in 2017, and may grow to more than 60% by 2021. Bandwidth demands of artificial intelligence processes, still in its nascent stage, will also drive the need for larger and more efficient switches. The growth potential of the cloud network industry is clearly very high.
As Arista explains in its 10K, "Cloud computing is fundamentally changing the way IT infrastructure is built and how applications are delivered…The aggregate network bandwidth in the cloud can be orders of magnitude higher than typical legacy data center networks. Therefore, cloud cloud environments must be architected and built in a new way. Cloud networks must deliver high capacity, high availability and predictable performance and must be programmable to allow integration with third-party applications for network, management, automation, orchestration and network services."
The company's primary manufacturing partners include Jabil Circuit (JBL), Sanmina Corporation (SANM) and Foxconn Technology Group (OTC:HNHPF).
Arista has rapidly taken share in the high speed data center switching market
By the end 2016 Arista Networks had delivered cloud networking solutions to over 4,200 end customers in more than 80 countries, with Microsoft Corp (MSFT) accounting for more than 10% of its revenue over the last three years. For the 9 months ended September 2017, revenue generated in the United States represented 73.8% of the total.
As page 5 of its 3Q17 presentation indicates, according to Crehan Research as of 1H17 Arista had captured a 14.2% to 15.0% market share of the high speed data center switching market, as defined by share of dollars or share of ports, respectively. This is up from 3.5% to 4.9% back in 2012. In contrast, Cisco's share has declined remarkably in recent years, moving from more than 70% in 2012 to just above 50% today.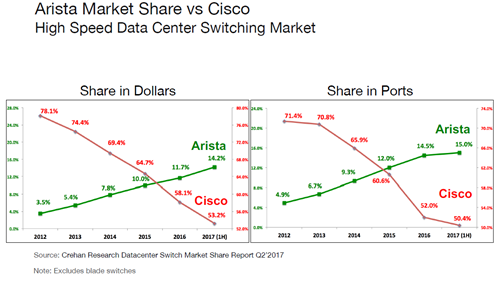 Competition
In addition to Cisco, other key competitors in the data center networking market include Broadcom (AVGO), Dell/EMC, Hewlett Packard Enterprises (HPE) and Juniper Networks (JNPR).
The growing demand for cloud networking solutions is driving acquisitions in the industry. For example, Dell has acquired Force10 and EMC, IBM has acquired Blade Network Technology, Hewlett Packard Enterprises acquired Aruba, Juniper acquired Contrail, Cisco acquired Insieme, and Broadcom just closed its acquisition of Brocade Communications Systems in November 2017.
In recent management presentations some questions centered on white box competition – that is, internally developed high speed networking gear, especially from Amazon.com (AMZN) and Alphabet (GOOGL). But according to Charles Yager of Arista investor relations, white box competition has not been material. "If you can buy something on the market that's superior, there is no real strategic reason to build it [internally]." In addition, he added, customers want diversity of selection they will invest in the market. Kenneth Duda mentioned in December at a conference that internally developed switches would take tremendous development effort and perhaps only save the customer about $500 per switch.
4Q17 Guidance
For 4Q17 the company expects revenue of $450-464m, non-GAAP gross margin of 63-65% and non-GAAP operating margin of 30%-32%, which excludes expected legal expense of $12m associated with OptumSoft and Cisco litigation, stock-based compensation expense, and other non-recurring expenses.
By way of contrast, the 3Q17 non-GAAP gross margin was 64.4% and GAAP gross margin was 64.1%. Since 4Q15, the quarterly non-GAAP gross margin has ranged 64.0%-64.6%, and GAAP gross margin has ranged 63.6%-64.2%.
Long-term guidance calls for 20-30% revenue growth and non-GAAP operating margins at 30-32%
Guidance for 2018 has not yet been provided. However, at a December 5, 2017 presentation at a Wells Fargo conference, CFO Ita Brennan emphasized that a forward looking normalized revenue growth rate could range 20-30%, and a sustainable level of operating margin could be in the lower 30% range.
By way of contrast, the non-GAAP operating margin reached a two-year high of 38.6% in 3Q17, up from 36.3% in 2Q17 and a low of 27.9% in 2Q16. The GAAP operating margin was 32.2% in 3Q17, up from 28.8% in 2Q17 and was at the lowest level of 19.8% in 2Q16. For the first 9 months of 2017 the GAAP operating margin was 7 percentage points below the non-GAAP margin.
The 39% average LTM revenue growth in 2017 benefitted from a faster than expected ramp in 100 Gigabit Ethernet switches, which allowed it to a 40% market share for that size in 2Q17. The long-term earnings growth rate assumed by consensus is currently 26%.
According to the CFO, the industry cycle for 100 Gbps switches is still in the early innings. For greenfield projects, 100 Gbps make the most economic sense. Sales of 400 Gbps switches are expected to be a meaningful revenue drive in late 2019 or early 2020, and grow to what appears to be 20% of total revenue by 2021, according to the slide on page 6 of its 3Q17 presentation.
10% marketing and sales margins, 20% R&D margins
Since Arista serves large hyperscale types of customers, it does not need a large marketing and sales force. But an ongoing assumption of 10% for marketing and sales could be reasonable. It also expects R&D expense to move closer to the 20% range over time. Combined with 63-65% gross margin expectations support a long term operating margin assumption of 30-32%.
LTM research & development of $314m represented 20.8% of LTM revenue of $1,506m, and was up from the LTM figure of $260m last year which represented 32.2% of LTM revenue of $1,047m. LTM R&D seems to be increasing $10-20m every quarter as its growth rate and percentage of sales declines.
ROIC reached 38.4% in 3Q17, the highest level in 11 quarters
By our measure, ROIC has ranged 33.5%-41.2% over the last 12 quarters, with 38.4% in 3Q17 the highest level it has seen in 11 quarters. ROIC is benefitting from the growth of NOPLAT (net operating profit less adjusted taxes) faster than its underlying operating capital. Companies that maintain high ROIC tend to maintain high market multiples.

Ongoing positive revisions to consensus estimates
Current consensus 2018 and 2019 revenue estimate are $2,096m and $2,559m, respectively, and consensus EBITDA estimates for the same years are $726m and $884m. When this report was first released in mid January, revenue estimates have been revised higher by approximately 4% over the last 3 months, and approximately 30% from last year. EBITDA estimates had been revised higher by 8-9% over the last three months and more than 50% over the last year. Current consensus as of February 14 is already significantly higher than the figures posted in mid January.
If the company continues to beat quarterly estimates (it beat EBITDA consensus by 23% and 37% over the last two quarters, respectively) quarters), it is likely that consensus estimates will continue to be revised higher, supporting a sustainably high ROIC figure, which in turn supports a sustainably high market multiple.
Review of the ANET stock price over the last 12 months
Below is a chart from Yahoo! Finance that we appended back on January 12. It illustrates how ANET shares have reacted to key news events over the past year.
ANET shares seem sensitive to conflicting reports of market share. For example, on December 1, 2017 IDC indicated that Cisco's market share in Ethernet switches increased sequentially to 56.7% in 3Q17 and Arista's share only increased to 5.6%. This is a positive contrast to the market share chart by Crehan Research, which Arista uses in its presentations that shows declining market share for Cisco in the high speed data center switching market and a market share for Arista above 14%. The next trading day, December 4, ANET stock sold off by 8%.
The stock price may be further impacted in by litigation events in 2018. On September 25, 2017, the U.S. Court of Appeals for the Federal Circuit (CFAC) denied a request to stay the U.S. International Trade Commission (ITC) ban on products that infringed on Cisco patents, it did allow Arista to resume importing redesigned products. As the market digested the news, the stock sold off by more than 5%. On January 19, 2018, the Administrative Law Judge (ALJ) in the ITC 945 modification proceeding will hold a hearing. In February 2018, the CFAC is expected to convene a hearing on Patent and Trial Appeal Board (PTAB) decision appeals in February 2018. More information on Arista's legal proceedings may be found on its website.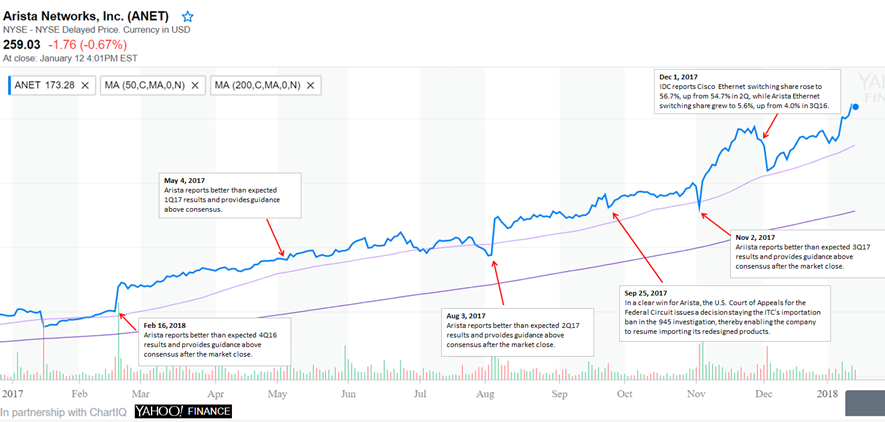 Our blended DCF price target for Arista Networks stock is $298, below the current stock price of $302
Our Base Case forecast for an 18% compound annual growth rate over ten years may seem fairly aggressive. It implies that Arista continues to gain market share but at a slowing rate over time as Cisco Systems and smaller competitors maintain a level of competitiveness.
Over the last 12 months Arista has reported revenue growth of nearly 44%, while Cisco has reported a decline of more than 2%, Juniper Networks 5%, F5 Networks nearly 5%, and Palo Alto Networks a high 26%. Arista thinks a normalized revenue growth rate assumption of 20-30% is reasonable, but if we go back perhaps 20 years ago I think we might see similar expectations from the aforementioned companies.
On the other hand, Arista has demonstrated its ability to consistently drive meaningful revenue and free cash flow growth. Its Extensible Operating System appears to be a real game changer. Based on my experience in financial technologies, simple and easy to use interfaces can quickly help a company rapidly gain and maintain market share. Therefore, assigning a 60% probability to this Base Case scenario seems reasonable.
History has shown that fortunes in the technology space can change quickly. Our Best Case and Worst Case scenarios are not absurd possibilities. If competition falls behind Arista, the best case may occur. If Cisco succeeds with its legal hampering, or some flaw is revealed in Arista's hardware, it can quickly lose steam. Therefore we are assigning 20% probabilities to each case.
In summary, there is a good chance to assume that the fundamental momentum Arista is demonstrating is likely to continue. However at the current price of $265, the stock is not a huge bargain. In our opinion, long-term investors should wait for a better price. Recent history as shown the stock tends to sell off just prior to financial results or on litigation news. Given the stocks recently monthly volatility of about 11%, we suggest keeping ANET in mind for a down day in the market.

Base Case Price Target is $289
For our Base Case, our revenue forecasts are more aggressive than consensus. Given a market research report that public spending on cloud infrastructure could grow more than 20% annually for the next five years, and CFO's comments that normalized revenue growth could range 20-30%, in our opinion it is reasonable to assume at least 25% annual revenue growth through at least 2021. In contrast, consensus only assumes 21% revenue growth in 2019, 19% in 2020, and 5% in 2021. Thereafter, we assume annual revenue growth slows to 20% in 2022, 15% in 2025 and eventually to 8% in 2027. The 10-year compound annual growth rate forecast is a 18.0%.
Our GAAP EBIT forecasts are lower than the consensus non-GAAP EBIT forecasts. For 2018 we estimate EBIT of $457m at a 27.8% margin. In contrast, the consensus 2018 EBIT figure is $700m at a 33.5% margin. The disparities between our margins assumptions and consensus lessen over time as we assume litigation expenses subside. By 2022 we assume EBIT margins settle in at 30% while the few consensus estimates available assumes a 32% margin.
This scenario is conservative in light of the cash tax rate assumed. According to Capital IQ, cash taxes paid in the year 2016 totaled $39.6m, or 16% of EBIT. However, in our adjusted present value analysis we assume a cash tax rate at 24% of EBIT, moving down to 20% of EBIT for 2018 and subsequent years. Our adjusted present value analysis assumes cash taxes paid is in line with an effective tax rate of 20%. This is a conservative assumption given that cash payments on taxes tend to be significantly lower than the effective tax rate for companies in general.
For our Base Case scenario, we forecast free cash flow grows from an estimated $372m in 2017 to $2,122m in 2027 – an compound annual growth rate of 18.0%.
Worst Case Price Target is $123
For this scenario we assume that revenue grows at 18% annually form 2019-2021, below an IDC cloud networking industry projection for 21% annual growth and the company's 20-30% long term growth rate assumption. In addition, we assume that EBIT margins decline to 16% in 2018 and never again move above 19.5%. In this scenario, we forecast free cash flow moves from $372m to only $764m by 2027, a compound growth rate of 7.3%. This might be a reasonable scenario to envision if Cisco's legal attack is successful in limiting some of the types of products that Arista might be able to sell.
Arista does not quantify the potential risk associated with its litigation. However, according to Piper Jaffray in November 2017, "…several cases brought against the company by Cisco, which were temporarily resolved by Arista implementing workarounds, are going to be ongoing challenges in 2018." With regards to Optomsoft, Piper Jaffray expects either Arista to win the case or reach a settlement.
In my opinion, a legal setback could have a negative impact on the share price, but not to the extent that it would shut down the company. Arista has done a good job in keeping investors informed with its legal updates and recaps, and has shown it can implement workarounds.
Best Case Price Target is $502
Our Best Case forecast assumes at least 30% sales growth through 2021, eventually declining to 13% by 2027, while EBIT margins expand to the level of 37.5%. This is not an inconceivable scenario if we find ourselves in a cloud networking spending spree that is accelerated by bandwidth intensive artificial intelligence applications. In this scenario we assume free cash flow grows from an estimated $372m in 2017 to $3,967m in 2027 at a 26.0% compound annual growth rate.
For example, IDC has made a forecast that spending on cognitive and artificial intelligence systems AI infrastructure may grow from $12b in 2017 to $57.6b in 2021, representing a 50.1% CAGR. At the Barclays 2017 Tech Conference in December, CTO Kenneth Duda remarked that artificial intelligence might require 8x as more bandwidth than current cloud networking requirements: "We've heard of boxes where a standard server today with I think a server takes 50-gigabit connection, whereas the AI version of that box would have 8 of those 50-gig connections just to feed the box."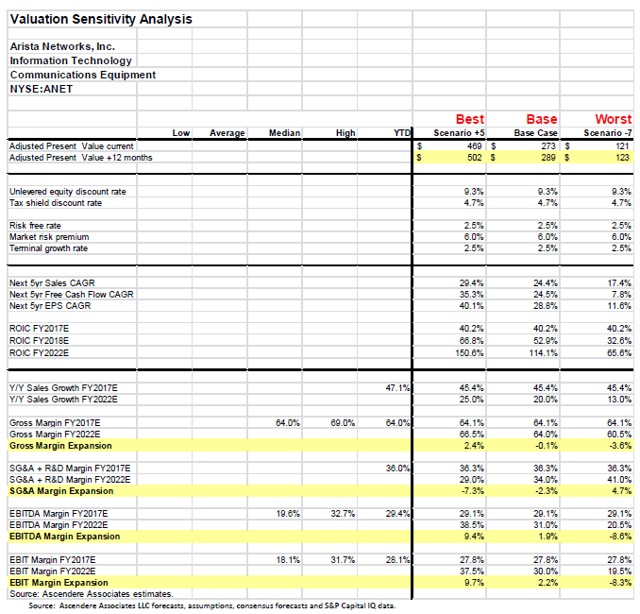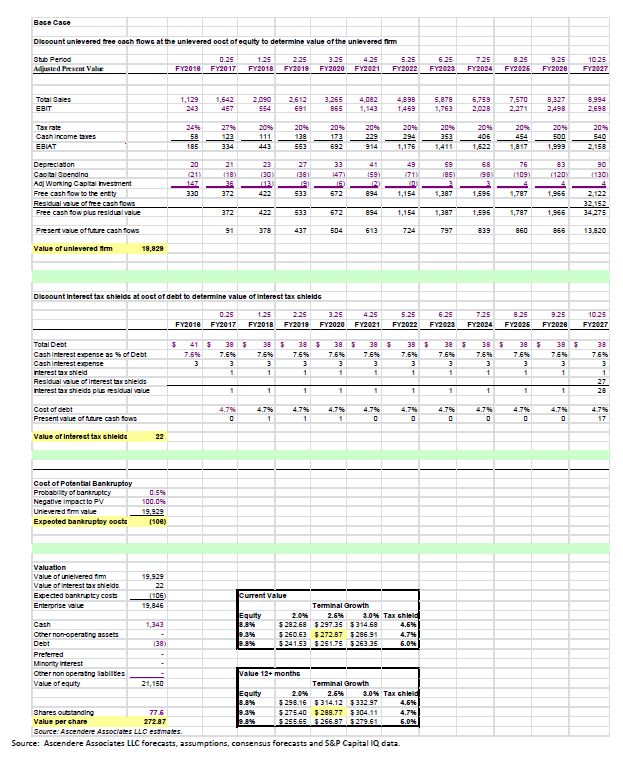 Risks
We make no guarantee on the accuracy of the data, estimates, assumptions or forecasts in this report. This report is for informational purposes only, and is not a recommendation to buy or sell any security. Investing in any stock entails a high degree of risk, including the risk of total loss. Please read about some key risks associated with the model portfolio strategies and associated equity research, as well as our disclosures and disclaimers below and on our welcome note.
For market-beating long/short and buy-and-hold model portfolio strategies, and in depth fundamental research on a promising name each month, please consider a free two-week trial to our model portfolio and equity research service, Fundamental Momentum.
Disclosure: I/we have no positions in any stocks mentioned, and no plans to initiate any positions within the next 72 hours.
I wrote this article myself, and it expresses my own opinions. I am not receiving compensation for it (other than from Seeking Alpha). I have no business relationship with any company whose stock is mentioned in this article.