This report covers the week ending February 16, 2018. Daily data for February 10, to February 15 is estimated. Daily data for February 16 is forecast. To read last week's report, please click here.
Total Supply/Demand Balance
We estimate that aggregate demand for American natural gas (consumption + exports) totaled around 680 bcf this week (down 8.0% w-o-w, but up as much as 16.0% y-o-y). The deviation from the norm stayed positive and increased from +12.0% to +14.0% (see the chart below). According to our calculations, aggregate demand for U.S. natural gas (on a weekly basis) has been above the 9-year norm since February 24, 2017. The number of heating-degree-days (HDDs) was relatively normal and slightly above normal through most of the week, but then fell sharply towards the end of the week.
Heating demand was most pronounced in Central and Midwestern parts of the country. Total exports increased 1.0% w-o-w, primarily because of stronger pipeline flows into Canada. LNG demand was relatively unchanged. According to Marine Traffic data, no less than 4 LNG tankers (total natural gas carrying capacity of 14 bcf) departed from Sabine Pass over the past seven days. In annual terms, total exports were up 22%.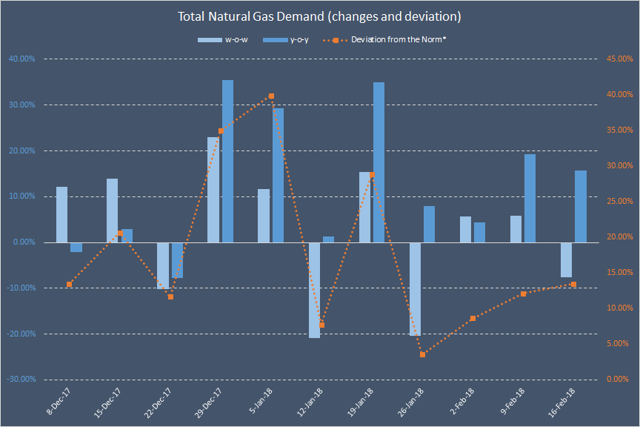 * Norm defined as simple average over the last nine years. Source: Bluegold Research
We estimate that dry gas production has been expanding in annual terms for 37 consecutive weeks now. However, the growth rate has slowed somewhat over the past few weeks, but remains positive. Currently, we estimate that dry gas production will average 78.1 bcf/day in February, 79.3 bcf/day in March and 79.4 bcf/day in April.
Total aggregate supply of natural gas (production + imports) averaged just around 86.2 bcf per day for the week ending February 16 (up 8.0% y-o-y). Overall, total supply/demand balance should be negative at around -75 bcf. It is the eleventh negative physical balance this withdrawal season. This negative volume is some 52 bcf smaller than a week ago, and 8 bcf above the 5-year average for this time of the year (see the chart below).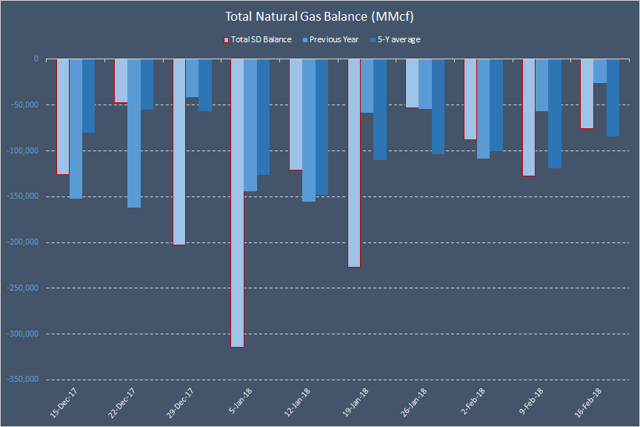 Note that the total Supply-Demand Balance does not equal storage flows. Source: Bluegold Research
In absolute terms, and with all other things being equal, this kind of volume is neutral for natural gas prices, since it is below last year's level, but also above the historical norm. However, the market is forward-looking and at this time of the year (ten days before the March contract expiration), the market is already starting to focus on the injection season. At Bluegold Research, we provide 8-week storage outlook as well as an end-of-season storage forecast. We will begin covering injection season from tomorrow. Consider signing up, if interested (see the link below).
Storage
Today, the EIA reported a draw of 194 bcf. Total storage now stands at 1,884 bcf, which is 433 bcf (or 18.69%) below the 5-year average for this time of the year.
Currently, we expect EIA to report a draw of 123 bcf next week (final estimate will be released next Tuesday). Our latest projection is smaller than the comparable figure in the ICE's latest report for the EII-US EIA Financial Weekly Index. Overall, at this point in time, we expect storage flows to average -99 bcf over the next three reports. Natural gas inventories' deviation from the 5-year average should narrow from -18.69% today to -17.51% for the week ending March 2.
Thank you for reading our weekly report. We also write a daily update of our forecast for key natural gas variables: production, consumption, exports, imports and storage. Interested in getting this daily update? Sign up for Natural Gas Fundamentals, our Marketplace service, to get the most critical natural gas data.
Disclosure: I/we have no positions in any stocks mentioned, and no plans to initiate any positions within the next 72 hours.
I wrote this article myself, and it expresses my own opinions. I am not receiving compensation for it (other than from Seeking Alpha). I have no business relationship with any company whose stock is mentioned in this article.