Within 45 days after the end of each quarter, institutional investors with at least $100 million in assets under management are required to file a Form 13F with the SEC. Many wait until the last possible date.
Why Is Ownership Information Important?
After a well-known hedge fund manager or an institutional investor has had a good run with a previous investment, many retail investors follow them into their "latest pick." An example of this is after Carl Icahn realized out-of-this-world returns with Netflix (NFLX), many retail investors followed him into Apple (AAPL).
Depending on who's lately been on a hot streak, the list of names retail investors follow change fairly frequently. Everyone and their mother heard, for example, when Carl Icahn bought a sizable stake in Apple after his 10-bagger in Netflix, but how many do you think know about his latest investments after his massive losses on a Hertz (NYSE:HTZ) Double Down? Not me.
Valentine's Day Kiss For Elon
In July of 2017, I pointed out that Joshua Spencer of T. Rowe Price had sold his fund's Tesla (TSLA) shares in 2Q17, which turned out to be well timed, as the stock has since remained flat, even though the major indices have all rallied.
In November of 2017, however, I pointed out to Value Portfolio members an Interesting Note From T. Rowe Price that an article was hinting at the improving sentiment among T. Rowe's portfolio managers, and concluded that:
T. Rowe Price is an important institutional investor that has invested in Tesla for a long time. The above comments may mean that T. Rowe is looking to buy back the millions of shares it sold earlier this year, at a lower price, with a higher intrinsic value estimate. This is a significant development.
And that's exactly what happened.
T. Rowe Doubles Down
T. Rowe Price yesterday announced that it increased its position in Tesla from 5.1 million shares as of September 30 to 10.8 million shares as of December 31, which amounted to a $3.5 billion position, or 6.4% of the company. T. Rowe is now the third largest institutional investor in Tesla:
Key Investor Takeaways:
The top 3 institutional investors now own 40.4 million shares, and along with Elon's 37.9 million shares and Tencent's (OTCPK:TCEHY) 8.3 million shares, the majority of the company is now controlled by only five investors. This is significant.
The top 15 institutional investors have cumulatively added nearly 4.4 million shares in 4Q17.
Not All Investors Are On Board
The following graph illustrates the short interest in Tesla: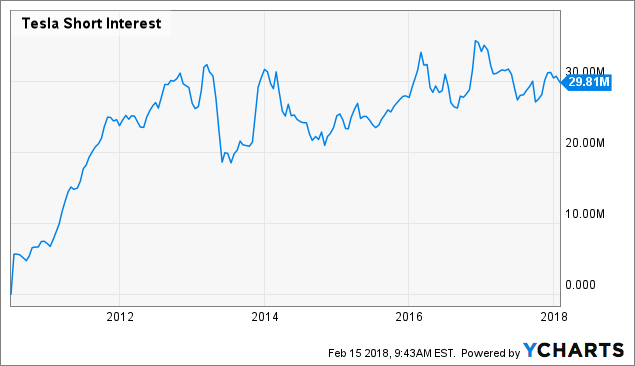 As of January 31, the short interest remained at near all-time highs of 29.8 million shares, or nearly $10 billion, second only to Alibaba (BABA) in absolute value. Tesla remains the most heavily shorted large capitalization company per percent of shares outstanding, and the following is a representative graph: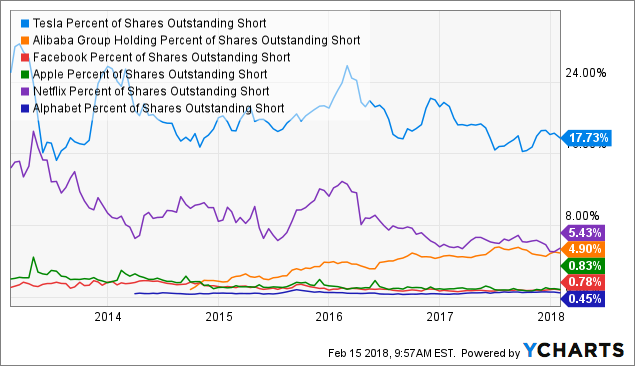 Bottom Line
The combination of near unprecedented concentration on the bull side and near unprecedented short interest on the bear side means that investors could soon face near unprecedented volatility. Given the ongoing turbulence in major indices, both sides may want to limit their risk by using hedging strategies or by employing less, if any, margin.
As for me, I remain long. Tesla is executing on its mission, slowly but surely, and VIN trackers popping across the Internet all point to increasing Model 3 production. Most importantly, management is now guiding "quarterly operating income to turn sustainably positive at some point in 2018," which is exactly what I had predicted as early as July of 2017 in When Will Tesla Join The S&P 500? You can find my detailed three-year quarterly forecast by product line and by expense line item here.
Follow For Free Articles
If you enjoyed this article, please click "Follow" next to my name. Your support will allow me to invest further time and resources into creating proprietary research for you.
Premium Research
If you're interested in my investment methodology and other holdings, join Value Portfolio. I'm confident that you will find my fundamental research to be insightful, and I look forward to discussing ideas with you.
Disclosure: I am/we are long TSLA, BABA, FB.
I wrote this article myself, and it expresses my own opinions. I am not receiving compensation for it (other than from Seeking Alpha). I have no business relationship with any company whose stock is mentioned in this article.