Every week after the EIA releases their Weekly Petroleum Status Report (WPSR) I download the updated files, consolidate them, and ultimately link them to a simple excel dashboard file which you can download for free at Excel-Data-Junkies.com. Open it up to follow along below, then let's discuss it in the comments section below. For a methodology review take a look the intro "Data Download."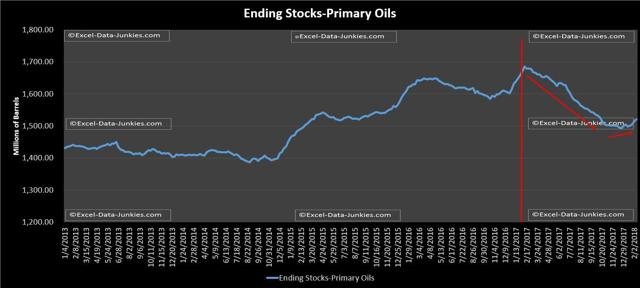 Looking at primary oil inventories charted above we can see that exactly one year ago with the 2/10/2017 WPSR US stocks of primary oils peaked at an all-time high of 1.685 billion barrels, nearly 300M bbls over the 2013-2014 Baseline of about 1.400 billion barrels. The following week kicked off an impressive 38 week decline that decreased inventories an average of 5M bbls a week, settling 183 million barrels lower at 1.502 billion barrels in early November. For the next two months inventories pretty much flat-lined but are now headed back up again with 4 straight weeks of gains totaling 23M bbls. Oil (USO) powered through $60 on the strength of that 38 week run of inventory draw-downs, so it shouldn't be a big surprise that on the heals of a trend reversal and surging US production oil has taken a breather in the last few weeks.
The big question is of course, where to from here? Will the 2017 pattern repeat, bringing another 38 week 183 million barrel draw and possibly powering oil past $80? Or are these last 4 weeks of builds an ominous warning signaling that "lower for longer" has at least another year of punishment in store for the energy sector?
We will have to wait and see but the most likely scenario in my opinion is somewhere in between. A repeat of 2017's record draw seems unlikely. First and foremost, the US production is 9.1M bbls a week higher than it was a year ago while consumption is up less than 2M bbls a week. All else equal, that's a million bbls a day that needs to be offset either by lower imports or higher exports. If we look at what happened in 2017, that's exactly what happened, but those bbls are already baked into the cake for 2018 so I don't think we will see another massive inventory draw this year. My best guess is that we will continue to see moderate builds on average from here through April or mid May followed by moderate declines throughout the summer months.
For the Bulls
If $60 oil isn't good enough for you, there is at least a ray of hope from of all places our good friends at OPEC.

Through six weeks of 2018, imports from OPEC are averaging just under 2.5M bbls a day, nearly half a million bbls a day under the 2017 average thanks mostly to Saudi Arabia and Venezuela. It took them a while but they finally figured out by the middle of last year that the only way to make the world believe them was to target their cuts at the US's highly visible and generally trustworthy weekly inventory data. Keep a close eye on this trend if not the weekly noise. If it continues heading lower it will indicate that OPEC is perfectly happy to keep conceding market share in exchange for price stability. If we get a few weeks of 4.0Mb/d+ like we did last spring from OPEC...watch out below.
Gut Feeling
For me, $60 oil feels about right in the big picture, $66 was just too far and too fast. However, if we keep building inventories at this pace for the next few weeks I could see it spooking the market and pushing Oil back to $55 or even lower. The fact remains, inventories are building again driven by record high production. While demand is up YOY it's still seasonally weak so we are going to have to wait a few months for another chance to start burning down inventories again.
Remember to download the excel dashboard for free at Excel-Data-Junkies.com. The dashboard allows you to easily chart over 100 EIA data series with some going back to the early 1980's.
Disclosure: I/we have no positions in any stocks mentioned, and no plans to initiate any positions within the next 72 hours.
I wrote this article myself, and it expresses my own opinions. I am not receiving compensation for it (other than from Seeking Alpha). I have no business relationship with any company whose stock is mentioned in this article.