Farmland Partners (FPI) has a special place in my heart. It was the stock that first inspired me to start writing for SA. It seemed so glaringly obvious to me that FPI was in trouble, yet it was the subject of glowing reviews, promises of upside and broad macro arguments (e.g. people have to eat).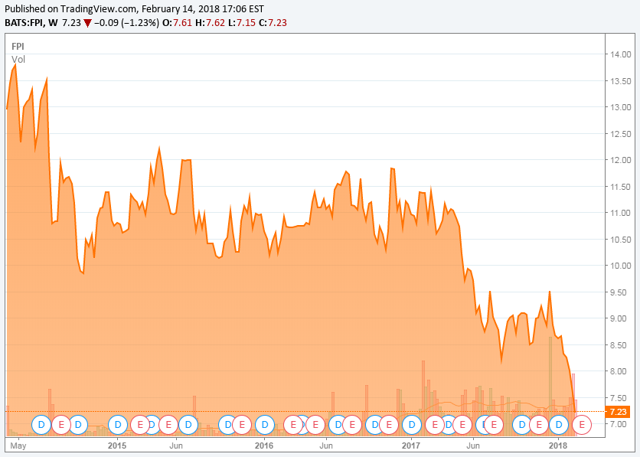 Source: Tradingview.com
I would like to think that my warnings saved at least a few people from investing as FPI lost a significant amount of its value through 2017. Now that 2018 has proven to be a rough start for the market in general and REITs in particular, has FPI finally fallen to an attractive price?
The Fundamental Problem
The core problem for FPI has not changed. They paid top dollar to buy real estate that is entering a period of declining rents. Land that was already been purchased at very low cap-rates has seen rents decline even further. With a declining share price, FPI does not have the liquidity for more acquisitions to help offset the rent reductions in their existing portfolio.
To fight this problem, FPI has chosen to start restructuring their leases. Initially, they opted for triple-net cash leases, in which FPI was reimbursed for most expenses and the payments were fixed.
New leases include a crop-sharing element and in exchange, FPI is taking on the burden of property taxes.

Source
It is my belief that it is this new structure that allows FPI to claim that their annual rents have stopped dropping, when all third party information suggests that rents have continued to drop among FPI's largest investment, mid-west commodity crops.
With the crop-sharing element, these leases could increase, if the price of corn increases.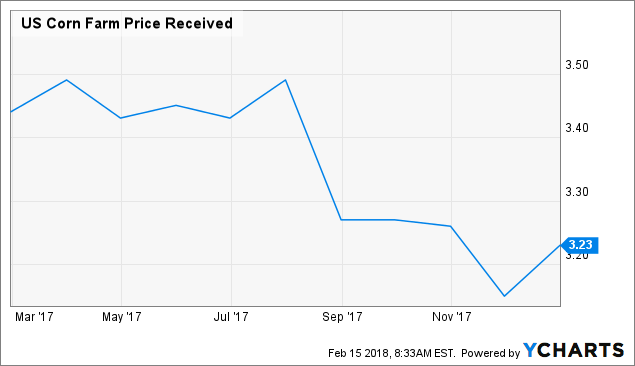 However, corn has shown no indications of a recovery. Quite the opposite, it continued down throughout 2017. According to Gary Schnitkey, head of the Department of Agriculture and Consumer Electronics at the University of Illinois, cash rents will continue to decline in 2018.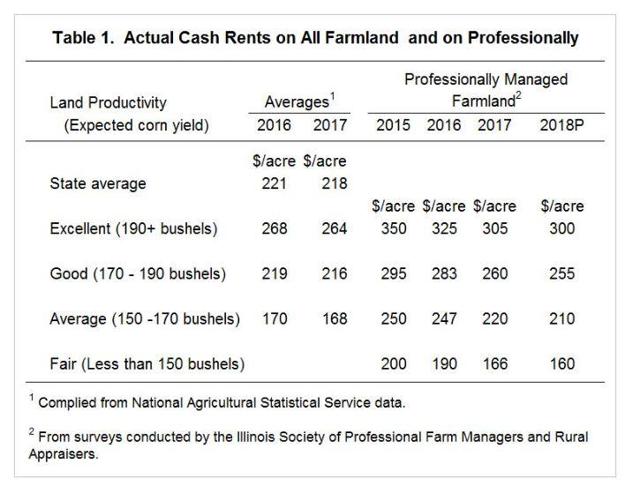 Source
Furthermore, even with declining rents, farmers are not expected to profit in 2018.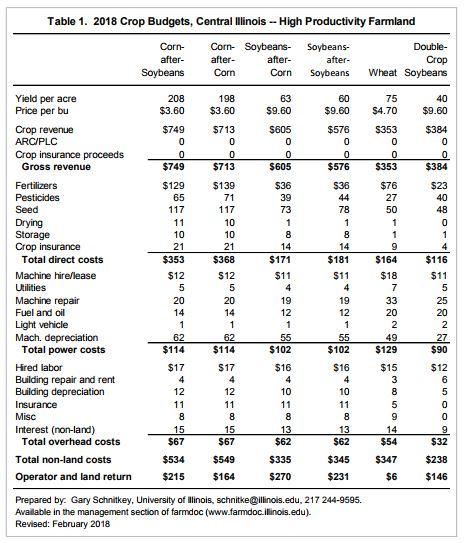 Source
The report notes,
Negative returns are projected for cash rented farmland at average cash rents, given that yields are at trend levels and prices are near fall delivery prices. For farms to be profitable on corn-after-soybeans, either yields or prices must be higher. Take a $300 operator and land return as an example. A $300 return would allow payment of a $260 cash rent and a modest return for the farmer. For corn-after-soybeans to generate a $300 return, yields would have to be 231 bushels per acre, given that all other prices and costs are as shown in the budget. That yield is close to the exceptional yields of 2016 and 2017. Alternatively, a $4.00 corn price would generate a $300 per acre return given a 208 bushel per acre yield and $534 of non-land costs shown in the budgets. As noted previously (farmdocDaily, January 30, 2018), either exceptional yields or above $4.00 corn prices are needed for reasonable returns in 2018.
(Emphasis author's)
Something has to give. Farmers are only going to be willing to eat operating losses for so long, and the $4 corn they need is nowhere in sight. 2017 was saved by record corn yields, and due to their crop sharing, Q4 should look decent. Is FPI going to be so lucky in 2018?
The Dividend
Even if FPI hits the high end of their AFFO guidance, $0.37/share, they were significantly short of their $0.51 dividend in 2017. Investors should be wary because at Q4 earnings, it might appear that the dividend is covered due to increased crop-sharing revenue. Following quarters will not have the same run-rate.
FPI still needs to find growth. From the proceeds of their preferred issuance, they have only a single purchase of the Olam property in California. While I like that particular transaction, it is not significant enough to make up for the $4 million dividend shortfall.
Considering that the expected reductions in commodity crop rents are small for 2018, it is reasonable to expect that new drops will be offset by the rest of the portfolio. However, there is no obvious place for significant growth and no obvious source of capital for new acquisitions. Without new acquisitions, the dividend will not be covered in 2018 and there is no guarantee that things will improve in 2019 or 2020.
It seems clear to me that FPI will need to cut their dividend. A 20-30% cut would allow the dividend to be covered from current cash flow with a cushion. Then FPI can hunker down and survive until the market turns around.
Expectations
Since Q4 numbers are likely to be relatively strong, I do not expect a dividend cut announcement immediately. FPI might have hopes that a strong Q4 would rebound common share prices to a point where they can issue new shares.
Failing a surge, I expect that a dividend cut could be declared at any time. The sooner, the better for the company. However, such major decisions are often procrastinated much longer than they should be. Could FPI drag it out another year? Yes. But the longer they wait, the deeper the hole gets.
The bottom line is that the dividend is not covered, and will not be covered through organic growth. The cut is coming and the only question is when. For those who think this REIT is viable long term, they should wait for the cut and a much better entry price.
Disclosure: I/we have no positions in any stocks mentioned, and no plans to initiate any positions within the next 72 hours.
I wrote this article myself, and it expresses my own opinions. I am not receiving compensation for it (other than from Seeking Alpha). I have no business relationship with any company whose stock is mentioned in this article.