Volatility was extremely low in the last few months, and stock prices continually climbed from record high to record high as if stocks only know one direction. Since the election in November 2016 it seemed like stocks couldn't decline any more and the POTUS could at least brag with great performing stock markets – like he had anything to do with it. Finally, the stock market seems to get interesting again and it is time not only to look at single stocks and analyze single companies, but face the big picture once again. There are some important questions that need to be answered: Is the worst already over? Is it the time to invest big? What is going to happen? What to do now?
The Worst Is Over?
Last week the S&P 500 (NYSEARCA: SPY) hit the 200-day simple moving average (SMA-200) for the first time since November 2016. The Dow Jones Industrial Average (NYSEARCA: DIA) as well as the Nasdaq-100 managed to reverse a few points before actually hitting the SMA-200. The 200-day moving average is not just a technical indicator that gets a lot of attention. For many investors it is also the demarcation line between bull and bear markets – if stocks or indices fall below the SMA-200 investors usually call it a bear market. As the SMA-200 is therefore also the last defense line for the bulls, in many cases it pays off to invest whenever the stock market hits that line.
Aside from hitting the SMA-200, we could also witness one of the most extreme sentiment changes for a long time. The CNN Fear&Greed Index changed from extreme greed a month ago (75) to extreme fear right now (10). Sentiment is often a contra-indicator, and the extreme fear of further declines is at least a hint that for now, the worst is over and the U.S. stock market might stabilize again.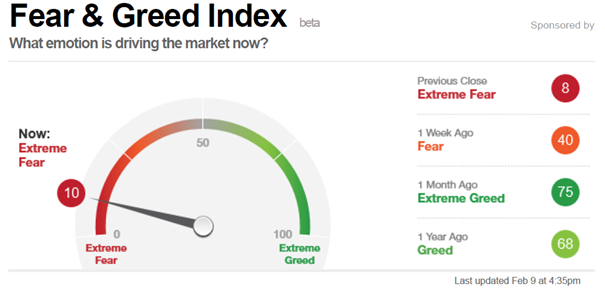 (Source: http://money.cnn.com/data/fear-and-greed/)
Time To Invest Big?
In the past, the 200-day simple moving average has often been a good entry point and the extreme fear also speaks for climbing stocks. So it is the time to invest big, right? Well, NO! Just because we are not expecting declining stocks right now doesn't mean the market is cheap and undervalued.
But despite having some reasons to expect a stabilization in the stock market, it is certainly not the time to invest big right now. And in my opinion, being hesitant is well-founded on several grounds. Despite the about 12% correction in the S&P 500 and the fact that all three major U.S. indices are about 9% below the former highs, valuation metrics are still extreme.
As most of us know, there are different ways to measure the valuation of the stock market. Advisor Perspectives is providing many different valuation metrics and updates the articles on a monthly basis. There is, for example, the so-called "Buffett Indicator": market cap compared to GDP. Depending on what is used as measurement for market cap, the indicator is almost as high as in 2000 or even slightly higher than in 2000 and hence the highest since 1950. Another way to measure the market is the 10-year price-earnings ratio (or CAPE). After the latest correction, the CAPE is slightly above 30 right now, and although we are not at 34 any more (like two weeks ago), the stock market is still extremely overvalued. Another valuation metric and a variation of the "normal" CAPE ratio is provided by John P. Hussmann on a regular basis in his articles – the margin-adjusted CAPE. While the "normal" CAPE was only the second highest for more than 100 years (only the Dotcom Bubble created higher valuations), the margin-adjusted CAPE was recently even higher than in 2000. A 10% correction is definitely not enough to get from highest valuation in history to normal valuations again.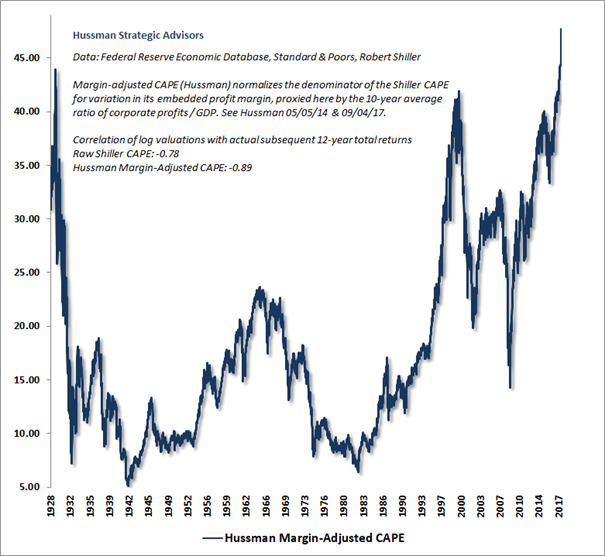 We still have extremely high debt levels. With government debt being higher than the gross domestic product (105.4%) and private debt being twice as high as the GDP of the United States (199.6%), I think enough on that topic has been said.
Among the arguments provided by the bulls about why the rally must continue after 9 years, many people mention the high GDP growth rates as well as the low unemployment rates. First of all, the GDP growth is not impressive but only average. The data provided by the U.S. Bureau of Economic Analysis shows GDP growth at 2.6% in the last quarter and 2.3% for the full year – no reason to be impressed.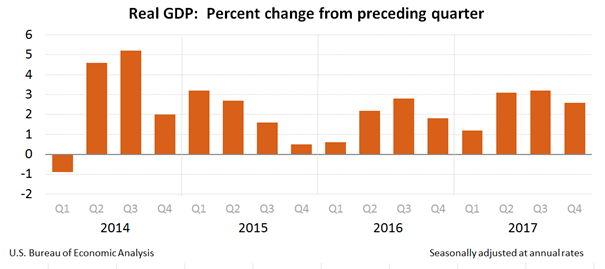 A second argument that is often presented with the growing GDP rate is the extremely low unemployment rate. It is true that the weekly unemployment insurance claims are at the lowest level in over 40 years. But if we look at the last 50 years of data (see chart below) everybody should recognize a pattern. During a recession, the unemployment insurance claims rise dramatically within a few months and then slowly decline again as the economy recovers. More and more people get employed again, and the unemployment rate as well as the weekly unemployment insurance claims go down. Does a low unemployment rate mean we will hit a recession? No, it does not. But to assume a thriving economy and stock market because of the extremely low unemployment rate is just wrong. At the end of a cycle, companies invest, the debt levels are high and many people are employed as the companies see the future as optimistic. But every cycle ends the same way: debt levels have to come down, unemployment rises and the stock market goes down.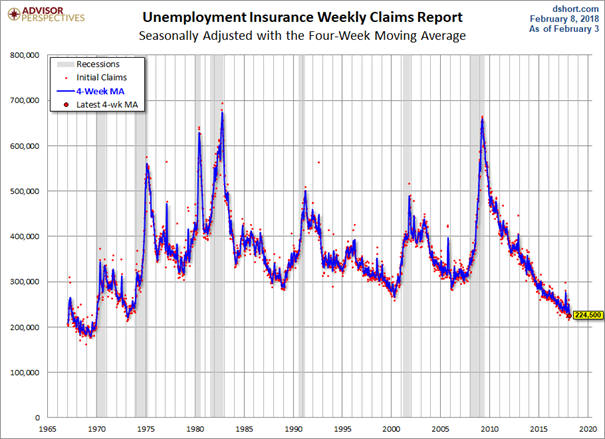 (Source: Weekly Unemployment Claims: Down 9K, Better Than Forecast - dshort - Advisor Perspectives)
While short-term sentiment (measured by the CNN Fear&Greed Index) shows rather fear than greed, the bigger underlying picture is still one of extreme greed. A good example is the recent article "Be Prepared For A Crash – Part II" by William Koldus. The author was not just heavily attacked by some readers for a rather bearish article, but the comments show how many people don't realize any more that stocks never climb for eternity and that valuations not only matter but are at extremely high levels. From interesting definitions of what qualifies as a crash (the Dow Jones Industrial Average losing 30-40% within a few days) to claims that nobody who is alive today was fortunate enough to live in such a good investing environment as today, I could see all the classic signs of extreme greed and euphoria that characterize the final stages of a stock market rally. Cautious analysts writing about overvalued markets are disqualified in comments by comparisons to a broken clock (that also shows the right time twice a day) and are basically idiots who are not getting it (the rally?). And of course, we have commentators questioning traditional valuation metrics: Amazon (Nasdaq: AMZN), for example, can't be valued like other companies because Jeff Bezos continues to reinvest earnings, which justifies the high multiples. And other companies? Right, these companies take the generated cash flow and make a big bonfire in the backyard and dance around it.
What Is Going To Happen?
Of course, I don't know what is going to happen. Like everybody else, I can't predict the future and don't know what the market will do tomorrow, a week from now or in 2019. We can only assume different scenarios and try to estimate probabilities for these scenarios, but in the end, we have to be prepared for every realistic outcome (as far as possible) as we don't know what the future will hold. In my opinion, three scenarios are imaginable.
Scenario I: The stock market will continue to climb and we will see new record highs (5% probability)
Considering the SMA-200 as major support level and the temporary fearful sentiment, I think it is possible that stocks will bounce after the 10% decline and it is also possible that the three major indices will reach the January highs once again (or at least come close). In an extremely unlikely scenario, stocks will not only reach former highs, but continue to climb and set new records in the next weeks and months. There is hardly any reason for the stock market to continue its rally. However, it is not impossible for this madness to go on and therefore I will assign this scenario a 5% probability.
Scenario II: The stock market will go down further, but not crash (25% probability)
The second scenario doesn't describe a real crash or long-lasting decline for the stock market, but also expects further declines as we haven't seen the temporary low yet. In this case, the stock market will decline about 20% overall and after a stabilization over the next few weeks, a second decline will follow. Considering again the high debt levels and still extremely high valuations, I would be surprised if the stock market will not decline more than 20% overall. Fundamental factors wouldn't justify a rising stock market – even if valuations are 20% lower as they have been in January 2018. But on the other hand, I wouldn't rule it out that we only witness a steep correction and not a stock market crash.
Scenario III: The stock market will go down 50% and more (70% probability)
Considering the high debt levels, the extremely high valuations and the greedy sentiment, the most likely scenario is a huge decline of the stock market. I think the chances that we will witness a decline of 50% or more in the foreseeable future are rather high. It doesn't really matter if it is a crash (decline within a few months) or a slow decline over a few years (like in 2000 after the dotcom bubble).
What To Do Now?
We can't be prepared for all three scenarios at the same time, but the strategy is always the same: We search for undervalued, high-quality stocks that we are going to hold (almost) forever, and we don't have to worry about short-term price fluctuations. The only aspect that will change in case of a stock market decline is the number of companies that will be cheap and a good investment. And in case of a 50% drawdown we will have the chance again to pick up some superb and flawless companies that will not just be undervalued, but priced like they are about to fail (a chance we don't have right now).
Although it is very hard to find them, there are some companies being already undervalued and a good investment. For the overall equity market in the United States, I would advise against buying the dip. But following a buy-and-hold-forever strategy we can invest in companies with a wide moat that are cheap right now and/or in companies paying high dividends. High-quality companies can be held, even if they have to suffer through a temporary decline. We can start preparing our watchlist and look for stocks of high-quality companies, that are almost cheap. Starbucks Corporation (Nasdaq: SBUX), Compass Minerals (NYSE: CMP), McKesson Corporation (NYSE: MCK) or CVS Health Corp (NYSE: CVS) are examples of stocks that are very interesting if they decline a little further (maybe about 10%).
Disclosure: I/we have no positions in any stocks mentioned, and no plans to initiate any positions within the next 72 hours.
I wrote this article myself, and it expresses my own opinions. I am not receiving compensation for it (other than from Seeking Alpha). I have no business relationship with any company whose stock is mentioned in this article.
Additional disclosure: I own certificates profiting from a declining Dow Jones Industrial Average as well as a declining Nasdaq-100.