Last week we published "How Did GE Mess Up Its Baker Hughes Acquisition?" and promised to follow up with an article on GE's (NYSE:GE) acquisition of the Alstom Power (OTCPK:AOMFF) (OTCPK:ALSMY). GE's poor track record of deal making can be best summarized in these two marque transactions. Both transactions boosted the potential to transform GE into a better version of itself and investors were convinced it was the right thing to do at the time. If the biggest mistake for GE's investment in Baker Hughes was the short few months between closing and a potential exiting, we would argue GE has absolutely outdone itself by acquiring the Alstom assets at the worst possible time. The pain from GE Power is so deep and so plain that every single investor on the street knows about it. How did such a transformative deal ended up being the laughing stock of corporate America?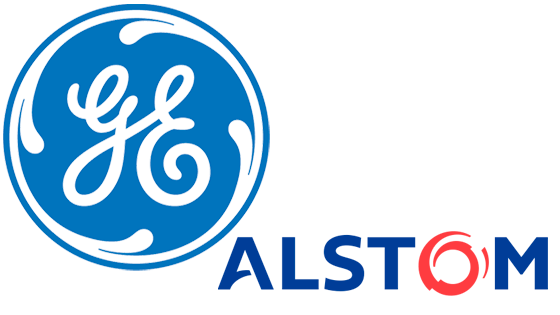 Transaction Overview
It all started when GE announced its acquisition of Alstom's Thermal, Renewables and Grid businesses on April 30, 2014. GE closed the transaction on November 2, 2015, after a lengthy regulatory review process. The closing of the transaction was achieved after receiving regulatory approval in over 20 countries and regions including the EU, U.S., China, India, Japan, and Brazil. The transaction represents GE's largest-ever industrial acquisition.
Purchase Price: $13.5 billion (€9.9 billion) enterprise value including $3.4 billion (€2.5 billion) of net cash.
Transaction Multiple: The announced all-cash transaction valued the Alstom assets at 7.9 times pro forma EBITDA which implies EBITDA of $1.7 billion. GE also listed 4.6x multiple with run rate synergies based on synergy target of $1.2 billion by year 5.
Assets Acquired: What GE ended up acquiring is Alstom Energy (Thermal Power, Renewable Power, and Grid) and three 50/50 JVs (Grid, Renewable, Nuclear and French Steam).
GE Signaling: As part of the final deal GE agreed to sell its Signaling business to Alstom, which eventually combined with Siemens' rail business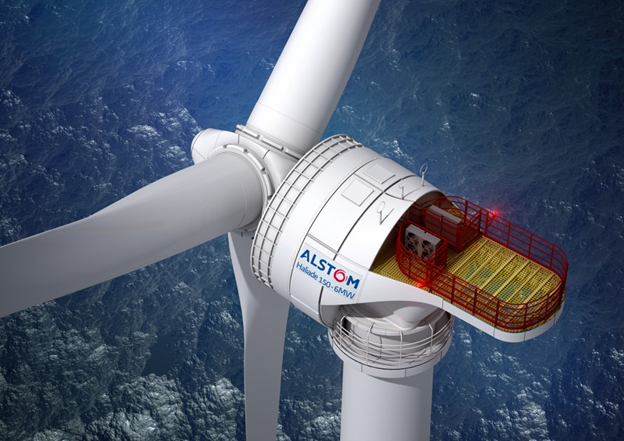 `
Strategic Rationale
Clearly, GE saw great value in this transaction that would essentially be doubling down on the Power & Water segment. GE listed four major investments highlights at the announcement of the deal. At the time of the announcement, then CEO of GE, Jeff Immelt, announced:
This is a strategic transaction that furthers GE's portfolio strategy. Power & Water is one of our higher growth and margin industrial segments and is core to the future of GE.
1. Transaction enhances GE's position as the most competitive Infrastructure company with a specialty financial services business
GE wanted to acquire Alstom's Power & Grid assets because the transaction would have added significant scale that would move the needle for a conglomerate like GE. Alstom has over $20 billion in revenue and 65k employees all over the world. GE also liked the strong services revenue (one-third of total revenue) and $38 billion of backlog. The assets fit into GE's vision of becoming a global powerhouse for thermal power equipment.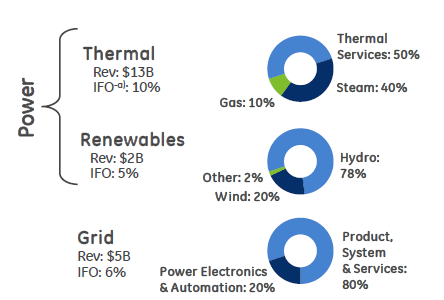 (GE presentation)
2. Alstom brings complementary technology, global capability, a large installed base and talent to GE
Besides the large installed base and scale, Alstom assets also fit into GE's global ambition as a majority of the revenue comes from outside developed world. As GE always mentioned in all of its deals, including Baker Hughes, is the benefits of combining technology and offer GE services to Alstom customers.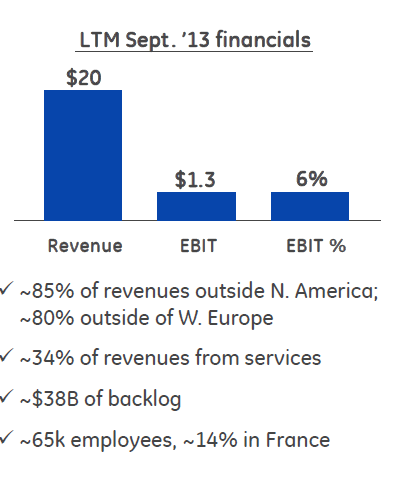 (GE presentation)
3. Enhancing the Alstom assets plays to GE's strengths … technology, growth-market capability, services delivering customer outcomes and a lean structure
GE envisioned its new Power & Water business to be the leader in its markets through advanced technology, broad global reach, large installed base with long-term service revenue and sustained growth. As we will see later that Thermal, representing the largest revenue source, will face significant headwinds and the lucrative Water segment will be sold leaving Services becoming a larger portion of its revenue.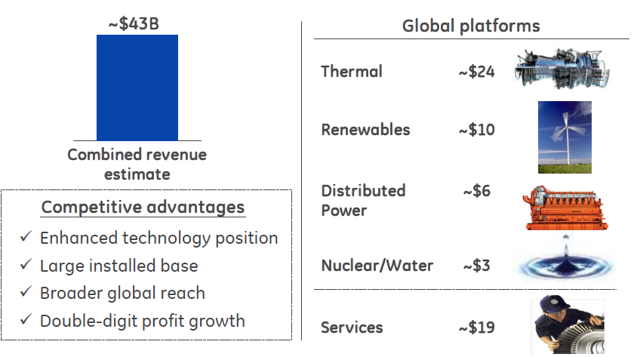 (GE presentation)
4. Transaction is financially attractive
Besides the scale and global reach, GE believed the deal was financial attractive with over $1.2 billion of synergies available within five years. The synergy was based on optimization of manufacturing and services footprint, combining procurement, optimizing R&D and consolidating support functions.
GE also disclosed that its initial assumptions included modest revenue growth (did not happen), conservative working capital assumptions (working capital went out of control), $1.2B cost synergies (remain to be seen but the layoffs in Power can no longer be counted as synergy) and the $4.0 billion debt financing will be paid down over 5 years.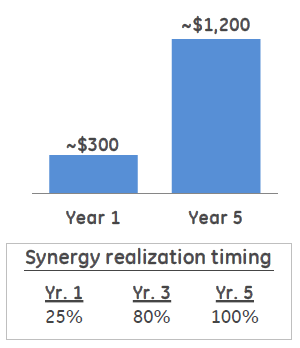 (GE presentation)
5. Long Heritage between the Two Companies
Alstom and GE had a long history and in fact, Alstom was formed after GE's former self, Thomson-Houston Electric Company, merged with Société Alsacienne de Constructions Mécaniques to form Alstom (originally called Alsthom). According to GE, the two firms had many ties with factories side by side, and even share a cafeteria. The long history between the two has definitely attributed to the strong preference from GE to acquire the assets.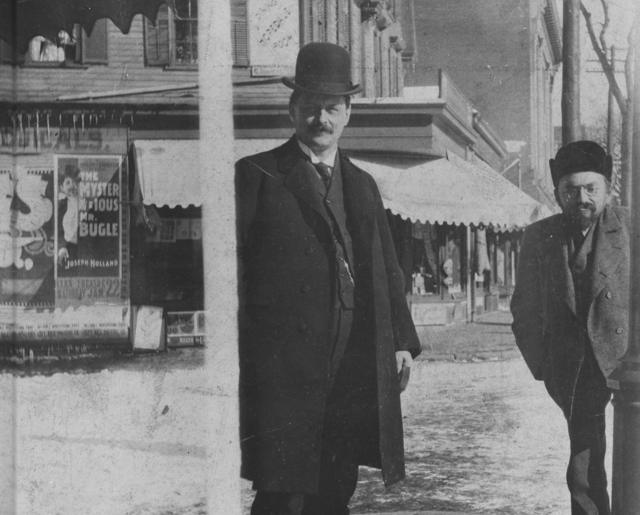 (Elihu Thomson and GE engineer Charles Steinmetz)`
Closing Condition
As part of the closing conditions, French government set out a few conditions that GE had to meet. GE was desperate to get the deal done and made promises that are proving to be painful now:
French government will acquire 20% of Alstom
Retaining a headquarter in France
Not only maintain existing employment levels but also to add 1,000 jobs by the end of 2018, which proved to be especially painful for GE after announcing thousands of job cuts around the world
Advocated Alstom keep its train-building operations and them acquire GE's train business; Alstom merged its rail business with Siemens later
GE made ambitious job creation promises to the French government. For each position that GE failed to create, the French government will charge 50,000 euros which translates into 50 million euros for the 1000 promised job creation. So far GE has created net 358 jobs since November 2015 so the French government has not had any objection. But the big promises made by the previous GE management team will have a double-whammy effect on the struggling Power business. As GE rivals start to slash costs and cut workforce, GE is unable to shrink its French workforce and in turn, has to increase employment levels in 2018.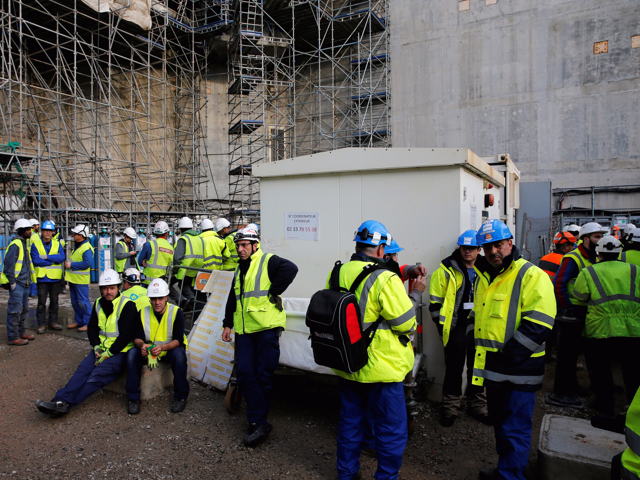 What Went Wrong?
There are a few things that did not go as planned which caused the situation to go out of control in the years following the acquisition. The market has certainly turned south since the acquisition as other peers have also faced severe downturn and announced layoffs. However, we think the softness in the market was only amplified by GE's poor execution and lack of leadership in navigating through a tough market. It is in our view that when times are good every management makes "good" decision, but it is when things get tough to do good management start to differentiate from the bad ones. Unfortunately, GE has proven times after times that it does not belong to the good side.
Opportune Timing?
GE touted in its investor deck that the acquisition was done at the opportune moment in the cycle and represents attractive long-term strategic business.

But in reality, GE most likely doubled down on an industry that is about to face some serious challenges in the years ahead. GE plunged into the natural gas power market but found itself facing increasing competition from renewable energy and cheaper oil and gas prices. The market for its natural gas turbines shrank so fast that operating income dropped more than 80% year over year in its latest quarter. The timing could not have been worse as GE paid some top dollars for assets that are likely impaired by a secular trend in the industry with no end in sight for its pain.

(Bloomberg)
Grossly Mismanaged
If the timing of the acquisition was a combination of bad luck and poor judgment, then the mismanagement at GE's Power business was 100% attributable to human error. What made the industry slump worse for GE Power is that it had exacerbated the problem by ramping up production when demand waned which resulted in a huge backlog of inventory. Cash flow was also severely depressed due to the falling operating income and rising inventory.
The result of the misjudgment? GE announced a layoff of 12,000 people from its Power business in December 2017. Most of the layoffs will be outside the U.S. and France won't be affected due to the deal GE agreed to with the French government. So GE acquired an asset that is impaired now but is stuck with part of its cost structure due to the prior commitment.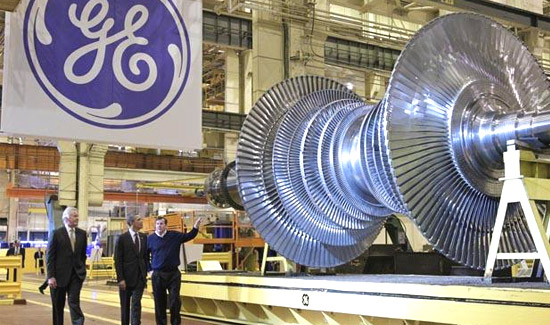 Management were also reshuffled as Steve Bolze was fired and Russell Stokes was promoted. GE also announced that it will fold its energy connections business into GE Power. The energy connection business provides electric power distribution and conversion equipment.
Flannery told investors that:
GE Power has "exacerbated the market situation with some really poor execution...Alstom has clearly performed below our expectations
Accounting Mystery
One of the biggest selling points for Alstom's Power & Grid business was its large backlog of service contracts. At the time of acquisition, Alstom boosted over 350GW of installed base and $38 billion of backlog. A large service base and the large backlog has its benefits, namely the stable and recurring revenue from servicing existing clients. However, GE recently announced that SEC is currently investigating its revenue recognition and controls for long-term service agreements. The investigation was launched after GE disclosed a larger funding deficit for its long-term care businesses and pension plans. Others have long speculated that GE's accounting for long-term service contracts is aggressive and full of subjective assumptions. We think the acquisition has added to the opaque nature of GE's accounting and the larger backlog might have amplified any potential fallout from SEC investigation. If SEC were to require any changes in GE's accounting for its long-term contract the Alstom would have added to the pain by bringing in tens of billions of contract assets.

(GE Contract Assets, Bloomberg)
Sold the Wrong Thing? Again?
In March 2017, GE announced that it was selling its Water business to French utility Suez SA and a Canadian pension fund. The sale was a result of its combination with Baker Hughes (BHGE) which had an overlap with its water business. As we discussed at length in our recent article "How Did GE Mess Up Its Baker Hughes Acquisition?" the combination has not resulted in the expected benefits for GE shareholders. So GE pursued a largely unsuccessful deal with Baker Hughes and had to divest its profitable Water business which further weakened its Power business. GE management seems to have mastered the skill of "buy high and sell low" and unfortunately shareholders have suffered a lot of damages over the years through these deals.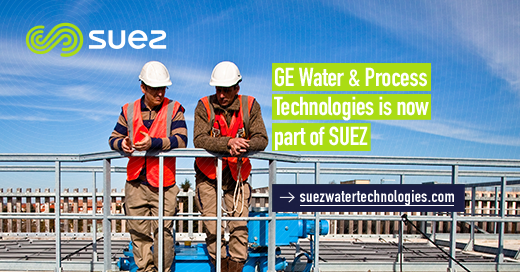 `
More Troubles Ahead? A Write-Off?
We think the next potential bomb that GE could drop on its investors is an upcoming write-off relating to the Alstom assets. The assumptions used by GE management to come up with its goodwill calculation potentially look too optimistic. If the auditors, especially under SEC investigation, decided that the Alstom assets have been impaired then a write-off in the billions would be inevitable. We think there is definitely the possibility of GE finding themselves overly optimistic and any impairment would no doubt cause significant destruction of shareholder value.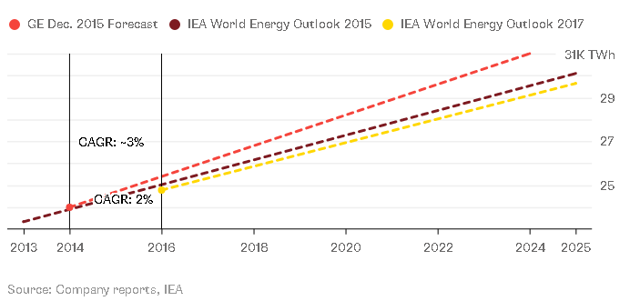 Summary
New CEO John Flannery said that the Alstom deal "has clearly performed below our expectations." We think that was an understatement as the deal clearly has not only failed to meet its initial expectations but also, to some extent, caused the recent collapse of one of America's largest and oldest industrial conglomerate. Despite the strong performance from Aviation and Healthcare, the weakness in Baker Hughes and Power managed to overshadow the success in other segments and GE has been trading at levels not seen since the financial crisis, in contrary to other members of the Dow.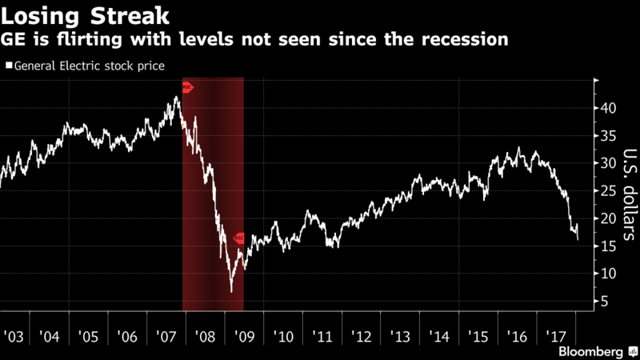 We think the acquisition of Alstom's Power Grid business was a perfect example where unfortunate timing plus mismanagement can result in negative impact to one of America's longest standing conglomerate far beyond one's imagination. The deal was done at sub-optimal timing but it was the misjudgment of management and slow response from executives that deepened the woes at GE Power and eventually led to the embarrassing loss of shareholder value. GE was aiming for 15% plus returns but has now conceded to single-digit return on the investment. We hope GE has learned its lesson from these two disastrous transactions (Baker Hughes, Alstom Power & Grid) and will make shrewd M&A decisions going forward.
We noted in our previous article Why GE Won't Break Itself Up that GE is unlikely to break itself up which means that management will face another task of divesting assets and reorganizing the remaining assets. We await to see how management will tackle the task of simplifying GE and hopefully won't repeat its past mistakes again and again.
Author's Note
We hope you found our article worthwhile. Consider "following us" to receive updates for future publications. Check out our series of articles on GE:
Editor's Note: This article discusses one or more securities that do not trade on a major U.S. exchange. Please be aware of the risks associated with these stocks.