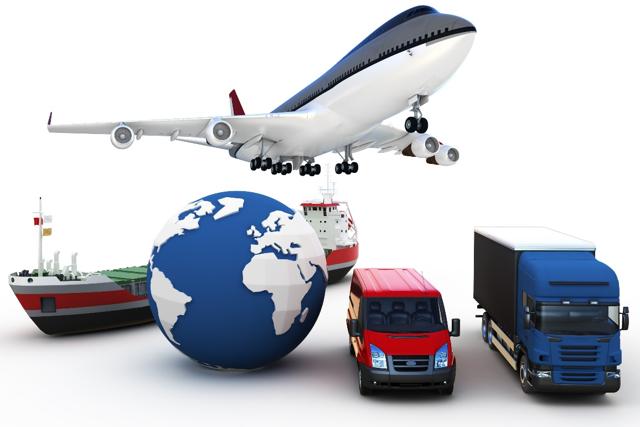 Source: Google Images
For the seventh week of 2018 on February 16th, both transports and broader market indices improved strongly. The increase in equity market volatility and interest rates has been written about extensively over the past few weeks with some claiming a direct inverse relationship and further downward pressure on equities as a result. I am in the camp of focusing on high-yield bond spreads and the close correlation with the CBOE Volatility Index (VIX). As such, recent impacts on equities are likely to remain temporal at best, with 2018 still offering another year of positive appreciation.
As this past week displayed, the VIX declined strongly and has reverted back to correlation with bond spreads. One can interpret this either way assuming that the recent VIX spike could still be an indication of rates climbing higher; or opposingly, assume that the VIX's future fluctuations will be more tempered. In any case, a more temporal impact still offers equity market upside potential, especially when considering economic variables at play.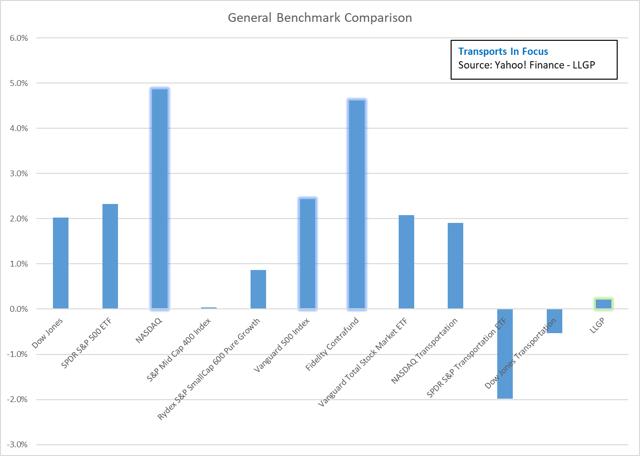 I manage the Lean Long-Term Growth Portfolio (LLGP). To date, performance stood at 0.2 percent, as highlighted in green. Market volatility has remained, but this past week saw a strong return to positive momentum. Whether this trend remains in place is uncertain, volatility may occur more so in 2018.
The three top performers remain the Fidelity Contrafund (FCNTX) and Nasdaq (IXIC) and the Vanguard 500 Index (VFINX). Most other major indices have performed close to the 2 percent level, while mid and small caps have underperformed. Transports have been mixed with the majority seeing negative results to date.
YTD 2017 SPY Vs. XTN Index Prices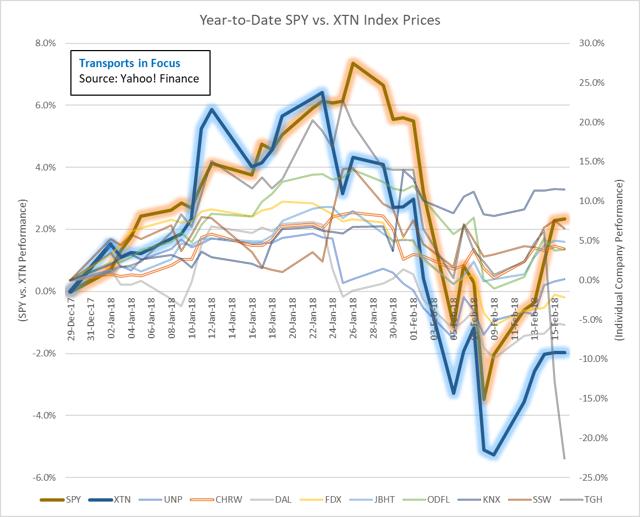 For 7th week of 2018, the spread between the SPDR S&P 500 ETF (SPY) and the SPDR S&P Transportation ETF (XTN) increased to 4.3 percentage points with the SPY lead widening. The SPY declined by 90 basis points (bps) to 2.3 percent, while the S&P Transportation ETF declined by 240 bps to -2 percent for 2018.
So far in 2018, February 8th/9th have been the low point. At this level, markets had witnessed an approximately 10 percent correction from the January peak. When looking at indices, the S&P Transportation ETF has been a leading indicator based on selling pressure. The opposite has been the case with last week's rally.
Rail Operators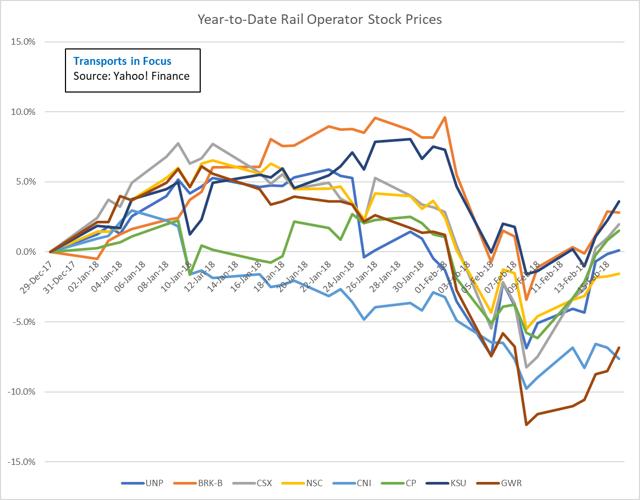 Rail operator performance was all up for the week. My top pick for 2018 continues to hold up the best, as Kansas City Southern (KSU) was up just below 4 percent. Canadian National (CNI) my other core holding has been the laggard down at nearly -8 percent. The story for rail operators is not as clear as it was last year. Some major commodities remain mixed, but pricing has so far looked steady.
The sixth week of 2018 saw a return to negative growth YoY (evenly split to start the year). The rate of growth declined from the previous week to -0.1 percent from last year. The most recent monthly Class I rail traffic report can be found here.
Railcar Manufacturers And Lessors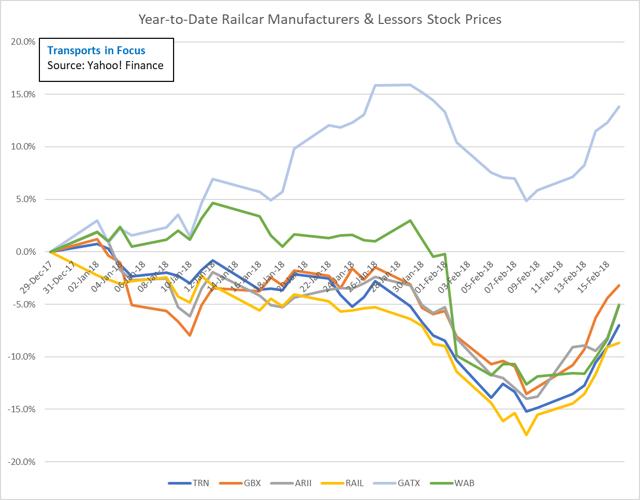 Railcar manufacturers and lessors were all up for the week, following rail operators higher. The noticeable anomaly remains GATX Corporation (GATX). This anomaly is not only the case for the rail industry, but also for leasing companies. Other industries including trucking and container lessors have been hit big of late, yet GATX continues to buck negative trends as performance stood at nearly 14 percent.
Rail operator volume remains off to a slower start for 2018. I continue to see no change to expectations for railcar manufacturing demand. As long as the economic cycle remains in expansion, railcar manufacturing demand will eventually rise leading to stronger performance from peers.
Truckload Carriers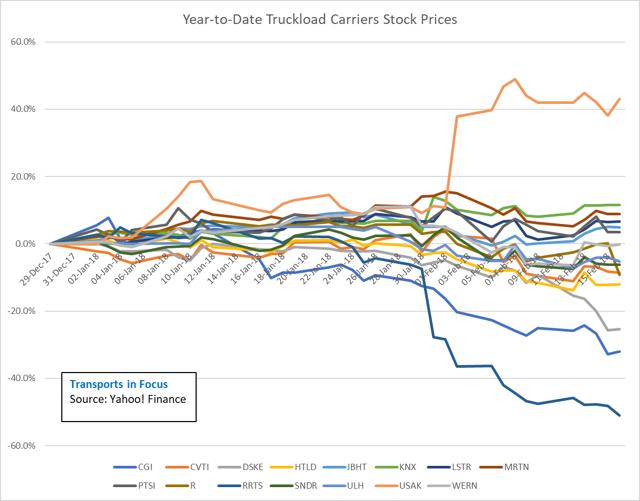 Truckload carriers were highly mixed for the week with eight of the 15 companies seeing improvement. I have been writing continuously over the past year regarding smaller companies being overvalued versus larger peers. As volatility has increased, smaller peers have been hit harder, which has historically been the case. However, I continue to see smaller peers as weaker long-term investments due to a lack of ability to generate organic growth.
Daseke (DSKE) in particular has seen a steep decline of 25 percent to start the year. Other small peers that have seen severe negative results have included Celadon Group (CGI) and Roadrunner Transportation (RRTS). Growth by acquisition has not been the best model for smaller truck peers, as this has led to complications regarding asset values and accounting.
Less-Than-Truckload Carriers
Less-than-truckload (LTL) carriers were up for the week, with the exception being YRC Worldwide (YRCW). YRC was unable to recover from the company's plunge over the past couple of weeks. Similar to smaller truckload peers, I view YRC and ArcBest Corporation (ARCB) as riskier plays.
Recent market volatility did provide opportunities to gain exposure to either Old Dominion Freight Line (ODFL) or Saia (SAIA). Additionally, investors should continue to consider larger diversified peers such as FedEx Corporation (FDX), United Parcel Service (UPS) or XPO Logistics (XPO).
Air Freight, Package And Delivery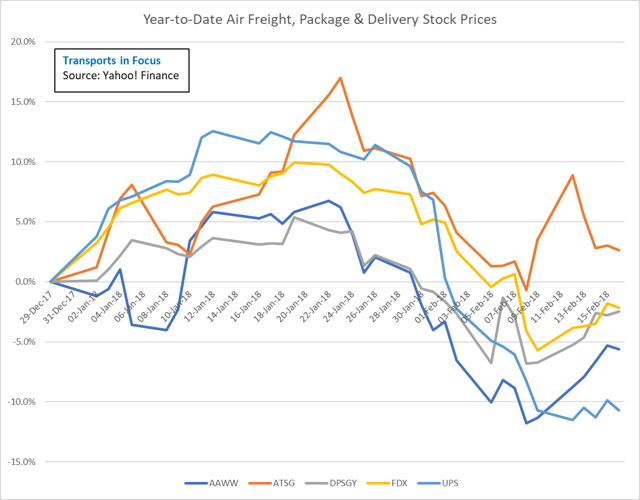 Air freight, package and delivery companies were up for the week, with exceptions being Air Transport Services Group (ATSG) and UPS. FedEx continues to be the better investment versus UPS. UPS once again finds itself as the laggard within this peer group. However, the tables may turn once the market gets back on track. I continue to like Deutsche Post DHL Group (OTCPK:DPSGY) and FedEx long term.
Amazon (AMZN) continues to keep some pressure on logistics companies. Despite expectations from some that the company may begin challenging larger peers like FedEx directly, the company continues to implement a leasing model rather than own its own transportation assets.
Contract Logistics, Forwarding And Brokerage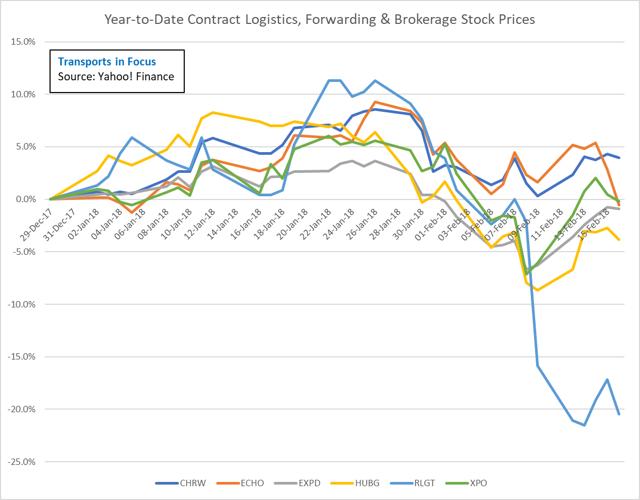 Contract logistics companies were mostly up, with exceptions being Echo Global Logistics (ECHO) and Radiant Logistics (RLGT). Radiant has struggled mightily since the company's earnings release. The company has been rumored to be an acquisition target by some analysts. I am of the opinion that smaller peers in the logistics industry have had similar challenges as those within trucking, stemming from an inability to grow without acquisitions.
On a more interesting note, some of the top logistics companies including DSV (OTCPK:DSDVF) and XPO are looking to make acquisition deals. XPO has announced up to $8 billion as a target number, while DSV has hinted at a mark closer to $2 billion. While purely speculative on my part, I continue to see strong value in a larger company making a move for Hub Group (HUBG).
Container Shipping Lines, Charter Owners And Container Lessors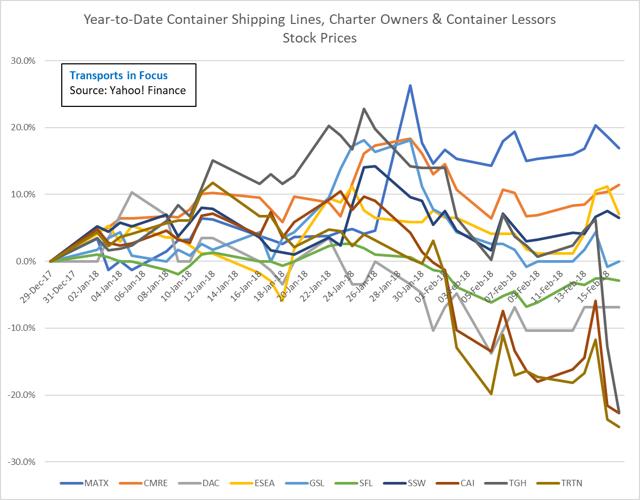 For the container shipping industry, last week's performance was up, with exceptions being container lessors. It was a very brutal week for container lessors as both CAI International (CAI) and Textainer Group Holdings (TGH) reported earnings. The market's reaction was to sell off container lessors, but there seems to be some confusion based on analyst questions and expectations. I view this as a case of not clearly understanding industry dynamics, and losing sight of key variables.
As I mentioned earlier, there have been conflicting patterns with equipment lessors. While GATX has seen strong performance, container lessors and Ryder System (R) have been punished after earnings announcements. However, there are similar fundamentals related to per diem contract rates and equipment sales. I see a buying opportunity for container lessors.
Airlines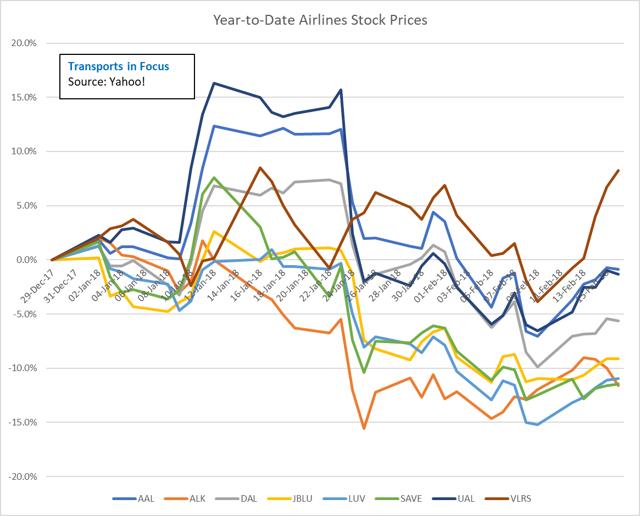 Airline stock performance was all up for the week. The only casualty over the last few days of the week was Alaska Air Group (ALK), which was downgraded by UBS. The downgrade comes amid speculation regarding Alaska Air's ability to compete in certain markets. Ironically, I view both Alaska Air and Southwest Airlines (LUV) as the top U.S. airlines to own as they have superior cost structures and service. Majors will also be hit harder during a correction/recession with global exposure.
Alaska Air's falling out of favor is typical and happens to every company at some point and time. Long-term investors need to realize that Wall Street has its own agenda and the current challenges facing Alaska Air will lead to a one-eighty eventually and substantial stock price appreciation.
Demand Trends
Key demand-based indicators that are monitored include Class I rail traffic, trucking industry tonnage, shipments, and loads, air cargo tonnage, container shipping line twenty-foot equivalent units, TEUs, North America seaport TEUs, shipping lane port calls, North America cross-border trade, and freight rates for most of these indicators.
U.S. And Canada Class I Rail Traffic – Carloads And Intermodal Units Carried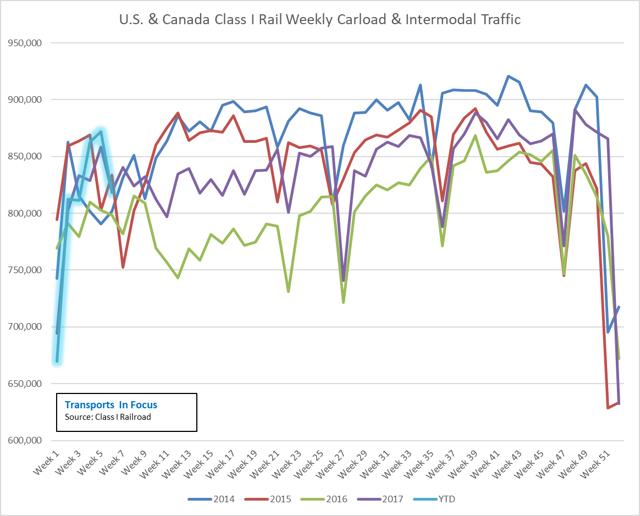 Through the sixth week of 2018, total traffic was up 0.2 percent with carload traffic down -2.6 percent, a 30 bps decline, and intermodal traffic up 3.4 percent, a 10-bps increase. Week six performance declined from the previous week to -0.1 percent, YoY.
These numbers continue to not be far off from the total traffic originated results of 0.3 percent for the sixth week of 2018 for North America rail traffic, published by the Association of American Railroads (AAR) data. Investors should remember that total traffic carried includes both originated and received carloads and intermodal units. Additionally, U.S. traffic was up 0.3 percent and Canadian traffic was up 0.6 percent, closely tracking the carried rail traffic when combined. Mexico traffic was down -0.8 percent.
Container traffic was up 3 percent, a 20 bps increase. Domestic intermodal pricing for both eastbound and westbound averages have remained strong of late, with the former up over 27 percent and the latter up nearly 4.5 percent YoY. Fuel surcharges will continue to be an added catalyst as oil prices remain higher. Pricing continues to suggest stable demand for 2018.
The fourth week of 2018 witnessed weekly coal carload traffic at 105,000 carloads carried. This reflected a -5.9 percent decline versus last year, the second consecutive weekly decline. Grain performance was down, at -10.3 percent versus last year. Similar to coal, weekly growth from this point forward will be choppier; the negative trend has seen 15 out of the previous 16 being down.
Motor vehicles and equipment carload traffic performance was down at -9.7 percent versus last year; the seventh consecutive weekly decline YoY. Chemicals were up at 2 percent, petroleum products were up 4.9 percent for the fourth consecutive week and crushed stone, gravel and sand, was up 12.6 percent.
Trucking Industry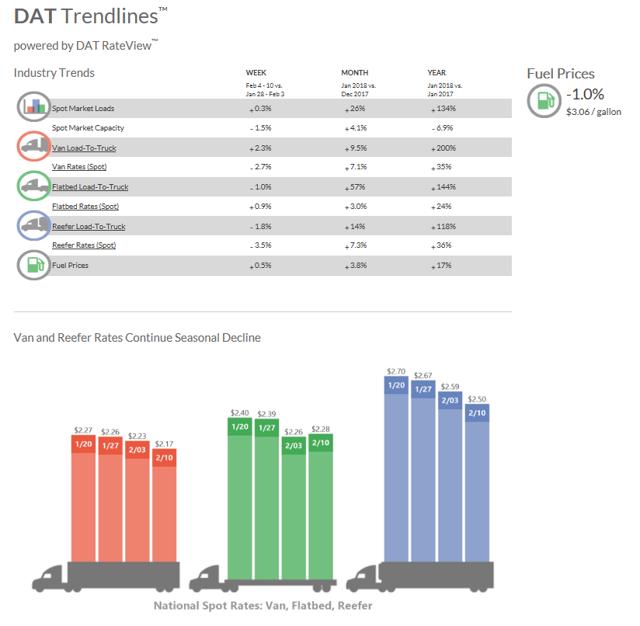 Source: DAT Solutions, DAT Trendlines
Trucking equipment demand has remained robust as U.S. trailer orders improved to greater than 39,000 this past January. As part of these results, refrigerated trailers witnessed an all-time record, while overall orders were the fifth highest in history. Results reflected a 22 percent increase from the previous year.
Increasing orders for both power and trailer equipment have signaled tight capacity constraints. With demand remaining solid, freight rate negotiations are expected to increase in the mid-single to low-double digits this spring. These market dynamics may be prevalent throughout 2018 and into 2019.
Diesel prices were up 19.4 percent for the sixth week of 2018, reflecting a 120 bps decline from the previous week. Spot market loads were up 0.3 percent from the previous week, while capacity declined by 1.5 percent. With continued increased capacity, dry van, flatbed and reefer rates were marginally lower from the previous week. Despite recent weekly modest declines, rates remain up from the low 20 to mid-30 percentages from last year.
Air Cargo
Updated air cargo monthly revenue ton data continues to rise for both air cargo carriers and lessors. For the month of November 2017, all and U.S. carriers increased by nearly 22 and 15 percent versus last year. Through November 2017, FedEx and UPS saw growth of 7.5 and 6.2 percent from last year. Atlas Air Worldwide (AAWW) has continued to outpace Air Transport globally with growth above 27 percent versus Air Transport's 20 percent. However, in the U.S., Air Transport saw growth at nearly 59 percent versus Atlas Air's 47 percent.
We have already seen both FedEx and UPS earnings results, which were solid overall. The increased demand and pricing appears to be driven by both economic expansion and e-commerce shipments. As e-commerce will continue to see market shift from traditional retail over the long term, these tailwinds should remain in place as market cycles ebb and flow.
Container Shipping Lines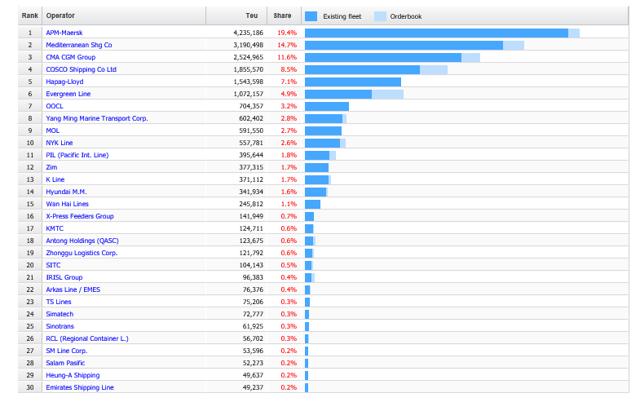 Source: Alphaliner – Top 100 Operated Fleets
Pricing for spot market container rates ended 2017 down for most east-west trade lanes, per the Shanghai Containerized Freight Index (SCFI); exceptions being the Trans-Atlantic. Early in 2018, rates continue to display improvement with some lanes now turning positive YoY.
For the seventh week of 2018, Trans-Pacific freight rates have improved to being down by 16 and 14 percent for shipments from Shanghai to the West and East coasts; rates to Asia have been marginally lower. Asia to Europe rates have been mixed with rates up 5.5 percent and down 6 percent for North Europe and the Mediterranean; rates to Asia have been positive by greater than 15 percent. Trans-Atlantic rates have remained stable for both eastbound and westbound services at around 7.5 to 16 percent from last year, for the Rotterdam to New York route.
Despite improving rate activity on a YoY basis, much has been written regarding the lower rates leading up to the Chinese New Year. This has led to some uncertainty regarding how contract negotiations will proceed. If rates remain stable and/or improve, and we get similar peak demand seasonal performance, global container shipping lines should be able to notch a second consecutive profitable year.
North America Seaports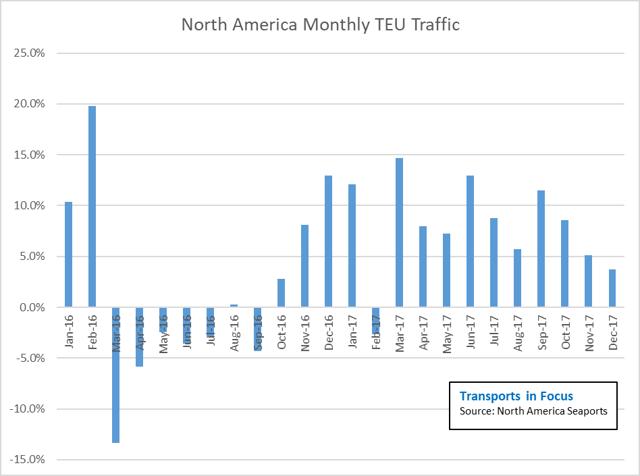 While the year-end 2017 North America TEU report is forthcoming, the year ended strongly with top seaports seeing an increase of over 8 percent from last year. This translated to over 59 million TEUs. Geographic performance was strong across West, East and Gulf coasts. Long Beach was a top performer for the West Coast, followed by Vancouver. For the East Coast, Savannah was the leader followed by New York/New Jersey. For the Gulf Coast, Houston was the top performer.
Current expectations are calling for more moderate growth in the low-single digits in 2018. Expectations are for stable growth for the first couple of months of the year leading to the Chinese New Year. Based on Class I rail operator container traffic through February, it appears the TEU traffic should follow suite with single-digit growth. The most recent monthly North America seaport TEU report is located here.
North America Cross-Border Trade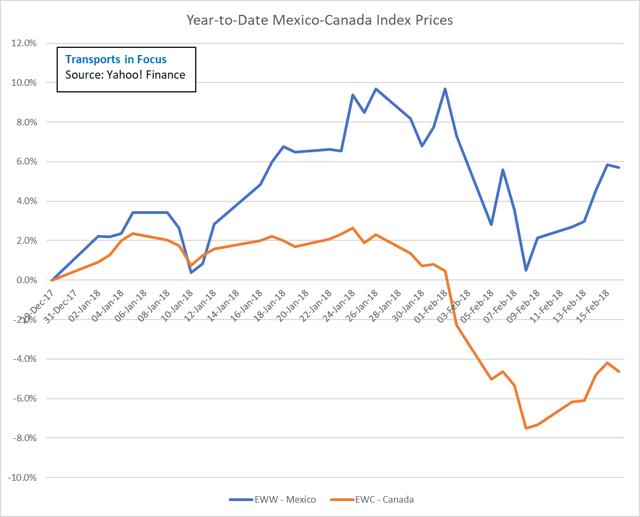 The iShares MSCI Mexico Capped (EWW) was up 360 bps for the week. The index is leading the iShares MSCI Canada ETF (EWC). The Mexico index is up 5.7 percent for the year versus the -4.6 percent result for the Canadian index, which reflected a 270 bps increase.
Since early January, the deviation between the Mexico and Canadian indices has remained in effect. With the Mexico ramp-up for the upcoming presidential election coming in the next couple of months, it is highly likely that North America Free Trade Agreement (NAFTA) negotiations will continue into 2019. While business as usual is a good thing, prolonged uncertainty will lead to the potential for increased volatility.
Summary
I have been paying strict attention to the correlation between high-yield bond spreads and the VIX. History has told us that interest rate-driven equity market declines have been temporal. The past week has displayed a return to correlation as the VIX has declined. This unfortunately does not suggest that increased volatility will not continue throughout 2018.
I have also opportunistically increased positions within select holdings as the equity markets witnessed extreme gyrations to the downside. Transports are poised to see increasing stock price performance by year-end, as economic expansion is likely to continue and pricing remains favorable.
Disclosure: I am/we are long ALK, CNI, DPSGY, FDX, GBX, HUBG, JBHT, KSU, MATX, SNDR, TRTN, XPO.
I wrote this article myself, and it expresses my own opinions. I am not receiving compensation for it (other than from Seeking Alpha). I have no business relationship with any company whose stock is mentioned in this article.
Editor's Note: This article covers one or more stocks trading at less than $1 per share and/or with less than a $100 million market cap. Please be aware of the risks associated with these stocks.