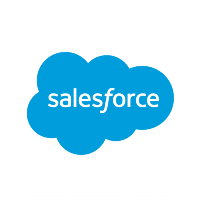 2034 is a really, really long time away. That doesn't stop Salesforce (NYSE:CRM) from ambitiously shooting for $60 billion in revenue 16 years after it crosses over $10 billion. In a recent investor presentation, Salesforce CTO Parker Harris announced their plan to reach $20 billion by 2022, $40 billion by 2028, and $60 billion by 2034. This would require Salesforce to grow at an annual rate of around 12% for the next 16 years. On the positive side, it is currently averaging 25% year-over-year growth for the past three years. On the negative side, it's much harder to grow the larger you become aka accelerating at a decelerating rate. Have similar companies grown their revenue by 5 times over a similar time frame? Sure, see Microsoft (MSFT). Has it been done often? No. How will Salesforce achieve its lofty revenue goal by 2034? Salesforce, like all companies, can grow its revenue through international market expansion, innovation, and acquisition.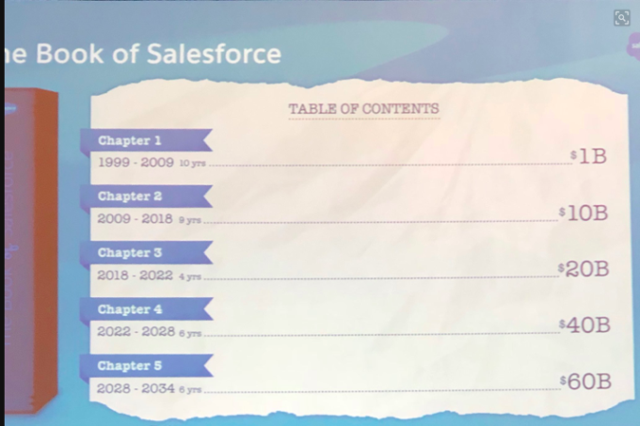 CRM Market Potential
According to one market research and consulting firm, the CRM market potential was $26.3 billion in 2015 and is projected to be $81.9 billion by 2025, representing a 12% annual growth rate. Salesforce is around 18-20% market share in 2016 according to its own press release and other market reports. Also, multiple marketing reports are saying Salesforce is increasing its overall market share each year. For Salesforce to get to $60 billion in revenue by 2034, the entire CRM Market potential would have to be around $240 billion, given 25% market share. If the current 12% annual growth rate for the entire CRM market continued until 2034, the CRM market potential would be $228 billion. One legitimate question is whether the current CRM market growth rate can be sustained over 16 years. But if it can, it is within reason for Salesforce to reach $60 billion in revenue from just the CRM market alone.
International Expansion
The easiest way Salesforce can reach $60 billion revenue is by continuing to expand into international markets. Salesforce currently has only 26% of its overall revenue from Europe and Asia Pacific, but they are the fastest growing regions. Salesforce grew prior year revenue by 27% and 33% in the APAC and EMEA regions compared to 25% company-wide revenue growth. International growth is highlighted this year by key customer signings such as BP (BP) and Groupe PSA in Europe as well as National Australia Bank (OTCPK:NAUBF) and Hitachi in the APAC region. To keep pace with international revenue growth, Salesforce is also increasing their international hires. In the current fiscal year to date, 40% of new hires have been made outside US. Investors can expect international investment and growth to continue in the future if Salesforce wants to reach $60 billion revenue.
Innovation
It comes as no surprise the world's leading CRM company was named the #1 most innovative company in 2017 by Forbes. Key innovative products like Einstein and Lightning use artificial intelligence to make predictive analytics, highlighting how powerful Salesforce can be for its customers. Don't expect the artificial intelligence wave to stop anytime soon. Last September, Salesforce announced it's launching a $50 million fund to invest in start-ups employing artificial intelligence.
Acquisition
Salesforce has also looked to grow its revenue inorganically via acquisitions. In 2016, Salesforce was a little acquisition crazy buying 13 companies for over $5 billion. The largest acquisition, DemandWare for $2.8 billion, has successfully been integrated into the Salesforce Commerce Cloud and helps acquire more retail customers. Acquisitions slowed down tremendously in 2017, but that doesn't stop them from being at the center of acquisition rumors like the numerous Twitter (TWTR) rumors, for example. Most investors are probably thankful Salesforce hasn't yet bought Twitter, but don't be surprised if Salesforce doesn't return to making huge acquisitions in 2018 for future revenue growth.
Current Share Price
Some investors might think Salesforce is astronomically overpriced right now using traditional metrics like the P/E ratio. Investors also might not want to invest in a company that doesn't bring increasing revenue to the bottom line. These are probably the same investors that thought Amazon (AMZN) was ridiculously overpriced at one time too.
Looking a bit more into the details, investors can see Salesforce operating margin is on the rise over the last few years, and it's even more visible when excluding research and development expenses. As a growth company, investors should be alright if the main reason why a company can't earn more money on the bottom line is because it is reinvesting it back into the business for more future growth. As shown in this fiscal year, as Salesforce's revenue continues to grow, they will eventually bring more of it to the bottom line. Long-term investors shouldn't worry about the current share price or where it might be in a year because if Salesforce can hit or come close to its $60 billion revenue target by 2034, the price will increase by multiples of its price today.
Conclusion
Who actually knows if Salesforce will really get to $60 billion by 2034? Again, it has been done before by companies like Microsoft, so it is possible. The fact it is ambitiously announcing its goals so everyone can see and potentially question their progress against is great. Growth investors at the very least should have more confidence in Salesforce's management to continue to press forward with growth as the world's CRM leader through innovation, international market expansion and acquisition. 2034 is a long time away, but Salesforce is on track to be a good long-term investment.