The Las Vegas solar market has been a roller coaster over the last two years following the December 2015 ruling to eliminate net metering. The ruling changed the tariff structure by decreasing the credit solar consumers receive for excess energy production from the retail rate of $0.11 per kilowatt hour to the wholesale rate of $0.026. The change eliminated the positive economics for homeowners considering solar and the value proposition of solar installers including Sunrun (RUN) and SolarCity (now part of Tesla (TSLA)). The net metering ruling halted virtually all solar activity in Las Vegas, as Sunrun and SolarCity closed operations in the market. Through 2016, Nevada was a top 5 solar states in the U.S., so it moves the needle for solar installers and also influences solar policy in other states.
The ruling also set the stage for the Billionaire Battle to Own the Sun, as Bloomberg Energy coined the disagreement between NV Energy, the Nevada utility controlled by Warren Buffett and solar advocates led by SolarCity, the leading installer in Nevada controlled by Elon Musk.
After public outcry over the 2015 ruling, the state legislature passed new legislation in June of 2017, AB 405 that reversed the rate increases and re-instated net metering.
The market has rebounded as a result and a closer look at the installation data indicates broader changes in the U.S. solar market. Although Tesla's market share has declined, the Las Vegas market rebound is a small win for Musk in the Battle to Own the Sun with Buffett and a big win for the U.S. residential solar market. Tesla's new channel strategy, however, is still untested and it is unclear if Tesla will be able to return to its market share levels of 2015 and 2016.
Recovery of the Las Vegas Solar Market
At its peak in August of 2015, the Las Vegas solar market had monthly volumes of over 700 ($14 million assuming an average of $20,000 per system). The peak in August of 2015 was more than 3x the installation volume for all of 2016.
Following the passing of AB 405, the market has rebounded to nearly 200 a month - a healthy recovery, which should continue in 2018, but still a fraction of the frothy market in 2015.

Tesla's New Normal
In 2016 following the SolarCity acquisition, Tesla deliberately pulled back its acquisition spend by reducing its field sales teams and marketing spend. As a result, its market share and installation volumes have declined significantly. In Q4-2017, Tesla installed 87 MWs of solar systems, a 57% decline from the 201 MWs of systems installed in Q4-2016.
Solar MW deployed declined as volumes continue to be impacted by our decision to close certain sales channels earlier this year and to focus on projects with better margins - Tesla Q4 Investor Letter.
The installation data in Las Vegas is indicative of this broader trend. At the market peak, Tesla controlled more than 60% of the Las Vegas market. Although the market has rebounded following AB 405, Tesla now controls less than 20% of the market.
In February 2018, Tesla announced a new partnership with Home Depot (NYSE:HD) to offer it solar roof and Powerwall products in 800 Home Depots stores. This follows a 2017 decision to increase the presence of its solar products in Tesla showrooms. Although there has been a lot of buzz about both announcements, the new channel strategy is still untested and it is unclear if Tesla will be able to return to its market share levels of 2015 and 2016.
In contrast to Tesla, Sunrun has regained its market share of ~20% and Vivint has quickly taken 20% of the market in Las Vegas. Both of these companies have used the downturn to expand into developing solar markets, including Texas, Florida, and Pennsylvania. In 2017, Vivint expanded into New Hampshire, Florida, Rhode Island, Colorado, Vermont, Virginia, and Delaware. We think both companies are well-positioned to benefit from a recovery in the U.S. solar market as indicated in our Q4 Solar Index.

Changing U.S. Solar Landscape
The Las Vegas market also highlights the broader trend in the U.S. solar market of the increasing presence of local and regional installers. In total, primarily driven by Tesla's decline, regional installers controlled approximately 50% of the Las Vegas market, up from 30% in 2018. Local and regional installers are supported by a platform of financing, sales, and distribution tools that put them on a level playing field with national installers.
Sunrun, which deploys a multi-channel strategy by offering a financing platform for local and regional installers while also doing its own installations, is well-positioned to benefit from this trend. Earlier this week, Credit Suisse (NYSE:CS) increased its price target for Sunrun to $15 noting the benefits of its multi-channel strategy.
Sunrun will continue to gain market-share in the residential-solar market bolstered by a multi-channel approach, access to financing and focus on value creation - Credit Suisse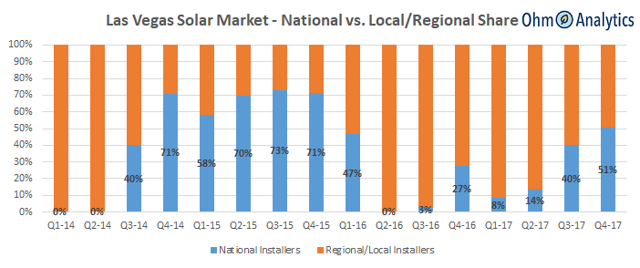 Conclusion
The Las Vegas market offers insight into broader trends in the U.S. solar market, including (1) a shift of power from utilities to residential solar advocates, (2) the impact of Tesla's channel strategy changes and potential for challenges in the future to regain meaningfully its prior share, and (3) the strength of the other two national installers Sunrun and Vivint. Given the relative importance of the Nevada solar market (top 5 solar states in the U.S.), it is a good representation of the broader market, can move the needle for solar installers and also guide regulations in other states. We think Tesla is unlikely to regain its prior share levels and would pick Sunrun as the most likely long-term winner for the reasons mentioned above.
Disclosure: I/we have no positions in any stocks mentioned, and no plans to initiate any positions within the next 72 hours.
I wrote this article myself, and it expresses my own opinions. I am not receiving compensation for it (other than from Seeking Alpha). I have no business relationship with any company whose stock is mentioned in this article.