Earlier this month, with the looming threat of yet another government shutdown, Congress passed a budget compromise that dramatically boosts defense spending across the board. This spending agreement raises the defense spending caps that were imposed in 2011 as part of the Budget Control Act. Additionally, the Department of Defense has requested a $686 Billion budget for fiscal year 2019. Rising geopolitical tensions with countries like North Korea, China, and Russia will ensure defense spending is a high priority in the coming years. Increased mergers among defense contractors is a bullish theme for the industry as prime contractors seek to further diversify their product lines. My top three defense stocks for the year (and beyond) are Lockheed Martin (LMT), Northrop Grumman (NOC), and Raytheon (RTN).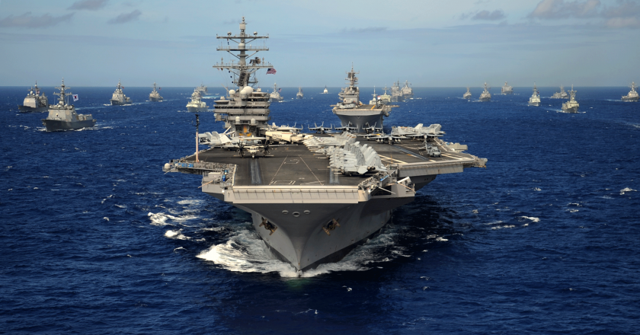 Source: Heritage Foundation. The Heritage Foundation
Favorable Fiscal Environment
As the Pentagon's comptroller astutely pointed out, military spending amounted to around 6% of GDP during the 1980s while the FY 2019 budget will put defense spending at 3.5% of total GDP. With the fiscal hawks in Congress silenced with the recent budget deal and the President's promise of 'rebuilding' the nation's military, defense stocks are likely to continue to outperform. Our European allies in NATO are also boosting their defense spending. Most recently, France announced that it is bolstering its defense budget in order to comply with NATO's defense spending target of 2% of GDP as other countries have made similar declarations.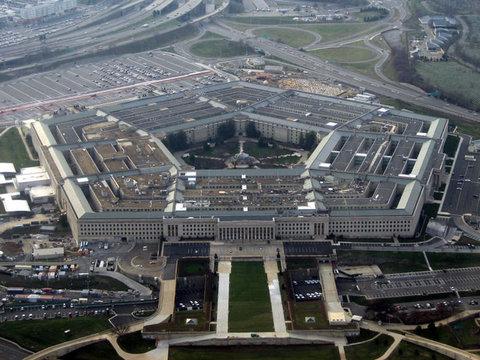 Source: http://www.businessinsider.com
Geopolitical Tensions Remain High
With North Korea's recent missile tests, the country has clearly demonstrated that its intercontinental ballistic missiles are capable of hitting the mainland United States. This potential threat is not something to be taken lightly. In January, a Russian fighter jet harassed a U.S military plane over the Black Sea. This is certainly not the first time this has happened and Russian military aircraft have even flown just off the coast of Alaska. With such provocative actions from North Korea and Russian, U.S defense expenditures are going to be a priority for lawmakers going forward.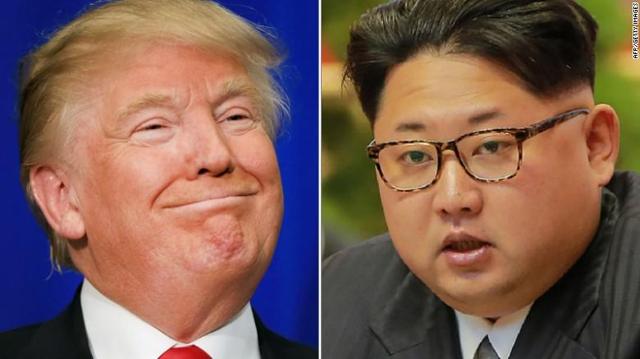 Source: Cnn.com
Mergers Are Likely To Continue Across The Defense Industry
I think the defense industry will see additional consolidation as the major defense contractors, like Lockheed Martin and Northrop Grumman, seek to diversify their product offerings to better compete for contracts. With Northrop Grumman's recent $7.8 billion acquisition of ATK Orbital (OA), NOC is now a major player in the manufacturing of missile systems and satellite components. In 2015, Lockheed Martin acquired Sikorsky Aircraft for $9 billion. With the possibility of rising interest rates, I suspect there will be additional consolidation this year as the prime contractors gobble up smaller players in the field with limited regulatory interference (Northrop Grumman's acquisition of ATK Orbital is under FTC review, but it is likely to be approved soon). With fewer competitors and increased defense spending, defense stock like LMT, NOC, and RTN, are poised to outperform the market going forward.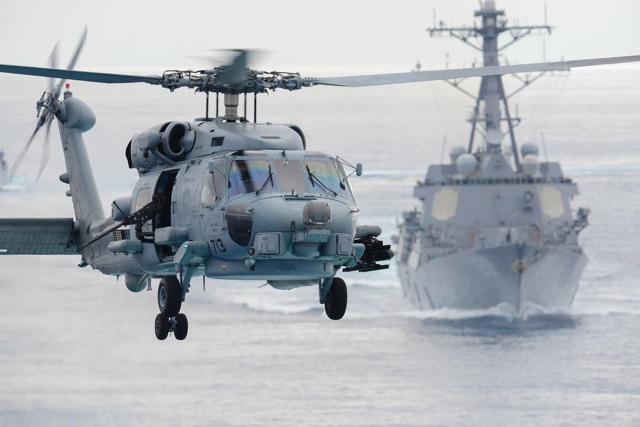 Source: Defense News, Covering the politics, business and technology of defense | Defense News
Lockheed Martin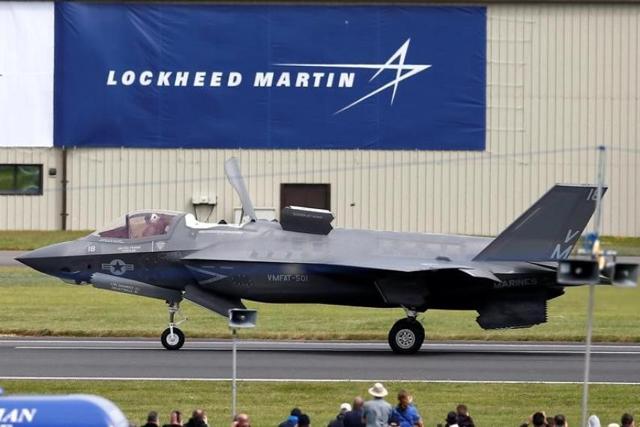 Source: Newsweek.com
Although Lockheed Martin is trading near an all-time high, the stock is relatively cheap with a PEG of just .62. The company has been aggressively growing its dividend over the past several years. In addition to raising its dividend for 15 consecutive years, LMT has rewarded shareholder with an annualized dividend growth of 10.8% in the last three years. While examining its P/E ratio, the stock may appear expensive with a current P/E of 27.26, but the market has given LMT a valuation premium given its financial track record and impressive growth. All four of LMT's business division (Aeronautics, Missiles and Fire Control , Rotary and Mission Systems, and Space Systems) are poised to benefit from the additional defense spending. The proposed FY 2019 NDAA allocates funding for next-generation satellites to counter the growing threat from China and Russia. As one of the main providers of military satellites, LMT is positioned to benefit with development of its Space Based Infrared System, which is a missile defense early warning satellite capable of detecting ballistic missile launches. With North Korea's growing missile program, this satellite system will be in high demand.
Northrop Grumman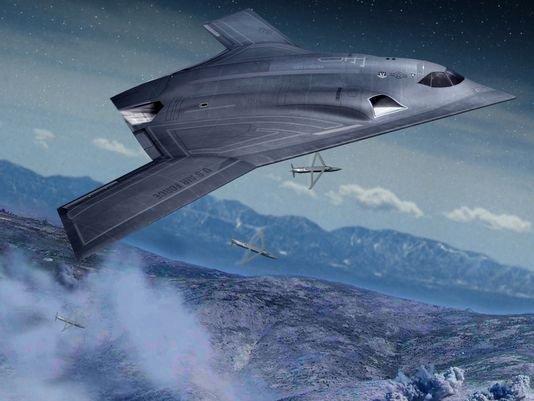 Source: defensenews.com
Northrop Grumman (NOC), while primarily recognized for notable platforms like the next-generation stealth bomber, the B-21 Raider, is a leader in aerospace systems, mission systems, and cyber capabilities. According to the company's website, NOC's business is comprised of five divisions: cyber, logistics, autonomous systems, C4ISR (process of collecting and relaying information to decision makers), and strike. With NOC's acquisition of ATK Orbital (NYSE:OA) for $9.2 billion, NOC is now one of the leading companies in missile manufacturing and space systems. As a leader in cyber security solutions, NOC is poised to thrive as the Pentagon continues to allocate additional funds for cyber security requirements. In the wake of various cyber attacks, such as the OPM hacking, cyber security will continue to be a priority for the military and overall government. According to RBC Capital Markets, NOC has the largest cyber security business among all major defense companies. The firm's earnings per share are expected to grow at a brisk rate of 12.48% over the next five years and the stock is current trading at a forward P/E of just over 20. As you can see from the chart below, the stock has been on fire over the past year and normally I would be fairly cautious given the price run up. However, the favorable fiscal environment and the recent corporate tax cuts make NOC a buy for 2018.
Raytheon

Source: Raytheon.com
Raytheon has been firing on all cylinder as of late. For the fourth quarter of 2017, RTN's net sales increased 8% YoY to $6.8 billion and the company's backlog increased to an impressive $38.2 billion per the company's fourth quarter earnings presentation. With China and Russia both developing hyper sonic weapons, RTN is poised to benefit going forward with regards to contracts and government revenue. Whether it is the threat of North Korea's nuclear program or China's hypersonic "carrier killer" missile, the DF-21, Raytheon is equipped well to help the military counter the technological advances of the nation's military rivals. While the stock is richly valued with a P/E of 31.39 and a forward P/E of 19.65, the PEG ratio is just 1.40 given the fact that RTN is expected to grow EPS a whooping 22.35% over the next five years. With the tailwinds of higher defense spending and the recent tax cuts, I think RTN will continue to be a strong buy for investors.
Conclusion
As we progress through 2018, defense stocks will likely continue to outperform given the prospects of higher defense spending and the new corporate tax cuts. However, defense stocks did sell off dramatically with the recent wild swings in the stock market and defense will likely be affected by any future downturns in the equity markets. Notwithstanding a deep equity correction, Lockheed Martin, Northrop Grumman, and Raytheon are all in a sweet spot given the favorable fiscal environment, a higher level of M&A activity, heightened geopolitical tensions, and the corporate recent tax reductions. I think LMT, NOC, and RTN are likely moving higher in 2018 and defense is going to be winner over the long run.
Disclosure: I am/we are long LMT, NOC, RTN.
I wrote this article myself, and it expresses my own opinions. I am not receiving compensation for it (other than from Seeking Alpha). I have no business relationship with any company whose stock is mentioned in this article.