The last few weeks have seen equity markets making extreme moves relative to their recent history. Just a month ago, most thought it near impossible that the VIX Index would rise into the mid-teens for any sustainable period of time, and its pronounced spike was completely unexpected by most. Many of those who were convinced that a short volatility investment strategy was the only way to approach the VIX were devastated by the implosion of short VIX ETPs such as the VelocityShares Daily Inverse VIX Short-Term ETN (NASDAQ:XIV) and the ProShares Short VIX Short-Term Futures ETF (NYSEARCA:SVXY). Now that volatility has returned to the market, the question becomes where does the VIX go from here?
The current volatility complex is relatively flat as the VIX has been on the decline over the past week. The backwardation seen during the spike has eased to a point where the VIX is now at an inflection point.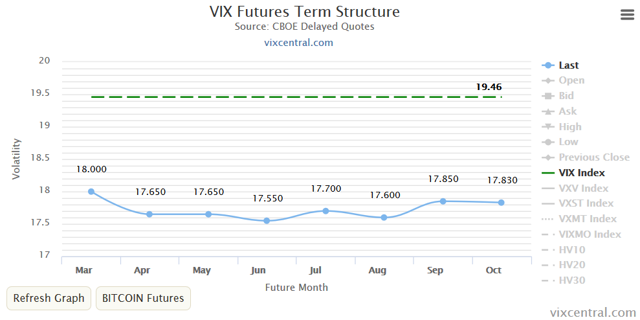 Going forward, there are two probable scenarios. The first is that equities continue their upward climb to new highs. With recent market euphoria, this scenario could continue to play out. The FOMO (fear of missing out) trade has been a powerful force behind the recent hyperbolic up moves in equities. Add to this the massive inflows from corporate buyback programs, and the market may well continue its upward trajectory.
If equities take this path, we could expect the VIX Index to further decline into the lower teens. This would lead us back to a more usual volatility complex where the futures term structure is in contango. This has been the norm over the past couple of years as volatility has been quite subdued for extended periods of time. This will likely result in the still crowded short volatility trade becoming more popular, even after the negative returns experienced by those invested in short VIX ETPs during the recent spike.
An important point, mostly overlooked by the mainstream financial media, is that the majority of investments made in short volatility are done by risk parity strategies, volatility control/targeting funds and commodity trading advisor accounts. Short VIX ETPs such as XIV and SVXY are only the tip of the iceberg when it comes to the amount of capital devoted to the leveraged short volatility trade. These systematic strategy types along with hedge funds trading VIX ETPs, futures and options make up the bulk of the volatility trading market on a daily basis.
The second scenario is that we have some degree of a pullback in equities that may even test recent lows. This would not be unprecedented, and there are at least a few factors that make a near term dip likely. The most obvious is one of the actual causes for the recent market correction, namely inflation fears. The recent market decline began as the recent average hourly earnings print came out. Add to this recent CPI and import price data, and inflation looks as though it may be on the rise. Many analysts now believe that the FOMC may be on course for four rate hikes in 2018 instead of three. All of this has led the 10 year U.S. Treasury yield to rise to nearly 3%, and this could derail further equity market gains.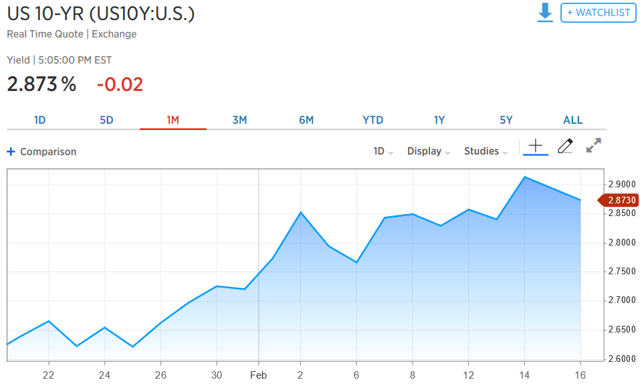 Source: CNBC
Another contributor to a potential short term pullback is equity ETF outflows. Just before the recent market correction, equity ETF inflows hit a record. Optimism was at a peak, and it seemed as if the market could not fall. But, with the subsequent correction, the flows reversed at record levels. The most recent week's data shows a net outflow of over $6 billion. If this continues, corporate buybacks may be the only flow that could buoy equities, and given their recent volume, buybacks may be somewhat exhausted in the near term.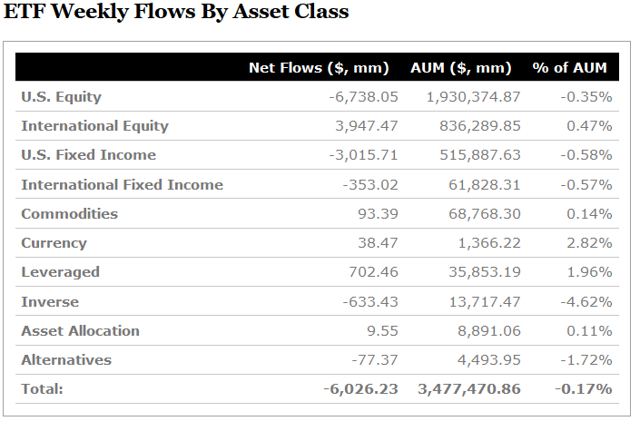 Source: ETF.com
A third factor that has been largely disregarded lately is equity valuations. After the recent correction, several analysts actually started talking about the fundamentals underpinning equities again. And, while the pullback may have provided some relief to stretched valuations, the subsequent rebound has largely negated any relative advantage. Current earnings multiples have the S&P 500 at over 25 over a trailing twelve month period and in the high teens on a forward twelve month basis. This is not particularly cheap historically, and it is commonly justified only on a relative basis compared to other asset classes.
It is with these factors in mind that a long volatility position may be attractive in the near term. The decision point will likely be during the coming holiday shortened week. If equities begin a move towards retesting recent lower levels, a long volatility position through futures, options or an ETP such as the iPath S&P 500 VIX Short-Term Futures ETN (NYSEARCA:VXX) could provide an attractive short term trading opportunity. This opportunity will likely be short lived though as the equity market still seems to have strength behind it until we see the FOMC follow though on their policy moves. Thus, any position should likely be short term oriented with an eye on exiting once there is any sign that equities have once again bottomed.
As always, I strongly urge anyone considering this type of investment to fully investigate the performance characteristics of any security they are planning to use before implementing any trading strategy. This article is just my opinion, and I encourage all readers to decide for themselves whether they find the contents relevant to their own situation. If you find my articles interesting, informative and useful, please follow me by clicking on the follow button at the top of the article. To view my past articles, you can look here. Thank you for reading.
Disclosure: I/we have no positions in any stocks mentioned, and no plans to initiate any positions within the next 72 hours. I wrote this article myself, and it expresses my own opinions. I am not receiving compensation for it (other than from Seeking Alpha). I have no business relationship with any company whose stock is mentioned in this article.