I've written a lot about this industry lately especially because there could be some very big catalysts this year, including Canada's recreational legalization. Obviously, in anticipation of this, many traders and investors looking to get a piece of the marijuana stock market are searching for an answer to the question: Which cannabis stocks should I buy now?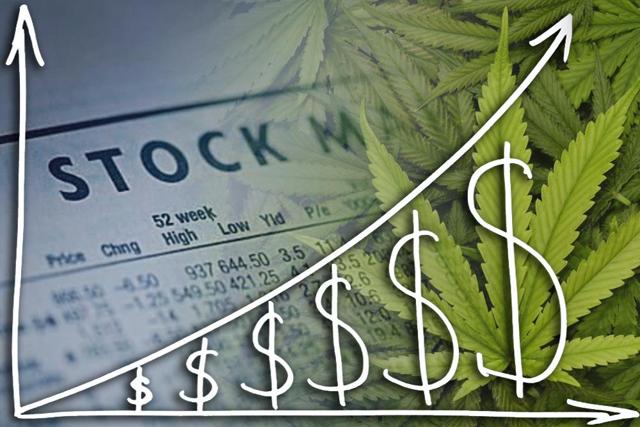 What we have today that we didn't a few years back are two exchange-traded funds that have taken care of some of the legwork in finding viable options. The Horizons Marijuana Life Sciences ETF (OTC:HMLSF) in Canada and the Alternative Harvest marijuana ETF (MJ) in the United States.
Both offer exposure to this market but unlike traditional stocks, they do have a bit of a hedge for investors who may not have the financial access to funds that would allow someone to gain a significant stake in individual marijuana stocks.
The recent market pullback paired with things like the Canadian marijuana market tumbling earlier this month hasn't helped progress but what it has done is create unique buying opportunities that could pay off later this year. The Alternative Harvest ETF fell from highs of $39.72 to as low as $28.90 on February 5. Previous to this, the ETF had grown from about $5 million to $400 million.
Founder and CEO Sam Masucci launched the Alternative Harvest ETF in December but what they learned recently is that other countries like Canada are not immune to market risk as evidenced by the drop in many Canadian cannabis stocks recently. The ETF switched its ticker on February 9 and has responded much more favorable in the market. Since the February 5, the ETF has recovered by as much as 4% within a few days.
But the ETF may have a few risks outside of the market as well. According to reports, the custodian of the ETF, U.S. Bancorp is actively reviewing whether it will remain the fund's custodian. Should they pull out on the ETF and if Alternative Harvest can't find a new custodian, the fund will be forced to liquidate.
My opinion is that in the event of Bancorp pulling out, another viable suitor would at least entertain the opportunity to get behind the only US listed ETF trading on the NYSE.
Does A Failed ETF Mean That There's No Opportunity Left For Marijuana Stocks?
I'm not saying the ETF will fail but in the event that it does, that doesn't have much to do with the cannabis industry itself. The circumstances behind the ETF didn't give Bancorp much to decide and is a prudent thing to do considering one day the ETF was investing in obscure Latin American real estate and the next it starts investing in marijuana stocks.
So, it would stand to reason that a custodian would want to look further into what they're standing behind to determine if it is in line with they're current model.
No matter what ends up happening with the ETF, one thing has been made abundantly clear and that is the flavor of the year seems to be with foreign issuers. Canada's announcement that it would be pushing back legalization to "later in the summer" paired with the general market pulling back caused a bit of panic in the market with many Canadian cannabis stocks dropping to lows that hadn't been seen since late 2017.
But there has to be reasons that such funds like the Alternative Harvest ETF and The Horizons Marijuana Life Sciences ETF have put so much reliance on this ideology (obviously outside of Horizons being a Canadian ETF). Companies like Canopy Growth (TWMJF), Cronos Group (PRMCF), Medreleaf Corp (OTCPK:MEDFF) and Aurora Cannabis (ACBFF) take up significant investment percentages of both ETFs. Furthermore, these funds rely heavily on international markets (for US investors).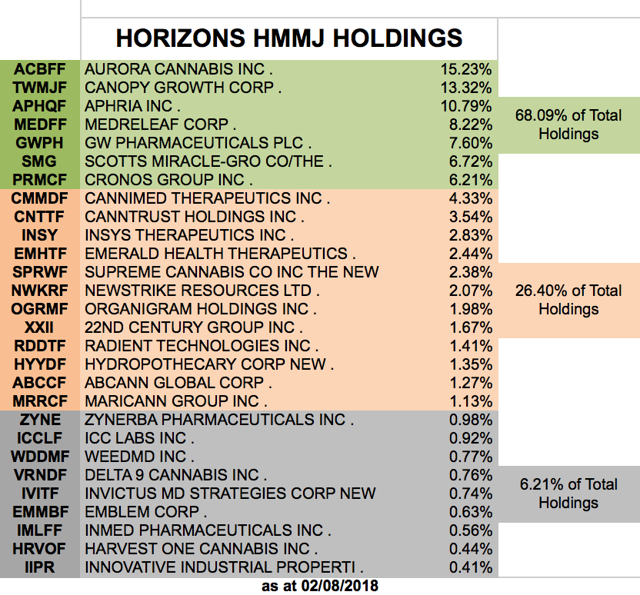 Where these two ETFs differ is that the US Alternative Harvest ETF holds more US-based companies involved in biotech. Aside from Scotts Miracle-Gro (SMG), Altria Group (MO), Philip Morris (PM) and 22nd Century (XXII), much of the US ETF is holding shares of companies like GW Pharmaceuticals (GWPH), Insys Therapeutics (INSY), Arena Pharmaceuticals (ARNA), Corbus Pharmaceuticals (CRBP), Cara Therapeutics (CARA), Cannimed Therapeutics (OTC:CMMDF), and Emerald Health (OTCQX:EMHTF), among several others: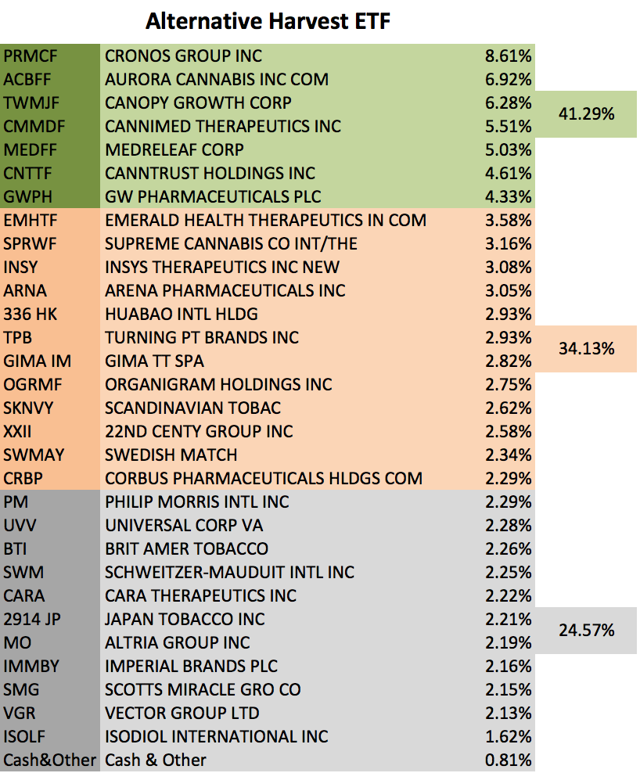 If there's one clear outlier here it's that Canada and biotech are two niche segments that funds like these are focusing on right now. The simple fact that so much of the investment dollars are weighted toward these ultimately begs the question of why not start paying attention. Right now there are other publicly traded companies that have taken the "fund approach" without forming into a formal ETF. Take, for instance, Rockshield Capital Corp (CRUOF).
It was founded in 2007 and has recently found itself investing into some of Canada's emerging small cap companies including several public and pre-IPO businesses. The company has made a total of 20 investments so far with a "cash and investments" value of $15 million.
The company's most recent investments include companies in the cryptocurrency & blockchain, neuro-science, and cannabis industries. The majority of their recent investments, however has much more of a focus on cannabis companies.

New Marijuana Stock IPO's To Know About
The Green Organic Dutchman
Quite possibly one of the top investments made by Rockshield so far has been in The Green Organic Dutchman, which is still pre-IPO but expected to IPO this coming March. To date, the Company has raised a total of $160 million including $55 million recently closed on through a strategic investment made by Aurora Cannabis, a 17.6% stake.
There is also an option for Aurora to increase its investment to 51%. This looks to be one of the most highly anticipated marijuana stock IPO's in recent history due to the large expansion that The Green Organic Dutchman is undertaking.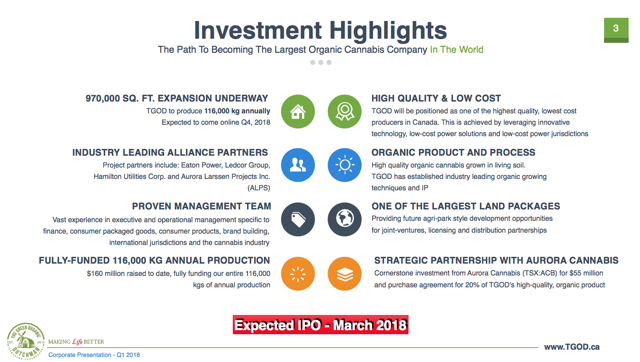 One of the unique aspects of The Green Organic Dutchman has been with regard to not only its technology but also its access to power. The company has project alliance partnerships with Eaton, and Hamilton Utilities Corp., which will allow it to outsource things like power, cooling, heating, and C02 production.
Through this alliance, the company is expecting to lower the cost per kWh from as much as $0.13 to an estimated net cost of $0.045, which could essentially allow The Green Organic Dutchman to become one of the lowest-cost cannabis producers in the business.
The company's 970,000 sq/ft hybrid greenhouse facilities are located in Ontario and Quebec, Canada. Furthermore, the deal with Aurora gives TGOD the ability to provide Aurora with the right to buy as much as 20% of its annual production.
"Teaming up with Aurora, the industry's innovation leader, provides us with a stable, supportive shareholder, through whom we have access to best-in-class technologies and industry know-how. This will significantly accelerate our time to market and establish TGOD as the world's leading provider of premium organic cannabis," said Csaba Reider, President of TGOD in a press release.
MedMen
Another anticipated "going public" event in the cannabis market is MedMen. The unique part of this IPO is that MedMen is a US (Los Angeles) based company but is choosing to do a reverse merger in the Canadian market rather than do an IPO in the states.
Company spokesman Daniel Yi explained that MedMen was choosing the Canadian Stock Exchange instead of something like the OTC Marketplace because, "It's where companies like Canopy and MedReleaf have been able to raise lots of money."
MedMen currently has 18 facilities that employ 700 people in 3 key states. The company operates scalable growing facilities as well as retail stores that have more of the feel of an Apple (AAPL) store than a dispensary.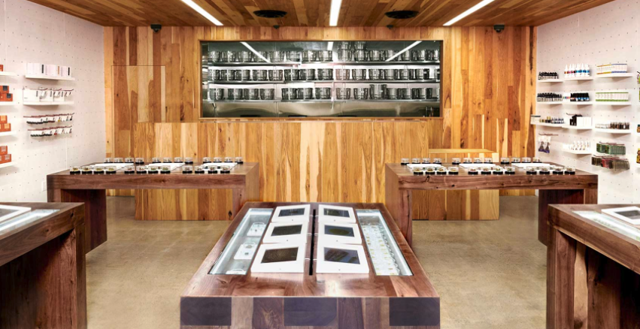 The company has reported a total equity investment of $150 million to date and recent fundraising agreements with companies like Captor Capital (OTC:NWURF) values the company at roughly $1 billion. This comes after it was announced that Captor had entered into a non-binding letter of intent to invest $30 million equating to around 3% of MedMen.
Late last year, Captor created a cannabis industry advisory board and brought on three MedMen executives to run it, including Andrew Modin, Barry Fischetto, and CEO Adam Bierman.
Other companies like Rockshield and Captor have taken a similar "investment-style" approach as well. iAnthus Capital Holdings (OTCQX:ITHUF) recently acquired New York-based Citiva Medical, LLC for $3.6 million in cash and $14.4 million in iAnthus shares at a price of $2.57. Citiva is one of ten organizations in the state under the medical cannabis program licensed to grow and process. They also have the ability to own four dispensary locations with a flagship location in Brooklyn set to open its doors later this year.
iAnthus also purchased GrowHealthy Holdings, LLC, one of the State of Florida's 13 Florida Medical Marijuana Treatment Centers with a license to provide medical marijuana by law. The Canadian listed, US focused company spent $17.5 million in cash and $30.5 million in stock. Shares of iAnthus are up by more than 100% since Christmas.
Outpacing The Market – Next Steps For The Industry
Though Canadian will have to wait a bit longer for recreational marijuana use and sale to be legalized, 2018 will have its share of industry catalysts. Once Canada "flips the switch," it will be the second country to have nationwide legalization, after Uruguay.
Furthermore, as evidenced by new public offerings, the access to capital that Canada's market offers has even attracted US companies to choose to go public on the foreign exchange instead of a traditional US IPO.
As far as the overall potential for the marijuana industry to outpace the market is concerned, it may already be happening and as some analysts suggest, the cannabis sector could still be in its infancy. Compared to the S&P 500's 22% increase over the last 12 months, the North American Marijuana Index shows that pot stocks in general have seen a market increase of more than 125%.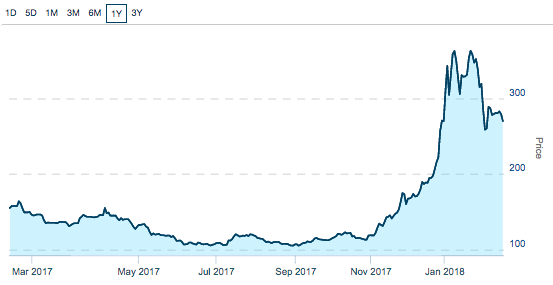 Additionally, we've already begun to see that marijuana stocks are not only generating significant attention from retail players but now that funds – both public and private – are throwing hundreds of millions of dollars at this sector right now, there is no shortage of expansion potential.
With several high profile public offerings going live this year, as well as new M&A activity from companies like Aurora, this could be the year that cannabis finally has its time in a more mainstream spotlight.
Disclosure: I/we have no positions in any stocks mentioned, and no plans to initiate any positions within the next 72 hours. I wrote this article myself, and it expresses my own opinions. I am not receiving compensation for it (other than from Seeking Alpha). I have no business relationship with any company whose stock is mentioned in this article.
Editor's Note: This article covers one or more microcap stocks. Please be aware of the risks associated with these stocks.