How do you systematically take your dividend growth investing to the next level? Perhaps the initial appeal of dividend growth investing was its beautiful simplicity of buying stocks where the dividend grows annually. This allows you the freedom of focusing on an increasing and stable dividend stream - which is likely the key consideration of your retirement - while shrugging off capital price corrections in the market.
But when it actually comes to choosing which dividend growth stocks to buy - where do you start?
Of course, you may be inclined to use the awesome Seeking Alpha ETF Screener to discover a variety of dividend growth ETFs ranging from iShares Core Dividend Growth (DGRO) to the popular Vanguard Dividend Appreciation fund (VIG).
Yet many other DIY investors prefer to carefully handpick their investments. But where do you start and when does it end?
Common Sense Factor Analysis?
Some dividend growth investors choose stocks based on factors that make sense to them. One popular factor is the 5-year trailing dividend growth rate. Common sense tells you that if big growth continues, you will have the largest income stream.
But does this common-sense approach really work? Not so far. Why?
Perhaps the exceptionally high dividend growth is a short-term anomaly
Maybe high trailing dividend growth inadvertently focuses on smaller and newer companies which are higher risk
This article from 2 years ago looks at various common factors and their interaction with dividend growth stocks. What seems to make sense doesn't always make cents. Common sense is like having a good idea - it needs to be vetted.
Another problem stems from interaction between factors. You might like momentum and gold and low volatility…but what would happen if you tried to buy low-volatility gold stocks with the highest recent price run? I don't know - and that is the point. Even if a single factor works well in isolation - you need to ensure that combining numerous 'great factors' are complementary and play nice together.
For these reasons - I am endorsing a fundamental quantitative approach to add to your dividend growth toolbox.
Components of the Ranking System
First, what are the main components of the ranking system and why were they included?
Quality - I use quality ranking because value may be transient, growth is often over-priced but quality allows the investor to hold good companies which often weather economic storms much better than their low quality counter-parts. A high quality stock often remains high quality for a prolonged period of time - which translates into low portfolio turnover. Below is an excerpt from Portfolio123 on their quality ranking system.
The factors used in this ranking system are

1. Profit Margins

2. Turnover

3. Returns on Capital

4. Financial Strength

Authors often discuss the importance of evaluating management. In the real world, this cannot usually be done because access to key executives is impossible or severely restricted. But good corporate managers often leave behind financial footprints of success and these are what this ranking system looks at. Returns on Capital are the primary indicators of management accomplishment. Margin and Turnover are components of Return on Capital. And Financial Strength is a measure of business risk.
Volatility- Stability of total return is a desirable quality for a couple of reasons.
One reason is that despite the best of intentions, an investor may need to sell his holding. Stable shares can increase the likelihood of doing so at a good price.
In addition to this, stable share prices often signal strong and steady fundamentals with little deviation. Price might simply be a function of the low fundamental volatility.
Yield and Payout- Credit Suisse published an interesting paper in 2006 called High Yield, Low Payout. High yield and low payout ratio stocks out-performed their peers. This is a creative way to focus on value stocks. Only companies with deep value have the ability to pay a big yield with low payout ratios. A high value stock can only offer big yields or low payout ratios - but not both.
These 3 themes - quality, volatility and yield - are rolled into one comprehensive ranking product.
So far we have the 'common sense' elements of the product. But how has this ranking theme turned out historically?
Annual Ranking of Dividend Growth Stocks
This first test will create 10 portfolios which will be updated annually. The investable universe is any dividend growth stock with at least 5 years of consecutive annual dividend increases. The benchmark on the far left will be the Vanguard Dividend Appreciation fund (prices before 2006 inception date use the proxy of Dow Jones Select Dividend Index).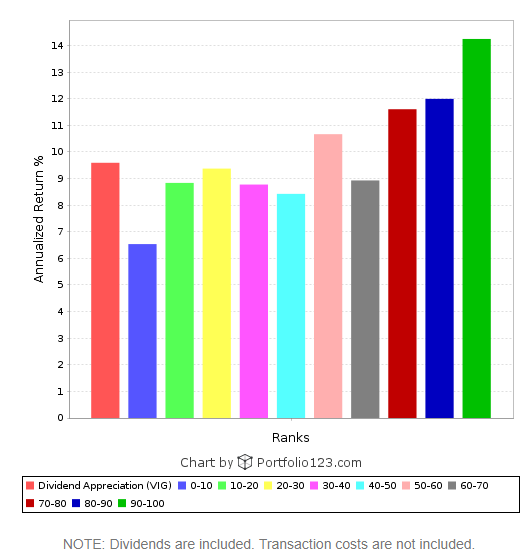 I realize that almost all dividend growth investors will not want to swap stocks around on an annual basis. The goal is to hold these investments long-term. The goal of this test was to determine the effectiveness of the ranking factors - which does require a more frequent resorting than once per decade. This next text, however, will have more in common with a real-world portfolio.
My Massive 100 Stock Portfolio
This portfolio will buy 100 positions equal-weight with the best rank back in 1999. Positions will only be sold (annual checkup) if a stock ranking drops down into the bottom quarter of all rankings in addition to stocks which fail to increase their dividends annually. The annual turnover is less than 15% and much of that is attributed to the initial portfolio formation.
10 Year Rolling Test
This next test will assume buying and holding for 10 years if possible - while replacing stocks if they fall out of our universe (fail to increase dividends). The test is a 'rolling test' in that it will simulate investing in January 1999 and hold until January 2009, investing in February 1999 and hold until February 2009, and repeating this process month after month until we simulate buying on February 2008 and selling February 2018.

The red line on the chart shows the 10 year portfolio return. For instance, in 2012 the red line is at 200%. This means that if you invested in 2002 and held until 2012, the portfolio would have returned 200% profit. $100,000 invested would be worth $300,000. The blue line is our benchmark (VIG plus proxy before 2006).
Making a Few Observations
Our 100 stock portfolio has a fairly consistent return over the 10 year window - less variance than the benchmark. This means less risk of your portfolio not doing what you want it to do.
Our 100 stock portfolio has higher returns than our benchmark. More money in your pocket.
Average 10 year portfolio return is 189% with a minimum of 128% and a maximum of 266%.
Our benchmark has an average return of 68% with a low of -30% to a maximum of 152%.
Average Sharpe Ratio of our portfolio is 0.87. Average for our benchmark is 0.27.
Average annual return is 11.14% for our portfolio vs. 4.8% for our benchmark.
Average standard deviation is 10.9% vs. 15.3% for our benchmark.
Maximum draw-down was an average of -40% vs. -55% for our benchmark.
Interestingly, if we run this test on the worst ranked 100 stocks, our annual return falls to 5.5% with an average max drawdown of 63% with an average Sharpe Ratio of 0.29 and average standard deviation of 18.5%.
What Sort of Stocks Rank High? Rank Low?
Of course, I will be supplying a link to the actual excel file that you can download free of charge - just because you are a loyal Seeking Alpha reader. I can provide this on an on-going basis (free of course) if there is sufficient demand for it (let me know in the comments). Scroll to the bottom of the article for that link.
But for the sake of getting a quick read on the top and bottom ranked stocks - here they are:
The top 10 ranked stocks are:
| | |
| --- | --- |
| | Computer Services Inc. |
| (MO) | Altria Group Inc. |
| (HRL) | Hormel Foods Corp. |
| (PSA) | Public Storage |
| (CHD) | Church & Dwight Co. Inc. |
| | Armanino Foods of Distinction Inc |
| (CLX) | Clorox Co. (The) |
| (DPS-OLD) | Dr Pepper Snapple Group Inc |
| (TSN) | Tyson Foods Inc. |
| (VZ) | Verizon Communications Inc. |
The bottom 10 ranked stocks are as follows:
| | |
| --- | --- |
| (NEP) | NextEra Energy Partners LP |
| (ASH) | Ashland Global Holdings Inc. |
| (FNHC) | Federated National Holding Co. |
| (ANDE) | Andersons Inc. (The) |
| (EXPE) | Expedia Inc. |
| (CONE) | CyrusOne Inc. |
| (TEX) | Terex Corp. |
| (SHEN) | Shenandoah Telecommunications Co. |
| (LMNR) | Limoneira Co. |
| (TDS) | Telephone and Data Systems Inc. |
Please keep in mind that if data is unavailable - this gets a negative rank. So the stocks on the extreme bottom are those which scored low for the various factors - but it also includes companies with lots of incomplete reporting.
Please Note: The list of dividend growth stocks for the current ranking is taken from the CCC list compiled by David Fish. About 5 or 6 companies on his list could not be found on the Compustat database. All other stocks with at least 5 years of dividend growth are included on my ranking list.
Click here to download the Quality, Volatility and Yield ranking for all available Dividend Growth Stocks in excel format.
Disclosure: I/we have no positions in any stocks mentioned, and no plans to initiate any positions within the next 72 hours.
I wrote this article myself, and it expresses my own opinions. I am not receiving compensation for it (other than from Seeking Alpha). I have no business relationship with any company whose stock is mentioned in this article.
Editor's Note: This article covers one or more microcap stocks. Please be aware of the risks associated with these stocks.