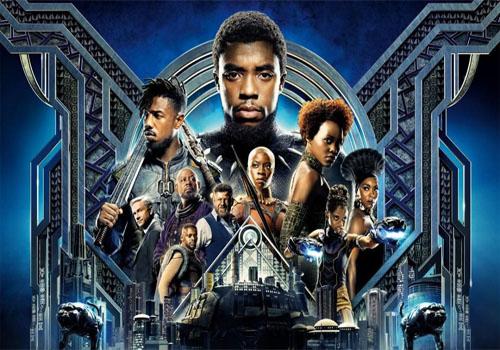 (Image Credit: Disney)
Leave it to a superhero to save the day for movie theaters.
The President's Day weekend was just what investors in the traditional film sector needed, as the massive success of Disney's (NYSE:DIS) Black Panther proved that rumors of theaters' demise may have been greatly exaggerated. To me, that's a fascinating element to explore.
Black Panther wasn't just a success for the Mouse House, but it was also a success for exhibitors. Shares of AMC Entertainment Holdings (NYSE:AMC), IMAX Corp. (NYSE:IMAX), Cinemark Holdings (NYSE: CNK), Regal Entertainment Group (NYSE: RGC) and iPic Entertainment (NADAQ:IPIC), among others, were up at various points throughout the trading day on Tuesday, with the majority trending up the last few days, courtesy of Panther's positive tracking and projections.
While it may not have been more than a dollar or two gain, any little bit helps - especially when you're talking about stocks trading mostly in the high teens and low $20s. Stock price aside, though, we saw other more tangible benefits that had to have pleased shareholders.
Specifically, I'm talking about AMC, which saw its second-highest opening weekend ever with well over 4 million in admissions. Though it goes beyond that, as nearly 23% of the chain's U.S. theaters (over 150 locations) set new admissions revenue records for a single title (during the opening weekend). Sunday represented the busiest ever for AMC - topping Saturday, which now ranks as the second busiest.
In total, AMC screened the film 40,000 times over the four-day frame - let that sink in.
IMAX also posted interesting returns, as it was the second-highest grossing weekend in the company's history, with $35 million of its $53 million weekend earnings coming from Panther. $23.5 million of that was from US theaters.
The full list of records shattered by Panther is astounding, and you can see them in great detail here, but investors shouldn't lose sight of the bigger picture. Again, forget about this from a perspective of how great Disney is making out here. You have to look at this from the perspective of the theaters and their investors.
For years, AMC, Regal and the like have had to fight for their survival. With Netflix agitating the theaters and Amazon embracing them, the streaming world has sent a giant mixed message. That's not lost on consumers and investors, who have to wonder about the future of the theatrical experience.
The one thing overlooked by many analysts and shareholders is the reason why people don't want to go to the theater. Yes, convenience of home viewing is a big differentiator, but that and cost go hand in hand. Consumers have always been very clear they will pay for quality. If a movie is of the caliber that merits physically leaving the house and paying an elevated admission price, they will still show up.
A movie like Black Panther falls into that bucket - for other films that are not that high of caliber, consumers will (and should) balk at the pricing. That's the problem Time Warner (NYSE: TWX) has now run into with its DC Comics films. Comic fans will give studios enough rope to find their footing, but after a while, instead of using that rope to secure a foundation, the studios end up hanging their franchises.
For example, a movie like Justice League didn't merit audiences making the trek to the theaters, but given DC's track record, you can't blame them. Whereas studios look at Marvel films as guaranteed money makers, those same exhibitors have reason to cringe when DC's films hit.
And that's the point. The entertainment market has become so fractured that analysts at times seem to be just writing off the entire sector. Black Panther proves the communal experience of movie-going is still alive, if audiences feel like they aren't being taken advantage of in the process.
That's why a product like MoviePass was initially so well-received by consumers, because it seemed to level the playing field a little bit. However, despite executives saying they were prepared for blockbusters, it will be interesting to see how they spin their financials following this weekend.
Remember, MoviePass basically loses money with every subscription sold, and that uncertainty has led to chains like AMC to feud with the startup by saying in a press release that it was essentially lulling the consumers into a false sense of security.
"That price level is unsustainable and only sets up consumers for ultimate disappointment down the road if or when the product can no longer be fulfilled."
While I don't really believe the theater chain only has the best interest of audiences at heart, it isn't entirely wrong either. Reporters are now digging deeper in MoviePass's claims about how beneficial it is to the theaters and finding some red flags. It's also interesting that MoviePass's feud with AMC reached a breaking point when the former pulled itself from the theater chain's top locations.
Though that's what we've come to now - where the politics of movie-going is a contact sport.
Studios are to blame for putting out terrible films, theaters are to blame for sky-high pricing to see those terrible films, and streaming services are only adding fuel to the fire. It's a dangerous equation, but all of it is a moot point when a film like Black Panther lands with a bang. All of a sudden, people remember why they like going to the movies.
Now, don't get me wrong, despite this banner weekend, the box office is still not in the clear, as Panther was also an anomaly of sorts. For one, the film took great lengths to target and appeal to the African-American community. While other studios treat that demo as a secondary audience, Disney smartly embraced them and their interest in this character.
As I wrote about last year, Disney is perhaps the studio doing the most to help protect the theaters. Not only are its films bringing them consistent business, but Disney has been one of the only studios to completely dismiss the fledging proposal to shrink the distribution windows. While other studios are game to find a way to work with theaters to close the gap between when a film leaves theaters and arrives on S/VOD, Disney sees no reason to change the current structure. Then again, why would it?
And the theaters are fine with that - even if some proposals would cut them into the profits of those home SVOD options. The chains know that any change in the paradigm could inevitably lead to them losing even more of their grip. This is one of those occasions where you can't put the genie back in the bottle.
Expect AMC and its fellow chains to continue to do everything possible to survive and thrive under the current model - but theaters need more studios to recognize that potential and step up to the plate. If others don't follow suit, these types of gains will only be short-term.
Hollywood can either learn from the success of Black Panther or watch a golden opportunity slip through their fingers... again.
Disclosure: I/we have no positions in any stocks mentioned, and no plans to initiate any positions within the next 72 hours.
I wrote this article myself, and it expresses my own opinions. I am not receiving compensation for it (other than from Seeking Alpha). I have no business relationship with any company whose stock is mentioned in this article.